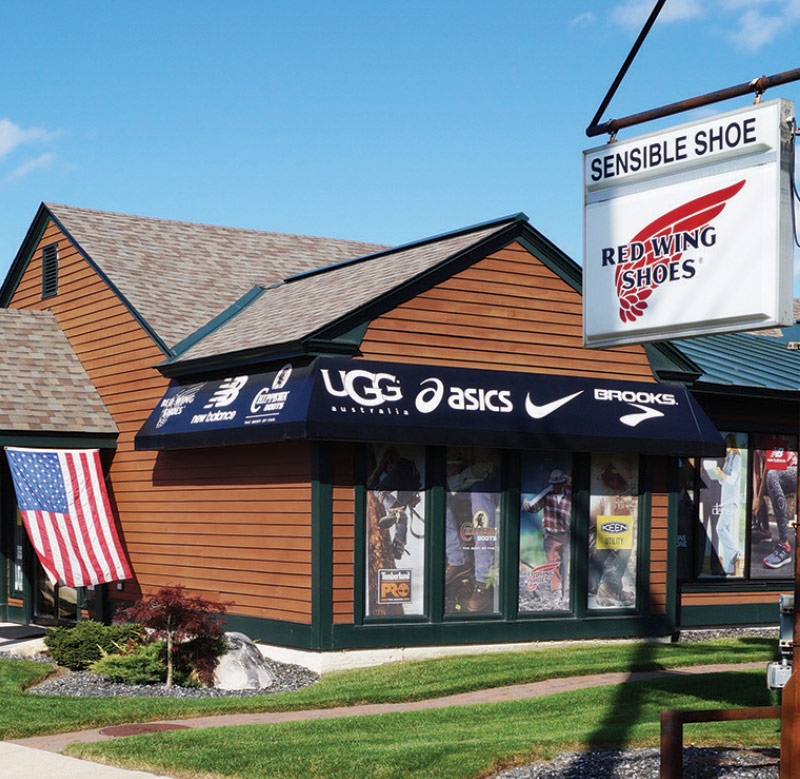 Sensible Shoe in Rutland, VT, has stood the test of time—112 years and counting—by adhering to old-school retail basics, starting with top-notch customer service. Fourth-generation owner, Joben Fineberg, says the long-trusted store goes above and beyond to greet, educate and deliver solutions to its customers. Often attracting people frustrated by other retailers' inattentive employees or ill-fitting online orders, Sensible Shoe looks at each patron as a new opportunity to create a lifelong client.
"Not many people take the time to offer an exceptional experience," Fineberg says. "But if you want to succeed, it should always be about more than just selling shoes. It's about taking the stress out of staring at a wall of shoes and winning each customer over with our expertise."
Local doctors regularly refer patients to Sensible Shoe due to its fitting expertise. Sales associates will gladly sift through the store's selection of more than 60 premium brands, a handful of which are sold at nearby retailers that simply don't offer the same attentive service. Employees also follow up with their customers to address any possible post-purchase issues. Customers are also invited to join the store's loyalty program for added perks upon their next visit. "Those added details are more important than ever," Fineberg says, noting repeat customers often come in asking for the same associate to help with their next purchase. "That's the kind of relationships we want to create and continue to foster with every sale," he adds. 
Fineberg reports 2019 to be another successful year. "We've only had one down month and that was in the spring due to three weeks of rain," he says. "Our margins are higher but units are down slightly." Fineberg anticipates more growth over the next few years. He's been in talks to buy a building across the street to expand into casual and work apparel that will pair up with Sensible Shoe's selection. "All of this is made possible by more people realizing the value that comes with shopping local and supporting independent businesses," Fineberg says. "Those customer relationships are the roots to everything else." —Aleda Johnson 
Who is your core customer? Our life-long customers are typically over 30 and geared more toward function rather than fashion. They come in for a purpose, whether it's for work boots, athletic shoes or a doctor's referral, and they expect us to help them get exactly what will fit their lifestyle best.  
What are your leading brands? In athletic, it's New Balance and Hoka One One, which has been a major player for us in recent months. Brooks has also been performing well. And like with everyone else, Birkenstock is extremely popular. For work, our top earners are Timberland Pro, Red Wing, Chippewa and Keen Utility. Keen and Merrell are big outdoor brands for us. And Dansko is an all-around top seller. 
How important are accessories to your overall sales? That's a huge portion of our business. Right now, Vermont Darn Tough socks are popular because the locals love to support local and visitors love that it's from Vermont. Orthotics is also a huge portion of the store. We do a lot with Sole and Aetrex. We've also added Mission Belts and Melin hats in the last year, which was a risk but it's been very well received. It gave us a connection to young folks we wouldn't normally get. 
Any new brands you've added to the mix this year? Kizik has been a good addition. The men's and women's casual, hands-free footwear has done exceedingly well. We've also added brands on the outdoor side like Oboz.
Beyond basics like style and fit, what do you look for in a brand? I like brand protection. I want to know a brand won't open three other doors on the same street. Whether it be that vendor's website or another shop in Idaho not selling product under MAP, I want a brand that will protect their pricing. Getting shipments on time is also key because we like proper brand and product launches publicized on social media. 
Anything in particular you've been on the hunt for with regards to Spring '20? We're looking to beef up with some new brands in women's casual comfort. Customers have been asking for it. We're seeing calls for new product and brands. Not necessarily the big player you always see, but we want to add some fringy brands to our assortment.
What have been the best practices for marketing your business? We used to do old-school print, but there's more social media play these days on everything from Facebook to Instagram. My brother handles that side of the business since that's his background, and we reach a lot of people for very little time, effort and money. It's a grassroots thing. 
What's the smartest business decision you've made? Other than owning all our property, the loyalty program really helps. Customers appreciate it and are encouraged to come back for more great service and rewards for future purchases. 
What do you love most about being a retailer? You feel this sense of pride when you help someone solve a problem. It's in our blood, and it passes through us as owners to the employees. We're forging relationships with those who may have once dreaded shoe shopping. It never gets old hearing repeat customers request you by name.