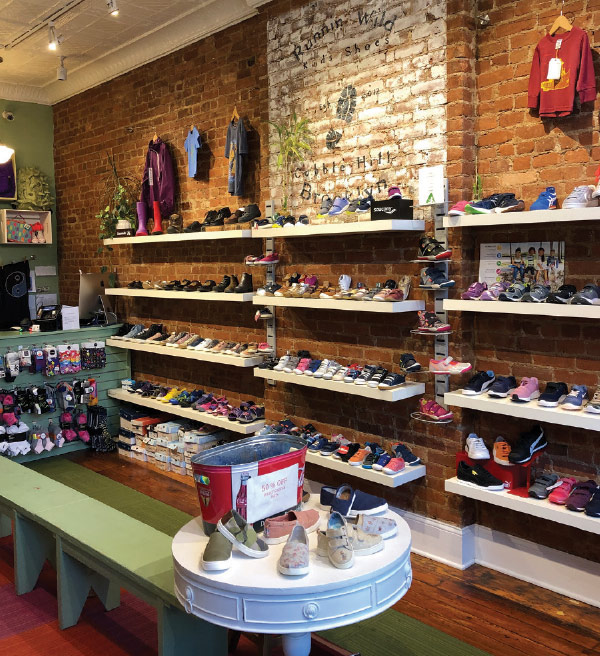 Brooklyn native Stacey Fauci always wanted to own her own business, be it a coffee shop, cafe or boutique. When Fauci's husband, Anthony, lost his job at the same time the neighborhood kids' shoe store closed, she knew it was time to act. "It wasn't easy to drive to the Staten Island Mall for a proper fit and price," Fauci, a former retail manager, says. In the summer of 2012, the Faucis opened Runnin' Wild Kids Shoes in the borough's family-friendly Cobble Hill section, stocking everything from crib shoes to tween sizes.
The 900-square-foot store is stocked with top brands like Nike, Puma and Stride Rite, as well as first walkers from See Kai Run and Old Soles. In addition to a strong selection, Fauci credits her trained staff's sit-and-fit approach to attracting customers. "It's not the easiest job in the world, and you have to have a lot of patience," Fauci says of properly fitting children. "Kids cry because they think you're the doctor, but I want everyone to be happy with what's on their feet." Her staff, for example, knows which brands run narrow or wide and can fit feet properly, which would be, at best, a guess shopping online.
Fauci believes Runnin' Wild provides a much-needed service to fellow neighborhood families, but it's also a labor of love. "Running the store can be chaotic, but I thrive on making kids happy when they walk out with their new favorite shoes," she says. —Aleda Johnson
How's business? Great. Unfortunately, three children's shoe stores have closed in our area over the last few months. But it's been great for us. I've had to add more staff on the weekends and restock more than I used to.
What are your top-selling brands? Nike is No. 1 because kids love sneakers. See Kai Run and Plae also do really well. We've just added Old Soles in the last year, and I've been very happy. Their styles are great, and they fit really well. I also look for brands that are hard to find online—European brands like Naturino and Ricosta.
How about accessories? We don't sell a lot of accessories, but we do carry socks, shoelaces, hats and gloves. Backpacks from JanSport and MadPax are top sellers on our website. We also do well with raincoats. Hatley and 08 Lifestyle are our top brands.
Any unique preferences of Cobble Hill kids and parents? As far as style, hi-tops are very big right now. I think the neighborhood likes not overly trendy styles but something kids can be comfortable wearing since this is a walking neighborhood. I can carry trendy items, but they have to be practical. Some sales reps might say this is their No. 1 style, but if it's not easy to walk in then I know it won't sell in my store.
What's the smartest business decision you've made in the past year? Revamping our website, Kidshoesdirect.com. Our previous site didn't do well. We've changed platforms and it's doing better. We still only do a small percentage of sales online, but it helps move inventory that doesn't move in the store, so it's necessary. It also helps with people who may be looking and then come into our store. I think it will continue to grow, and if it does maybe we can expand into the basement space.
What's the most effective way to reach customers? I don't do much more than post to Instagram and Facebook, plus our website. Our business is mostly word of mouth because we're a walking neighborhood. People pop in when they need shoes. But it's not just my neighborhood. We get people from all over Brooklyn and even Queens. Now if it's 10 degrees for three days in December or 110 in summer, we're slow. Most of our customers are walking, not driving a car to the mall. That affects business.
In addition to great product that sells, what else are you looking for from vendors? I'm looking for good price points and the ability to restock quickly. The products also have to be good quality since a lot of kids wear out their shoes before they go up to the next size.
What are your goals for the rest of this year? Honestly, I'd just like to keep this pace up. While I feel bad for my former competitors, I'm happy we're doing something right and customers are coming to us. My husband and I are both hands-on owners. We don't want people to walk out unhappy. If nothing fits properly, we'd rather not put them in a shoe just to make a sale.
What is a challenge facing your business? Stocking the right inventory is challenging. I don't know if I'll have enough of this or that. The store is small, and I don't know if I'll blow out of a size, style or brand. It's hard to judge. Retail is an interesting business, and it's not for the weak.
Where do you see Runnin' Wild in five years? Something realistic, like expand into the basement space. Expanding to a bigger location may not be the best move. Higher rent doesn't guarantee more people walking through the door. That's why I hope the website takes off.
What do you love most about being a kids' shoes retailer? Actually, I think I have love-hate relationship with the store. I love working in retail. I never liked the 9-5, sitting behind a desk thing. But it can be chaotic at times, yet I thrive on that. I love making customers happy.
What are you most proud of as it pertains to your business? That we're still in business! We have loyal clientele. I've been fitting kids since they first started walking and now they're 6 years old!