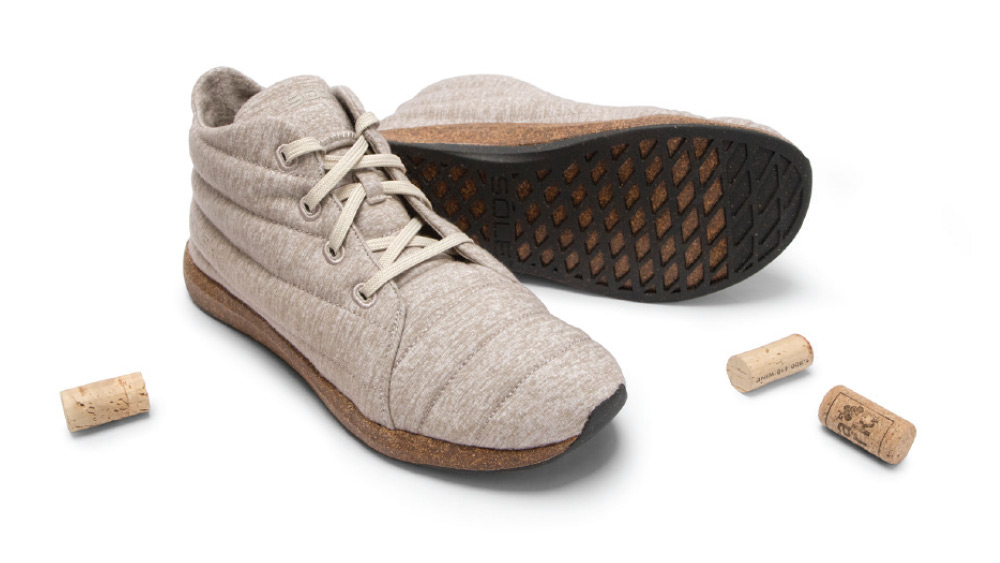 SOLE is dedicated to creating footwear that is sustainable from "tongue to tread," and the Canadian company claims its latest collaboration with the outdoor apparel brand United By Blue (UBB) has produced "the world's most eco-friendly shoe." Fueled by a successful Kickstarter campaign—the $30,000 fundraising goal was reached in a mere 84 minutes and a total of $515,000 was raised—the Jasper Wool Eco chukka and slip-on further both brands' missions to reduce waste and promote sustainable business practices, according to Zach Osness, vice president of global sales and merchandising for Sole.
Green-friendly stats include a breathable, moisture-wicking upper made of ethically-sourced merino wool from Australia and UBB's award-winning bison hair insulation, made from hair otherwise sent to landfills by ranchers. The recycled cork midsole is collected by Sole subsidiary Recork from wine corks from business and individuals from around the United States and Canada. The footbed is made from algae foam sourced from polluted waterways that provides flexible cushioning, suitable with or without socks and reduces reliance on petrochemicals. The outsole is made of naturally sourced rice rubber, and the chukka features bamboo shoelaces that are up to three times more durables than cotton.
"This isn't just a flip-flop," Osness says. "For an actual shoe with that subset of materials makes it the most eco-friendly ever made."
Because the construction is so revolutionary, Osness suspected retailers might be hesitant to stock the styles—hence the Kickstarter campaign to generate buzz. "Sole had yet to make closed-toe footwear and even the most forward thinking retailers are timid about bringing in new products, because it's always a gamble," he says. However, the opposite proved true. Retailers have pounced on stocking the styles. "Just 48 hours into the Kickstarter campaign, I had our top retailers, who had previously passed on the Jasper, asking when they could stock it," Osness says, attributing the shoes' sustainable yet durable qualities and competitive price ($150 SRP for the chukka and $130 for the slip-on) as attracting the attention of more than just eco-conscious consumers. An added incentive: for every pair of the Jaspers sold, UBB will remove one pound of trash from the world's oceans and waterways.
"We've created a product that's distinctive but approachable, so people don't think twice about picking shoes that help replace as many petro chemicals in the industry as possible," Osness says, adding that the range will soon expand to sneakers and possibly light hikers. The more sustainable styles purchased, the lighter the impact on the environment, he figures. Notably, more than 20 billion shoes are produced annually worldwide and most have a breakdown period in landfills of 10,000 years, whereas the Jaspers break down in three years or less—without leaching harmful waste into the environment. "We want to be an agent of change with something no one has to compromise to wear," Osness says. "We're on a mission to do good, and doing good is good business." —Aleda Johnson