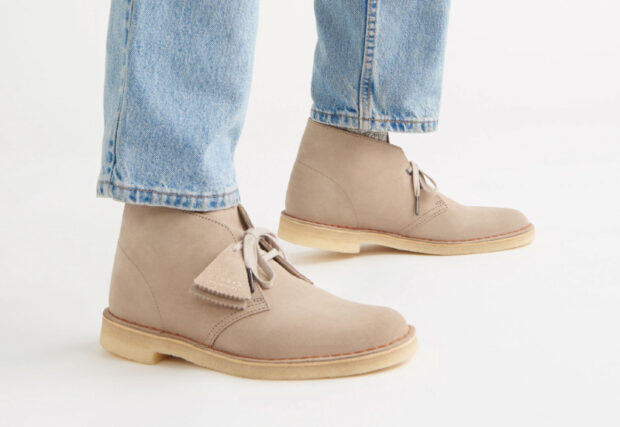 I first donned Clarks' iconic Desert Boots in grade school, back in the groovy '70s. It was the day of my 6th grade graduation, to be precise. My parents—and pretty much every other parent of boys—had decided that sneakers wouldn't cut it for such a momentous occasion. So, there we all stood, lined up in rows on the stage inside a sweltering, packed Tuscan School auditorium sporting a uniform of sand-colored Clarks Desert Boots paired with either tan or blue three-piece polyester suits. I swear, it looked like a pint-sized Saturday Night Fever fan convention. The disco duds were constricting, but the boots were lightweight, breathable and very comfortable. Those crepe soles were stealth! In truth, the Clarks Desert Boots were the closest thing to wearing sneakers, yet we all looked "dressed up." My classmates and I made a collective step toward growing up that memorable day, and the Desert Boot (and Clarks' Wallabee) would remain a go-to dress-casual style throughout our remaining school years and beyond.
Of course, this is just one historical anecdote about the iconic Clarks Desert Boot. Over the 70-plus years of its existence, the boot has attained forever-cool status, becoming a closet staple in both men's and women's wardrobes. Along the way, trendsetters like Steve McQueen, Bob Dylan, Liam Gallagher, Anthony Bourdain (who was quoted in Men's Journal describing them as the "most comfortable shoes on Earth") and Sarah Jessica Parker have sported the style. Even Manolo Blahnik is reportedly a fan. Macro speaking, the Clarks Desert Boot has been adopted by Mods, Beatniks, Rude Boys and Hip Hoppers over the years. Estimates, made back in 2011, put sales north of 10 million pairs, sold in more than 100 countries. What's more, London's Design Museum, in 2009, named it one of the "Fifty Shoes that Changed the World." Not surprisingly, the silhouette has been co-opted by legions of other brands, turning the style into a reliable, year-round category all its own, similar to Birkenstock's Arizona sandal.
Lester Wasserman, owner of Tip Top Shoes and the sneaker boutique West NYC in Manhattan, says the family-owned business has been selling Clarks Desert Boots since the '70s—back when the shoes were made in England. He says customers appreciate the authenticity, heritage and simplicity of the design. "Sand or beeswax, you can't go wrong," Wasserman says of the perennial seller. "Over the years, there have been highs and lows, but it's always around and it's always a cool, iconic style." Wasserman says that's what fuels the strong crossover gender appeal. "Classics lend themselves to that kind of interest—everyone wants to own a classic," he says.
A 1,000 Years Strong
The genesis of Desert Boot actually came much earlier than its official debut in 1950. How about a 1,000 years! The Khoisan tribe, foragers in the Kalahari Desert region, are credited with the original unstructured suede upper/crepe sole concept. The design was ideal for traversing sandy, arid, hot terrain. Later on, in the 17th century, Dutch settlers came upon the boots (then called Veldschoen). They became a work boot fave of South African boar farmers.
But it wasn't until 1942 that the seeds of the Clarks classic were planted. That's when Nathan Clark—great-grandson of James Clark, founder of C&J Clark, a.k.a. Clarks shoe company—first came across the boots while serving as a member of the British Army's West African Brigade. As shoe lore goes, Clark had been instructed by his older brother, Bancroft, the newly appointed Clarks CEO, to keep an eye out for unique shoe designs. He came upon the style at a made-to-order stall in a bazaar in Cairo. Apparently, 8th Army officers also saw the advantages of the boot's lightweight, breathable, flexible and unstructured construction, which were ideal for fighting in the Sahara as opposed to the heavy, stiff and hot military boots of the time.
Clark sent sketches and rough patterns to his brother, but it wasn't until the war ended and he had returned to England that the first Desert Boot samples were crafted in 1946. The team's initial reaction, however, was ugh! "They'd never sell" was the consensus. Rather than ditch the design, though, Clark took it with him when he launched Clarks Australia in 1948 and soon after began selling Desert Boots there. The style then caught on in the West Indies. (The Desert Boot has since become entwined with Jamaican music and culture.)
In 1949, Clark attended the Chicago Shoe Fair where he met Esquire fashion editor Oskar Schoefler. The magazine was the authority on men's popular fashion at the time. Schoefler saw the boot's potential international appeal and, more importantly, a void the style could fill in a burgeoning casual fashion landscape. He wrote an article in Apparel Arts in 1950 on the merits of the Clarks Desert Boot that caught the attention of Bronson Davis, a veteran salesman who would soon become a Clarks rep in the U.S. and played a major role in the Desert Boot's early success.
Utilitarian Chic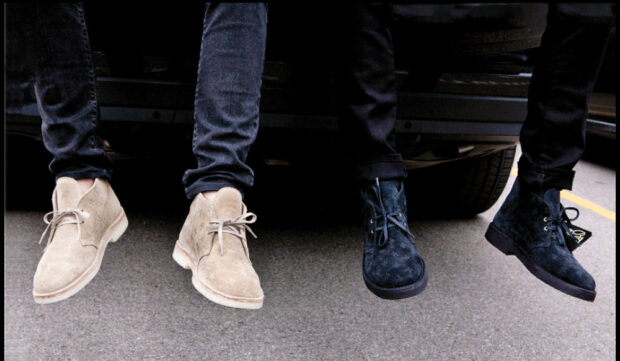 Like a handful of iconic shoe designs (think Converse Chuck Taylor for basketball, Dr. Martens' 1460 work boot and Teva Universal sport sandal for river rafting), the Clarks Desert Boot's design roots are utilitarian. But shoes built with a specific use in mind often work well for a myriad of other occasions. A rare few are so versatile and loved that they become a part of mainstream fashion. The Ugg boot is an example. First worn by Australian sheepskin farmers in the early '20s—because its materials were resistant to wool yolk, which commonly rotted other boots—they were adopted by surfers in the '60s as a way to stay warm after leaving the water. The boots are cozy, comfortable and versatile. The rest, you might say, is utilitarian mainstream fashion history.
The Clarks Desert Boot followed a similar trajectory, albeit over a longer stretch of time. It, too, is versatile, comfortable and, if you happen to be crossing the Sahara, a great, lightweight and breathable option. Like the aforementioned iconic styles, though, it is among the few with enduring appeal and long-running success. Who would have expected a nondescript chukka designed to traverse barren landscapes to become a perennial poster child of hip, casual fashion? You might say the possibilities were as remote as the Kalahari Desert that helped spawn the Clarks Desert Boot.
"The beauty in the design makes it a timeless closet staple," says Tara McRae, chief marketing officer of Clarks. "The Clarks Desert Boot is as versatile as it is comfortable. The simplicity of the construction naturally lends itself to upgrades in material and color, which brings a seasonal twist to our icon year after year. In addition, so many different sub-cultures and influential communities around the world have fallen in love with the style and continue to drive its fame."
McRae says the Desert Boot is for everyone, describing it as a perfect intersection between functionable and fashionable. "With just two upper pieces and a sole, it's the very definition of sophisticated simplicity," she says. "This minimal, progressive construction lends itself to limitless styling possibilities, and it can be dressed up or down—the ultimate casual shoe. Our wide range of material and color options add to the boot's versatility."
Nick English, founder of Stridewise.com, a blog devoted to men's footwear, describes the Clarks Desert Boot as a "gateway shoe" to adulthood. English, who grew up wearing standard-issue Clarks uniform shoes while attending school in Australia, confesses to taking a rebellious break from the brand in his later teen years and early twenties. That was until he realized that the Chucks he had been sporting sent a sartorial message that he no longer wanted to project. "Once you get a little older, you want to wear something that has a little more quality, lasts a little longer and is generally more respected for an adult to wear," he offers. "That's where the Clarks Desert Boot—or, as Reddit refers to it, CDB—comes in as a casual entry shoe for young adults."
English cites the Desert Boot's overall versatility as a key to its long-running success. "The flexibility, lightness and shock absorption of that crepe sole are a big part of the appeal," he says. "Combine that with the unstructured, full-grain suede upper with only a couple of eyelets—it just comes together as a shoe that doesn't grip the foot as aggressively as a lot of other shoes out there, even the average sneaker. It's so light you can barely feel it on your feet."
Stylistically, English describes the Clarks Desert Boot as that elusive sweet spot of sophistication without trying too hard. And that is his guiding fashion principle. "If I look at a photo of myself in 20 years, I'd like to not be embarrassed by what I was wearing," he says. "The Clarks Desert Boot paired with knockout washed jeans, an oxford button down and a waxed leather trucker jacket is an example of timeless fashion that also doesn't look like you just shopped the local vintage store." English adds, "There's a fine balance, and the Clarks Desert Boot fits very neatly into that timeless classic aesthetic."
Keep on Chukking
The Desert Boot's origins date back a millennium, so it's safe to assume it'll stick around for the foreseeable future. McRae says the Desert Boot's blank canvas–like upper helps keep it going. "Throughout the years, it's been reimagined in countless material and color combinations," she says, noting popular materials have included beeswax and nubuck leathers as well as hairy suede, while consistent colors have ranged from traditional black, brown and navy to seasonally relevant hues and prints. Then there are the numerous collabs with equally iconic brands and designers that also help keep the Desert Boot relevant and fresh. Notable examples have included Drake's OVO, Todd Snyder, Levi's, Beams, National Geographic and Bape. "We look forward to continuing to develop fresh adaptations with prominent designers and artists in the coming seasons," she says, adding that fans can expect to see a handful of projects in 2023 and beyond. "It's one of our most precious icons, so we always have something exciting cooking with it," McRae says. "Stay tuned."
As far as English is concerned, the original sand suede upper is the Clarks Desert Boot at its most iconic and finest. "It's got to be suede," he says, adding that full-grain leather chukkas just don't sit right with him. "The Desert Boot fits neatly in that space where it's casual, but not too casual, and dressy, but not too dressy. And the lighter suede just works better in that realm. It's polished, but you can still wear it with a t-shirt and jeans."
That's not to underestimate the allure of the crepe sole. McRae says the material, which is made of all-natural and biodegradable tree sap latex, provides "ultimate underfoot comfort." It's more cushioning, she adds, than traditional rubber soles. The unique texture also provides added traction and is significantly lighter than many other sole materials. "Our crepe soles are also visually arresting, standing out from typical darker, lugged boot soles," McRae adds.
English is in lockstep on the Desert Boots' crepe soles as a key element of its design. "A lot of guys never grow out of sneakers, but the Desert Boot is quite sneaker-like for a boot," he says. "It's a very accessible piece of footwear. Call it a gateway shoe to structured leather footwear, in general."
Conclusion? "They'll always be in style,"Wasserman predicts.