You Heard It Here First
Next spring's leading trends revealed.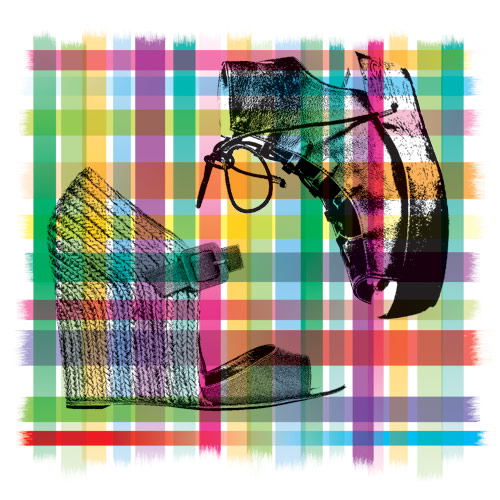 Did you hear? It's the sound of rumbling waves, a disco beat and the roar of vintage Courtney Love making noise on the fashion front for Spring '12. After a long season of lugged soles and utilitarian shearling, next spring features an eclectic mix of footwear silhouettes and themes, the most prominent game-changer being designers' renewed interest in pants.
Designer Chie Mihara is most excited about fisherman trousers. The slim-cut, three-quarter-length pant will frame the fine single sole sandals in her eponymous line. Monique Umeh, senior footwear editor for trend forecasting service Stylesight, says the slew of "sophisticated Mary Janes, T-strap sandals and flats" will also flatter the abbreviated pant style.
The fisherman pant complements Ara's nautical and Nantucket-inspired story for spring, according to Rob Rask, North American managing director. Rask says moccasins with a sailor look, ballerinas and boat shoes with perforated uppers in gray and red are coming down the pipeline. "There's a move toward a natural feel, whether in materials or colors," he says. Similarly, Umeh sees a push for clean, understated "heritage" shoes. "Rich natural leathers in elephant and dove gray, beige or cream, and smooth metal accents will look classically modern and timeless," she describes. Pops of Hé́rmes orange, juniper green and Yves Klein blue break up the simple lines. Even more masculine tailored footwear [think boat shoes and moccasins] look surprisingly feminine when worn with little socks or short pant lengths, she adds.
Washed canvas from Italy and vintage-inspired leathers lend a shabby chic feel to Bernardo's beachcombing footwear. Noting the over-saturation and impracticality of espadrilles and platforms, Bernardo President Dennis Comeau says the brand is focusing on woven huaraches with "a twist and hand-worked leathers" and driving mocs with a tapered toe and distressed upper. The hand-colored leather is rinsed in a washing machine and then sandblasted. Along with a focus on sustainability and earthiness, Comeau says the Boho, tropical look demands color.
Less seaside village, more tiki bar, designers are also exploring the exotic design treasures tropic locales offer. "You'll see a mash-up of global cultures," Umeh reports, especially accents with Caribbean and East African roots. Where nudes and "blushy" pales have dominated previous spring seasons, Tanise Hill, senior designer for Restricted says a "bright color palette and daring color combinations are returning to fashion's forefront." According to Umeh, the trend includes earthy tones like saffron, mahogany, tobacco, dark olive, cypress green and turquoise, anchored by pops of red and yellow. These colors will be carried into vi-brant prints including ethnic motifs and island florals. Embellishments are key in bringing this trend to fruition. The strongest styles mix rustic components with multi-color beading, glass beads, printed cork, basket weaves and shells.
Umeh notes that familiar silhouettes, like wedges and platforms with wooden heels, will be updated with new colors and prints. And one emerging shape is the flatform—a flat on a platform last. Hill describes the chunky silhouette as the most influential shape for next spring. "It's great because it makes you feel like you are wearing platforms, but really you're in super comfy flats," she explains.
The heavy-looking shoe balances spring fashion's other must-have: '70s-inspired wide-leg pants. "The return of wide-leg pants and jumpsuits are increasing the popularity of high platforms and introducing double platform wedges," Hill notes. "Tall wedges and block-heel constructions in ankle boots or wide strap sandals will be necessary to balance these new proportions," Umeh confirms.
Mihara is playing up the era's glam factor with a rich Yves Saint Laurent-inspired color palette featuring purple and emerald green, blasts of white and metallic gold leather. However, she is taking a less literal approach to the season's disco fever. Instead of super high heels, platforms and over-the-vamp sandals, looks she believes are "trying too hard," the designer is offering strappy sandals with slender heels. Even oxfords and loafers are prescribed for a late '70s update. Along with wider and rounder toes, Umeh says the silhouettes will be exaggerated with edgier crepe, rubber or lugged platform soles. The look is being applied to ankle boots, too.
As more women trade in sandals in favor of closed-toe trans-seasonal styles, a grunge revival may hit the junior market hard. Umeh reports recent runways indicate designers are inspired by the slouched and loose styles fashioned by '90s feminist punk bands. Draped jersey tops, cut-offs and skinny black jeans play into the hyper trend. Heeled or wedge-soled military boots, lace-up boots with open heel counters or toes, and platform oxfords with pronounced round toe expressions will ground this look.
Designers are lightening up grunge by pairing muted tones of gray and blue—from slate to whale and concrete—with warmer shades of cork, shell and beige. Metallic highlights in gunmetal, bronze and silver, as well as chain, chain mail and metal mesh embellishments offer an industrial edge, while plum, red and turquoise provide feminine yet subtle color accents perfect for spring. —Angela Velasquez