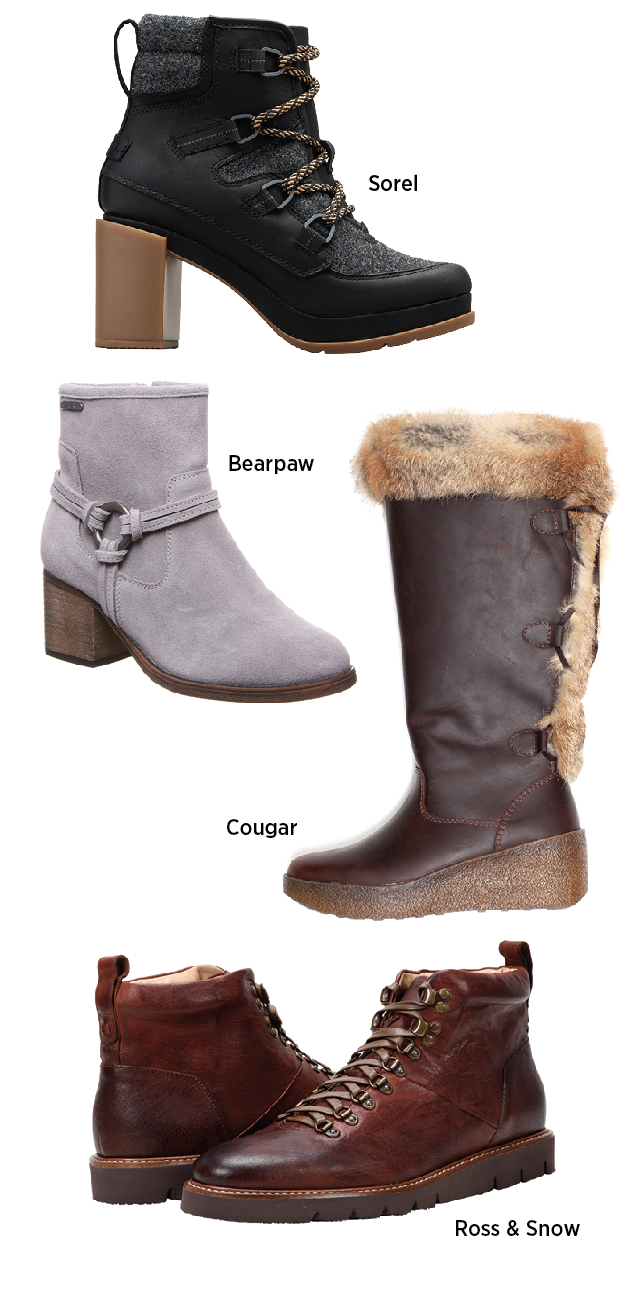 Blame it on the athleisure movement's utilitarian takeover of the fashion world: Today's consumers want clothes they can actually live in and boots they can actually walk in. Although this practical mindset has everyone from British Vogue to the Paris Review gushing about their love affair with "ugly boots," Fall '19's styles are much less ugly duckling and much more swan. They're versatile, comfortable and good-looking. While not high fashion, they've got a higher fashion factor than ever.
Athleisure styles have taught the market that consumers don't want to be limited, so it's no surprise that versatility is one of the season's biggest boot trends. "Consumers are so dynamic and on-the-go that their footwear has to work with that new lifestyle," says Erin Sanders, vice president of global product at Sorel. "Gone are the days of sitting at a desk for nine hours in stilettos with six pairs of back-up shoes under the desk for whatever else the day holds." Features like water-repellent leather and slip-resistant soles are must-haves to combat fluctuating weather conditions and unpredictable winters, but forget the bulky, heavy snow and rain boots of old. Women want boots that look professional, are comfortable enough to commute in and can hold their own at cocktail hour.
The increased demand for fashionable utilitarian options comes as no surprise to Steve Sedlbauer, president of Cougar Footwear, which has been making waterproof boots for more than 30 years. Over the past few years, changing weather and market conditions have forced Sedlbauer to expand Cougar's style sphere. "If you're just making a snow boot or cold weather styles, it's a risky business as a brand and a retailer because you put all this money into a product that doesn't sell until there's snow on the ground," he says. "By then, they're selling on markdown." Waterproofing, insulation and traction are practical features that add instant value to trendy lug soles and haute hikers, he says. "When you're using waterproof leathers, boots look better longer," Sedlbauer explains. "Get them wet, wipe them down, and they still look good when the season is over."
By upping Cougar's stake in style, Sedlbauer is making the brand's tried-and-true tech palatable for a Nordstrom and Lord & Taylor customer. The brand has shifted away from sporty nylon and puffy winter looks to more leather and fur. In fact, the Fall '19 line is composed of almost 70 percent leather styles. Add varying heel and shaft heights, buckles and fur trimmings, and there's nothing stuffy about the collection. "A snow boot is good for wearing on the weekend or to shovel snow, but this is something you can wear seven days a week to the office or out to dinner with jeans," Sedlbauer says.
At Sorel, designers have known where the market's sweet spot is: at the convergence point of function and form. "Our customer is not willing to sacrifice style or fashion for function, but our designs win because they are both," says Sanders. "Our product team is a mix of people who come from the fashion, outdoor and athletic worlds, so functionality is in our DNA. Weaving it in comes easily to us." Sorel's Fall '19 styles include waterproof full-grain leathers, boiled wool and flannel panels, along with chunky buckles and shearling accents. The woman who wants height will find sturdy yet fashionably heels and stable wedges on scalloped soles in the mix as well.
On the flipside, brands that once focused solely on style or comfort are now dipping their toes into waterproofing technologies at the request of customers. "Whenever we have boots, we're always asked, 'Is this waterproof?'" says Katie Dobbs, director of marketing for Earth. "People love us for our comfort and fashion, and now we're giving them something they can wear in the rain and snow." Earth's designers experimented with different materials, combining synthetics with leather and succeeded in making a handful of waterproof leather booties and futuristic sneakerboots for Fall '19.
Bearpaw, too, is innovating to keep its fans' feet dry. In addition to proprietary Neverwet hydrophobic technology, the brand has introduced Hibertech to certain styles for Fall '19. This layer of 200-gram insulation gives suede wedge hikers and fur-capped leather booties warmth at sub-zero temperatures. "We've always tried to offer the best styled footwear with on-trend details, and the Hibertech insulation provides added value at a minimal cost," says John Pierce, Bearpaw president.
Italian-made Ross & Snow is also focusing on function these days. Its name might be more synonymous with luxurious materials than ruggedness, but the brand prides itself on its patented weatherproofing protection (called SuPreen) and interchangeable sheepskin and leather sock liners that let boots transition seamlessly from fall to winter. "All the product should be functional year-round without looking like a technical boot," says Leah Larson, vice president of product development and creative director. "Why should your footwear choice of the day be dependent on the weather?" Like good bones, the utilitarian components of Ross & Snow's boots aren't obvious to consumers (shoppers are more likely to be lured by metallic finishes on chunky moto boots and stacked heel, lamb-leather knee-highs), but they provide a solid foundation.
Even work brands are prioritizing style for Fall '19. Data suggests that more than two million women will be working in construction by the end of 2021. What's more, women outnumber men graduating with degrees in the field, making it ripe for boot sales. But they're not in the market for the "shrink and pink" model work brands traditionally offered in women's boots, says Garrett McGuire, Cat Footwear brand category manager for work. "Not only do women have different feet with different physical needs, but they have a life outside of work," McGuire explains. "We're designing for them with comfort in mind, but also considering aesthetics." New for Fall '19, Cat's women's line features sneakerboots and vintage-inspired combat boot silhouettes, all with slip-resistant, steel toe, electrical hazard and waterproof options. And there's not a pink style in sight.
Both outdoor- and work-centric retailers can profit from the utilitarian chic trend in boots, according to McGuire. While there will always be a market for traditional, technical snow, rain and hiking boots, incorporating trendy aspects into a silhouette tips the scales toward a sale almost every time. "Work is changing, and this new generation has a different expectation for their footwear," he explains. "Blending the work and lifestyle aspect right in the store guarantees the customer is getting what they want."
Another potential boon for retailers: The new designs' versatility gives stores longer to sell product during the season and less incentive to mark down merchandise. You can build third quarter business on transitional, technical boot fashion, says Cougar's Sedlbauer. And thanks to function's chic new makeover, staff need not focus on the technical aspects of boots to sell merchandise. In fact, Sedlbauer has his entire sales team lead with fashion, only bringing up Cougar's "Always Waterproof" slogan as a bonus. "These utility traits are like the airbag in your car," he explains. "You don't really think about it and you hope you never need it, but it's there when you do."