Brands selling direct-to-consumer (DTC) online are about as commonplace today as knockoffs at a flea market. Pretty much everybody is doing it and, depending on whom you ask, the reasons span an unapologetic right to do so to a necessary means of survival, especially amid a devastating pandemic, to some stating it actually helps drive traffic into stores—and they have the data to back that up. Still, about the only aspect regarding DTC that all sides agree on is every such sale used to be a retailer's, and that massive loss in revenue hurts.
"Independent shoe retailers are being disenfranchised," says Mark Jubelirer, president of the 135-year-old Reyers Shoe Store in Sharon, PA. "More than ever, the vendors are throwing retailers and their loyal employees under the wholesale bus for a few dollars more." Jubelirer believes if vendors don't stop their "greedy" ways, there come a reckoning soon. "Looking forward just to the end of the current quarter isn't a long-term strategy for survival, and what if the masses start to abandon you?," he says. "What if 3D printing shoes becomes all the rage? You'll have no chickens left to count."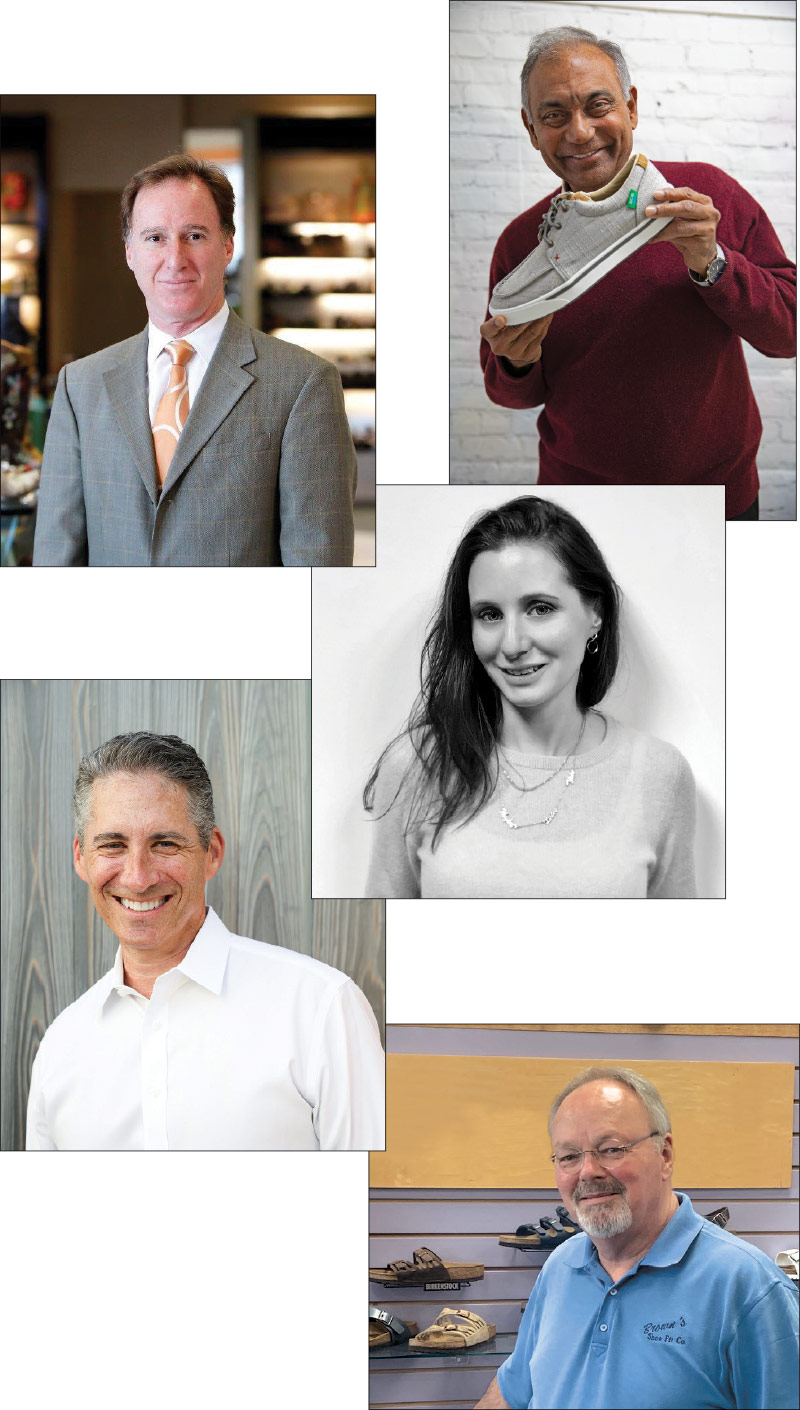 Scott Home, president of Musse & Cloud and Emmshu, doesn't sell DTC to protect his retailers. "If I sell DTC, the consumer might buy from me and not my retailers," he affirms, adding that he agrees "100 percent" with those who view it as direct competition and nothing more.
Yet the practice of brands going around retailers has become so prevalent that Dave Astobiza, co-owner of the 13-store Sole Desire chain based in Santa Rosa, CA, says if a brand isn't doing so, he wonders "what's wrong with them?" Not that he thinks it's necessarily right, but he just grew weary of attending various industry conferences arguing that DTC is bad for retailers, particularly independents. Like it or not, Astobiza is resigned that online DTC is here to stay and only going to get bigger—so much so that he and his brother, Danny, launched their own wholesale brand (Biza) early last year as a way, in part, to diversify their holdings. "Saying brands can or can't sell online is not even a talking point anymore," Astobiza says. "But the minute a brand starts undercutting you regularly on price on their DTC site, that's not a brand you do business with." There are plenty of such offenders, he adds.
Entering into this often hotly contested debate is a handful of brands that, of late, are stating they don't sell DTC as a point of differentiation in their trade marketing. Does it work? Are retailers enticed by such a statement?
"You'd think on the face of it, that's a good offer," says Gary Weiner, owner of Saxon Shoes in Richmond, VA. "It's nice that they don't want to compete with us at that level and I'd like to say that if I could support those brands, I'd love to." But, Weiner adds, there's a caveat: the brand has to have potential. The no DTC angle is not enough on its own. "It's not a bad conversation starter, but I have to be able to do business," he says. "In the end, it's always about the product."
Gregg Palmer, managing partner of five Brown's Shoe Fit stores and based in Grand Junction, CO, views brands that don't sell DTC as more "retailer friendly." But he agrees that product trumps no DTC. "I would give that brand more interest, but it still must fit into my mix," he says. "If it were an even choice between the one that does and one that doesn't, that would be the deciding factor." Palmer adds that he's dropped a couple of "minor" brands that started selling DTC after years of not doing so, but it's the major brands that sting much more. "We need (major brands), we help build them, and they are now expanding beyond us, yet when times get tough, they come right back to the brick-and-mortar businesses and claim how much we mean to them," he says.
Just Say No…to DTC
Daniel Butler, national sales manager for Lines of Denmark (including Ilse Jacobsen and Rollie, among others), says its decision to promote that it doesn't sell DTC is for two main reasons: to not compete with retailers for the same sale and to focus its marketing resources elsewhere. "Most of our team has a retail background, mostly at Nordstrom, and we want to focus on selling to retailers who will discover and introduce to America brands that don't have a presence in this market," he says. "Retail is hard enough without having to compete with the folks that are selling you." Butler reports "true appreciation" from retailers when this point is brought into the sales pitch, but it's not as if Lines of Demark depends on it. "It's not what we lead with, but we're hopeful that maybe it can be a tipping point between purchasing and actually buying," he says.
Similarly, Prasad Reddy, CEO of Twisted X, says the strategy behind advertising that it doesn't sell DTC is part of its trusted partnership platform that, of course, starts with great product. As for the no DTC stance—one the company has held firm to since he took the helm 12 years ago—he sees no reason to change course now. "It's that old saying, 'You dance with the person who brought you to the dance,'" he says. "Well, retailers are the ones who've have made us successful (12 straight years of double-digit sales growth), so why would we ditch them now for a short-term profit?" Reddy reports Twisted X's no DTC messaging has resonated well with quite a few retailers. "One of our largest customers recently thanked us for having been true to our word—unlike many of their other partners—and said they'd be rewarding us big-time soon," he says, adding the company directs consumer purchase requests made on its site to partner retailers. Beyond the incentive of gaining more business, Reddy believes it's just the right thing to do. "We're a privately held company and not after the short-term gains to please Wall Street," he says. "We do what we feel is right by our retail partners."
While not promoting its no DTC sales position in trade advertising,
Ayelet Lax Levy, president of Naot USA, believes its decision to steer consumer purchases on its site to retail partners is also just the right thing to do. "We're extremely loyal to our retailers, probably to a fault," she says. "I think that most don't understand that we're not taking all the sales for ourselves, but rather supporting independent retailers around the country." But, she adds, for those who do know—starting with the retailers fulfilling those orders—they are "extremely thankful that we're not stealing their customers, rather increasing their local customer lists." Levy believes directing sales via drop-shipping is the best of both worlds. "This hopefully will also drive more people into their stores," she says. While she believes brands have every right to choose how and who they sell their products to, retailers have a right to choose which brands they carry. But, she adds, united the industry stands, divided it falls. "I hope, if nothing more, this pandemic has taught us that we're in this together," Levy says. "That none of us can do all the work on an island alone."
Say Yes…with Limits
On a different take, David Kahan, CEO of Birkenstock Americas, believes brands have a "responsibility" to engage with consumers directly, and that includes DTC sales. "The big question is how and to what degree," he says. "The magic trick is to do a meaningful DTC business and to continue to support and grow key wholesale partners. This is where real brand management comes into play." As for retailers angry at brands who sell DTC, Kahan says they have a right to be—if the brand compromises them significantly, which mainly relates to discounting. "There are too many to name that have become online 40- to 50-percent off businesses where the wholesale metrics then makes no sense for retailers," he says.
Kahan believes brands should be fully transparent, even if that includes digital exclusives and products that are not available to wholesale, but are used as a way to enhance it. "First and foremost, our retail partners are the bullseye of all we do," he says. "We have a team focused on providing the best possible service and to insure we maintain inventory to meet their needs. In addition, no one can ever go on our site and purchase at a price below our retailers', and while we do have a spread of product that may go beyond what's available at wholesale, by and large any significant volume style is offered to retailers but, with the reality of credit today, there's no account who can represent everything we may carry."
Jerry Breig, COO of Lamo Footwear, holds a similar position of a delicate balance between DTC and its drop-ship program. "I think DTC is an important part of any business as it creates a relationship with the consumer," he says. "But we hold to MSRP prices so our brick-and-mortar accounts have a price advantage." Breig adds that the world has changed and there's no going back. "Many consumers are changing their shopping habits and expect to shop DTC, but by being dropship partners with many of our top retailers, that gives them a comfort level in shopping as well as a much bigger palette to shop in our endless aisles."
Brendan Hoffman, president of Wolverine Worldwide, believes its DTC channel efforts benefit its retail partners—starting with the reams of consumer data that it shares with them. "We're creating better assets for them to use as we're understanding directly what the customer is looking for, and that's shaping our merchandising and line assortments going forward," he says. Hoffman, a former top exec at Bon-Ton Stores and Lord & Taylor, adds that from his experience, whenever a flagship opened in the same mall, it lifted sales for both parties. "There are people who will shop in that store and others who'll shop in the multi-brand store," he says. "It didn't matter if it was Chanel all the way down the food chain, it just enhanced overall brand recognition."
The real point of contention with DTC is when retailers are confronted by consumers who find a lower price via their smartphone making them look like the bad guy. Blake Krueger, chairman and CEO of Wolverine Worldwide, couldn't agree more. But he says it's up to the brands to maintain their prices and integrity, which he assures Wolverine does. "The rise of ecommerce has given a huge amount of power to consumers, which has put more of a burden on brands," he says. "You have to manage your brand distribution and control your prices—not just for the good of the brand and your own ecommerce business but for wholesale customers as well." Krueger adds that it a seismic shift that some brands have struggled with. "It requires great discipline and fortitude, but there is really only one right way to go," he says.
Astobiza, for one, believes DTC is just a consumer expectation today. "Amazon and the iPhone changed the world," he says. "While vendors make more money selling direct—that's why the argument of having them stop is just not valid—the reality is millions of consumers like to shop this way, and it's not going to change." He adds that online shopping just leaped frogged five years in the span of this pandemic. It's why Biza sells DTC, but only at full price and doesn't participate in any big sales and features a dealer locator on it site. "Consumers can buy off our site, just not cheaper than in a store," Astobiza says. "You have to have offer it, and I think vendors are wasting opportunities if they don't."
As a startup, Micro Scoccia, CEO of the sustainable fashion brand O2 Monde (see p. 38 for more), says selling DTC is a way to get a foot into the door. "You have to be found first," he says. "Without a physical retail presence, startups absolutely must find other ways to reach their consumers." But building a DTC site is not easy, and it's one reason why he seeks retail partners as well. "Physical retail offers two key elements that DTC lacks: exposure to a wide range of consumers and the in-person experience of the brand," Scoccia says. "Products are displayed over a period of time, providing the opportunity for repeated interactions and experiences of the products, which is particularly important for attracting consumers who were not specifically searching for the brand or product in question."
Pandemic Silver Lining?
While it's clear selling DTC online will continue—as will the debate over its pros and cons—there appears to be a growing consensus among retailers and brands that once the pandemic is brought under control, in-store shopping stands to gain, at least in the near-term. Kahan expects a surge in local, hands-on retail. "We believe the neighborhood shoe store will return, and that many consumers miss this interaction" he says. "The key is for the best independents to insure they have a strong data base of consumers and remain highly engaged with them—meaning not just selling but sharing information." He cites some of the orthopedic-focused retailers as having fared well during the pandemic and are positioned well for after. "You can't replace the experience of sit-and-fit footwear retail, and we're committed to supporting this for many years," he says.
Levy of Naot also believes a post-pandemic boon to in-store shopping. "Once Covid is done, I expect there will be a strong return to Main Street," she says. "A feeling of community that will hopefully translate into positive sales for shoe stores around the country." •