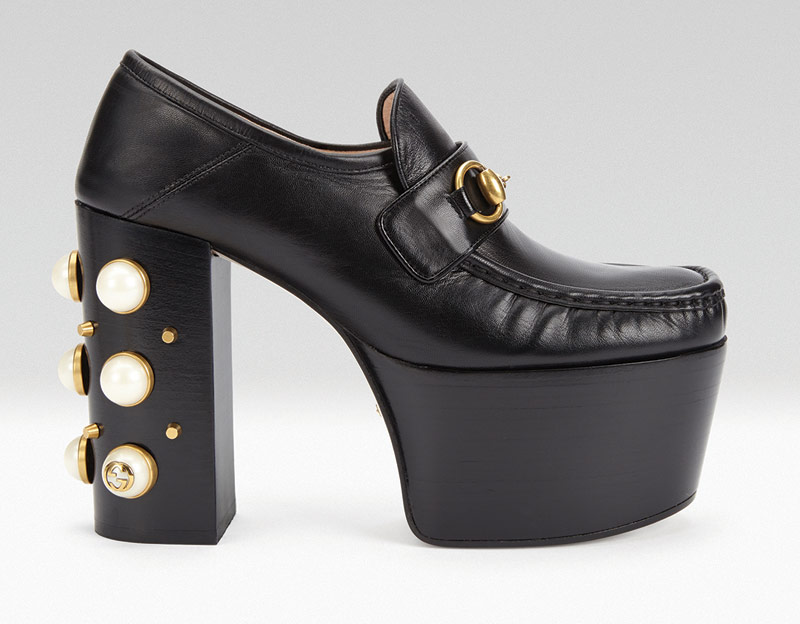 Few would argue that the sneaker is the current champion of footwear fashion. Luxury design houses have been forced to introduce their own takes on the sporty silhouette, coming off the heels of the Birkenstock renaissance, which forced them to reimagine frumpy sandals. It seems the stiletto has become taboo in the age of athleisure, where the houses of Nike and Adidas hold more sway than Prada, Dior, Versace, Ralph Lauren…But then there's Gucci, which stands as a beacon of luxury in a world gone athletic.
When creative director Alessandro Michele took the helm in 2015, he presented a worldview that was colorful, opulent and even a little kitschy. The now-famous fur-lined Princetown slides became all the rage in 2015, triggering a host of imitators to let their collective hair down, so to speak, and go wild on fur accents. Then there's the label's horse-bit loafers, silk flatforms, embroidered slides, block-heel loafers and cross-strap mules that have also been redesigned, reinterpreted and simply knocked off by legions of competing designers and mass-market brands. And it's not just women's—Gucci's embroidered sneakers and kangaroo-fur loafers ($995 retail) are lighting up men's fashion as well. For the past four seasons, the house that Michele built has had the golden touch for footwear trends.
"The effect that Gucci has had on recent footwear trends is immeasurable," affirms Ella Hudson, WGSN senior editor, accessories & footwear. "Not only has Alessandro Michele's modern spin on heirloom opulence inspired a return to a highly decorative aesthetic, but the brand has single-handedly made the loafer a must-have for over four seasons straight."
Neenu Jacob, cofounder of Hook, a fashion discovery app that aggregates multiple shopping websites onto one platform, reports that search queries for Gucci's men's shoes are outpacing women's. Additionally, Jacob says Gucci flats were the most-searched footwear in April on Hook, and the label's Ace lo-tops are second to Adidas as the most-searched sneakers so far this year. Hook's data reveals that Gucci footwear holds the number-three Visibility Rank, which means on average a Gucci shoe is the third product listed on online marketplaces in the U.S. "Additionally, at least two out of the top 10 shoes bear the Gucci logo," Jacob says.
Erica Russo, OVP fashion director of accessories & beauty at Bloomingdale's, confirms that Ace sneakers are selling well at the department store chain. "They feature fun embellishments like stars and pearls," she says, adding, "The Bloomingdale's customer loves Gucci's styles with menswear influences and novelty accents." (Russo's personal favorites are the pink Lawrence embroidered snake mules and Queercore ankle strap flats.)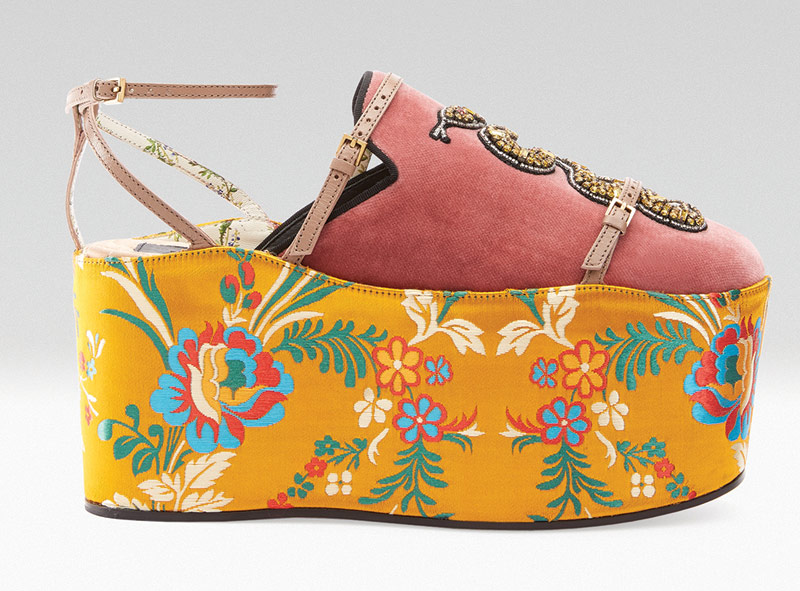 Gucci's recent success rivals Tom Ford's days as creative director in the 1990s. "Central to Gucci's stratospheric commercial success has been the fact that the brand is offering something different," Hudson says. "For so long it had been all about stripped-back minimalism and casual sneakers, and with Alessandro Michele at the helm, Gucci demonstrated a way to do all-out romanticism that was not only contemporary but infinitely wearable."
Wearability is key, agrees Erika Vala, co-owner of Brooklyn boutique Shoe Market NYC. "The styles are just really fun and beautiful at the same time," she says. "There's something about Gucci shoes that are wearable and also inspired." She reports renditions of rose-embroidered loafers by Intentionally Blank and Silent D (inspired by Gucci's Princetown leather slippers) have sold well in her store. Chic and comfortable, the styles retail for $186 and $114, respectively, as compared to the Princetown's $780 price tag. "The loafer trend seems to be on the verge of oversaturation, although I think it will last through fall and into next spring," Vala notes, adding, "Our customers want shoes that are fashionable, comfortable and worth the money."
Sherwayne Mahoney, designer for independent label Things II Come, was a big fan of Gucci's Spring '16 collection—styles he describes as "imaginative, artful, but wearable." For 2017, he's "loving" the new sneaker line. "Its great colors and ornamentations make wearing Italian-made sneakers fun and exciting," he says. Indeed, the comfort aspects—most of Gucci's hot sellers are flats or feature a mid, block heel—cannot be overlooked. Their popularity is in step with consumer's increasing desire for comfort in couture, and Gucci is proving it can deliver on both fronts. It also shows the power of the consumer in the social media age. "Trends come from multiple sources now, and one of those sources is consumers themselves," says Beth Goldstein, group fashion footwear analyst for NPD. "With endless information and social media, consumers can decide which trends they want to embrace—they don't need the designer market to tell them."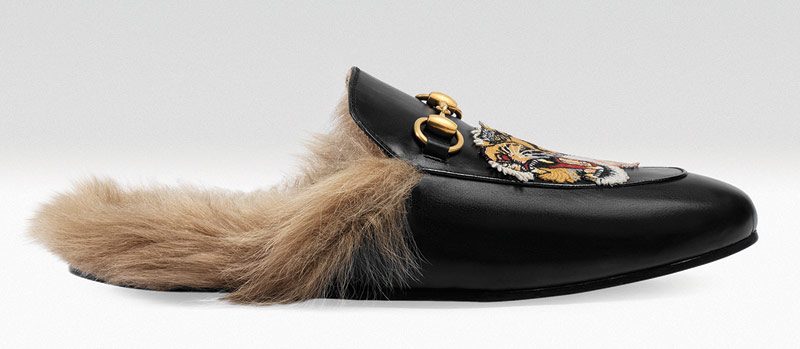 In addition to comfort, Mahoney cites several other reasons for Gucci's breakout success. He points to craftsmanship and quality of materials, first and foremost, along with Gucci's constant "changing of the guards" and influx of fresh talent.  He's also notes the label's popularity in Asia, a growing luxury market. Last, he says, is the worldwide admiration from editors, stylists, high-profile clients and celebrities. "[Influencers] wear the brand's pieces on red carpets, at galas and at awards shows, and shoppers run to acquire the latest accessories they've seen," Mahoney says.
In addition, recent fashion weeks have seen countless street-style stars sporting Gucci's fur-lined Princetown slides, pearl-encrusted mid-heel loafers, Marmont patent pumps and metallic kiltie mid-heel mules. (Not to mention, the must-have faded Gucci T-shirt and classic double-G gold belt.) Jacob confirms that the brand's Marmont pumps (a block-heel kiltie loafer) in red, pink and gold and floral slides are top sellers. For those who can't afford the real thing, she cites Ash, Erdem, Mango, Topshop and Sam Edelman as having popular renditions.
Going forward, Jacob predicts embellished and "blingy" updates to the Marmont style will gain traction, along with jacquard slippers for men and women. "The new jacquard collection with Donald Duck and tigers, metallic leather pumps and the embellished 'Bow' pumps are our best bets to restock in spring," she says, adding,  "Asian souvenir-shop influences continue to shape Gucci for the coming seasons, but with a lighthearted, art-meets-pop-culture vibe in 2017." She points to Rihanna's bedazzled Gucci outfit for Coachella as the first sign that all-out bling is ready for liftoff. Mahoney believes that mules and fur will also continue to have legs this year, along with embroidered sneakers and printed canvas.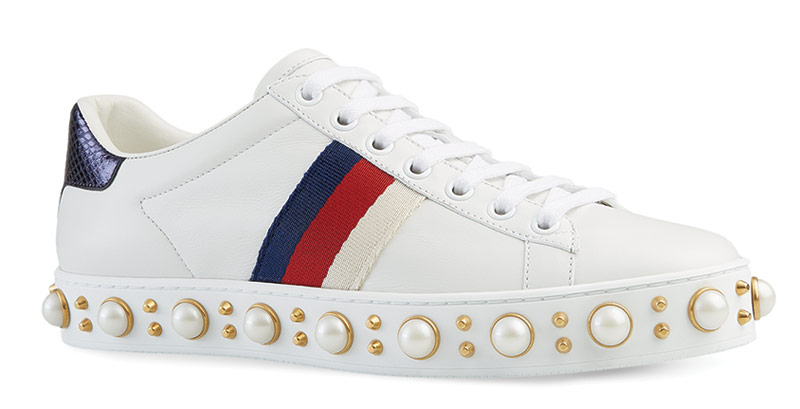 Russo is also keeping her eyes peeled for maximal styles from Gucci in upcoming seasons for the shelves at Bloomingdale's. "We are excited about the continuation of novelty, crystals, velvet and the overall aesthetic that 'more is more,'" she says. "The emergence of the shine trend from colored metallic to patent leather feels new and fresh."
All signs point to Gucci as top trendsetter in the seasons to come. That is, until another label comes along to dethrone the king. Jacob cites stiff competition from Aquazzura and Sophia Webster on digital shelves and notes Dolce & Gabbana, Tods and Giuseppe Zanotti as other key names to watch. "Dolce & Gabbana or even Tom Ford has the ability to land on something that excites everyone," Mahoney says, noting that Versace could be another potential big-name player. "But they would need a shake-up in management like what materialized within Gucci Group to accomplish that."
In the meantime, most industry experts are banking on Gucci to keep delivering the goods. "The so-called Gucci effect will last long beyond the trends for placement embroidery and furry slides have run their course," WGSN's Hudson predicts. "Already we are seeing a much bolder and braver embrace of color and materials across the footwear category, which is undoubtedly a knock-on effect of Alessandro Michele's vision for the Gucci brand." •