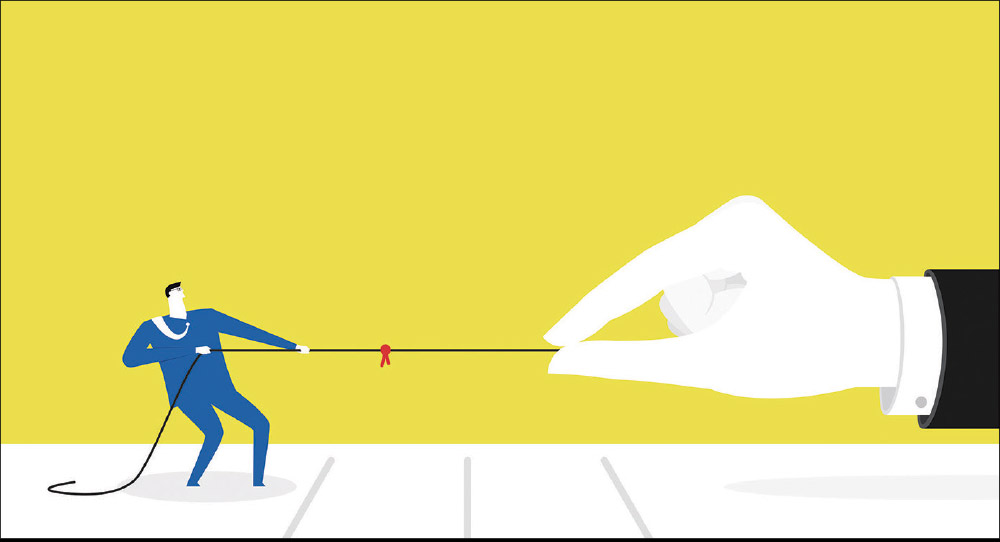 Fact: Brands are increasingly selling directly to consumers online.
Argument: This is good for retailers as it boosts recognition for their brands, provides validation for their stores and gives consumers the omnichannel options they demand.
Argument: This is terrible for retailers as it steals away sales, puts them in direct competition with brands and, sometimes, undercuts them on price.
Argument: This is good for brands as they can control their own message, show and sell collections in their entirety and reduce retailer markdowns and return issues.
Argument: Retailers have enough competition already and, coupled with rising fixed costs, can't afford to lose anymore margin or sales.
The debate rages on…
Amazon might be the evil empire retailers love to hate, but lately many are citing vendor partners as their No. 1 competitors and concern. Like it or not, direct-to-consumer (DTC)—also referred to as channel conflict—is here to stay. So as brands build vertical stores and ecommerce platforms and retailers expand private label offerings and/or stock exclusives, the question begs: Is there a way for both sides to work together and prosper? There are no easy answers or quick fixes, but of late a handful of brands have extended an olive branch by introducing DTC concepts that enable select retailers to gain a portion of those sales. This can be done by funneling DTC sales to nearby stores to fulfill as well as drop-shipping items for stores to offer a broader assortment and to reduce out-of-stock issues.
Mephisto USA, for example, has had success for about a year since installing Quivers, a collaborative order management system, for its 10 independently owned flagship stores. Quivers enables Mephisto to send orders off its DTC site to those stores to see if they can fulfill. "The No. 1 thing that drives a consumer to your website is that they saw your brand physically somewhere," says James Rowley, CEO of Mephisto USA. "So we want to help those flagships survive and thrive."
Rowley, a former independent retailer, believes it's difficult to compete these days unless those retailers can generate 10 to 20 percent of their revenue through online sales. "We try to get up to 20 percent of their revenue generated by our website," he says, noting Quivers is currently available only for its flagships because of volume constraints. The system is more than just an additional revenue stream for retailers, however. It allows them to take more aggressive stances with product, Rowley says. "This enables stores in, say, Florida, to have a representation of fall product with newness in August because they know they have an outlet online," he says. "If a consumer in Tampa orders a Mephisto shoe [on our website], rather than us ship from a New York store or a warehouse in Nashville, we'll route the order to Florida to fulfill. At the end of the day, we service the consumer in the most efficient way."
Gary Hauss, owner of J. Stephens, a comfort chain based in Southern California, sees Quivers as a win-win for retailers and vendors. "It's incentive for retailers to carry more SKUs and sizes to capture those potential easy sales—if you are fast to click—that they wouldn't normally get," Hauss says. "And the vendor is getting what every vendor wants: a much broader selection in those stores. This is truly a win-win for both parties." Hauss envisions Quivers being extended to a select group of multi-brand retailers, especially for vendors who don't have flagship stores. "They could call it their elite partners, where those retailers carry 20 or 30 SKUs and then offer them the same opportunity as Mephisto is doing for its flagships," he says.
Retailers don't even need their own website to participate, notes Quivers Marketing Manager Colton Rice. They just need access to the system to start fulfilling orders that were placed on the brand's website. "The sale is typically shared, but it's completely up to the brand what percentage they and the retailer get," he says. "We typically see the retailer getting the majority of the sale since they've already paid wholesale for the goods sold."
Naot has also recently upgraded its website to enable retailers to capture a portion of its DTC sales. The change achieves two goals: consumers are finally able to buy direct on Naot.com—something Ayelet Lax Levey, vice president of U.S. operations, says was being increasingly requested—and Naot is able to support its retail partners in the process. Participating retailers are selected based on a few factors, including relationship longevity and extent of the brand's presence in the stores. As for which retailer gets the sale, that's based on geographical proximity. "The overall strategy is to increase the reach of the retailers in their areas," she says, adding that they don't have to incur the costs of stocking and only pay for shipping.
The overall aim, Levy adds, is to foster a relationship between its consumers and participating retailers, which may encourage them to visit those stores. Beyond that, she believes it's just the right thing to do. "Our independent retailers have helped build the brand; they're the ones who have supported Naot for so many years and are integral to our business," Levy says. "We promised that we would not compete with them, like most of our competitors are doing, and we're going to continue to stay true to that promise."
While David Kahan, CEO of Birkenstock Americas, agrees that DTC may take away sales from its retail partners, he remains unapologetic in the brand's right to share its message in a commercial manner with consumers. At the same time, he believes smart brands know how to deftly create consumer demand, thereby developing their own DTC business as well as creating brand energy for their retail partners. "We never discount on our DTC platform," Kahan says. "It's a level playing field and, in many cases, we launch styles with retailers before on our site." Kahan expects DTC to be a significant growth vehicle in the years ahead for Birkenstock with the website and flagship stores becoming the hub of the brand in support of its retailers. "Picture it as the sun: it shines the brand light, and the earth benefits," he says.
As for Birkenstock sharing a portion of its DTC sales with retailers, Kahan says it's something not being considering at present. Instead, he says the brand is directing local sit-and-fit accounts to stop focusing on third-party marketplaces and even online sales. "Put your resources against creating the best in-store experience that can't be replicated elsewhere, and create a customer data base that you can then mine for loyal business," he says. "The future for local businesses lies in creating their own store loyalty and engaging consumers not as a third-party marketplace fulfillment house. We make sure that anyone who does online, does so as an adjunct to their store and not as a primary business." 
Routing DTC orders to retailers is one way, but there are other ways to grow the business for both sides. "Strict distribution and MAP policies, back-up stock strategies and store display programs are the keys to being good partners to our retailers, not competitors," says Steve Libonati, president of Libonati Co., distributor of Blundstone. "We're in about 1,000 doors, so our retailers are our priority. Much of the proceeds from our web sales are channeled back to consumer efforts, like advertising, social media and public relations, all which benefit and drive traffic to our retail partners."
Similarly, Earth Shoes is doing DTC sales, but also more brand marketing to drive consumers into stores. "Our goal is to get more people to our retailers, and we believe that brand marketing achieves that," says Phil Meynard, CEO. One way Earth is driving traffic to its approximately 600 doors is with a better find a store function on its site. "We've always believed strongly in find a store, but we're working hard to button up that piece," says Meynard. "For example, we might have a chain carrying an Earth shoe in one of its locations, but if it doesn't represent our brand in a meaningful way, we're just sending them to our competition!" Beyond that, Meynard says price consistency is the best way for its DTC and retailer partner channels to coexist peacefully. "We're definitely in sync with our pricing," he says. "If something goes off MAP, automatic emails are sent to our retailers. Those communication efforts are key."
But not all that common, according to Elena Brennan, owner of Bus Stop boutique in Philadelphia. She cites United Nude as the only one of 14 brands her store currently carries that alerts them in advance of a sale on their DTC sites. "That really helps," says Brennan. "Otherwise, we let our customers know that we cannot compete with the sales offered by the brands we carry." Unfortunately, that can lead to uncomfortable situations with customers. "Customers pull out their phones right in front of me, and it's infuriating," she says. "But we don't price match, unless it's a small difference." Brennan, like most retailers, understands why brands sell DTC, but wishes they set aside more exclusive styles for retailers for differentiation. "It hurts when brands offer the same styles to their boutiques and consumers," she says.
Enselow Shoes & Orthotics, a four-store chain in New York, price-matches when a consumer threatens to walk out the store if they find the item cheaper online. "It's extremely costly to lose this part of our business," admits CEO Robert Schwartz, who puts the loss in net business at over 20 percent. Schwartz has asked partner brands not to sell the same items DTC to avoid this scenario, but without much support. Thus, he has expanded the chain's private label offering and carrying brands not otherwise available in U.S. The status quo, he says, was just too frustrating and costly. "We helped grow the brands, market them and demonstrate their value because of the high-standard reputation of Eneslow," he says. "Now, the brands are taking these customers."
RG Barry, manufacturers of Dearfoams, Foot Petals and Baggallini, has been selling DTC for about five years because, like many execs say, the consumer expects to be able to shop there. But as CEO Robert Mullaney notes, they don't always transact there and often the retailer does get the sale. "The best benefit of selling direct? Listening to the consumer directly," he says. "It's an ongoing focus group, and we see our sites being utilized to review products, which benefits our retailers." Even so, RG Barry's first priority is its retail partners. "Wholesale still dominates, and we're focused on growing our retail partners' ecommerce sites," Mullaney says. "We have purposely vested in drop-ship to utilize as a testing mechanism to ensure we have a greater chance at success in stores." 
Drop-shipping is one way brands and retailers can share the wealth in online sales. Retailers can offer a broader selection without the inventory risks and brands get the increased exposure. "Our drop-ship capabilities have helped us grow and introduce our brand to the U.S. market," says Steve Sedlbauer, president of Cougar Footwear, noting retailers pay a service charge for freight and handling. Kevin Mancuso, CEO of White Mountain Footwear, says the 40-year-old company recently invested mightily in a new drop-ship warehouse as a way to boost sales for its retail partners. But that hasn't stopped the company from operating a DTC site as well. The way Mancuso sees it, consumers now have a choice. But drop-ship isn't without its risks. "You better have the inventory if those retailers are showing it on their websites," he says. "And if it doesn't sell, you're stuck with it." Seeing how White Mountain is, first and foremost, a wholesaler, Mancuso says the company is willing to make the investment. "We're here to service our retail partners to the best of our abilities," he says.
Brennan does drop-shipping with a few brands, but feels that a broader assortment isn't always the answer. "When customers ask, 'Does this come in another color?' I say, 'I bought it in the best color!' They want our expertise and for us to take the work out of their shopping. We're their stylists."
Overall, execs on both sides of this debate agree that stores need to be reimagined to appeal to the digital age shopper. There's a happy medium spanning DTC, drop-ship and in-store shopping where everyone gets a meaningful piece of the pie. Brands need retailers and vice-versa. Going it alone isn't the answer. New York's new retail mecca, Hudson Yards, is a step in that experiential/digital direction. The B8ta store, for example, features single items from multiple brands offering try-on and testing along with kiosks for more information and ordering capabilities. "I'm surprised you don't have more virtual pop-ups within stores," says Earth's Meynard. "If sizing is accurate, you can have a small selection for try-on and more options to choose from at a kiosk, and the retailer doesn't have to incur the inventory hassles. Everybody wins."