The Simple Life
Simplicity makes a strong statement with two-tone neutrals and rich leathers.
J. Litvack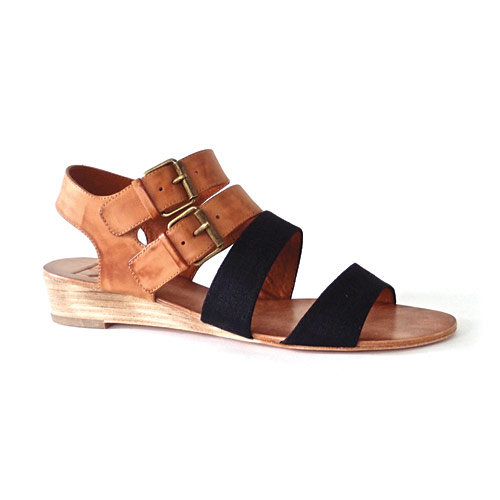 Digest This
Architectural silhouettes from previous seasons give way to softer twists on avant-garde.
Julian Hakes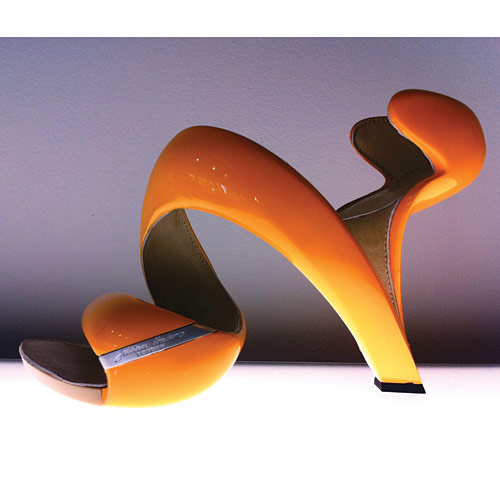 In the Details
Artisanal touches add visual interest to key men's silhouettes.
J. Artola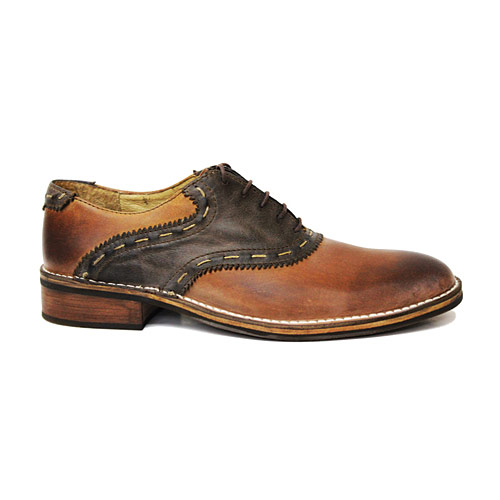 Wing Man
Wingtip details spruce up the traditionally sporty men's style.
Hush Puppies
Reach the Beach
Lightweight and neutral, linen adds a relaxed vibe to sum- mery sandals.
Chocolat Blu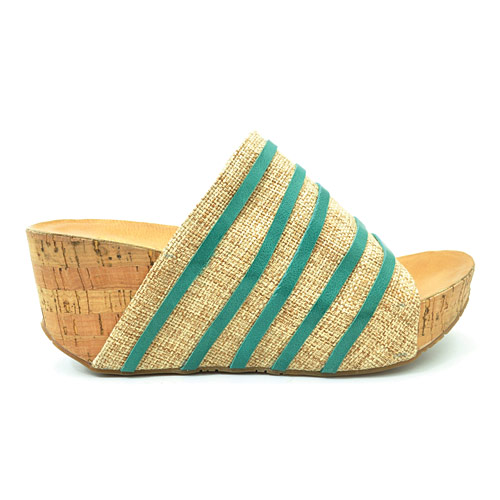 Electric Outlet
A shock of neon adds another dimension to an already bright and colorful season.
Chelsea Paris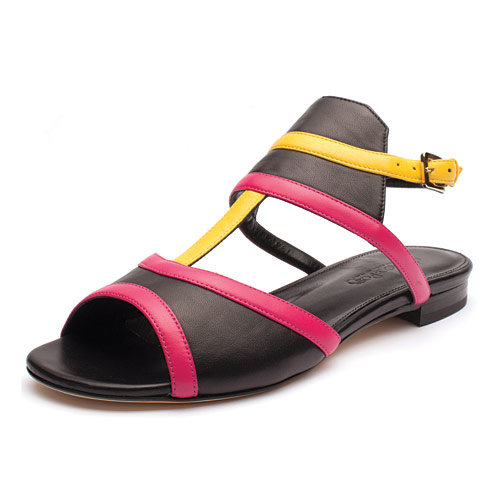 Decades Surfing
The '70s and '90s converge with wood heels that warm up otherwise sleek and minimal leathers.
Earthies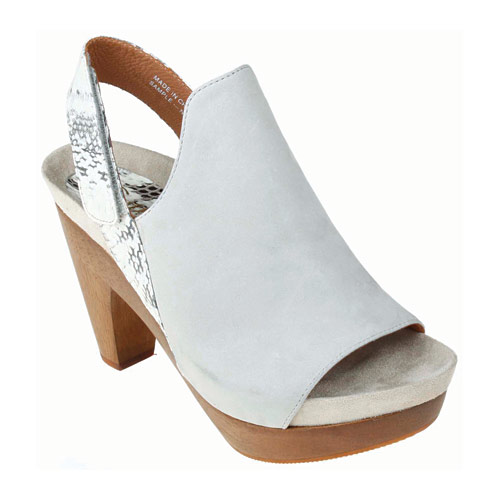 Cross-Dressing
Monk straps blur the line between casual and formal looks for men.
Lloyd
The Spring '12 show season can be broken into two groups: those shows that occurred before the stock market's recent wild gyrations (ENKWSA, FFANY and OR) and those that took place after (TASM and FN Platform). The jolt didn't have a direct impact on attendance or what trends stood out more than others, but it had a cautionary affect on the overall mood of attendees. How could it not? But our industry has also been down this road before and, as the saying goes, the show(s) must go on. And so they did. Here's the chronological recap of what transpired.
ENKWSA: VEGAS BABY
First up was the ENKWSA show held at the Sands Convention Center in Las Vegas. David Kahan, executive director of the ENK Footwear Group, reports that exhibitors, in general, were upbeat regarding the quality of buyer traffic, which was up in numbers compared to the February edition. "The attendees were incredibly positive," Kahan says. "They loved the layout and easy ability to work the show floor." As for show highlights, Kahan cites its opening night event at The Wynn's Encore Beach Club where ENKWSA honored Deckers CEO Angel Martinez with its inaugural Footwear Industry Icon event. "We had more than 700 guests for a great event that brought the industry together," he says, noting that capturing the energy and unique creativity of the footwear industry is key. "I believe we are in the experience and emotion business beyond the fundamentals of staging a show," Kahan adds.
Gary Champion, president of Earth Inc., concurs that buyer traffic was steady and up slightly overall at ENKWSA. "More importantly, the caliber of independent retailers was stronger than the last show," he says. Overall, Champion says it was a very good show for the company. "We've had a great launch of Earthies," he says. "And our remarketing and re-styling of Kalso Earth Shoe was well received and buyers understood the direction we are taking with the new Earth brand."
As for the general mood of buyers, Champion says they appeared cautious but looking for ways to bring more interest to their shelves with the right types of additions. "No one was singing the blues," he says. "They seemed to be open to new ideas and brands, but putting careful thought behind any additional investments." For first-time attendee Prospecs, a $600 million walking shoe company based in South Korea, WSA presented the opportunity to test product appeal and research pricing and distribution issues. Mission accomplished reports John Gillis, senior marketing consultant. "WSA turned out to be the ideal environment for Prospecs," he notes. "The fact that there were few competitive brands showing allowed us to have substantive conversations with important retailers who weren't pressed for time." Specifically, Gillis says many of the retailers were reputable regional comfort stores. "Their feedback was invaluable and helped us plot a careful rollout for the brand," he says. "We only want about a dozen top-notch retailers to help pioneer the brand over the next year and a half, and we met at least 10 at WSA."
Rob Rask, managing director of Ara Shoes North America, reports a similar quality level of buyer traffic at WSA. "Traffic was very good for us and up considerably from the February show," he notes. "We had customers from all over the country as well as from Canada. And we also opened up some new accounts, which is a real plus." As for the mood, Rask reports it was upbeat and proactive. "We put together some at-once orders as well as registered solid gains in Spring '12 orders versus the previous spring," he maintains.
FFANY: ONLY IN NEW YORK
The overall positive vibe continued at the FFANY show, Big Apple style. The show enticed a healthy mix of East Coast independents, stretching all the way to Montreal, Canada. In addition, the major retailers were making the rounds at the Hilton Hotel and Flatotel as well as numerous surrounding showrooms. "We found that we had better appointments," notes Carol Wood, vice president of Cougar Shoes. "Retailers came back to see how we followed up on this fall's launch of our better grade leather boot collection." For Spring '12, Cougar debuted a line of leather casuals and sandals that, Wood says, received a strong reaction. Overall, Wood described the mood of buyers at FFANY as cautiously optimistic. "The underlying message is that retailers are, more so than ever, looking for originality to ensure a point of difference for their stores," she says. "We heard that message from many levels of retailers." Andrew Tastad, vice president of sales for Auri Footwear, reports it had a good FFANY show as well, noting a mix of majors, top independents and web partners stopped by. "We added several new retailers," he says, noting that the majors, in particular, seemed bullish. Trendwise, Tastad reports the brand's narrower toe silhouettes and giraffe prints as being two highlights. He also commends FFANY for staging a "great cocktail event" that allowed (more than 300) retailers and vendors to network.
Joe Moore, president of FFANY, says the cocktail party was just one of several extras added this go-around. He notes the show also featured new private meeting rooms located in the concourse level of Hilton. (The space sold out and FFANY is looking to increase public space for its 2012 shows.) In addition, there was a special collection of Italian brands, "Shoes from Italy," previewing their latest lines at the Flatotel, and the recently launched FFANY.org mobile website provided attendees instant access to online registration information as well as updated list of exhibiting brands and showroom locations. Overall, Moore notes, "Exhibitor feedback indicated that traffic was busy. There were other shows going on prior to and during FFANY and, despite that, traffic was still very strong."
OR: INTO THE WILD
The Outdoor Retailer show in Salt Lake City continued its record-setting pace in terms of exhibit space and attendance. As customary, the beer started flowing in various booths by mid-afternoon, and with growth in nearly every quantifiable category, there was indeed reason to celebrate. "The show's success is in lock-step with the growth and popularity of the outdoor industry," says Kenji Haroutunian, show director. OR's Summer Market saw an increase of more than 100,000 net square feet of space compared to its previous Winter Market to a total of 1,283 exhibitors. "What is happening at OR is an increase in value for retailers to attend, thereby increasing value for exhibitors," explains Haroutunian. "We're focused on attendee experience. We listen to industry stakeholders and drive higher value to business community zones of the show, while supporting the culture and vibe elements that inspire and help spread awareness."
Most exhibitors reported heavy foot traffic. David Helter, Ecco's sales director, says an increasing number of its traditional footwear retailers are shopping the show. "We're very happy with attendance. We think this is the best niche trade show in the footwear industry," he says. Likewise for New Balance, according to Bryan Gothie, the brand's outdoor/trail product manager. "OR has always been an important venue for New Balance to launch new product stories because of the influential audience of buyers that attend." Gothie adds that the running specialty channel's focus on the show is growing because it is recognized as one of the few places to access a unique combination of niche and core product as well as allows buyers to get closer to innovation that is happening in other categories. In particular, Gothie says the debut of NB Minimum Zero shoes and NBx Minimus apparel collection were well received. "We are increasingly bringing a 'less is more' mindset across out collections," he maintains.
Craig Throne, vice president of global marketing at Merrell, says the brand also fielded a lot of excitement from buyers at the show, especially for its Barefoot offerings beyond the running arena, for everything from watersports, hiking and training to casual day-to-day wear. "The show seemed busier than the past season and we had a great amount of energy and foot traffic in the booth," he reports. Merrell also appealed to buyers outside the traditional outdoor community, Throne notes, as cycling and walking continues to grow in popularity as viable options for urban commuters. "We saw a lot of interest in our innovative heels on wheels program of cycling heels for women that offer a chic look with full-on cycling performance."
TASM: HOT-LANTA
Buyers at TASM in Atlanta shopped the busiest show yet, reports Laura Conwell-O'Brien, show manager and executive director of Southeastern Shoe Travelers Association. "This isn't a regional show anymore; this is the new WSA," she proclaims. Compared to last year, the number of exhibitors at the August show increased 9.5 percent, while retailer pre-registration increased 9.2 percent.
Jason English, a sales rep at Seychelles, says he booked 30 percent more appointments at the August show versus the February edition. "It just keeps increasing every show because it's such a great alternative to the coastal shows," he notes. "For the venue, they do a fantastic job. It still has a homey feel, whereas other shows feel more corporate. And it's a great venue for the buyer to get everything done in a couple of days."
Even after a week of bleak economic news and a wildly fluctuating stock market, brands remained upbeat about their expectations for Spring '12, as booths at Toms, H.H. Brown and Naot remained buzzing. Despite his predictions that next year will be "very hard" for retailers, Steve Lax, president of Yaleet Inc., distributors of Naot, says the brand had a "great show." "I think this retail environment is tough, but we have a lot of new stuff going on, and even in this bad retail environment, we're one of the stars," he says.
In fact, many exhibitors said buyers never mentioned the dreaded "e" word. "I would have thought the economic news would affect buying, but I don't think it has," Conwell-O'Brien says. "After the last recession people were really conservative , but then they didn't have enough inventory. You've got to have fresh, new things in store to tempt shoppers."
That's exactly what Larry Harris noticed at his Corbin, KY-based shop, Bags & Shoes. "We've been in a recession for years, but our sales don't fluctuate like in the big cities," he says. "I base my buying on how I'm doing, and I did better this year and bought more. If you've got what customers want at a reasonable price, they'll buy." For Harris's boutique, Sperry Top-Sider, Toms and Skechers are big sellers for the back-to-school crowd, while comfort styles like Alegria appeal to older shoppers. "Everything is more casual now," he observes. Harris says the profusion of espadrilles and raffia wedges at TASM were just what he was looking for, adding that platforms are still strong sellers at his store.
Other buyers were also pleased to see pops of detail and color in the spring lines. "We are loving the enhancements of fun metallics," says Molly Jackson, co-owner of Molly's boutique in Sarasota, FL. "And we love seeing white. I'm also seeing a lot of laser cuts and geometrics, and wood heels are making a comeback," she adds. And just as at other shows, color blocking—especially neutral shades of tan, brown and black—was a big hit with buyers, reports Bill Smyly, account executive for Nickels, a division of Brown Shoe.
FN PLATFORM: STANDING TALL
Bigger and better attended: That was the buzz coming out of the FN Platform show held at the Las Vegas Convention Center. Leslie Gallin, the show's vice president, reports exhibitor attendance spiked from 1,100 brands to approximately 1,500, while buyer attendance shot up in the double digits. "Opening night got off to a rocking start with a concert by Peter Monroy on the show floor," she says. "Buyer and exhibitors just loved the whole vibe and little extras that we provided— like free limo service between other Magic Show venues for retailers, food and drink always within 50 feet from anywhere on the show floor, and complimentary coffee and alcohol in designated areas."
Specifically, Gallin says, the men's segment "rocked," the kids area "exploded," and women's and comfort zones grew nicely and now have a solid foundation. In addition, the new Black Diamond area, showcasing European luxury labels, was well received. Last but not least, Gallin reports its line-up of seminars, including a pre-show event in conjunction with the USRA, were well-attended and deemed beneficial. "Overall, the buyers were upbeat, which speaks strongly about how bullish they are for Spring '12 season," she notes, adding the next incarnation of FN Platform will be full of surprises. "I'll re-invent it for next season. That's what we do for each show."
Trend-wise, Platform was in step with the East Coast shows. Roge Hanlon, sales manager at Showroom212 for Luiza Barcelos, says buyers mostly shied away from the extremely bright colors as she says, "they're still playing it safe." As such, she notes the brand's patent nude continues to be strong and retailers are picking up deep shades of red and petroleum blue. "The hues are richer than typical spring colors," she adds, noting an overall eclectic approach to buying. "Every retailer is selecting something different, which is great because it makes their store unique."
Along those lines, Amanda Brown, assistant marketing manager for Bronx, reported a strong reaction to its new shark bottoms on select stilettos. "It has a very aggressive look," she notes. Other Bronx trends popular at FN Platform included raffia and rope as well as tribal and floral prints. Tina Goldstein, account executive for Fossil, reports that vintage looks are still a force in men's. "Garment washed colors sneakers, driving mocs with boat shoe-inspired lacing and classic leather lace-ups are doing good," she says. And Suzanne Lorenz, new product development manager at Luichiny, cites animal prints, including giraffe and snake, received an "outstanding" reaction. In addition, wedges continue to be best sellers. "We added a lot of interest to the bottoms with woven, jute, basket weaves and texture. All of the styles have a natural look," she says, noting the booth was slammed during the show's first day. —Greg Dutter