Hide & Seek
Ponce
Brass, stud and chain embellishments are still aplenty; they are just hiding under leather. Punk-inspired details that ruled previous seasons are being covered and toned down in favor of subtle texture. Spotted elsewhere: Dusica, Free Lance. —Angela Velasquez
Western Union
Fred & Toto
In addition to leather boots tinged with southwestern bravatas, casual boots and moccasins with Native American-inspired prints, fringe, beading and whipstitching compose a colorful fall landscape. Spotted elsewhere: Inca & Manitobah.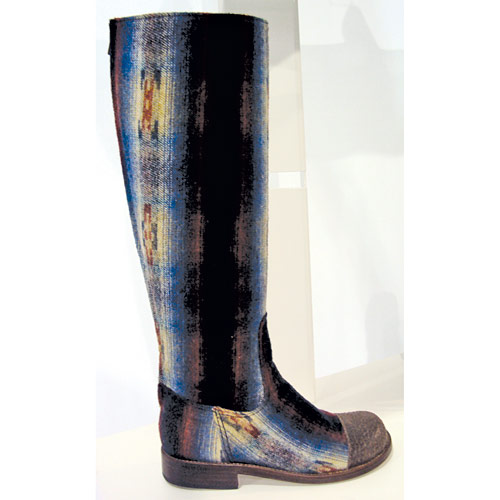 Single Sensation
Jon Josef
Is it the return of ladylike dressing? Or, is the industry growing tired of the recent onslaught of wedges? For Fall '11, vendors are reporting orders of single sole shoes on the rise, particularly styles that vamp it up in patent. Spotted elsewhere: Anyi Lu, Donald J Pliner.
Royal Icing
Suecomma Bonnie
Lavished with bows, velvet, ruffles and ribbon, designers are channeling an opulent air fit for holiday dressing. Breaking with tradition, many collections are delivering Victorian-inspired designs in white and cream. Spotted elsewhere: Unleashed, Plenty by Tracey Reese.
Medley
Zoe Kratzmann
With so many trends to choose from, why not combine them into one great shoe? A mélange of textures, colors, prints and details that hark back to sport and dress shoes deliver a quirky look that packs more bang for the buck. Spotted elsewhere: Morenatom, Coye Nokes.
Furious Feet
John Lennon
Taking a more stylish stance on the utilitarian needs of men, designers are lining and trimming fashion boots with luxurious furs in complimentary colors that are intended to make a cushy statement. Spotted elsewhere: Blondo, Magnani.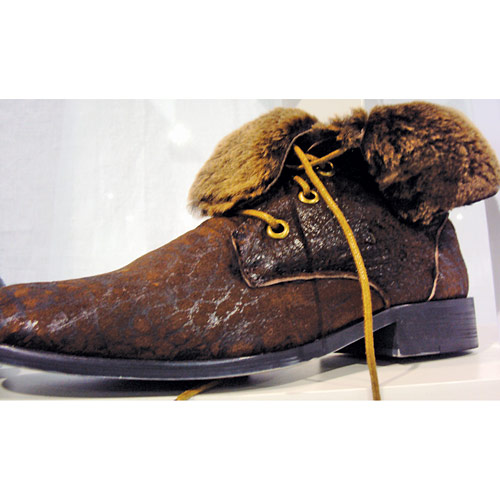 Just Dance
Eric Rutberg
After spring's wooden plat-form flower child revival, designers are clamoring to disco. Exaggerated silhouettes inspired by the late '70s swing into fashion, this time in today's favorite shades of red, blue, nude and black patent. Spotted elsewhere: Kork-Ease, Dusica.
First things first: At almost every trade show held during this Fall '11 market, organizers reported increases in exhibitors and buyer traffic. And before you scoff and say they always report such rosy figures, this time around it's actually accurate, thanks to an improved economy that is causing the footwear industry to come out of its recession-induced shell. The cost of traveling and setting up shop at Outdoor Retailer (OR), FFANY, ENKWSA, FN Platform and The Atlanta Shoe Market (TASM) was more economical when wholesalers had increased confidence that buyers would be in attendance and—more importantly—willing to write orders instead of "just browsing" or, worse, looking for make-good deals a la the previous (scary) show seasons.
The fact is many retailers have weeded out their inventories and need to restock. In addition, they are becoming increasingly confident as business continues to pick up. Weather was also a wildcard that played to the industry's favor, as much of the nation experienced record cold and snowfall—resulting in plenty of ruined shoes. It might also fuel spring fever on the part of shoppers who can't wait to dress brighter and lighter when the freezing conditions finally break.
Let's start chronologically at the OR show, held in Salt Lake City, UT, in late January. Show organizers reported a "record-breaking footprint" of exhibit space. (That's 349,950 net-sold square feet, to be precise.) As for attendance, OR reported 11 percent more buyers and a 16-percent rise in overall attendance. "Record-breaking show numbers are indicative of the strength of the market and also the faith the industry has in Outdoor Retailer," says Kenji Haroutunian, show director. "People know that they are going to get business from participating in this show."
The vibe at OR was definitely jovial: the aisles were crowded—many attendees with complimentary beers in hand and a few others with pooches and/or tots in tow. Most footwear exhibitors reported they had a "good show." OR first-timer Clarks experienced strong traffic as its extensive boot offerings received rave reviews. "We found the show to have high energy and to be really upbeat with the retailers having a positive attitude about during more business this year," says Joe Salzano, vice president of sales. "We met potential new accounts and found that a lot of the retailers were looking for new vendors as well."
Seth Cobb, vice president and general manager of Merrell, also reports that sales at OR were solid. "Our booth was packed the entire show," he says, adding that retailer entourages were bigger this time around. "We saw a return to normalcy, with more assistant buyers and marketing heads in attendance." Cobb says a show highlight for Merrell was its Barefoot natural-motion collection as well as its women's casuals and expanded kids' offerings.
The scene at the FFANY show in New York, held during the beginning of February, saw many people talking about the great outdoors as well. Only, this had to do with the ice storm that struck the Big Apple during the first day. But it didn't prevent intrepid buyers from hitting the Hilton Hotel and area showrooms in force. "We saw steady traffic, despite inclement weather," reports Joe Moore, president and CEO of FFANY, noting more than 400 people turned out for its appreciation cocktail party held during the first night of the show. "We had six exhibiting floors in the Hilton, which was the most ever for a February FFANY show."
Rob Moehring, CEO of Washington Shoe Company and makers of Chooka rain boots, says FFANY delivered on its expectations. "We had steady traffic and saw a lot of buyers who are not attending any shows in Las Vegas," he says. "We've had appointments with a lot of the majors, including Kohl's, Macy's, DSW, Piperlime and Amazon." Moehring adds that many of the locals came to FFANY despite the horrible weather. Of course, the inclement weather was a bonus for selling rainboots, according to Moehring. "The weather has been ideal. When retailers see what we are selling, they instantly are interested and get in a good mood," he notes.
Traffic at FFANY was also strong for Earth and Earthies. Dave Aznavorian, vice president of marketing, notes the show is held at the right time and place to present the brands' stories. "Traffic was steady and we had a lot of appointments booked," he says. Overall, Aznavorian reports retailers were in more of a buying mood. "We are seeing retailers make commitments, where as last season they were more cautiously optimistic," he says. "Retailers have cycled through the downturn and are now thinking strategically about which brands, collections and price points work best." Aznavorian adds, "It gets back to retailers wanting to have compelling stories that justify a range of price points."
Shifting to the West Coast, the ENKWSA show unveiled a lot of new initiatives in an effort to regain its footing as a national draw. David Kahan, president of ENK Footwear Group, reports mission accomplished. "Both exhibitors and retailers were extremely impressed with our inaugural ENKWSA show," he says. "Our attendance exceeded initial expectations and we received many comments that we had succeeded in creating an event that united and captured the energy of the footwear industry." The commitment to service kicked off curbside to the Sands Expo Center. "Exhibitors were met with porter service that carried their bags to the brand's respective booths to facilitate quick and easy set-ups," Kahan says. "It was our intent to treat attendees with world-class service from the moment they came."
To that end, ENKWSA's pre-show Super Bowl party at Dos Caminos restaurant had nearly 1,000 attendees watching the game with complimentary food and an open bar. It was followed the next night with an industry appreciation party attended by 1,000 people at Tao nightclub, which culminated in the drawing for a new 2011 Smart car.
As for the business aspect of ENKWSA, Rob Rask, managing director for Ara, says it was a solid show. "Everybody that said they would be here came by," he says. "We had a lot of appointments and we were booked solid through the second day." Ari Levy, sales representative for Naot, reports similar success: "In the first day alone we had almost 45 appointments, half of which were drop-ins." Levy adds that the overall mood was upbeat—buyers liked the new vibe and friendly service, which, he adds, puts them in a good mood right from the start. "ENKWSA stepped it up. It made it easier for us to work our accounts, and we appreciate that," he says.
Next up was FN Platform, which was held in conjunction with the Magic show at the Las Vegas Convention Center during mid February. Only in its third incarnation, Leslie Gallin, vice president of footwear for Magic, says the show moved to the larger South Hall to accommodate the approximately 35-percent growth in exhibitor space since its debut. "More than 1,250 brands covering women's, men's, juniors and children's footwear were on display," Gallin notes. "Our first night was excellent; the place was rocking until 8 p.m."
The opening night of FN Platform was highlighted by a Shoe Chef party. Similar to the hit show "Iron Chef," the event, held in conjunction with the American Apparel & Footwear Association, included three teams of industry execs competing to assemble shoe-themed desserts. The winner made a donation to the charity of their choice. "We had 12 CEOs don aprons for a good cause," Gallin says. "It was an incredible experience that united everyone—folks from Clarks and H.H. Brown working together."
As for the show's all-important traffic report, most exhibitors left impressed. Dave Murphy, senior vice president of sales and marketing for Dansko, a first-time exhibitor, reports: "Our booth was very busy throughout most of the show with both current and prospective retail partners." Steve Libonati, president of Steve Libonati Company and distributors of El Naturalista, concurs on the strong traffic. "Platform has exploded, so we were very busy meeting with both our independent and major customers as well as new accounts," he says. Same for Kevin Powers, U.S. brand manager for Gidigio: "We were extremely busy since the start of the show. They were jumping right into orders."
Last, but surely not least, TASM, which touts itself as "the nation's largest shoe show," once again broke attendance records. "We had a 24-percent increase in booth sales and a 16.4-percent increase in retailers that pre-registered," reports Laura Conwell-O'Brien, show director. Specifically, it broke down to more than 1,500 exhibitors and 1,600-plus buyers. The show has become so big, in fact, that Conwell-O'Brien is looking at moving TASM to a bigger venue in Atlanta. "We're in the infancy stages of talking to the Georgia World Congress Center," she reports.
In the meantime, attendees gave high marks to TASM's buyer traffic and easy-to-shop format. Ara's Rask reports: "We were really happy with the traffic at the show." Moehring of Chooka noted the traffic was up over the previous show and buyers were "definitely writing orders."
"This has become a great work show," Conwell-O'Brien says. "Typically, many retailers go to Magic or FFANY to look and they write orders here." She adds that the overall mood was also more positive: "Retailers are opening up their purse strings a little more." —Greg Dutter