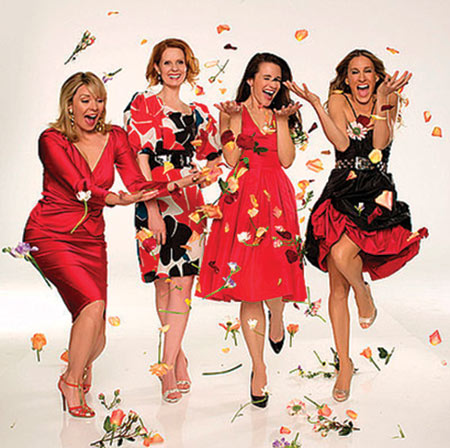 In season four of Sex and the City, Carrie Bradshaw famously quipped to her Vogue editor that, "Men I may not know, but shoes—shoes I know." The character's love affair (obsession, really) with designer shoes became legendary. Shoes were often the centerpiece of her runway-worthy outfits as well as woven into the storylines of many episodes. The series helped put the entire category of luxury footwear on the map. Nothing like an audience of millions of wannabe Carries, Mirandas, Samanthas and Charlottes glued to their TVs every week watching what would happen next and, equally important, what each would be wearing, to surge sales. It was pretty much six years of designer shoe eye candy.
"Carrie Bradshaw's constant name dropping catapulted many labels into fame and glory," reports Rae Ann Herman, vice president and fashion director of accessories for Saks Fifth Avenue. "Jimmy Choo, Manolo Blahnik, Christian Louboutin and even Uggs benefitted from the show's popularity."
The shoe mania featured on the series elevated the accessory from a mere afterthought to the most vital aspect of an outfit, capable of transforming not only a woman's appearance but also her attitude. Along the way, designer shoes replaced the it bag as the most covetable accessory. "Shoes are the most important type of accessory today, which can be attributed in some part to their role on Sex and the City," states Colleen Hill, associate curator of accessories for The Museum at the Fashion Institute of Technology.
Designer footwear was arguably the show's fifth character. (No offense, Mr. Big.) In particular, Manolo Blahnik's shoes were not only a staple in Carrie's wardrobe, but he was referred to the most when the topic of shoes arose. He was followed by Jimmy Choo and Christian Louboutin. "The characters put the names of major shoe designers into the cultural conversation," says Meghan Cleary, author of Shoe are You? "Before you would just say flats or heels but then, all of sudden, women were saying Jimmy Choo and Louboutin. They were elevated to the level of Gucci or Prada."
Above all, Sex and the City celebrated a woman's love of fashion, particularly footwear. It let men (those who watched the show) behind the curtain, so to speak. If they didn't already suspect it, the show confirmed that women adore shoes, and that it's ok to buy lots of them. "[Sex and the City] gave women permission to have that obsession," Cleary says. After all, if Carrie could spend $40,000 on shoes—a figure calculated by the more conservative Miranda—then viewers could justify splurging on a pair or two of their own.
Collecting designer shoes became a talisman of female empowerment and a sign of style, class and independence that could be enjoyed by women everywhere, regardless of shape or size. "Shoes are democratic accessories in the sense you don't have to be a particular size to look good in them," notes Hill. "They became objects of sartorial fantasy and aspiration for many viewers." Adds Cleary, "[Carrie's] markers of success were being independent, being able to afford her own Manolos and being able to live the life she wanted."
Though the Sex and the City finale aired more than 10 years ago, its influence on designer footwear (bolstered by a steady airing of reruns as well as the movie series) remains powerful. Specifically, it has helped establish a market where new designers can make a name for themselves as well as push the design envelope. "The show influenced designers and customers to be more bold in their choices," says Erica Russo, fashion director for women's accessories and beauty at Bloomingdale's. "In turn, retailers want to offer more "wow" shoes—styles that you can build your entire outfit around."
"It paved the way for a whole new breed of shoe designers," agrees Cleary, who cites Charlotte Olympia and Nicholas Kirkwood as two innovative designers continuing to whet the appetite for luxury footwear. And while Carrie Bradshaw is a fictitious character, her impact on the designer footwear industry continues to be very real. "The beautiful shoes on the show inspired retailers like us to seek out up-and-coming designers and buy into more fashion-forward styles from existing brands like Dior, Miu Miu and Stuart Weitzman," Russo says. It's to the delight of Carrie Bradshaws everywhere.