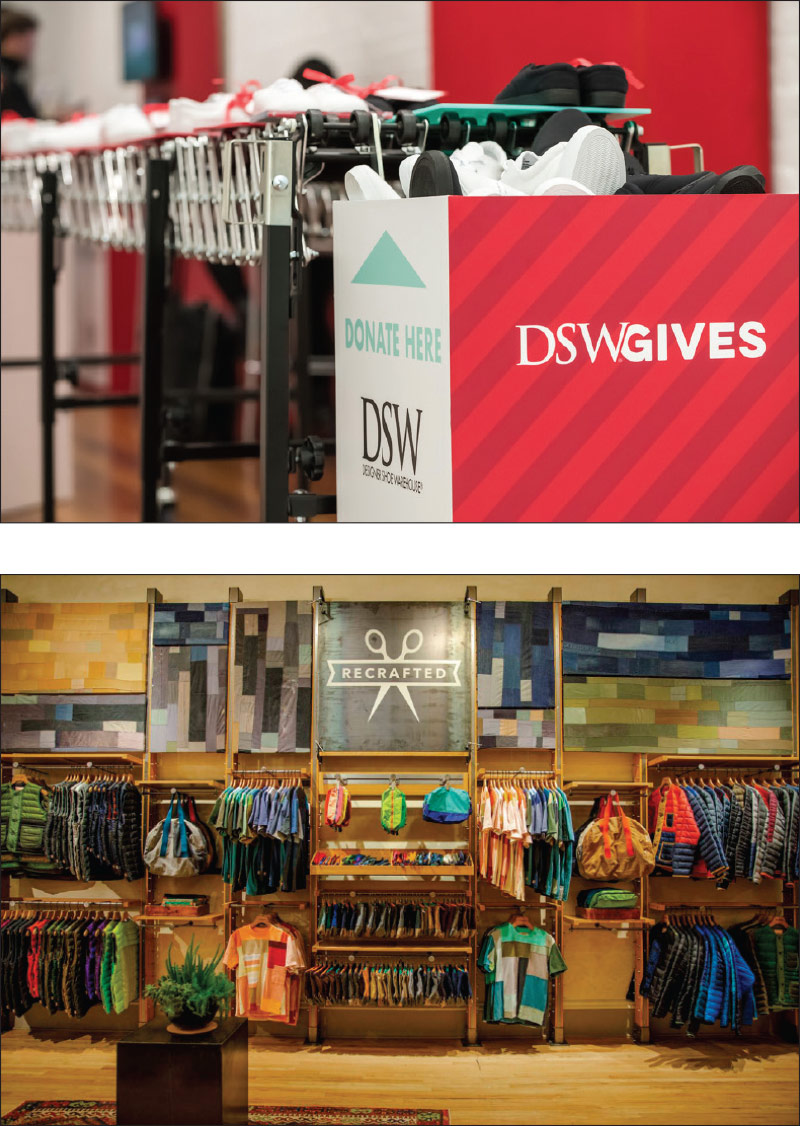 Fashion stores with no merchandise? Philanthropic pop-ups where you can donate old clothes and buy recycled ones? Wellness stores where you can road-test yoga clothes in an exercise class? Welcome to retail's brave new world, where the shopping script is being rewritten daily. Retailers have been steadily reinventing the store—both inside and outside its walls—but as consumers are seeking deeper, more meaningful purchases and experiences, that Instagrammable flower wall ain't gonna cut it. It's retail survival of the fittest writ large, with out-of-the-box creativity and authentic corporate social responsibility (CSR) emerging as the vital life skills.
"Retail has been rapidly shifting due to consumer, economic and community demands, and the increase in experience-based retail environments is a direct answer to today's modern consumer demands," says Nicole Leinbach Reyhle, founder of Retail Minded and the Independent Retailer Conference, who notes that consumers expect to be engaged, entertained and supported with exceptional customer care, but that's no longer enough. "The catch is, they also want this at their convenience and often with a socially good attachment linked to their spending decisions."
Call it "do-good retail," where charitable stores earn their angel wings plus a halo effect of boosted sales. According to a 2017 CSR study, 80 percent of consumers said they'd purchase a product because a company advocated for an issue they cared about. It's also why #GivingTuesday, following Cyber Monday and Black Friday, has been so successful. In 2019, $511 million was raised online on #GivingTuesday in the U.S., according to GivingTuesday.org, a 28 percent increase from 2018, helping consumers assuage their guilt about having too much stuff and doing good in the process. Toms Shoes even closed its stores until 1 p.m. that day to let employees spend the morning volunteering at local organizations, and Vagabond shoes skipped the Black Friday sale and instead donated 10 percent of its receipts (or $26,100) to Humanium Metal by IM, a supply chain using metal from destroyed firearms. "We wanted to give [The Black Friday] discount to someone else," says Anna Fahle Björcke, head of Vagabond. "We got such positive reactions, not the least from our multi-brand retailers, who welcome a different message for this weekend. Giving really is the new black."
Zappos' newly launched digital Goods For Good platform also helps shoppers do good from home, aggregating 150 brands filterable by various benefits (i.e. Give Back products, Sustainably Certified products, Recycled Materials, etc.). Native Shoes is one such brand, and thinks the program is indicative of a wider societal change. "There is an ever-increasing demand by customers looking to shop more conscientiously and seek out brands with real purpose," says Rebecca Boxall, Native's vice president of marketing for channels and customer experience. As Native has adopted the mission of "Live Lightly" with sustainable shoes that are good for people and the planet, she sees this aligning. "Goods for Good is a great example of the ways in which Zappos really thinks about and understands the wants and needs of their customer base," she says. "We're really excited to see how the community engages with this initiative going forward."
Another (outside the shoe box) example is famously philanthropic jewelry designer Kendra Scott, whose Kendra Gives Back lets consumers and local charities host events in its stores, with 20 percent of proceeds funneled to the cause. The stores keep the doors open to draw in passersby as well. "The most impactful thing about our community giving program is that we're able to support small community organizations that don't get much corporate support," says Tom Nolan, president of Kendra Scott. "We empower each of our local stores to authentically connect with their community, learn about the causes they support, and engage with those causes in a meaningful way."
Community building without philanthropy is also vital. Already known for its brand collabs and launch parties, acclaimed Los Angeles sneaker boutique Sportie LA recently turned its parking lot into the experiential and mural-bedecked #FameYard, where consumers could peruse the latest in street art and music. "We're also using the space, and the foot traffic, to hopefully inspire change," says owner Isack Fadlon. "In 2020, we'll have an entire panel dedicated to Creative Visions Foundation, which advocates for numerous causes through art."
Now in its 10th year, Vans' two House of Vans flagships have thrived as creative hubs, beyond the Vans brand. "We have a marketplace program at all House of Vans that allows local creatives to showcase and sell their own wares, ranging from original art and zines to vinyl and t-shirts," says April Vitkus, Vans senior director of global brand marketing and strategy. "Our goal is to uplift the community and give the space to them."
Adidas is another company that has expanded past just "selling merch." In November, at its Paris flagship, the company partnered with augmented reality company Eyecandylab to create an immersive experience right in the store to teach consumers about the environmental impact of plastic usage. "It is important to us to make the innovations of our brand a tangible experience for our customers," says Florian Fiedler, senior manager innovation and trends at Adidas.
In the case of DSWGives Do Good Pop-Up that didn't even have shoes for purchase, storytelling replaced selling, educating consumers about the benefits of footwear donation instead. "The days of selling product just to sell product are over," says Amy Stevenson, DSW's chief marketing officer. "It's about connecting everything we do with a higher purpose that resonates with our customer." Stevenson believes the effort will also increase sales in the long run. "These non-product efforts convert customers because you're showing them that you're more than a retailer trying to sell them something, you're a brand that shares the same values," she says.
Recycle Retail
Over the past three years, the secondhand clothing market has grown 21 times faster than the overall apparel industry, according to Thred Up's Resale Report, and is expected to reach $51 billion by 2023. As Patagonia's founder, Yvon Chouinard says, "The best jacket for our planet is one that already exists." That's why Patagonia exchanges branded merchandise from consumers for store credit, reworks it via its ReCrafted program and resells product on WornWear.com. The outdoor brand took its recycled retail concept a step further with the opening of its first-ever physical Worn Wear store in Boulder, CO this past fall. The pop-up, which will stay open until next month, is like the brand's own consignment store that exclusively sells used items as well as its Recrafted Collection, which consists of clothing made from apparel that was beyond repair. The store also hosts repair and upcycling workshops.
Patagonia is blazing a trail that others are following. The North Face introduced The North Face Renewed in 2018, which refurbishes old garments and resells them at a discount, and ThredUp has entered partnerships to sell used clothes through Macy's, JCPenney and Madewell stores. The concepts hit on sustainability, which is a concern that crosses all demographics and age groups. It's also in step with the Sharing Economy, particularly (too) many Millennials and Gen Zers who are drowning in student loan debt. The affordability angle appeals to their wallets.
Beyond do-good retail, there's feel-good retail. Lululemon has been building local and like-minded healthy communities since its outset, with free in-store yoga classes that let women limber up in their Lulus. New is the brand's 20,000-square-foot flagship, opened recently in Chicago's Lincoln Park neighborhood, which supersizes the experiential wellness concept. There are two floors of retail, exercise and meditation studios, plus a restaurant. Studio classes aren't free but the new concept lets women test drive Lululemon workout gear during a class without purchasing it.
On a smaller fitness scale, New York's Tip Top Kids Shoes teamed recently with Merrell and Hike It Baby for a healthy consumer community trek in Central Park. Merrell designed the invitation, which Tip Top promoted on social media and in-store. "Everyone met at the store, had food, and the kids, aged 3 to 10, got fitted with shoes on loan from Merrell," says Margot Wasserman, store manager/buyer, who also gave out coloring books for identifying items on the nature hike. "It was such a nice community building event. Even the gift cards Merrell handed out were co-branded," she adds.
Shop Now, Receive Later
Back in the day, shoppers went into stores with the objective to walk out with a purchase. These days, not so much. Stores are increasingly serving as showrooms, which cuts down on space needs and inventory costs. At Nordstrom Local hubs, for example, there is no inventory. Shoppers, however, can find tailoring services, get a manicure, receive style advice and shoe repair services. They can also pick up items ordered online and even get them gift wrapped, as well as drop off returns and donate gently used clothing for charity. The overarching idea is service and convenience. "All customers like more selection, and receiving things faster," noted Erik Nordstrom, co-president, principal executive officer and director, in a recent earnings call. "Consumers also want to try it on before they take it home. Having that alternative means a lot."
Melissa Gonzalez, founder of retail strategy and pop-up architecture firm The Lionesque Group and author of The Pop Up Paradigm, concurs. "There are many aspects that make retailing experiential beyond an Instagrammable moment," she says. "In Nordstrom Local, meeting with a tailor is experiential because it's a moment to interact with the brand on a deeper level—a human level and one that genuinely serves a purpose."
"Footwear stores that don't carry inventory solve a major challenge for brands/retailers," says Beth Goldstein, accessories and footwear Business Analyst at NPD Group. She cites the Margaux shoe shop in the Bloomingdale's New York flagship. Every size and color is on display for try-on and customers then receive a made-to-measure service for an exact fit. With recent studies showing 88 percent of women are wearing the wrong shoe size, the custom fitting is incentive to come into the store and avoid the hassle of returns. M.Gemi , a direct-to-consumer brand, operates similarly at its stores.
Researchers from Harvard and Wharton note that the Zero Inventory Store strategy leads to "supercharged" customers who spend more and return less when they do buy. This "offline-online complementarity" leads to a 28 percent reduction in inter-purchase times, buying across 20 percent more products categories and trading-up to more expensive items, and disproportionately lower returns for more expensive items.
In addition to zero-inventory stores, there's the multiple showroom concept, a mix of small-inventory stores where brands rent space. Showfields in New York is one such example, built around the concept of "discovery and engagement" rather than "shopping," according to co-founder Katie Hunt. For $6,000 a month, brands receive staffing, inventory management, data collection, events, a custom dashboard with live updates and a technology suite. Showfield's also built out its fourth floor as a community space that's hosted more than 150 events in the past six months, from panels to yoga classes to private concerts.

"We believe that the future of retail is C-Commerce, or Consumer Commerce, and a large part of C-Commerce is community," Hunt says, noting the average brand stay is currently six months.
They say charity starts at home, and there is a strong belief that investing in retail employees is critical as to whether these do-good/feel-good store concepts translate. Rude sales help won't be overlooked because of a charitable angle. "Make no mistake, bad retail is on trial and the consumer has judged you as guilty by not opening their wallets," says The Retail Doctor's Bob Phibbs, a retail analyst and consultant. In this regard, State Bags, known for its philanthropic Bag Drops of backpacks filled with supplies for the needy, goes out of its way to educate retail partners on its mission so the employees can communicate that message to customers. "We've had retailers from Shopbop to Nordstrom bring hundreds of team members to see the fruits of their sales and the giving process," says Scot Tatelman of State Bags, who stresses the retailers they work with don't want to be the type of store that just gives away stuff. "And we've never left a store where employees haven't told us, 'That was the most impactful event we've ever done!'"
Indeed, the retail times are changing—rapidly. The store as we once knew it is morphing into a brick-and-click blended experience that stretches beyond buying goods. The redefining of retail is one that's more efficient, entertaining and aims to achieve a greater good. More profitable retailers and happier customers present a win-win scenario. "Retailers will continue to intertwine their IRL (in real life)and URL destinations so that they seamlessly flow into one conversation," says DSW's Stevenson.