Why stop doing charitable work after a day or one month? Why not make volunteering a yearlong, industry-wide effort that becomes part of the collective culture? When it comes to doing good, more is better. That's the consensus the Two Ten Footwear Foundation has taken with its Footwear Cares volunteerism initiative. For the past five years, April (National Volunteer Month) has been designated Footwear Cares month where thousands of industry members participate in a broad range of charitable initiatives aimed largely at helping children in need. Footwear Cares (sponsored by Footwear Plus, Amazon Fashion, Jones & Vining, AAFA, FDRA, Kohl's and Zappos) has been a resounding success as each year more industry members have participated and more good deeds were done.
"Now that Footwear Cares is a year-round volunteer campaign, we'll have events spread out over the next seven months which, in total, will eclipse last year's single-month effort," says Neal Newman, president of Two Ten. For those keeping score, Footwear Cares last year saw more than 7,000 individuals from 130 footwear companies serve local non-profits in 24 states as well as Puerto Rico, Canada, China and Switzerland. This past April saw plenty more good work being done as more than 50 companies participated in 30 events across the country.
The highlights were numerous: Volunteers from Under Armour, Danner, FDRA, LaCrosse and Exclammability sorted 20,223 pounds of food at the Oregon Food Bank, which provided 16,853 meals for low-income families.Volunteers in Kansas from Payless ShoeSource helped organize and set up a new thrift store with the Topeka Rescue Mission, which will provide clean, good condition clothing at low cost for underprivileged families. In Milwaukee, teams of volunteers from Kohl's, Weyco Group, Bon-Ton, Mojo Mony, Impo, Keds, Vida Brands and Reliable of Milwaukee packed 28 pallets of food "stock boxes," the equivalent of 33,600 meals for low-income families and senior citizens. And at the Clark County Youth Center in Indiana, a shelter that provides area youths with a safe alternative when they have nowhere else to go, Shoe Sensation employees renovated the main living area and reorganized the kitchen.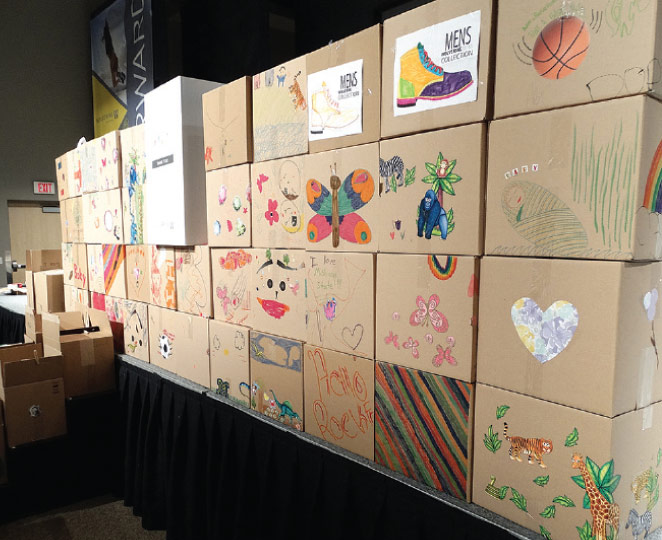 A personal highlight for Newman was at the Footwear Cares event in early April at the Massachusetts State House in Boston where seven companies (Wolverine Worldwide, Shoes.com, BCNY, Clarks, Crocs, Khombu and New Balance) participated in the "Step Up for Kids" event with The Children's Trust to bring awareness of the issue of child abuse and neglect in the state. It was exemplified through the display of 355 pairs of children's shoes on the historic steps. "Each shoe represents the 710 reported incidents of neglect or abuse in the state per week," Newman says. "This visual, along with the speakers and their personal stories, resonated, especially with our footwear donors who have pledged their support to help The Children's Trust in their mission to reduce and eradicate this problem."
Newman also vividly recalls a brief conversation with a young Seattle woman who was at Northwest Harvest to pick up food for her family during Footwear Cares event with members of Topline, Washington Shoe Co., Nordstrom, FDRA and Earth Shoes. After Newman had told her about the type of events that were taking place across the country, she thanked him and remarked how she loves shoes but hasn't been able to afford a new pair for a long time since falling on hard times. Newman says he was reminded how fragile life can be. "One life event can change everything, and that's how important Footwear Cares is," he says.
Newman is pleased to report that Footwear Cares' year-round initiative to gather all industry charitable efforts under its umbrella is being met with enthusiasm. "Many companies have year-round corporate social responsibility [CSR] programs and our previous April-only focus didn't always align with their schedule," he explains. "By evolving Footwear Cares into a 12-month campaign, we are able to support and integrate more companies' CSR initiatives and help elevate awareness of the hundreds of companies that are doing good in their communities." It also enables Two Ten to engage more industry members who, in turn, will help more people in need. "It's truly a win-win situation," Newman says.
The plan going forward is to hold a couple of Footwear Cares group events each month in different cities while continuing to hold dozens of events in April. "We want to continue to build upon all this goodwill and celebrate our industry," Newman says. Two Ten also plans to honor outstanding volunteers—individuals and companies—at its annual VIP Dinner & Gala in New York this November as well as throughout the year in its social promotions, newsletters, on its website and in Footwear Plus. "We want to demonstrate how 'footwear cares,'" Newman adds.
In that spirit, here are four profiles on how Wolverine Worldwide, Shoe Carnival, Skechers and Caleres gave back to their local communities via Footwear Cares in April.
Wolverine Worldwide: Bigger, Broader, Better
When it comes to Footwear Cares, Wolverine Worldwide has been all in since the beginning. Every year the Rockford, MI–based company's goal has been to generate more good than the year before. Michael Bohnsack, director of community engagement, says it all starts by getting as many employees involved in its various charitable initiatives, and this April marked a record number at more than 3,500 participants spanning its three offices, six distribution centers, one call-in center and one factory.
"This year was the single-biggest event we have every done for Footwear Cares," Bohnsack confirms, noting a highlight was the many people who usually don't volunteer who did. "To see new, young employees be part of this giving back drive was reenergizing and rewarding," he says.
Bohnsack credits the communication strategy—regular conference calls with the six distribution centers, for example—for helping drum up enthusiasm. In addition, he cites charitable efforts that benefitted people in local communities as being a major incentive for employees to get involved. "The fact that our baby bundles and diaper challenge programs weren't just corporate or national programs was huge," he says. "We made it local and personal." Distribution centers in Louisville, KY, Brookville, OH, Beaumont, CA, and Michigan's Cedar Springs, Rockford and Howard City as well as the call-in center in Richmond, IN, all delivered their donated diapers to local shelters and agencies. Another factor contributing to Wolverine's successful Footwear Cares effort this year involved making it a month-long initiative rather than the event-driven, one-day affairs of years past. "Changing the culture of what we had done before was key," Bohnsack notes. "It built momentum and awareness."
It all began when members of Wolverine's Boston-area office joined Two Ten at the Footwear Cares kick-off event held at the Massachusetts State House. Meanwhile, employees in the distribution centers spent the month collecting diaper donations and those in the company's Rockford and Boston-area offices busied themselves putting together baby bundles (ultimate baby shower packages) with the goal to surpass last year's 120 that were collected. "Children in need don't have enough diapers, formula, swaddles, bottles, pacifiers or books—the basic essentials," Bohnsack explains, noting that one in five children in America live in an impoverished environment. "We went well over our baby bundles goal and we collected several thousand diapers." Taking the effort a step further, the Rockford drive was tied to 'take your kids to work' day. Children decorated the boxes holding the baby bundles. "We were able to teach the 70-plus kids that came to work with us what giving back was all about," Bohnsack says.
Last but surely not least, 16 Rockford employees spent a day at Kids Food Basket, a non-profit agency in Grand Rapids that provides about 7,500 meals daily to kids on federally funded meal plans in area schools. "We prepared 1,700 snacks in less than an hour-and-a-half," Bohnsack reports. "The camaraderie, the teamwork, the feeling of doing something good all made for a great day," he adds.
Overall, Bohnsack describes Wolverine's Footwear Cares efforts this year as a resounding success and, more importantly, it has become part of the corporate culture. "Two Ten through Footwear Cares has become a pillar of our charity-giving philosophy," he says. "Their core values—kids, education, housing, helping those in need in local communities—line up with ours." To that end, Bohnsack says plans are already in the works—like partnering with Kids Food Bank on a quarterly basis—to make Footwear Cares a year-round effort. "We are making a difference in our own small way, and we are seeing great work being done," he says, adding that the volunteers benefit as well. "These types of acts stay in your memory and make you want to do more," he says. "Becoming more aware that we have these kinds of needs in our local communities is extremely important."
Finally, Bohnsack believes Footwear Cares is a way to build company pride and work with fellow employees that one may not normally do. "We have 631 people in our Grand Rapids office spread out all over the place working on 10 brands, and they all came together on these projects," he says. "It didn't matter what brand you worked for or whether you were in finance, marketing or sales. We were all there to helping kids have a better way of life." —G.D.
Shoe Carnival: Building Community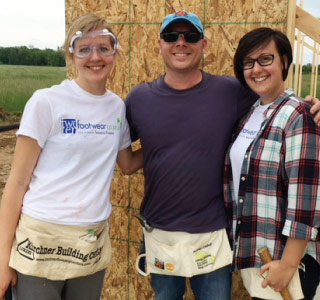 Six years ago, Tom Vernarsky, DMM for Shoe Carnival, was listening to a presentation by Two Ten President Neal Newman about the importance of giving back to the local community. That's when he decided he could do more and headed to the local Habitat for Humanity chapter to help build houses for people in need. A couple of years into what became a rewarding weekend volunteer gig, Vernarsky went to Shoe Carnival CEO Cliff Sifford with the idea that other employees might want to get involved. Specifically, that Shoe Carnival make a financial donation to the local Habitat for Humanity chapter and let employees work on the homes. Sifford was immediately on board. The first year saw about 35 employees volunteer, participating in teams of six to eight for one day a week over the course of the approximately five-month span to build a house from the ground up. Last year, the number jumped to 70. This year, Vernarsky reports, it should top out around 75 volunteers. To date, the employees have helped build 21 homes and are slated to build 10 more this year.
Vernarsky says a highlight has been getting to work alongside the future homeowners. "Last year we helped build a home for a single mother of teenage triplets who had been living in her sister's basement for the past 15 months," he says. "All of our volunteers walked away knowing that they helped put her family into a new home. The excitement on their faces made all the hard work worthwhile. It was a very rewarding experience."
Tying what has become an annual effort to Footwear Cares was a no brainer, according to Vernarsky. The Evansville, IN–based chain has long been active in numerous charitable causes, including the Tri-State Food Bank, Ark Crisis Child Center, Youth First and Lacey's Laces (benefitting Pediatric Cancer and Breast Cancer Awareness month) as well as is a big supporter of Two Ten. The fact that the homes are built over the course of months aligns perfectly with Two Ten making Footwear Cares a year-round initiative.
Vernarsky notes that the momentum has helped Shoe Carnival attract vendor partners to join the program. "Last year, Timberland Pro made a financial contribution and five of their employees helped work on a home for a day," he says. This June, representatives from Wolverine and Cat are coming to work on a home and, in the fall, Weyco Group (Florsheim, Nunn Bush and Stacy Adams) is scheduled to send volunteers. Skechers is lined up for a home next year. "I had to really search to get my first vendor to participate, and now I've got several lined up," Vernarsky says. A goal going forward is to get competing vendors to work on the same home. The ends justify the means, he says. "We all wear our Footwear Cares T-shirts, and seeing 20 of us building a house together is impressive," he says. "It's great to see everybody working toward one common goal."
As for the work, Vernarsky says novices to skilled carpenters are welcome. Volunteers do everything, be it framing, siding, painting, installing plywood and insulation. "I sent six women to one site and the construction manager thought I was crazy, at first," he recalls. "But the manager was really impressed—they were all pounding nails and one worked the reciprocating saw." A bonus, Vernarsky says, is Shoe Carnival employees from across the company work together. "I overheard a lot of, 'Oh, I've seen you in the breakroom but I didn't know what area you worked in.' Or, 'I'm new and this has been a great chance to meet other people in the company,'" Vernarsky says, adding it's been an amazing camaraderie builder. "They've worked together in 95-degree heat and when it was 25 degrees, and no one complained," he says. "Everyone was eager to help and all felt a sense of accomplishment knowing they helped people in need." —G.D.
Skechers: More Is More
In the early days of Footwear Cares, Skechers SVP of Sales Rick Graham got a call from Two Ten asking the company to join the cause. Already active in numerous charitable initiatives nationally and in its local Southern California community, Graham tasked Human Resources Manager Melissa McKay with the job of tying some of these efforts to Footwear Cares. "I didn't know what I was getting myself into," McKay says. "We took conference calls with other businesses in SoCal and planned our first volunteer trip to the Los Angeles Food Bank about four years ago." It was a big success and the company has been an active participant ever since.
Skechers has since partnered with Footwear Cares to conduct many volunteer days, always addressing the unique (but positive) challenge of accommodating a large amount of participants. "We need a place that can hold 50 to 100 volunteers," McKay says. But where there's a will, there's a way. This year, for example, Skechers teamed with New Balance and Gee Wawa to volunteer at the Los Angeles Regional Food Bank's warehouse. Conference calls started about eight weeks in advance to iron out the details. When the big day arrived, McKay coordinated icebreakers on the bus, as many of the volunteers from Skechers' five campuses didn't know one another. "We had some who just moved to California along with recruiters responsible for hiring them," she notes, adding that one of the greatest takeaways from the day was the teamwork that allowed the volunteers to pack an impressive 1,600 meals for the elderly. "Knowing the food we packed was going to someone's house who is low income or immobile was so fulfilling," McKay says, noting that the volunteers acted as a well-oiled assembly line with some delegated to making boxes while others sorted and placed items. "The teamwork of how Skechers operates on a daily basis was fully present," she adds. "We became the Footwear Cares team. They had to tell us to stop because there was another volunteer group coming in!"
McKay says Skechers hosts a range of volunteer opportunities throughout the year—events she's eager to link with Two Ten's yearlong Footwear Cares initiative. "They'll get to see what we do all year," she says. Examples include volunteering at The Compton Initiative four times a year, an effort that helps paint community buildings, houses and schools. Skechers employees also visit a local children's hospital every Thanksgiving to help provide meals and entertainment to families, donate clothes to 1736 Family Crisis Center for victims of domestic violence, conduct a holiday food drive for Los Angeles Regional Food Bank, hold the annual Pier To Pier walk benefitting children with disabilities, conduct blood drives for  Red Cross and the UCLA hospital, donate to Autism Speaks…the list goes on.
McKay plans to circle those efforts back to Two Ten by sharing photos and encouraging volunteers to use the Footwear Cares hashtag on social media. She believes the cross promotion is a no-brainer and that Footwear Cares offers a unique form of volunteering. "It doesn't have to be in the form of donating shoes or money," she says. "This is a way to help make people happy and provided for on a personal level." —Ann Loynd
Caleres: A Team Effort
Caleres has been an active participant with Footwear Cares since its inception in 2013, having rounded up an impressive number of volunteers across its portfolio of wholesale brands (includes Naturalizer, Dr. Scholl's, Sam Edelman and Allen Edmonds) and from its Famous Footwear retail division. Efforts have spanned volunteer days working with community centers to working in food shelters and boxing items for crisis nurseries.
Each year, the objective has been to get more employees to volunteer. Julia Marsh, corporate communications manager, says it has involved a range of efforts, like in 2014, which coincided with the St. Louis–based company's 100th anniversary on the New York Stock Exchange. "We tied the milestone to Footwear Cares by registering 100 associates to volunteer," she says. This year, Marsh started planning early in an effort to get Caleres on board with Two Ten's initiative to group companies within their respective cities. Caleres teamed with New Balance, and 25 associates across both companies volunteered at Mathews-Dickey Boys' & Girls' Club to facilitate its field day activities for the Riverview Garden School District.
Although the day had to be moved indoors due to rain, it was a smashing success filled with indoor hockey, arts and crafts, basketball, dance, gymnastics and even DJ'ing. "The students had a great time," Marsh reports. "We enjoyed pizza with them, and thanks to a generous donation from Under Armour, we were able to gift each student a Sackpack." Before handing out the packs, Wendell Covington Jr., president and CEO of Mathews-Dickey, delivered an uplifting speech to the kids. "The amount of gratitude the students showed was humbling," Marsh says.
Marsh was also impressed by the Mathews-Dickey team, who met with volunteers before the children arrived to offer advice on how to share their career experience with the students and illustrate how a skillset can lead to a profession later in life. "This was great advice, and it was fun talking to the kids about the spectrum of different jobs the volunteers hold," she says, adding that the opportunity to help kids was a "treat" for everyone.
The overall goal with Footwear Cares, Marsh says, is the same every year: "To give our associates an opportunity to give back in our community, represent Caleres and to be reminded of all that Two Ten does." Marsh is already working on opportunities to make Footwear Cares a year-round program. "Giving back to our community is something Caleres believes in strongly and we encourage and applaud those who give themselves," she says. "No matter how we're giving back, it's a great motivator to do more and be involved in the communities where we live and work." —A.L.