Ron White
Leading Canadian designer Ron White created the Robin shoe lined in passion pink for Breast Cancer Awareness month and donated $100 per pair sold to the Breast Cancer Research Foundation.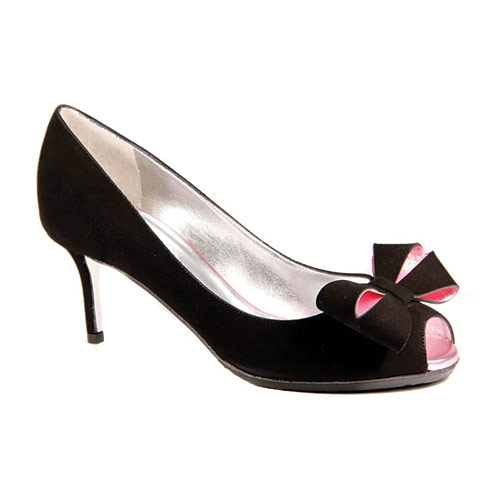 Alegria
For a third year, the comfort brand Alegria has partnered with the NBCF and bows a classic Donna clog in a mosaic of pinks this year.
Fergie
The Awareness, by Fergie Shoes, much like the brand's namesake, demands attention. Fergie Shoes is part of Brown Shoe Company, which donated $500,000 worth of shoes for FFANY/QVC's Shoes on Sale.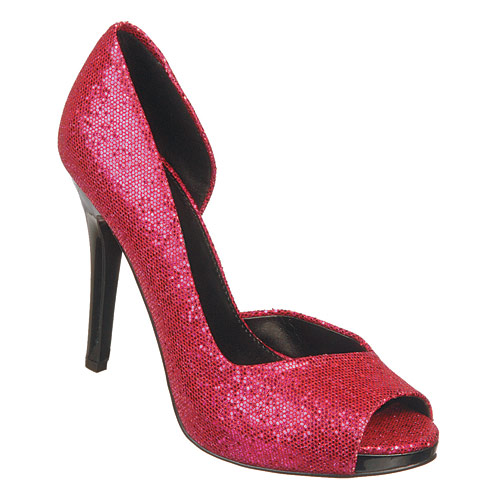 Power of Pink
Nancy G. Brinker, founder and CEO of Susan G. Komen for the Cure, and Deborah Benton and Kristina Levsky of ShoeDazzle.
New Balance
A Susan G. Komen sponsor for 22 years, New Balance commits at least $1 million to Komen's Race for the Cure annually. The athletic company also releases a collection of merchandise, Lace-Up for the Cure each October. Five percent of net sales from the collection go to Komen.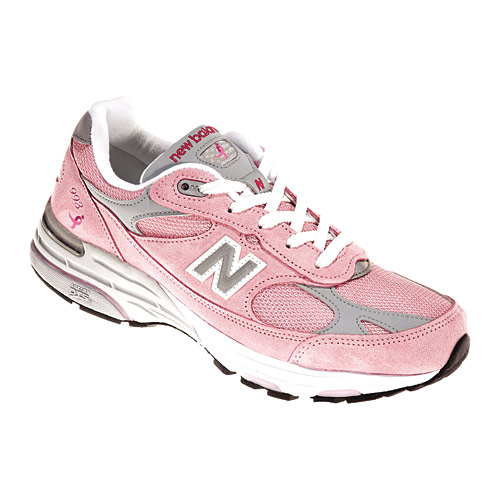 Leaders in our industry have once again come together for Breast Cancer Awareness month. Over the past 17 years, the QVC and FFANY partnership, Shoes on Sale, has sold 1.5 million pairs of shoes and subsequently raised more than $35 million for the fight against breast cancer. This year's three-hour broadcast once again offered La-Z-Boy shoppers a wide variety of shoes (100,000 pairs!) from approximately 80 brands at half the manufacturer's suggested retail price. Three companies—Nine West, Brown Shoe Company and the Camuto Group— are Special Pink Benefactors, meaning each donated at least $500,000 of inventory for the broadcast. Joe Moore, president and CEO of FFANY, says those donations are "a big deal to the organization," which spreads the proceeds around to seven research centers scattered across the country, from Santa Monica, CA, to Little Rock, AK.
Wolverine World Wide, a decade-long supporter of FFANY Shoes on Sale, donated more than $200,000 from eight of its brands for the 18th annual event. "As an industry, we touch and support so many causes," says Christi Cowdin, director of investor relations and corporate communications. "FFANY Shoes on Sale has led the way and set the bar very high by bringing so many companies together to unite for one cause." Timothy O'Donovan, retired WWW chairman, was honored at this year's event in New York with one of two 2011 Jodi Fisher Humanitarian Awards. Nancy G. Brinker, founder and CEO of Susan G. Komen for the Cure, also received the award at the gala held at the Waldorf Astoria in New York this month.
Having raised $2.7 million in 2010, goals were set even higher this year. "That'll be our minimum—$2.7 million," Moore says. "But hopefully we'll break the $3 million mark." Numbers aside, Brown Shoe's Todd Murray, vice president of wholesale marketing, remembers what's important beside raising money for research. "It's all about awareness," he says. "With each step our brands take, we touch one more person, whether an employee, a consumer or anyone fighting the disease. Connecting with those around us and lending support goes a long way in this fight."
The Walking Company, the nation's largest specialty comfort footwear retailer, also rallied the troops. Its "Walking for Hope" campaign aimed to raise $200,000 during October's Breast Cancer Awareness month to benefit City of Hope and the National Breast Cancer Foundation (NBCF), as well as other local charities across the country. The funds will be raised through the sale of The Walking Company's exclusive pink ribbon footwear from Ugg Australia, Dansko, Ecco, Aetrex and house brand Abeo. "We felt we were a natural conduit to help this cause because of two things," says Andrew Feshbach, CEO of The Walking Company. "One is our name and the fact that most of the events associated with Breast Cancer Awareness month are walking related. And two, to be blunt, a good portion of our customers have been afflicted with this disease or are related to people that are. There is a natural overlap with our customer." Feshbach agrees that beyond raising much-needed funds, it's the spreading of the message that makes an impact. "Awareness is the answer," he says. "There's a significant amount of research showing that people put off thinking about it. This is about making it a household understanding and educating people." To this end, Feshbach challenged his co-workers to wear a pink shirt every day in October and he did the same.
While traditional brick-and-mortar methods continue to raise millions for research, internet-based campaigns are increasingly joining the fight as well. One such example is e-tailer ShoeDazzle's video series featuring breast cancer survivor stories. "Women love to watch them," says Deborah Benton, COO of ShoeDazzle. "It creates a social community where women can relate to one another. There's been an outpouring of support—hundreds of likes and comments on our Facebook page—for these incredibly courageous women."
Similarly, Under Armour once again set out to find three survivors with different backgrounds who embody the company's athletic ethos for its "Power in Pink" campaign. "Some are mothers, some are not. Some have full-time careers, some are stay-at-home moms—they're all very authentic women," says Amy Larkin, senior director of events, sponsorships and community. Under Armour awards each woman $5,000 to give the charity of their choice, which often allows them to donate to the people and clinics that helped them through their survival process. Under Armour also keeps in touch with its Power in Pink winners. "We're not one of those companies that likes to write a check and move on," Larkin says. "The dollars we've been able to raise have made a significant impact not only through the purchase of technology but also in the lives of individuals." —Meagan Walker