Seeking Perfection
The concept of an ideal shoe continues to evolve, but over the years designers have given Footwear Plus insight into their own personal definition.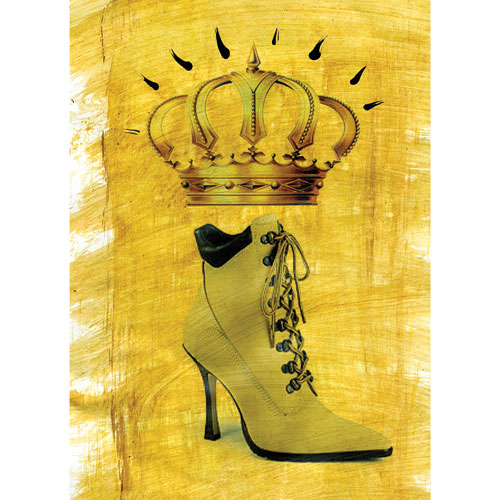 During the last two decades, footwear designers pulled every trick in the book to garner consumers' attention and dollars. And despite the novel fun of monster platforms, painful jellies and collectable kicks, the period's most poignant approaches to design—utilitarian and high fashion—cultivated in one traffic-stopping crossbreed in 2002: the "J.Lo boot." Manolo Blahnik's couture take on Timberland's classic wheat boot made a splash after songstress Jennifer Lopez wore them in a music video. Part outdoor, part hip-hop, part designer, part grunge and part practical, the boot was the ultimate hybrid and perhaps best encapsulated two decades of footwear trends in one shoe. And like any hot shoe du jour (ahem, Crocs), consumer reactions ran the gamut from unabashed worship to utter disgust.
"Most remember the disaster that was the J.Lo boot," offers designer Jeffrey Campbell, describing the four-inch heel suede work boot as if it had been burned into his memory. Alan Bongo, designer of XOXO Footwear and Wanted Shoes, also recalls the shoe's popularity. "It seems like every girl had a pair or two of those high-heel, lug-soled gems," he says.
But one person's fashion disaster is another's ticket to notoriety. Years later, deeply cemented in pop culture and answered with countless knockoffs, the J.Lo boot still resonates. This fall's lug-sole, outdoor trend could be seen as its more practical, less blatantly sexy stepsister and, interesting enough, Campbell admits shoes encapsulating this look are some of his brand's hottest sellers right now.
Trends repeat, shoes must look good (in every size) and, according to Stuart Weitzman, "the ones that make the most noise are still the sexy ones." While the J.Lo boot offered one take on sultry utilitarianism, the industry has made massive strides since it hit retail. Designers say technological improvements in material production during the last two decades have changed the design process across all footwear categories forever. "Each time I step into the factory, I'm amazed at how far we have come and what we are able to accomplish now with materials," Weitzman says. 'Technology
fuels creativity," adds Ben Pruess, vice president of Adidas Originals. "Manufacturers and designers are pushing each other, and there will be an even huger evolution in the next 20 years."
Shoes are lighter, more seamless and more durable today than before, but Brian Moore, Timberland's global vice president of men's footwear and outdoor performance, predicts the biggest technological strides in the forthcoming years will most impact green design. Perfect timing, says John Fluevog. "It's starting already, but more consumers are going to consider what has gone into their shoes: the materials, country of origin, the overall design sensibility," he predicts. "People will pay for shoes that are repairable and recyclable." Moore described early attempts at eco-friendly shoes as styles that only conveyed a natural-living ethos (think natural materials, frayed edges and lots of beige), but thanks to advancements in vegetable tanning, he says designers are now at a point where they can improve the aesthetic, functionality and even margin contribution of styles by making them more environmentally responsible. "In a way, green is delivering a whole different kind of green," Moore explains.
However, leaps and bounds in the tech world can't guarantee good taste levels. As designers consider the shoes of the past two decades, they cop to some cringe-worthy moments. Many are willing to pardon Ugg boots for the fact that the brand helped the industry weather difficult times, but others styles are not so easily forgiven. Crocs strike a negative cord with Miz Mooz owner Ron Kenigsberg, Bettye Muller can't stand the "slinky" shoe (a single elastic band on an EVA bottom) and open-toe boots are a conundrum to Sendra's Jamie Lawenda. And strangely enough, high heels—the go-to for many designers' industry role models, including Blahnik, Christian Louboutin, Alexander McQueen and Miuccia Prada—continue to raise eyebrows. "People are still teetering around in six-inch heels, even after they watch models topple down catwalks in them," laughs Miranda Selwyn, the designer of Seychelles. Kate Spade designer Deborah Lloyd adds, "Any shoe in which a woman requires assistance to take a single step is not progress."
Don't tell that to Carrie Bradshaw. Designers overwhelmingly crown Sarah Jessica Parker—the woman and her "Sex and the City" character—as the most influential celebrity in the last 20 years of footwear design. "Shoeaholics were definitely defined and inspired by Carrie. The show exposed even the most conservative areas of the U.S. to high fashion and designer must-haves," notes Fabiana Rigamonti, co-designer of Daniblack.
There is no question that celebrities drive many of today's footwear trends, and many designers suggest consumers are making riskier footwear choices to mimic their famed style icons. Even Cesare Casadei finds actress Sharon Stone's "endless legs and charm" inspiring. Yet Michael Petry, design director of Frye (a brand spotted on actress and media darling Jennifer Aniston), believes the growth of tabloid magazines and celebrity websites has had a bigger impact than any single celeb. Kenny Robinson of Penny Loves Kenny calls MTV the "ultimate celebrity" for the network's impressionable consumers, who look to their favorite singers for style advice. "We are living in an era of extreme exposure to these individuals, and they will remain trendsetters for the foreseeable future," Kenigsberg notes.
Designer Chie Mihara says she's more interested in hearing what a 20-year-old fashion lover has to say about "cool" style than fashion-world big shots. "It's amazing how quickly the youth understand fashion, trends and cycles," Campbell agrees. Case in point: Tavi Gevinson, a.k.a Style Rookie, the 13-year-old blogosphere wunderkind, who cropped up at the last run of New York and Paris Fashion Week shows, charming designers (and blocking Italian editors' second-row views with her eclectic taste in headpieces). Along with inciting the Great Blogger vs. Fashion Editor debate, Campbell says bloggers like Tavi are spiking the need for innovative design—and changing the rapid pace and way consumers learn about trends. "Bloggers are going to turn conventional institutions inside out," he says.
Melissa Shoes creative director Edson Matsuo coins it the "dictator trend." With the web fostering a network of fashion ingénues, Pruess says groups of decision makers (a.k.a. fashion editors) who "dictate what's cool and what's not" are becoming less relevant. He sees the Internet as the great equalizer. "Social media sites like Facebook are virtual focus groups for designers and the web is the platform for emerging creative talent which may have been lost 20 years ago," he explains. "Kids unable to get to the big cities or to design schools are able to show their work to the world and access new ideas."
Still, designers note the Internet has instigated new problems. Colin Lin of All Black believes the web makes it easier for styles to be copied, and Lawenda says it takes as few as three designers to create a trend now—only for it to "die an instant death in the press." But despite oversaturating the market with trends and curbing designers' originality, Lawenda credits the Internet for adding momentum to the design process and getting products within the reach of more people than ever before. Ann Duttrich, creative director of Dansko, says the speed of communication and information technology has ultimately changed the footwear industry for the better. "In the 1980s and even into the '90s, we worked by fax and sent packages back and forth to Asia, losing days and weeks in the design and development process," Duttrich explains. The onset of e-mail (and more recently, Skype) has reduced Dansko's process by months.
As for the next 20 years, Elizabeth Olsen of Olsenhaus says the industry needs to tame the monster it's created. "Mass production and cheap labor costs have consumers brainwashed into buying cheap and disposable shoes," she explains. Consumers are already changing (how many times have we heard "quality over quantity" since the start of this recession?) and designers say the revived interest in classic styles shows no sign of abating. Even Muller confesses she lives in her Converse All-Stars. As Moore notes, the days of consumers being fooled by faux technology are long gone. Rather, "We are moving past the point of contrived design and are getting back to what is real." —Angela Velasquez