Brought to You By...
Athletic brands explore various ways to create product buzz.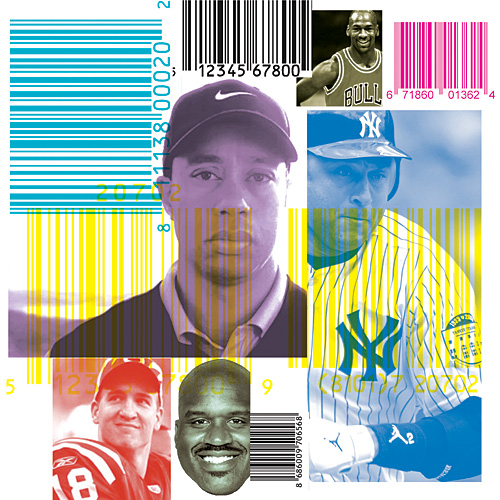 Shoppers who walk into Jacksonville Running Company are likely to find Owen Shott bopping around from customer to customer, fully dressed in Mizuno garb. "We've really built a loyalty to the brand," notes the Jacksonville, FL, store's co-owner. "We've created a market where Mizuno is now found." Shott was approached by a sales rep from the brand to wear-test the footwear and clothing, the idea being that as a hardcore runner, he would actually find use in the product and could share his opinions with shoppers. It's all part of a grassroots plan by Mizuno to showcase its products on real people, hoping the exposure—and (fingers crossed) positive words—will win the brand fans.
Rick Patterson, territory manager for Mizuno (covering Florida and South Georgia) has been with the brand for seven years. Initially, Mizuno's sales accounted for less than 2 percent of specialty running. In a short period, the brand's market share in the category rose to 11 percent. "The ambassador programs were a big part of how we grew," he explains. "If you've got some big people [in the community] out there advocating for you and pulling the product out of the back room, you can grow pretty quickly."
In the past, an endorsement deal with a top athlete was the most common way to garner attention for a performance brand's product. Nowadays, companies are increasingly rethinking their marketing approach, testing unconventional avenues to gain customer interest. "Brooks has taken an almost contrary point of view of marketing for the last eight years," notes Dave Larson, the brand's vice president of marketing. He believes today's consumers have an overall distrust of "anything institutional" and says the brands that keep it real are the ones striking a chord.
Brooks' "Run Happy" campaign hopes to do just that. Recently, the company signed on as the footwear and apparel sponsor of the Rock 'N' Roll Marathon, a 13-city race series that combines entertainment and running, with live bands positioned along every mile of the course and a post-event concert. Larson says the event perfectly aligns with the fun, celebratory voice of Brooks. "Some people look at running as a chore," he adds. "We look at it as almost a party." The brand is prominently featured at each event, with an area dedicated to gait analysis, and it also boasts a climate-controlled "V.I.P. Porta Potty" for all participants. The brand felt the Rock 'N' Roll Marathon was the ideal stage for attracting new consumers, as 40 percent of participating runners are competing for the first time.
In a different tact, Brooks is also launching a gait analysis bus tour. Called the "Run Happy Cavalcade of Curiosities," the blue-and-yellow double-decker bus is meant to help lessen the intimidation factor of the high-tech shoes. "It's this whole concept of 'edu-tainment,'" Larson explains. "At the end of the day, [consumers] are getting expert advice on what shoes best meet their needs." The bus even has its own website (www.runhappy.com) where consumers can keep track of its location and find out when it's coming to a city near them.
As a sponsor of the ING New York City Marathon, Asics America is also discovering alternative ways to market itself. "We are exploring how to bring more intimate one-on-one encounters with our brand," says vice president of marketing Gary Slayton, explaining that the company secured a digital billboard in Times Square that allowed people to create a personal message via text that was broadcasted directly onto the sign during the event.
Leone Rusher, marketing director of Shu's Idaho Running Company in Boise, ID, says limited-edition styles—a driving force behind the sneaker boutique phenomenon—are a great way to generate buzz. "It creates an urgency," she explains, adding that consumers are more likely to come into the store and check out the product for themselves. (Slayton says Asics has experimented with limited-edition running models and will likely do more in the future, as the special product contributed to additional interest in the brand.) Similarly, collaborations can be another way to make some noise. Etnies has gone this route, partnering with non-competitive brands in other categories, such as rising star Sean Malto's skateboard brand. And marketers can't dismiss the power of social networking sites like Facebook and Twitter, which have become quick and easy ways to reach consumers.
That's not to say that the "Be Like Mike" era of athletic brand marketing has completely dissolved. Many brands are still reporting success with attaching athletes' names to their product, albeit many are lesser-sized heroes from a household-name aspect. For example, Brooks has a deal with renowned triathlete Chrissie Wellington—a credible association for a specialty running brand, but surely not along the broad impact lines of Air Jordan, Shaq and LeBron. Times and fashions have changed. Reebok may have recently signed John Wall (the No. 1 overall pick in the 2010 NBA draft) to support its ZigTech performance collection, but it's not like there was a major bidding war for the top pick's endorsement as evidenced by Wall's statement upon signing his deal: "Reebok believed in me when nobody else did." In a press release, Todd Krinsky, Reebok's head of sports and entertainment marketing, describes Wall as a unique player who has a huge cultural influence that separates him from the pack. "He has a distinct swagger on the court and an aspirational style and flair off the court. John's individualism and energy make him the perfect fit for the Reebok brand." Maybe so, but Wall also didn't come with near the price tag of previous No. 1 draft picks like LeBron James. In fact, "The King" of basketball recently re-upped with Nike without a well-publicized bidding war for his services—again unlike years ago when such a marketing coup would have been headline news. Earlier this year, James reached a new long-term deal that will keep him with the Swoosh for the next seven years. ("Nike's relationship with LeBron has created innovative basketball products and captivating campaigns," brand spokesperson Kejuan Wilkins states. "We're proud to continue our partnership with him for years to come.")
Mark Cavanaugh, general manager of team sports at New Balance, notes his company is finding value in more targeted endorsements. "We believe we can demonstrate a better way to involve athletes with our brand," he says. "We will continue to support them in their training and competition and will leverage their expertise to help us develop better product." New Balance recently signed Dustin Pedroia and Manny del Carmen from the Red Sox and Mets pitcher Johan Santana.
Along such lines, Etnies brand marketing manager Jeff Taylor reports its roster of endorsers remains crucial because they are often involved in the design process. "We don't view them as standard endorsements," he says. "We're looking at them for input." Etnies sponsors athletes in every category it covers, including skateboarding veteran Ryan Sheckler, X Games motocross gold medalist Kyle Loza and top BMX rider Jamie Bestwick. In addition to design expertise, Taylor says the fact that these niche-oriented athletes are more accessible—as opposed to other brands that have virtually unattainable endorsers—gives the brand an added advantage. "It's a competitive value of ours," he notes. "We're authentic… We view these guys as not just endorsers but as members of our family." Taylor attributes this to the fact that the brand is actually owned by an athlete, pro skateboarder Pierre-Andre Senizergues.
Slayton of Asics America agrees endorsers can still be relevant when used strategically with consumer demographics in specific categories. "There has been a very limited, elite group of individuals that actually pulled a brand to a significantly higher level solely on their celebrity merit," he notes. For example, America's top marathoner, Ryan Hall, endorses Asics, which Slayton says provides brand credibility in the marathon/distance running category. "This reinforces our commitment in the eyes of the consumer to provide world-class gear to the best athletes."
In the end, brands and retailers note that consumers come from all walks of life, and there's no one way of reaching them. It's up to the brand itself to research its audience and find what will resonate with them. As Larson of Brooks notes, "Marketing has been—and always will be—about who connects best with the end consumer." —Melissa Knific