Nike Free
Nike Free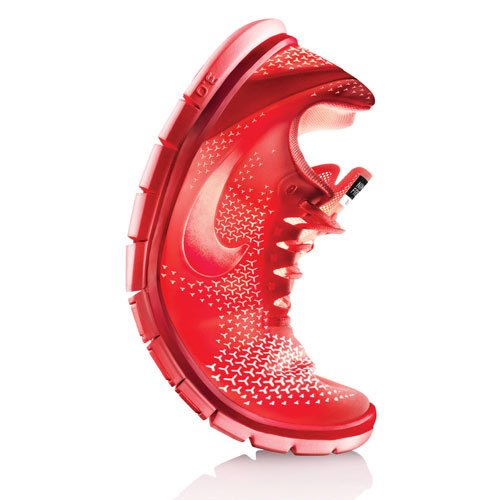 Ecco
Ecco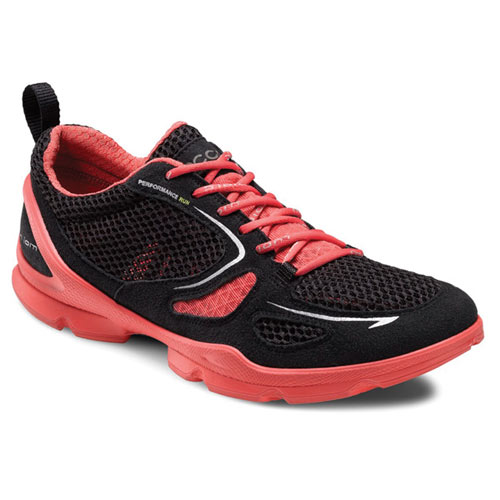 Brooks
Brooks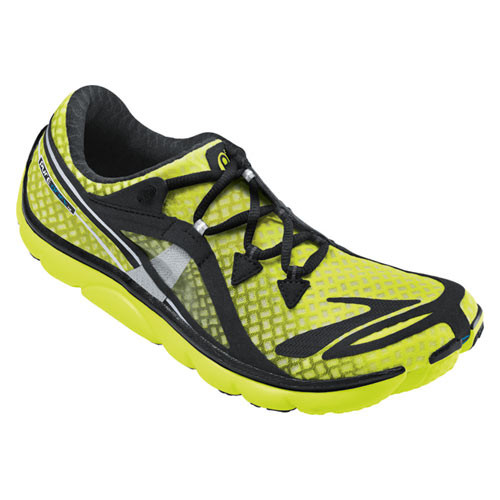 New Balance
New Balance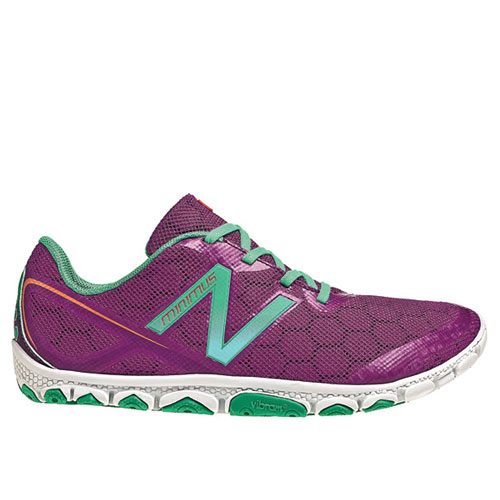 Minimal running shoes in an array of shocking colors are creating a sales stampede.
By Angela Velasquez
Colorful, sleek running shoes are not just for track stars these days. If you are one of the 50 million-plus runners the Sporting Goods Manufacturer Association reports who has laced up a pair of running shoes at least twice during the last year, chances are you've taken a psychedelic color trip back to a post-recession time when such a statement was in vogue. Or you might be one of the hundreds of thousands more who is making the minimalist chic fashion statement while running errands around town.
Sales in the running footwear category have exploded and styles in a rainbow of vibrant colors are setting the pace. According to NPD retail sales analyst Marshal Cohen, it's about time. "The biggest surprise isn't how the athletic category has embraced color, it's the fact that it is the last market to get back into the color business," he says. From kitchen appliances and automobiles to iPods, smart phones and jeans, color has flooded consumers' consciences and is playing an important role in their buying decisions. "People are more willing to express themselves with color," says Dan Sullivan, vice president of product for Saucony, noting it's been an ongoing trend in Asia and is now finally migrating to the States. "Color is a unique way to express yourself," Sullivan adds. "It's not permanent, like a tattoo, and nowadays bright and bold doesn't look weird. You can have fun with it."
Of course, making a colorful fashion statement is not the only factor invigorating the $2.5 billion running footwear market, says William Hartford, owner of South Boston Running Emporium (though he has already booked some "flashier styles" for spring). He sees the activity's simplicity, along with its obvious health benefits, relatively low cost of purchase ($110 is the sweet spot amongst his clientele) and it being a fun activity that offers a lot of camaraderie that have created the perfect storm that is fueling the spike in sales. And it doesn't hurt that at least 65 percent of runners in his store's neighborhood are women, given the fact that gender shops more often and buys more shoes overall.
David Helter, vice president of sales at Ecco, says athletic companies should be thrilled that more women are running, as it is allowing them to expand their lines and reconsider what an attractive running shoe can look like. Claire Wood, senior product manager of running for New Balance, agrees and reports its sales are on the uptick with active 25- to 40-year-old women. "She is fashion-conscious and has every right to demand a running shoe that she falls in love with, that looks beautiful on the foot and that allows her to pursue her passion and engage in running in whatever realm she chooses," Wood notes.
One such increasingly popular realm is the natural motion category, thanks to the intrigue of its potential new fitness benefits as well as the ability to make a colorful and techy fashion statement while wearing them. Light, bright and sleek feels as good as it looks. NPD reports that the minimalist segment contributed $673 million to overall running sales last year. Brooks Footwear Product Line Manager Carson Caprara believes the media's fascination with "trying to figure out barefoot running" has cast a wide spotlight on the category as a whole. Cohen tags the Nike Free as the style landing squarely on fashionistas' radar, which didn't catch on until it was offered in hot pink. "Color plays an important role when you are dealing with a product that people already have in black or white," Cohen explains. "And having a visual, like color, is one of the easiest ways to showcase new technology."
And it just so happens that color is a particularly good fit with respect to minimal shoes. "Lightweight is the perfect vehicle to do bright colors, because keeping the designs to a minimum lets the color speak volumes," says Nancy Hirata, merchandising manager of footwear for Asics America. Sullivan agrees: "Whether you're wearing it casually or to run in, people look at this product because it represents fun and freedom."
Catchy colors aside, the value of trained employees who can convey the pros and cons of minimal running shoes should not be overlooked completely. "People are excited by the prospect of these lighter, brighter shoes, but they need to have a conversation on whether it is right for them," Caprara explains. "And that is where running specialties have an edge," adds Helter, "because consumers are not coming to them just for fashion. They are coming to them for an expert's insight and for answers."
Shoes don't come with an owner's manual, which is exactly why Bill Carley owner of Pace Setter Athletic in Portland, OR, hosts regular foot striking clinics at his 30-year-old store. The lifelong runner has seen many technologies, brands and styles come and go, but now more than ever before he believes training is necessary. He recalls one clinic when a man who purchased a pair of Vibram FiveFingers from another store came in looking for advice. "He ran half a block in them and had to stop, but the store didn't warn him of how different the Vibrams would feel from his traditional running styles," Carley recalls. "Retailers can't leave their customers high and dry."
In fact, Carley is concerned that some companies may go with wild colors just to sell shoes and neglect the performance aspects. And that's what his customer base cares about most. This year, for example, one brand he regularly stocks went overboard on colors. "Except for one style, everything in the line was neon or the colors contrasted too much," he explains. "That might work for the college crowd, but not the 30 and up." Brands like Saucony are heeding this concern and making room for less flashy styles by increasing some Spring '13 model runs from four color options to six. Similarly, Brooks plans to pepper off black and gray styles with subtle neon accents.
"The serious runner is more concerned about a shoe's components," agrees Cohen, who expects the market to take a shift before the color trend ends. "You might get more companies to add color to serious running shoes or some brands that will use the trend as an opportunity to say, 'Hey, we don't use gimmicks; we're all about function, not color.' Ultimately, you have to find right balance based on your clientele."
But with so many colorways to choose from, selecting the right mix as well as carrying enough variety can be a difficult task. And there are store demographics and locations to take into account. "It's hard for the smaller guys to really delve into colors because there are so many great buzz-worthy options," Caprara explains. "But this is what consumers want—options to narrow down when shopping." And even if everyone is not searching for the Nike Free in neon pink, it may spike their curiosity if the shoes in the store window come in a variety of flavors. That's why Wood of New Balance is seeing many shops embrace this trend color merchandising stories. "Color is pleasing to the senses and draws customers in," she offers. "An overall rule I have for retailers is to take 'sweat' out of the equation. Just because someone may be buying these products to sweat in, doesn't change the fact that the setting in which they're buying them should be an enjoyable experience."
Along those lines, Asics debuted a color-themed window display promotion with Foot Locker last month. It involved 500 of the chain's windows with a series of 3-D installations that highlighted its newest and brightest running styles. The promotion, dubbed "Colors That Run" gave the illusion of Asics-branded paint cans pouring a kaleidoscope of color into the shoes. "With the amount of color that the consumer is exposed to at retail, I feel like it has given the consumer a sense of color confidence," Hirata explains. Asics color theory will continue into next spring, but Hirata offers that the hues may tone down a bit. "It may not be so much about color clashing, but more about color play—colors that complement and accent," she says.
Colors may transition from shocking to a more subdued palette next season, but Cohen believes the trend will not fade away overnight. Post-recession, he says, color is the most dramatic way to lure people into stores. "You see colors before the price, before you try it on, before you learn about a product's features and benefits," he notes. "Colors motivate people and, for that reason alone, it will still be a success story for quite a while."