Allen Edmonds
Allen Edmonds

Keen
Keen
Quoddy
Quoddy
Wolverine 1000 Mile
Wolverine 1000 Mile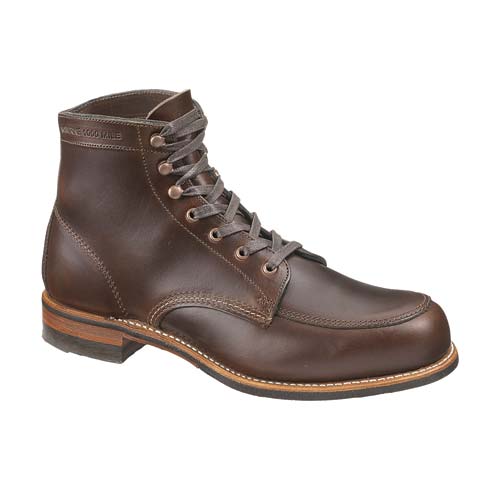 Nike Flyknit
Nike Flyknit

Alice Alan
Alice Alan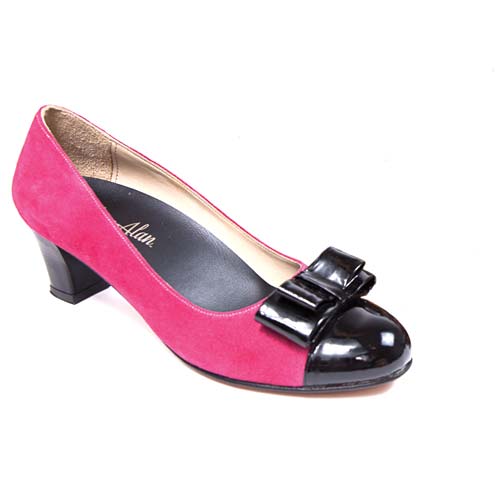 New Balance
New Balance

Calleen Cordero
Calleen Cordero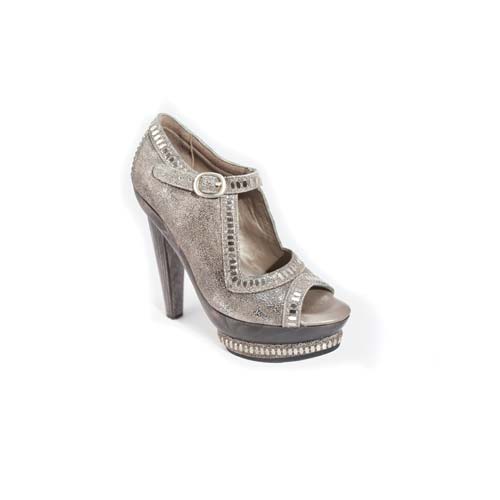 Justin
Justin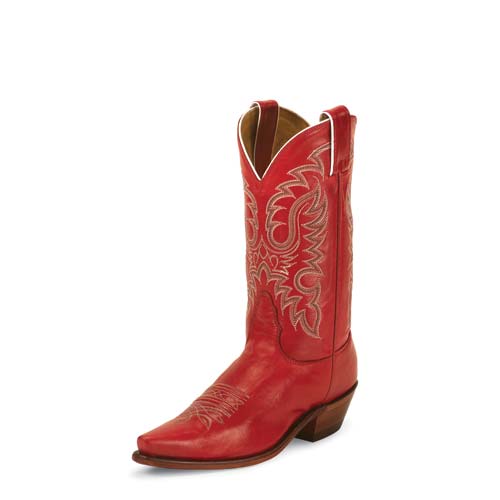 As Chinese labor shortages continue to be a source of woe and materials and shipping costs skyrocket, a growing number of manufacturers are bringing production back home, answering both logistical needs and an increasing demand for made-in-the-U.S.A. merchandise.
By Lyndsay McGregor
When Mark Bollman opened his specialty menswear shop Ball and Buck in 2010, the Boston-based retailer had to dig for American-made stock. Just two short years later, an increasing amount ofhomegrown brands are knocking on his door in an effort to gain precious shelf space amid his store's exclusive made-in-the-U.S.A. merchandise mix that includes footwear (from the likes of Wolverine 1000 Mile, Danner, Elkins Outside, Quoddy and Red Wing, among others), apparel, luggage, timepieces and hunting-inspired accessories. Coinciding with the increase of wholesalers to choose from, Bollman reports sales at his shop and its accompanying online store were up 17.9 percent last year—a statistic that's expected to grow in 2012.
Bollman says his store's success mirrors the organic farm movement sweeping the country. This locavore philosophy is similar to buying footwear made in the United States. For starters, it involves less shipping and is therefore more environmentally friendly. In addition, consumers have a higher level of trust in American production practices with regards to materials used and workers' rights. "Like you're seeing with the farm-to-table movement, the same thing is happening with clothing and shoes," Bollman confirms. "People have gone from not knowing anything about their food to knowing what farm, what season and what farmer."
Another factor fueling the made-in-America revival has risen out of the recession. The outsourcing of American jobs is front and center in the minds of millions, especially those who are unemployed. Thus, purchasing products made by fellow Americans has become increasingly attractive. As Bollman puts it, "The whole lifestyle around our store is based on knowing you have bettered someone else's life and created an American job."
Even if domestic production is costlier, it's an investment U.S. manufacturers are willing to make on an emotional level. "I'm really proud that I have 45 employees and, altogether, I feed about 120 mouths," reveals Calleen Cordero, designer behind the eponymous line made in Los Angeles. It's a sentiment shared by Red Wing CEO David Murphy: "We are the largest employer in Red Wing, MN. We employ one in 10 residents, and we care about that. When I sit in a [local] diner, I might be sitting next to my fellow employees," he notes.
Alice Chen, designer of New York-based comfort brand Alice Alan, thinks it's also a reasonable cost increase consumers are willing to absorb—so long as the quality is there. "Retailers are telling me customers are saying, 'I want a shoe that's not made in China,'" she says. "[They] don't want mass-marketed stuff."
Ironically, one of the biggest factors contributing to the rebirth of American-made shoes has to do with China's sourcing issues that are forcing manufacturers to look elsewhere for production, be it Vietnam, Italy, Brazil, Ethiopia or the U.S., among other countries. The shift is backed by the Annual Footwear Sourcing Forecast, released last month by the Footwear Distributors and Retailers of America (FDRA), which found that U.S. footwear imports from China accounted for 85.3 percent of all imports in 2011—the lowest percentage in seven years. China's increasing internal demand for footwear, coupled with factories switching to other industries, is forcing wholesalers to find alternative sourcing partners. "There's value in having a more diversified sourcing platform," notes FDRA President Matt Priest. "Jobs in the 21st century in this industry rely on the ability to move product in the global economy."
So an industry that was once pretty much left for dead in the U.S. is showing a pulse. And, according to some manufacturers, it's an easier endeavor than making product overseas. "I didn't want to deal with language barriers and, doing it locally, I have smaller minimums and access to quality control, and changes can be made very quickly," Chen says. "Working with people overseas, you're looking at a 12- to 15-month lead time, whereas I can have a shoe out now that I sketched four weeks ago."
Along those lines, Nike is causing a stir with its soon-to-be-launched Flyknit minimalist running shoes. According to an article in Businessweek, the innovative weaving technology knits the entire upper in a single piece that's then attached to the sole, cutting labor costs and production time. As a result, Charlie Denson, president of the Nike brand, is quoted as saying the process cuts costs so much "that eventually we could make these shoes anywhere in the world," including the U.S. The production process would also be more environmentally friendly, as it uses fewer materials, and shipping distances could be greatly reduced. In bringing potential production to the States, Nike could hit on four key consumer touchstones related to
Flyknit: minimalist running, sustainability, customization and American-made.
New Balance is a step ahead on the U.S.-made sneaker front, as it is currently the only athletic shoe company that manufactures such shoes in the country. With two plants in Massachusetts and three in Maine, its U.S. workforce produces 25 percent of its shoes sold in North America and is focusing its domestic production on making what the customer wants—and quickly. New Balance is also celebrating its homegrown capabilities with an extensive "Craftmanship Redefined" marketing campaign backing the 30th anniversary of its iconic 990 running shoe. The effort involves TV, social media, print and in-store POP. In addition, as a supplier to the U.S. military, New Balance also ran a promotion during the month of April with the United Service Organization that, after a buyer of any New Balance shoe donated $10, the company sent a pair manufactured in the U.S. to an active-duty service member. Patrick Tomasiewicz, a marketing associate, was quoted as saying that depicting New Balance employees making the 990 was the ideal way to showcase the American-made angle and its quality craftmanship.
Quality Control
It may be fashionable to buy American right now, but the movement is more than just a patriotic phase. According to many American-made suppliers, the premium quality offered is more of a selling point. A really well-made shoe—one that is truly built to last—is deemed a worthy investment among consumers who demand more bang for their buck.
"Our shoes can last 15 to 20 years. People are starting to appreciate that more," says Paul Grangaard, CEO of Allen Edmonds. Handcrafted in Port Washington, WI, using a 212-step production process, Allen Edmonds has been favored by quality-minded Americans since 1922. And with sales up more than 20 percent this year, Grangaard says all signs point to continued growth. "We've learned to keep our core customer's favorite styles in the line and expand certain styles both to broaden that customer's closet and also to attract new consumers to the line," reveals Grangaard, adding that authenticity matters. "It's always interesting to see a great American fashion statement and then look at the label and see that it's actually made here," he notes. An added bonus, he says, is that Allen Edmonds produces goods made-to-order, so there's no need to carry stock or pressure to predict the perfect order minimum. "We don't sell shoes only in-season twice a year. We sell shoes all year long, and if you run out we can get more to you in a couple of days," Grangaard says.
George Vlagos, founder and designer of Maine-crafted Oak Street Bootmakers, credits the growing consumer demand for American-made products to lessons learned from the turbulent economy. "There has been a strong resurgence in people looking for a shoe that's going to last for a really long time," he says. "When you look at these menswear blogs and forums, that's what guys are looking for and what they usually circle back to—made in America." Especially with respect to Oak Street Bootmakers' customers, Vlagos reports that a good portion of the sales growth is attributable to men who normally don't spend $300 on a pair of shoes, but they've come to realize that "if they want a shoe that's going to last a long time, they have to."
John Andreliunas, CEO of Quoddy, agrees, noting the investment in quality merchandise adds a whole new level of options to the consumer. "Do you want something that's just for fun or something that you can invest in and have for years to come?" he proposes. Known for its handmade moccasins and boat shoes, the Maine-based company has seen its business grow by leaps and bounds in the past three years, riding the Americana fashion trend in specialty stores both here and abroad. "You have to make a commitment to this product and story, and our retailers are the type that get behind an investment purchase as opposed to a fashion one," he says. "It harkens back to the old days when people actually invested in their footwear and took it to a cobbler to get resoled." Beyond that, Andreliunas believes the logistics of production are changing. "Gone are the days where large companies chased low costs and cheap labor," he says. "It's a much more complicated equation right now, and the equation is about what value you're delivering to the consumer."
Roger Huard, vice president of product development at Wolverine, a division of Wolverine Worldwide, echoes this sentiment: "People are looking for craftsmanship and quality versus disposable footwear," he says. And with record unemployment still lingering, consumers are particularly concerned with where their dollar goes. "With the loss of manufacturing jobs and the lack of job creation, there's obviously a big plus if you can put a product out there that's made in the U.S.," Huard maintains. That's just what the work boot brand did when it launched its American-made Wolverine 1000 Mile label, which tripled its sales in 2011. Drawing on 125 years of history, the premium heritage styles feature Horween leathers, stacked leather outsoles, Vibram soles and a Goodyear welt construction—all of which come from U.S. manufacturers.
Portland, OR-based Keen took a similar approach to quality control and logistics when it decided to build its men's work boot, the Portland PR. As Utility Division Director Mark Reilly says, "Because we're closer to the production, we're much better able to manage quality in our process than if the boots were being produced overseas." Similarly, Randy Watson, CEO and chairman of Justin Brands, believes the production of its Justin, Nocona, Chippewa and Tony Lama boots in the company's native state of Texas is a huge advantage. "We get to see the raw materials when they come in all the way through to putting the boots in the box," he says, adding that it's also easier for his product development team to stay on top of trends. "Time is money, so when you manufacture domestically, you can move product more quickly and improve turn."
But with that level of quality control comes increased expenses: "It costs a lot of money to make footwear here versus in Asia," admits Red Wing's Murphy. There's no denying that labor costs and employee benefits in the U.S. make domestic production an expensive endeavor, but a desire for faster turnaround and more control of the supply chain balances out labor costs and overhead expenses enough to make U.S. manufacturing a viable option again, even if Murphy says it's unlikely production will ever return to its heyday.
The Road Ahead
One of the challenges facing some domestic manufacturing companies is how to manage growth. As John Wilson, vice president of domestic manufacturing at New Balance, points out, shoemaking has been in decline for almost 40 years. "There's a significant uphill challenge. The skill sets aren't here," he says. "It's not that it can't be done, but it's a big challenge." In 2005, the company brought lean manufacturing into its factories to improve productivity. "We were able to go from making one pair of shoes in eight days to three hours today by shifting the culture to embrace waste reduction and continuous improvement and by empowering problem-solving with our manufacturing associates," Wilson notes. The result: Consumers can order a custom pair of New Balance 993s and receive them in as little as four days.
Of course, those sneakers—any shoes, for that matter—have to fit and be priced right. "It doesn't matter if there are three American brands or 300; if it fills the niche we need, we like the product and we like to work with the brand, then we will add it to our inventory," says Steven Taffel, owner of Leffot, a men's boutique in New York that stocks a tight edit of high-quality loafers, work boots, brogues and moccasins from brands like Quoddy, Danner and Alden. And while American-made brands are selling well, Taffel confirms that his customers are more interested in the quality and fit of a brand as opposed to where it came from.
"At the end of the day, there are some consumers who are very passionate about buying from the U.S., but for those looking for the best value, the best quality and brands they believe in, it doesn't matter whether they're from [here] or somewhere else," agrees FDRA's Priest. "If you're struggling financially as a family, you're not going to be buying expensive products just because they're made in America."
Maybe so, but a resurgence in American-made shoes could help ensure the industry returns in a viable way in the U.S., where the talent pool of qualified shoemakers deepens. Helping matters is the fact that it's not just U.S. consumers who seek to buy American-made shoes. "We had people show up on our doorstep from Japan looking for shoes," reveals Andreliunas, who adds that Asia is one of Quoddy's major markets. "They appreciate made-in-the-U.S.A. products more than a lot of people who live in the U.S.A.," he adds. Likewise, before Red Wing's American-made heritage line was stocked at upscale stores like Bergdorf Goodman and Bloomingdale's, it was available only in Japan. "Authentic American is very much prized in the Japanese culture and our whole brand story reinforces this perception," Murphy says. "Our boots are made the way they always were: in the same small factory in the same town with the same name in middle America on the banks of the Mississippi River. Same as they were 105 years ago."