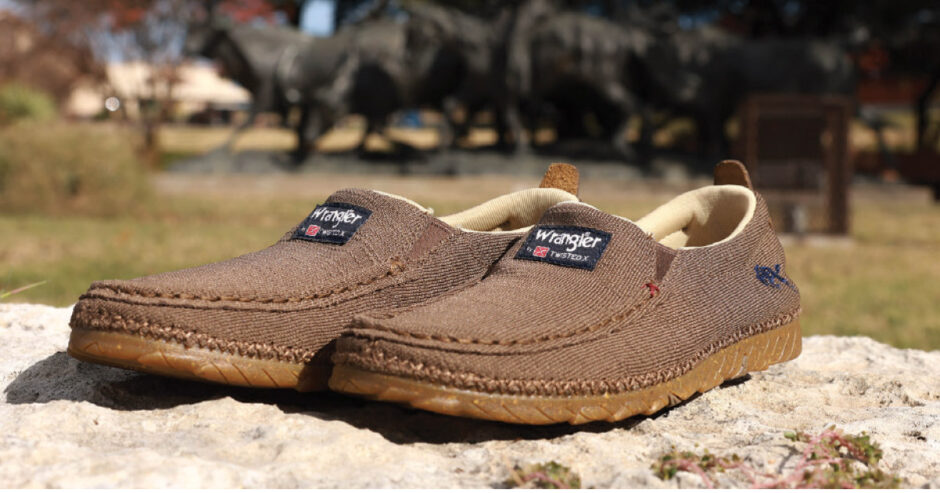 Green is good, as well as a good way for two western heritage brands, Wrangler and Twisted X, to show their passion for protecting the planet. That's the impetus behind Wrangler's 75th anniversary collab with licensee, Twisted X. The shoes feature the latter's proprietary Zero-X no glue construction, ecoTWX fabric created from recycled plastic bottles, leatherTWX fabric utilizing recycled scrap leather and rice husk blend outsoles. Each style is topped off with a commemorative logo in honor of Wrangler's 75th anniversary.
"Sustainability is nothing new for either of these brands as both are committed to responsibly made products and take great care in what materials are put into them and what processes are used," says Prasad Reddy, CEO of Twisted X. "Wrangler uses materials such as sustainable cotton, recycled fibers and hemp to create their denim, and as Wrangler expanded into footwear, it only made sense to tap into the expertise of Twisted X, an established leader in sustainability."
The commemorative collection of casual slip-ons include two men's styles and two women's styles. The interlocking stitching method ensures a secure fit and long-lasting durability. Reddy adds that palette—steel gray, khaki/golden honey, shitake and gray ice—are designed to go well with Wrangler jeans. The collection also pairs well with the brands' target customer base. "Wrangler and Twisted X both share a passion for protecting the planet that stems from a deep respect for western heritage, where people truly love and live off the land," he says.
Reddy reports Wrangler footwear, which debuted last year, is gaining traction. Despite pandemic headwinds, the brand is being exposed to more retailers and sales are growing. He credits the success, in part, to the two brands similar focus on quality, comfort and sustainability. "Wrangler is an iconic brand, especially in the western market, that consumers know and trust," Reddy says, noting that Twisted X coordinates closely with its apparel team to ensure every style is tied in with Wrangler's design aesthetic to maintain a cohesive brand experience for customers. "By tapping an expert in the footwear category, Wrangler is delivering on that brand promise."