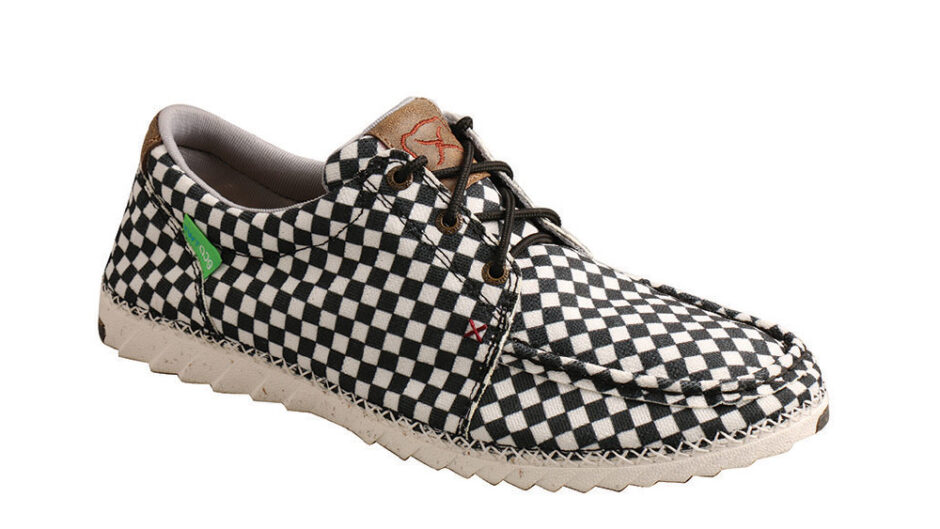 The push to improve sustainability standards shows no let-up from Twisted X. The Texas company is charging ahead on various fronts, be it new products, materials and best practices.
"We're constantly searching for new opportunities to further our sustainability mindset in manufacturing, shipping, materials and the overall shoemaking process," affirms Prasad Reddy, CEO of Twisted X Global Brands, makers of Twisted X, Wrangler and Black Star. "By 2022, 80 percent of Twisted X footwear will have at least one sustainability component."
It all starts with the belief that there's always room for improving its green efforts, whether that means developing its own innovations, looking to factory and material partners, and outside the industry for best practices. For example, this year Twisted X introduced Blend85, a mix of upcycled waste from production (such as EVA, leather, rubber, polyurethane and textiles) that will be reincarnated into 85 percent of the material used for its footbeds. "By substituting foam with materials that would have been previously added to landfills, we estimate that we'll be eliminating more than 1 million pounds of waste every year going forward," Reddy says.
Twisted X also introduced BioSole midsoles, made of eco-friendly caster bean oil, as part of its expanded Zero-X collection. The sustainable design collection, which debuted this spring, eliminates the use of harmful glues. "Our independent stitching construction eliminates 75 percent of the harsh environmental issues created with traditional footwear making," Reddy says. "The lack of harsh chemical adhesives, scoring dust and debris, and the elimination of heating and cooling production energy all add to the eco-friendly benefits of Zero-X."
Along those lines, Reddy says Twisted X has also expanded the application of its ecoTWX fabric (made from recycled water bottles) into a new variation, ecoTWEED, used in shoe linings. "Switching from a nylon lining to a 50-50 blend of ecoTWEED and bamboo charcoal blend is more breathable, more moisture-, antibacterial- and odor-absorbing, and softer," he says.   
The success of Twisted X's sustainability efforts has the team raring to introduce new ones, according to Reddy. The drive to improve never ceases. "We have a commitment to bring to market a new innovation or technology every six months and, when possible, one that revolves around our sustainability mission," he says, adding that he welcomes imitators in this regard. "Our core goal is helping every person get involved in our mission to help the environment. As an individual or as a company, we make an impact, but if we have millions alongside us, we will make a huge impact."