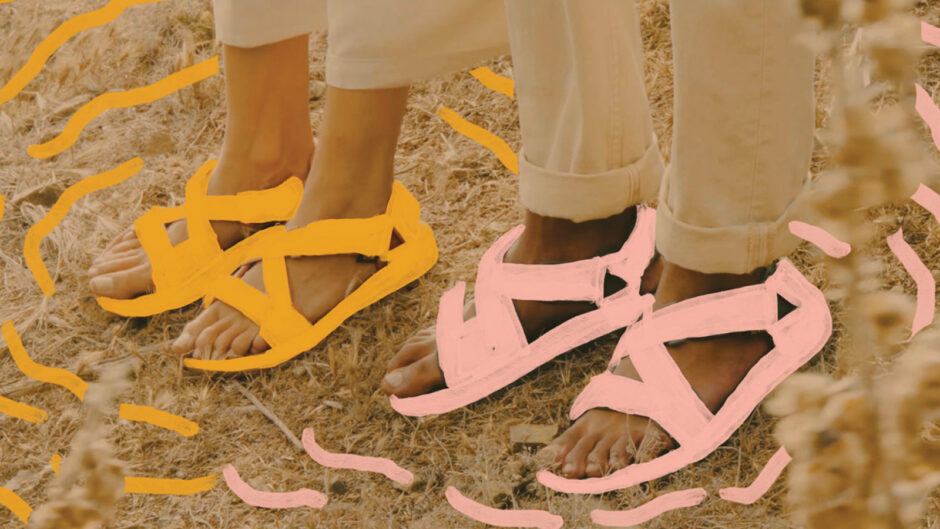 In an effort to divert its sandals from landfills, Teva, a division of Deckers Brands, has teamed with TerraCycle on a recycling program dubbed TevaForever. When Teva sandals have made their last trek, U.S. consumers can mail—at no cost—their old soles to TerraCycle for recycling. The plan is to expand the program globally in 2022.
"Teva sandals have a soul of their own, shaped by every wild adventure they've weathered, and TevaForever finally gives our fans the peace of mind knowing the spirit of those adventures can continue to live on through new products," says Anders Bergstrom, vice president and general manager of Teva, adding that one day the brand hopes to achieve circularity—creating new sandals from old ones. "Every pair our fans send in helps us get closer to our ultimate goal, and with enough recycled pairs, research and development, we'll work to eventually close the loop."
For now, it's easy to recycle used Teva sandals. Customers can visit Teva.com to sign up and download a prepaid shipping label to mail their worn-out sandals. The materials will be separated for processing and then made available to manufacturers to make a number of new products, including playgrounds, athletic fields and track ground cover. "Teva sport sandals construction and materials are actually relatively simple, so disassembling them is rather easy and quick," Bergstrom says. "It's as if they were made to be broken down and turned into something new, forever continuing the adventure."
Teva will get the word out about its recycling program beginning this summer via digital media, including a content series featuring influential environmental and outdoor leaders sharing their stories of why they are giving their well-loved sandals a new life with TevaForever. "Our fans share our passion to lighten their environmental impact," he says, noting that additional incentives may come later. "But for now, we're relying on the excitement of the recycling program and fans knowing they are doing their part to keep well-worn sandals out of landfills."
The recycling is just the latest in Teva's ever-evolving commitment to reduce its environmental footprint. In addition to the brand's 2020 sustainability initiative, in which it transitioned 100 percent of its straps to recycled plastic using Repreve yarn, it has moved the needle on several other fronts. Highlights include: Since 2020, Teva has diverted more than 40.2 million plastic bottles, equal to 755 tons of post-consumer plastic, from landfills; saved 348 million gallons of water since 2017, thanks to packaging improvements and working with supply chain partners to improve their conservation efforts; reduced the total weight of packaging by 4.1 million pounds; and is now sourcing all leathers from tanneries certified by Leather Working Group, whose mission is to promote sustainable and appropriate environmental business practices within that industry. Teva also supports the Better Cotton Initiative, the largest cotton sustainability program in the world. And this fall, the brand will introduce Up Leather to its lines. The reconstituted leather is sourced from the tannery's cutting room floor, thus minimizing waste.
"As stewards and explorers of this planet, we not only have the desire but an innate responsibility to protect it," Bergstrom says. "It's in our DNA to foster good business that reduces our footprint so future generations have a planet worth exploring."