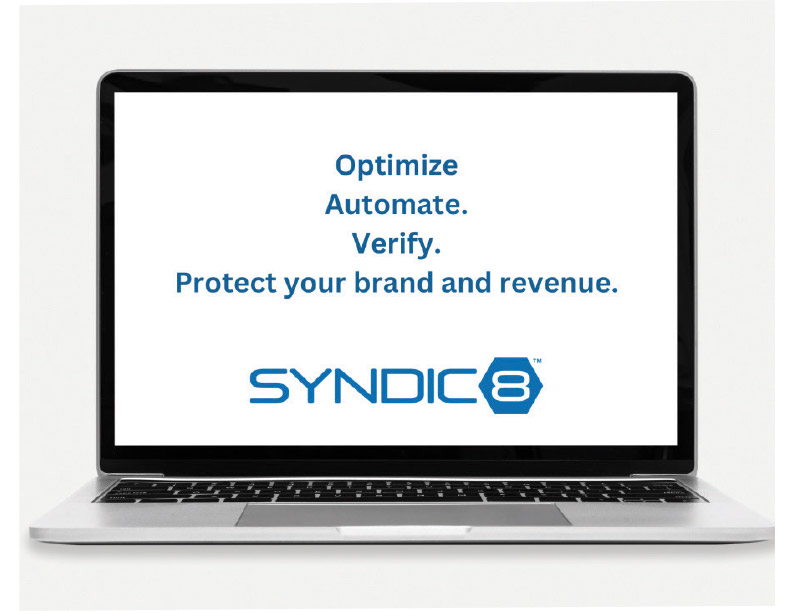 Think of Syndic8, a Boston-based product content management platform, as the ultimate assistant, one that works tirelessly behind the scenes to make sure your business runs seamlessly and more profitably. Like a great assistant, it does a lot of the dirty work that makes the company shine. Specifically, Syndic8 oversees enormous amounts of data that must be uploaded to the digital shelf space frequently—be it DTC, retail channels or marketplaces—and free of errors or glitches that, if not caught, can result in massive lost sales.
That's what happened recently with one of Syndic8's clients, a Western boot brand. One of the brand's major retail partners had input the wrong inventory code, a typo that resulted in its entire collection not being listed on the retailer's site, despite goods being available. Fortunately, Syndic8's verification services detected the mistake quickly—and the boot brand estimates it saved $750,000-plus in potential lost revenue. In a word: Whew!
Cofounder and CEO Chris John describes Syndic8 as both an efficiency play and a revenue enhancer. Its secret weapon? It eliminates the huge potential for human error on both ends of a partnership. Such errors arise because manually entering and overseeing data (commonly in the form of detailed spreadsheets) is labor-intensive and time-consuming. It can involve thousands of SKUs, sizes, pricing and individual product details. Making the task even more daunting is the fact that each retailer has unique data protocols. Errors can cause myriad problems, from consumers receiving the wrong style to entire collections being inadvertently omitted from a site. Weeks can go by before a mistake is detected, and every passing hour means potential lost sales. In an uber-competitive business with tight, seasonal windows, failing to stay on top of the data is asking for a heap of unnecessary and costly trouble.
John says he doubts it's possible for any human being to efficiently manage so much complex, changing data manually. Take the data for a single Converse All Star SKU, which must be uploaded by color, size, material, etc. "It amounts to a ton of information that can be missed or entered incorrectly," he says. "Our software does all that work, and we're also constantly scanning to make sure products are available.
"We're replacing what for many companies is still a manual process that can take up to 10 people performing tasks over and over," he explains. "Syndic8 centralizes the data, automates the delivery and constantly verifies that it's correct."
Syndic8's benefits apply to retailers, as well. "They have the same challenges brands do in that they have to consume data efficiently," John explains. "Yet many still use multiple variations of spreadsheets. We eliminate those time-consuming steps and ensure that all their brands' data meets their specifications." Syndic8 also monitors inventory, checking where it is in the supply chain, and if available styles can be featured elsewhere on a site.
Syndic8's ability to deliver error-free data to wholesalers and retailers makes it an ROI enhancer for everyone involved, according to John. First, the platform ensures that brands appear on the digital shelves of their current retail clients. Second, the data Syndic8 provides creates potential for brands to increase their number of online partners. "Usually, when we meet with a potential client, the brand is dealing with up to 10 retail partners. We can bring that number up to 30-plus pretty quickly thanks to sending accurate, high-quality data," he says. "Delivering such data means you're selling more goods overall, be it direct, through existing retail customers or new partners."
Since launching in 2018, Syndic8 has gained such respected companies as Genesco, Twisted X and Rockport as clients. And case studies confirm that the technology delivers on its promises. Still, the company has faced formidable headwinds, including the pandemic, record inflation, fears of a recession, and the challenge of introducing a new technology to an industry historically skeptical of the unknown.
"Even if the price isn't scary—and ours isn't—they're reluctant to embrace new technologies that they don't understand at first," says John, who successfully pioneered several efficiency software companies in the financial services industry. Nevertheless, he remains confident that the footwear industry will embrace Syndic8. "Amid a tough economy or possible recession, people need to think differently, and often they become more receptive to new ideas as a way to survive," he says. Along those lines, John believes Syndic8 can help companies maintain revenues in difficult times. "One way to stay neutral, rather than dropping 10 percent in this climate, is by making sure you're efficiently selling through the digital channel," he says.
With its ability to expand the digital shelf, Syndic8 can be a powerful tool in navigating the evolving landscape of the footwear industry—one that has seen an accelerated shift to online shopping, supply chain disruption and changes in the way many retailers are buying as a result of economic uncertainty. Last year, for example, inventory was scarce; now there's a worrisome glut. John predicts retailers will increasingly shift the financial burden onto wholesalers via drop-ship arrangements. "Having more digital partners can help alleviate inventory concerns," he explains, citing a growing number of alternative sites that don't degrade brands—like Home Depot, Tractor Supply and, especially for younger generations, social media platforms that are quickly morphing into marketplaces.
"The digital tier is only going to become more important going forward, and that's data that must be entered properly and monitored in real time," he predicts.
Those interested in Syndic8's services can log onto syndic8.io for more details. The process of gathering, verifying and uploading data takes up to four weeks, then it's off to the races. "Syndic8 improves operations, expands the digital shelf space and enables wholesalers and retailers to sell more products," John says. "It's a win-win-win."