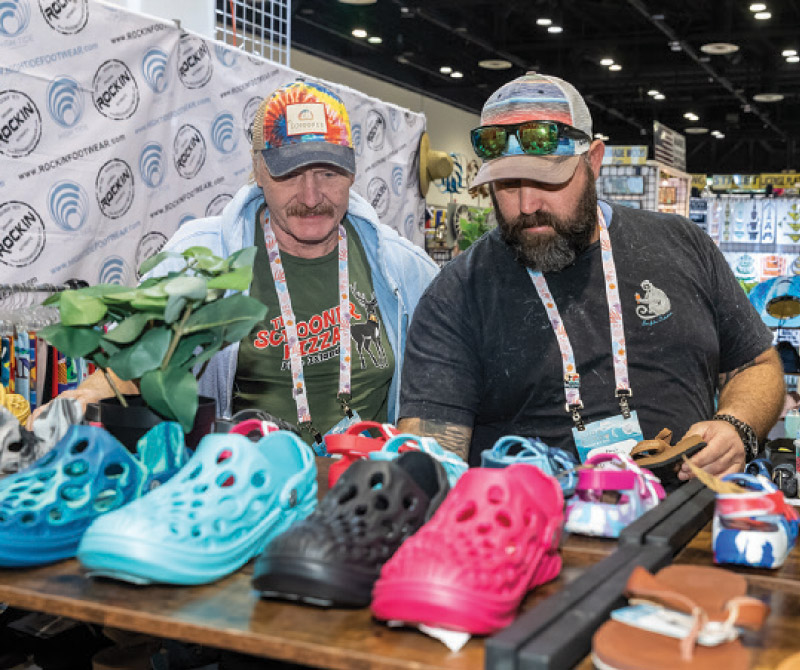 Surf Expo, a division of Emerald Exhibitions, reported a 21 percent year-over-year gain in overall attendance for its January 2023 edition, hosting more than 8,500 industry members at the Orange County Convention Center in Orlando, FL. Notable footwear brands in attendance included Birkenstock, Keen, Hey Dude, Salty Crew, Katin, Dickies, Havaianas, Hari Mari and Sperry.
"The surf, coastal and resort markets are thriving and vibrant," reports Roy Turner, show director. "We were thrilled to see qualified buyer attendance up 20 percent (totaling more than 4,100 buyers) over the previous year. These retailers from the U.S. and more than 60 countries got to check out more than 750 brands."
From a footwear perspective, Turner says Surf Expo enables exhibitors to reach a buyer audience that might not attend shoe-specific shows. "Our new Bluewater and Shoreline floor categories continue to bring a new buyer base, many of whom are looking for footwear resources," he says, noting that there's a large crossover between coastal life and board sports categories, which is a bonus for all attendees. "If brands or retailers have any connection with the board sports, beach or coastal resort markets, Surf Expo is the place to be."
Many buyers were on the hunt for newer brands to stay on top of the latest trends. "As independents, we like to think of ourselves as pioneers and as the heartbeat of the retail landscape," notes Jim Archibald, owner of Archie's Surf Shop in Grand Bend, Ontario. "Having these niche brands really arms us in battle in this evolving market. Hopefully these newer, small- to medium-sized companies will be the big brands of tomorrow."
Retailers also valued the face-to-face meetings with brand executives. "It's always valuable to meet with brands in person, especially since that has been a challenge the last two-and-a-half years," says Timothy McKevlin, owner of McKevlin's Surf Shop in Folly Beach, SC. "We definitely had a productive show."
Exhibitors were stoked by the strong buyer turnout. "This Surf Expo was one for the records," reports Patricia Thornton, president of Psycho Tuna, a men's surfwear label. "Retailers were present and buying."  
"As a new brand into our third year, this was our busiest show we've had since we launched I-SEA," adds Don Dyer, vice president of sales for the sunglasses brand. "We saw over 130 retailers in two-and-a-half days. This was the best Surf Expo I've seen in the last eight years."
Surf Expo's next show is Sept. 7-9, 2023, at the Orange County Convention Center's South Concourse. Turner expects increased attendance of buyers and exhibitors. "Since our return from Covid, each of our events have grown by 15 to 20 percent, and we expect September to continue the trend," he says.