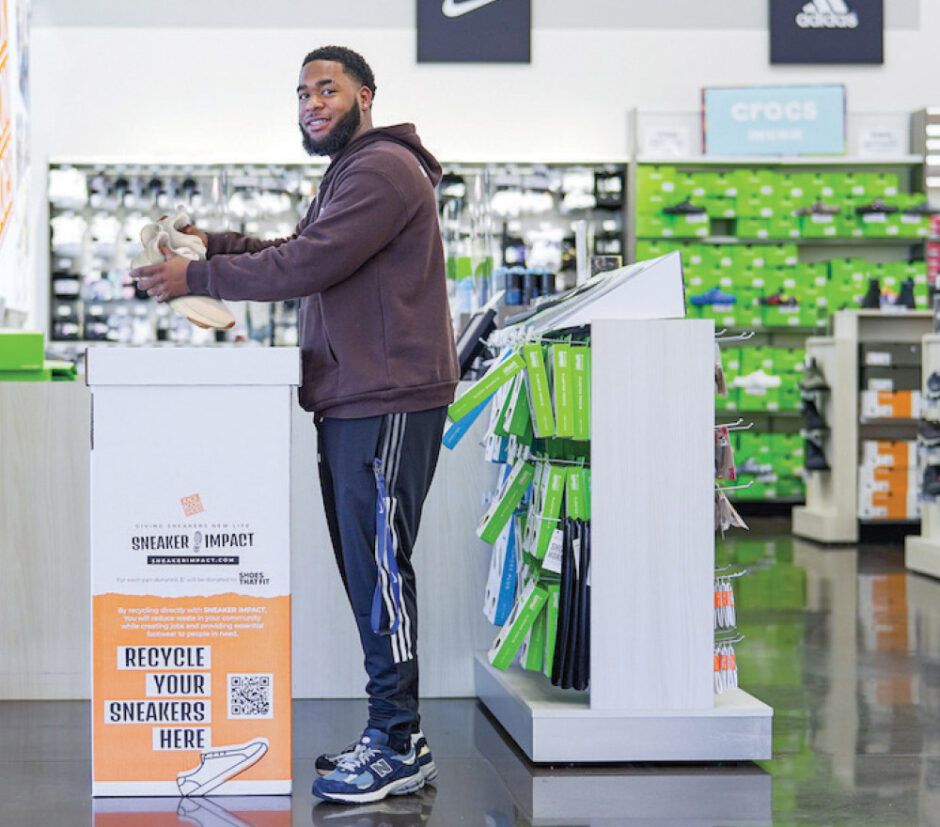 As part of Rack Room Shoes' efforts to evolve products and processes for a more sustainable future, the family chain is launching a new initiative with recycling partner, Sneaker Impact. Customers can now donate gently worn sneakers by placing them in a collection box at any Rack Room Shoes location to reduce waste across the company's footprint, which spans more than 500 communities and 36 states. Sneaker Impact will collect and upcycle the donated shoes throughout the year and ship them to developing countries around the globe, providing footwear to people in need while creating jobs in the marketplace.
"We place a priority on being creative when it comes to finding new ways to work with our customers, associates and partners to positively impact our environment," says Brenda Christmon, senior director of Brand Communications for Rack Room Shoes, noting that the partnership tackles visible signs of poverty by supplying proper shoes to children and adults, ensuring they can attend school and work with greater self-esteem. "Helping others in need is the primary goal of Rack Room Shoes Gives, as social responsibility is one of our most important company values."
Rack Room Shoes rolled out a soft launch of the Sneaker Impact program in stores around its home base of Charlotte, NC, this summer. The test was successful in promoting a positive attitude towards sustainability among both managers and customers.
"We are grateful to work alongside Rack Room Shoes to help us spread awareness on the many benefits of upcycling gently used sneakers," says John Licata, general manager of Sneaker Impact. "They have a rich history in maintaining a special commitment to those in need, and this partnership allows us to lead the movement in sustainability, educate locally and benefit globally."
Sneaker Impact will donate $1 for every pair collected to the non-profit organization, Shoes That Fit. Rack Room Shoes has maintained a long-standing partnership with the national organization, which provides new footwear to low-income children.