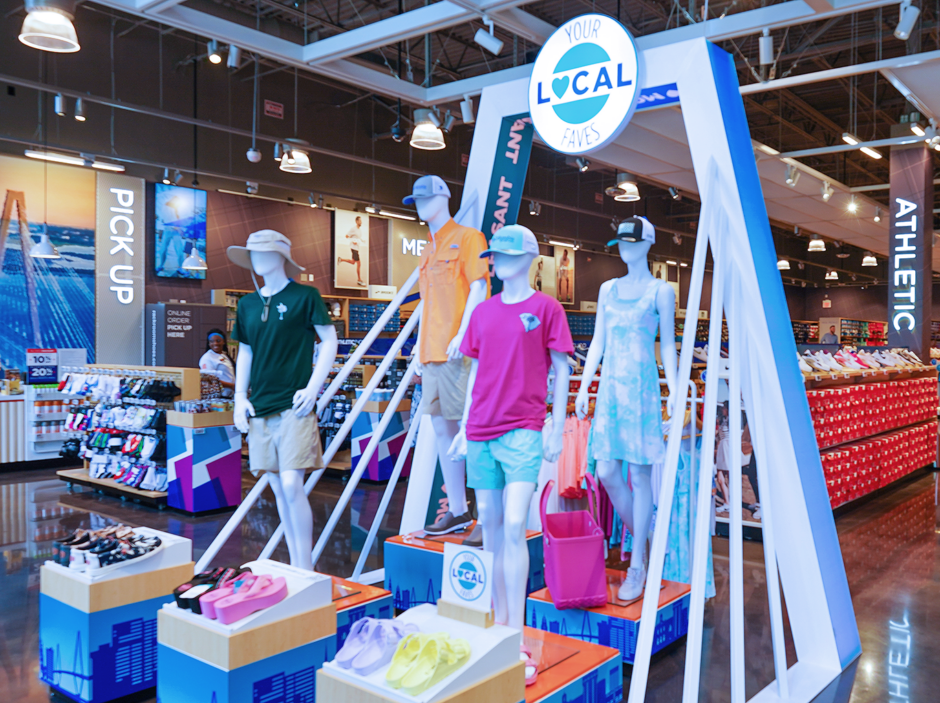 What problem does Rack Room Shoes' new lighthouse store design solve? It helps customers (particularly busy moms) battle the "poverty of time" challenge by providing greater efficiency in their family shoe shopping experience, says President and CEO Mark Lardie.
"We see her poverty of time accelerating and the need for an efficient shopping experience continuing to grow," Lardie says. "This new lighthouse model—with its QR codes, guest wifi, and digital sizing device—allows her to easily access a wealth of information in-store. We've also enhanced our directional signage and deeply curated the assortment to the local customer, to allow for a seamlessly efficient shopping experience."
The design, in collaboration with the retail design group, CallisonRTKL, made its debut recently at the Mount Pleasant Towne Centre near Charleston, SC. Highlights include an enhanced Athletic Shop, which showcases an extensive selection of performance running sneakers, providing customers with a shopping destination. A Kids Club features a wide selection of styles, brands, and assortments to ensure young shoppers find the right shoes. Rack Room Shoes has also invested in its In-Store Pickup options with new self-serve package lockers that enable customers to retrieve purchases seamlessly. Additionally, the store features a state-of-the-art digital foot scanner, allowing customers to measure their feet quickly and precisely. The redesigned space also offers open and direct sight lines, ease of checkout, and an inviting atmosphere that reflects the essence of the local community. In regard to the latter, the merchandise mix includes a smattering of exclusives in the form of unique colors and prints from Reef, Hey Dude, and Asics. The goal is to provide local flavor, a personal touch, and a sense of community.
Above all, Lardie says the design showcases Rack Room Shoes' forward approach to retailing. "We've enhanced the digital connection our customers have and exaggerated the key elements of the store in a more refined and elevated fashion," he says. "We want to show that our brand has a bigger reach than one might think for customers, vendors, and developers."
Bigger, however, doesn't include this store's overall selection. That's more refined to enhance shopping efficiency, according to Lardie. "[Our customer] expects us to take the first pass at getting the literal sea of choice culled down for her family," he explains. "We take pride in our ability to ensure we cover her broad family needs with multiple choices of brand and style in a manageable bite." And while the exec notes that Rack Room Shoes has successfully curated selections by store type, regionality, and history prior to this, the lighthouse concept, with its enhanced storytelling, reflects even more merchandise discipline. "We need space to let our brands and their stories sing, and the trade off is to tighten the number of styles while still filling all her needs," Lardie says. "It's a challenge, but we're experiencing a payoff as we're able to highlight our authority in athletics and kids, while still providing a canvas for our full family footwear presentation, which endears us to our loyal shoppers."
Lardie remains a firm believer in the power of brick-and-mortar retailing. It starts with touch. "There's a tactile portion of the shoe shopping experience that just cannot be replicated digitally," he says. "Sizing, materials, and fit matter, and going to a store is the only way to currently satisfy these." This is particularly true for children—a fact that became evident as soon as the lockdown was lifted, even with many restrictions still in place. "This rush to get back in the store told us her digital experience, while good and inviting, couldn't replace the trip to the family shoe store," Lardie says, noting that the channel is the is the only one, besides digital, that has grown in market share over the past 10 years. "She wants to see, touch, and feel the fit, and we have to ensure that once she's made the effort to come to our stores, we provide her a worthy, modern physical experience that will surprise and delight her."
Despite a recent focus on DTC sales, Lardie believes many wholesalers understand the importance of the family footwear channel as well. "Our vendors know this is a space broadly accepted by many consumers as the place to buy shoes," he says, noting that Rack Room Shoes' 500-plus locations provides access to millions of shoppers, enhancing the reach of brands without sacrificing their positioning. "We see ourselves as an amplifier of their messages by giving them a way to tell their story to a consumer who might not currently shop in their preferred distribution."
Lardie says additional stores will receive a lighthouse makeover, but on a selective basis. A second one should open this year and more will in 2024. "While not designed to replace our existing store, we think it can enhance our position in all our major cities across the country," he says. "As always with new ideas, you have to digest, incubate, and refine."