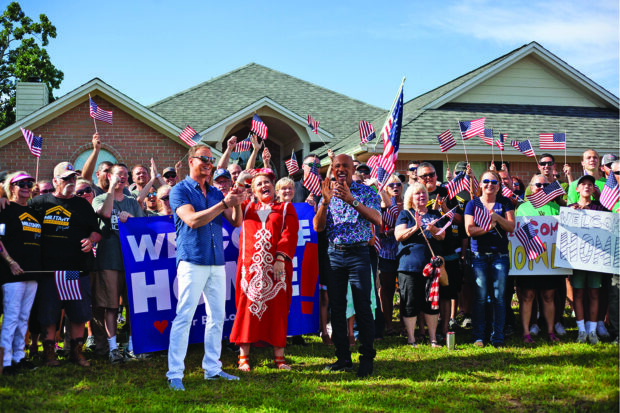 Home is where these heroes live. Rack Room Shoes, celebrating its 100th anniversary this year, is continuing its long partnership with Military Makeover with Montel, the Lifetime Network home improvement series that performs home makeovers for disabled veterans. The latest hero to receive a makeover is Jonathan Thomas, his wife, Natasha, and their four children.
While the show's national brand partners renovated the Thomas' home, upgrading its HVAC system and installing new cabinets, electronics and furniture, the Charlotte, NC-based Rack Room Shoes chain hosted the family for a once-in-a-lifetime shopping spree at its Indian Land, SC, store.
"We truly value the sacrifice and service of our veterans," states Mark Lardie, CEO of Rack Room Shoes. "It is an honor to recognize the Thomas family through our partnership with Military Makeover. I was pleased to meet the Thomas family and was touched they enjoyed their shopping trip to Rack Room Shoes."
"We have enjoyed working with Rack Room Shoes on Military Makeover, now for the fourth time," says Scott Moss, EVP of programming/president, BrandStar Entertainment and creators of the series. "They are a wonderful company dedicated to improving our community, and there's no doubt the Thomas family will think of them every time they walk out the door."
Thomas enlisted in the Army National Guard in 2001. In 2008, after being deployed twice to Iraq and Afghanistan, he was blown out of a guard tower by a suicide bomber. His actions resulted in saving the entire unit's lives by taking the blast full force, which left him with a severe spinal injury and peripheral damage in his right eye. Thomas received two Purple Hearts for his acts of valor and for the injuries he sustained. He was also awarded a Bronze Star for heroism and the lives he saved that day. In 2012, Thomas became an instructor at Fort Benning, GA. His 16-year military career ended after he was diagnosed with cancer. However, he continues to move forward in life and still feels a calling to help others.
The show runs in syndication on the American Forces TV Network, and is available 24 hours a day on miltarymakeover.tv.