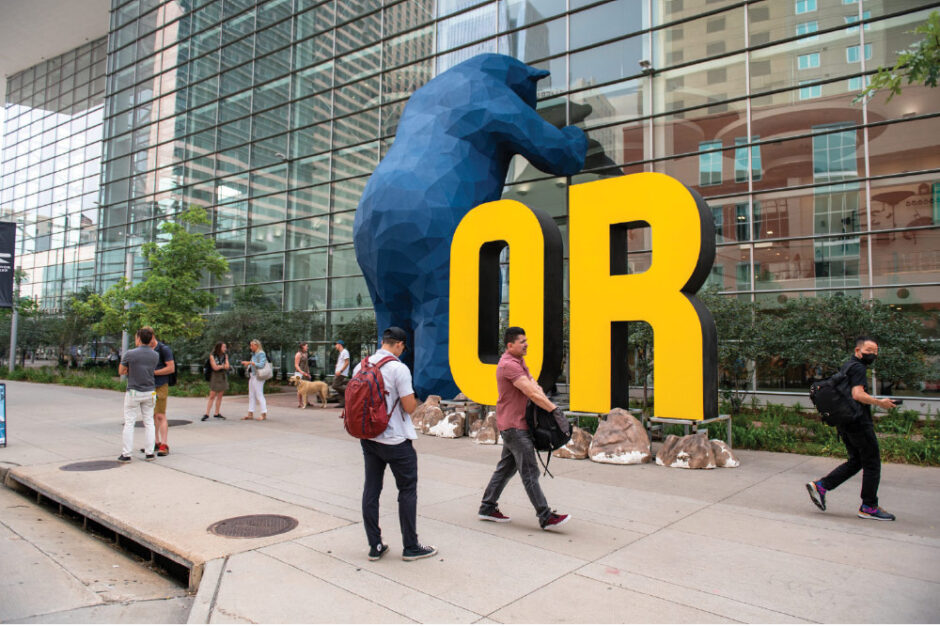 Despite a mountain of virus-related challenges, Outdoor Retailer's recent Summer Market in Denver fared pretty well, according to show organizers and attendees. It also marked the first time the outdoor community gathered in-person since January 2020, which was reason alone to celebrate.
"It was incredible to be back together again," says Marisa Nicholson, show director. "Nothing replaces the value of in-person meetings. Plus, learning about new gear is really a tactile experience, so the ability to test products up close was great for buyers, as well as for brands as they can present their brand story as they want it to be told."
While Nicholson reports traffic was down overall, it was expected amid a pandemic made even scarier by the spread of the Delta variant. Many companies remain under travel restrictions and others that planned to attend cancelled last minute. Overall, it was like the industry dipped its toe in the show's waters again. "For those able to be in Denver, it was a great show," she says. "Many exhibitors reported meeting new buyers, writing orders and making more connections, and retailers were glad to find a variety of new products and brands." Nicholson adds, "We look forward to welcoming more of the community back next year (Jan. 26-28 and June 9-11)."
Christina Gaddy, vice president U.S. sales for Cougar Shoes, reports that its first major show in-person since the pandemic went swimmingly. "It was very worthwhile, and after months of zooming we were thrilled to re-engage with the familiar faces of our buyers and the entire Outdoor Retailer community," she says. Gaddy says traffic overall was quality over quantity, which allowed for in-depth meeting amid safer environs. "We saw a handful of majors and worked with our valued specialty retailers who've helped establish Cougar's footprint in the U.S.," she says, noting that the general mood of buyers was upbeat. "Everyone was in great spirits. The OR community is tight-knit—I equate it to a family reunion. There were lots of fist bumps and air hugs, and catching up on business and personal lives. It felt good!"
What also felt good, Gaddy says, was the strong response to Cougar's refreshed rain collection featuring new styles that generated plenty of orders. The company's expanded sandal package—with fresh silhouettes and designs plus a nuanced and elevated color palette—also showed well. "Sandals are a fast-growing category and an area we expect major growth in for Spring '22," she says, noting that Cougar sits at the crossroads of outdoor fashion and function. "Our entire spring/summer collection is water-repellent and stain-resistant. It not only looks great, it performs. That's our point of difference that has served us well pre-pandemic and we believe is future-proof."
Jason Israel, Aetrex's senior vice president of Business Development, Technology & Orthotics, reports a similar positive show experience. "Although traffic was down and it was a smaller scale than years past, those attending were business leaders," he reports. "It was great to meet with the decision-makers who were interested in our technology and discuss how they could integrate our products into their businesses." Israel adds that traffic was very steady. "We provided a unique experience at our booth by offering a foot scan (on its recently introduced Albert 3DFit device), drawing in attendees," he says. "They were excited to learn how it can optimize their business by driving store traffic, increasing conversion rates and reducing online returns. They witnessed the speed and accuracy, and how easy our system can integrate into their existing POS systems." Israel adds, "We converted some new retailers, and we look forward to building these into long-standing partnerships."
That try-on factor proved beneficial to Oofos, as well. The recovery brand introduced its Oocandoo line targeted at the outdoor adventurer and traveler. Darren Brown, head of marketing, says visitors experienced walking in what many consider the "best-feeling Oofos style to date." Mission accomplished. "The reception was phenomenal," he says. And while attendance was light overall, Brown reports traffic was steady and it allowed for more meaningful meetings.
Jim Mavor, vice president of sales for Lamo, reports similar "better than expected" traffic. "We were pleased with amount of quality accounts we met with," he says. "We wrote a lot of business. Most were still buying for the season at hand, but looking at the future more serious than last year!" Mavor cites its non-sheepskin Lamo Lite collection as receiving a strong reaction. Slippers showed no let-up, either. "Buyers finally understand people wear them year-round," he notes, adding that, above all, having inventory was of particular interest to buyers. "The common show thread was those who had inventory thrived, and will continue to do so."
Perhaps the biggest takeaway from the OR show was how the category is extremely healthy overall. Participation and sales are at record levels in the bike, paddle, camping and hiking categories, among others. The pandemic has ushered in a wave of participants who have discovered/rediscovered the physical and mental benefits associated with outdoor activities. "It's paved the way for new brands to emerge with innovative new products with sustainable and affordable options, and to keep retail shelves full," Nicholson says, noting the show had more than 130 new brands exhibiting. "Retailers are always on the lookout for new products, and as more people turn to the outdoors, many for the first time, it creates an opportunity to grow and diversify the outdoor community."
Brown concurs: "Retailers and consumers are actively seeking new products to enhance their exploration and passions at all levels. Servicing those desires should create a ripe industry for all to flourish." —Greg Dutter