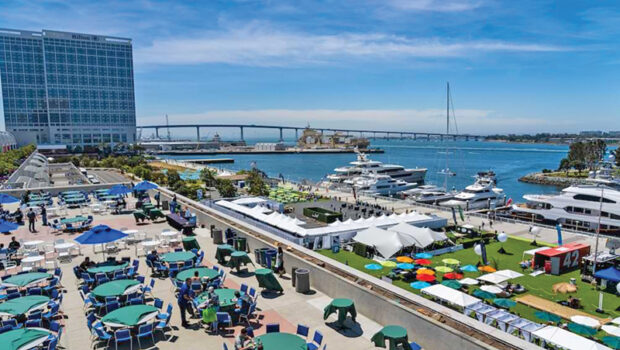 When in San Diego…enjoy the SoCal city's beautiful weather, especially in mid-January when much of the nation is shivering. That ace up the IR Show's sleeve will be even stronger as the event (Jan. 17-19) moves to new digs inside the San Diego Convention Center. The Sails Pavilion is a glass-enclosed space with high ceilings that leads out to a waterfront terrace that will host the Mix 'N Mingle cocktail party on opening night.
It's all about providing a great experience, says Show Director Gary Hauss. Do that well and people will come, he believes. "People like having fun!" Hauss says. "San Diego is a great entertainment destination—it offers ease and affordability of travel, incredible weather and nearby hotel and restaurants. And while our event space is large, it's set up in a way that feels cozy and is easy to navigate."
With two shows under his belt, Hauss feels IR is already a strong West Coast show. That growth is even more impressive taking into consideration when it debuted. "We opened in the middle of the Omicron outbreak, complete with Covid officers and an onsite nurse," Hauss says. "So, our growth has been great. There's been a lot of positive word of mouth—many new brands have heard about us from reps or retailers who've told them that they have to be at the IR Show." It remains a growth in progress. "To become a long-term success, we need to stay grounded and focus on providing great customer service for vendors and retailers, and keep the show relevant, interesting and, of course, fun," he says.
Hauss says attendees can expect educational seminars, networking opportunities and lots of free snacks  (think popcorn, soft pretzels and warm cookies). Opening night will feature Conversation Over Cocktails with the leadership teams of Larry, Matt and Evan Schwartz of Aetrex and Justin Kehrwald and Kim McKeown of Tradehome Shoes, the 130 store-plus Midwest chain. Day two will kick off with a marketing seminar sponsored by USRA and Omni. "We're upping our educational events to make sure they are entertaining, educational and experiential," he says. 
Hauss says buyers can expect more exhibitors, representing a broader market breadth. "We've added more fashion and men's brands, and we've also added a kids' section," he says. As for buyer attendance, Hauss is expecting to exceed the amount seen at the February show that saw retailers from 23 states and a few countries.
Hauss expects continued growth for IR in the years ahead, so long as it adheres to its mission to bring the industry together twice annually. It's economically imperative for vendors to see many accounts in one place, and retailers need to see their staples as well as new brands, he says. "The IR Show is a place where old friends can meet and new ones can connect," Hauss says. "It's a place where people will look forward to signing up for the next show, which is July 28-30, 2023."