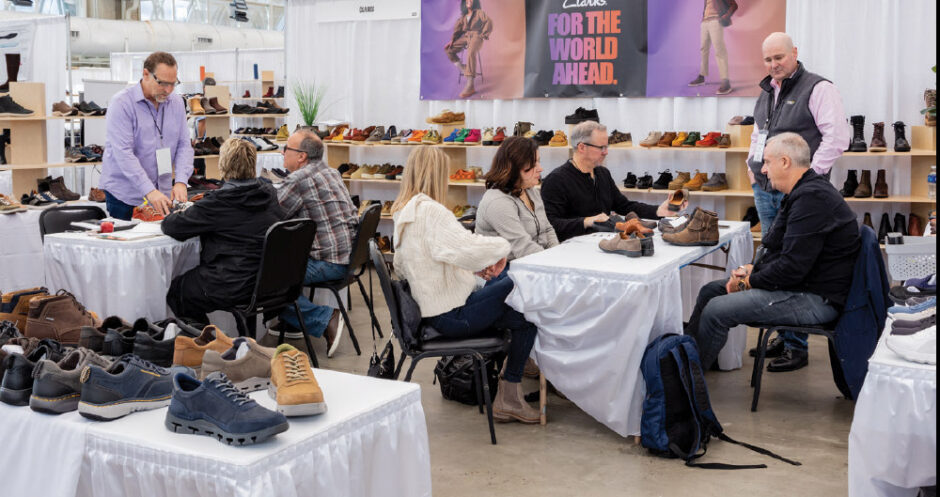 Glass-roof digs on the second floor of the San Diego Convention Center helped brighten what was already an upbeat mood at last month's IR Show. Gary Hauss, show director, reports attendance was up 16 percent at the show's third edition.
"The hall was one-of-a-kind," says Justin Kehrwald, president & CEO of Tradehome Shoes, a 120-plus chain based in Cottage Grove, MN. "You could definitely sense the sunlight's impact on the overall energy, which was very positive."
"The setting and the vibe were absolutely amazing," concurs Dave Asotbiza, president of the Sole Desire chain in central California and makers of Biza. "The layout was easy to shop, it was a good setup for vendors and the overall mood was good."
"We had retailers from 28 states, including first timers Zulily and Walmart.com," Hauss reports, noting that the show featured a new Kids' section and expanded fashion and work boot offerings. "Many vendors also had a lot of surprise walk-ins, as well as met with retailers they'd been trying to reach."
"The traffic was great, particularly the quality," says Oliver Hede, North American manger for Imbox Protection. The first-time exhibitor makes protective shoe devices that claim to be quick, organic and safer than at-home aerosol sprays. (See article below.) "Vendors and buyers had genuine interest in our products, and in making connections," Hede adds.
"Day one was fabulous," says Sam Spears, president of Ara North America. "The last day was slower, but it gave us the opportunity to meet for a second time with some of our key retailers to finalize the direction of their buys, so it was very productive."
Aetrex's Matt Schwartz and John Pierce of Lamo concur on IR's traffic pattern. "The traffic overall was strong as we met with independent retailers from around the country," reports Schwartz, the company's chief revenue officer. Adds Pierce, vice president of sales for the sheepskin-based brand: "Traffic was steady the first day, and there were retailers from all around the country."
Another IR bright spot was the positive mood that prevailed in the face of an ongoing pandemic, supply chain disruption and record inflation. Pierce cites, in particular, the positive outlook of many independents. "That segment is pretty vibrant, because they manage their inventory and buying dollars more closely," he says. "It's the majors who are not as optimistic right now." The exec says the athletic market's lagging sales might be a factor. "Athletic is dragging down the overall business, as most buyers are saying work, dress and comfort are pretty good areas," Pierce says.
Astobiza believes the independent, brown shoe-based channel is poised for growth. "I feel our channel will have a pickup in the next few years as people go back to the office and life gets a little more normal," he says. "Our Biza wholesale business also received great exposure. We picked up new accounts, so it was a success for us overall."
Kehrwald says several brands made nice additions to their Fall/Winter '23 assortments. "We feel good about filling a couple of possible misses in our assortment with these offerings," he says. "We feel good about our lineup for the second half of this year."
Schwartz notes that many of the retailers Aetrex met with are coming off a strong 2022, despite the difficult economy. "There's caution about the economic climate, but the retailers we met with are planning solid growth in '23," he says. A factor helping fuel Aetrex's growth is the success of its Albert2Pro in-store foot scanning devices. "That's been a huge success," Schwartz reports. "3D scans increase footwear conversions, drive incremental profit through orthotic sales and customers and sales associates love the experience." Aetrex's business grew 45 percent in 2022. 
Spears concurs on the overall positive outlook of many buyers. "Retailers were telling us that 2023 is the year they get back to pre-pandemic levels," he says. "In fact, some said they were already back to 2019 levels and beyond." As for what caught the attention of buyers, Spears cites Ara's dress collections, especially kitten heels, fancy materials and boots with oversized bottom units. "The oversized look is very on-trend, and buyers were surprised by how light and comfortable ours are," he says, adding that the return of its stretch fabric boots collection was also a big hit.
Utilitarian product attributes were also of note at Lamo. "The addition of NeverWet water- and stain-repellent coatings on select styles was a nice selling point," Pierce says. "And due to our recent successes at farm and feed stores, we're putting more emphasis on those design elements, and the reaction has been good."
Imbox's Hede chalks up much of the interest his company received to utilitarian attributes, as well. "Everyone could see the value in our technology as a way to elevate their in-store experience and create a new revenue source through our unique business model," he says. Hede adds that a trade show is the ideal way to get Imbox's message across. "It's a unique technology that many have not seen before, but once they see a demo, they understand why consumers will love it."
Essentially, trade shows are about seeing and believing. Hauss aims to facilitate that exchange as seamlessly and enjoyably as possible. "It's no longer the norm to expect reps to be able to visit retailers in their stores as often as they used to. They're just stretched too far," he says. "That's why shows like Atlanta and IR offer such great opportunities to see everything retailers need to see under one roof."
 Aetrex's Schwartz cites the early timing of IR as another plus. "Given the supply chain challenges of the past few years, it's important that retailers and brands get their orders in early," he says. "We appreciate that IR has worked hard to secure dates in January and July (28-30) for 2023. And San Diego offers direct flights, warm weather, hotels within walking distance of the show and the airport is 15 minutes away."
IR's friendly vibe was icing on the cake for Hede. He cites the opening night Conversations Over Cocktails party that featured the management teams of Aetrex and Tradehome Shoes. "It was great to hear about their admirable reputations and work cultures," he says. "The friendliness of everyone in the industry made it easy to connect, and it shows the value of spending time with each other in person."
Astobiza says a key takeaway from IR was the need for another show where vendors and retailers can meet under one roof to do business and build relationships. "We're all busy running our day-to-day businesses, but it's so important to support these shows," he says. "Vendors need to see more retailers, and retailers need to see more vendors. It's that simple."