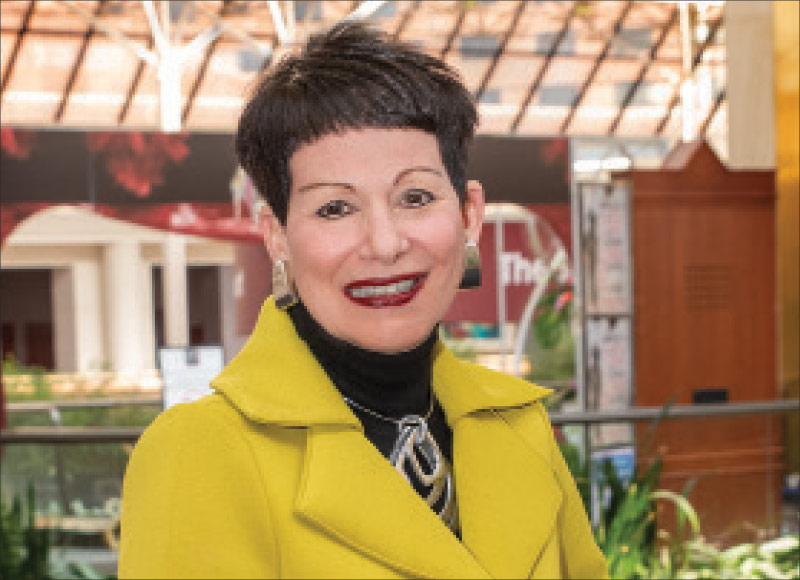 You could feel the energy the minute entering the Cobb Galleria Centre, longtime home of The Atlanta Shoe Market (TASM), held last month. The crowd noise, the narrower aisles to squeeze in more exhibitors and the buyers and wholesalers who filled them—all happily reconnecting after two years of zoom meetings and fits and starts at in-person events. It felt like a big family reunion, and many in attendance said the show marked the first time their whole teams had come together in two years.
"We had 55 appointments, whereas we usually book 35 to 40 at this show," says Kevin Bosco, president of Bos. & Co., makers of a namesake brand, Fly London, Asportuguesas and Softinos. "And they're coming more so from the Midwest and the Northeast, who used to not come here." In addition to the broader geographical reach, Bosco reports that TASM drew buyers beyond its sit-and-fit base. The strong reaction to its trendier collections in Fly London and Bos & Co. served as proof. "It was a good show all around; we're definitely pleased with the response to all our lines," he says. "Our retail customers are coming off a very good year, and they were looking to buy."
Bill Langrell, COO of Taos, concurs on good vibe and strong traffic. "Our appointment schedule was full, but what I didn't anticipate was the amount of walk-ins we received," he says. "We didn't even know they were coming, and they came from all over the place." Even better was the amount of new account interest. "Generally, we're not receptive to that much, but we had a couple of compelling meetings that we're definitely going to do," he says, crediting the interest to Taos' growing success. "We know our customer perfectly now, and we just keep building off that," Langrell explains, adding that the effort now is to get a little younger. "We're moving out of some core basic stuff and into a bit more fashion, but nothing too jarring. We move slow, which is a blessing and a curse. We don't make big mistakes, but sometimes we take the long way to get their safely."
Joe Pickett, co-owner of Casitas Footwear, distributors of Wonders, Toni Pons and Onfoot, attests to TASM's broader buyer base. The success of Wonders, in particular, bore that out. "The brand has evolved from being more classic comfort looks to more sport-inspired, and some of our boots now feature big volume soles that are lightweight," he says. "Our Southeast rep has developed a strong business with better-grade fashion comfort retailers, and the response to Wonders was fabulous." Further evidence of TASM serving as more of a national show, Pickett adds, was the success of this fall market. "Historically, fall hasn't been as big as the spring market here, because the Southeast traditionally isn't a big boot market. But this show been really good for all our lines."
Danny Wasserman of Tip Top Shoes in New York, who made the rounds with his son and daughter (Lester and Margot), said TASM had everything they were looking for—and then some. "There are more vendors here, and it's easier to get here," he says. Specifically, Wasserman was on the hunt for Jesus-like flat sandals—a trend he expects to be big this summer. Work brands were also on the agenda as the company is relaunching its workshoes.com site. "We have to connect to work brands for dropship arrangements," he says, adding that Tip Top's online business is nearing 50 percent of total sales. "We think about our inventory much differently as a whole, because that customer comes from all over the country."
On that note, Sue Orischak, owner of Foot Solutions in Scottsdale, AZ, made the cross-country trek to meet with her many niche vendors. In particular, she was shopping several categories that are becoming important as the pandemic (hopefully) retreats. "The need for comfortable dress shoes for all the special occasions that were postponed," she says is one, noting that the loss of Beautifeel has left a void that many vendors are scrambling to fill. "Now that customers have spent the past two years in sneakers and slippers, there's little or no desire for uncomfortable dress shoes." The other ongoing trend is athleisure, but now with interesting outsole treatments, zippers and unexpected pops of color. "The zippers are perfect for customers ready to travel again, and almost everyone is ready to travel the world or just nearby to see friends and family," she says.
TASM, in that way, is no different. Show Director Laura O'Brien, who is marking her 40th anniversary as head hostess this fall, believes that family atmosphere has been key to its long-running success. "The industry wants to come to Atlanta because it's affordable and it's easy," she says, noting the floor plan exceeded the February 2019 edition, coming in at more than 800 exhibitors and 1,500-plus brands. (Last August saw 500 exhibitors.) That included the return of Ugg, Frye and Camuto Group leasing large store spaces in the mall area. Buyer attendance was also up markedly, particularly from the Midwest, West Coast and internationally. "It was a huge bump in attendance overall," O'Brien reports. "Our opening night party was packed, and people were just glad to be back together."
"This is the only national show now," says Daniel Butler of Lines of Denmark, distributors of Ilse Jacobsen and Rollie, among others. "The show is busting at the seams and now attended by all the national chains. Plus, it's very affordable for exhibitors." Butler adds, "Our traffic was great. I have no complaints." Langrell agrees on the affordability of TASM. "Atlanta, per dollar, has always been the best show for Taos, whereas the math to justifying the cost of Vegas was always tough," he says.
Lastly, TASM is no longer on the outskirts of town. Notably, the new Atlanta Braves stadium and The Battery—with its many restaurants, bars and shops—are a walk from the Cobb Galleria Centre. "You don't have to leave the area for entertainment," O'Brien says, citing consistency as another key aspect of the show's success. "Our attendees know what to expect: a show that's easy to work and just works" she says. "It's a relaxing, family environment—we've never wanted the hoopla of Vegas."
Orischak, for one, is on the TASM train. "I appreciate the overall ease and convenience of the Cobb Galleria Centre," she says. "The attached hotels make life easy, and there are many restaurants in proximity. I look forward to returning in August. This is clearly the rising national shoe show for so many awesome reasons."