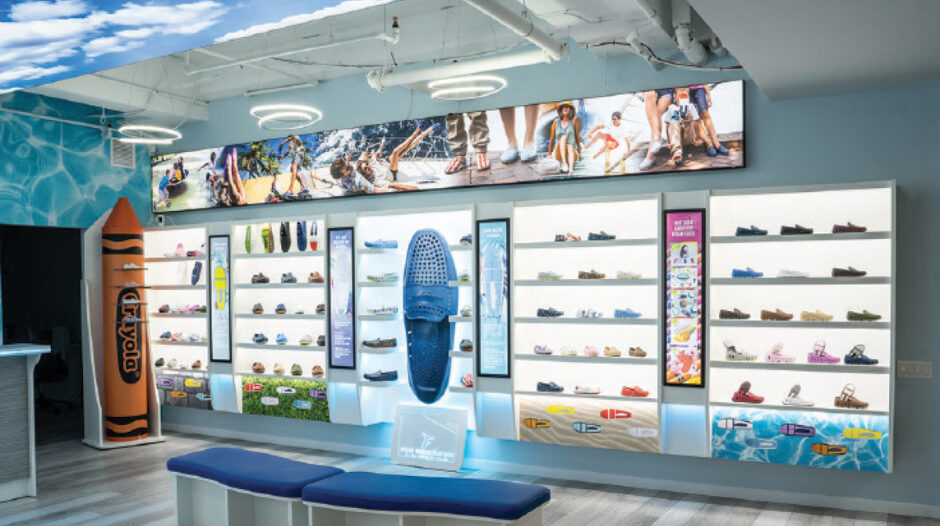 Part lab, part retail experience, Floafers' first concept shop opened for business last month in Bell Works in Holmdel, NJ, a destination for business, retail, recreation and dining. The 1,000-square-foot store is located in the same building as Floafers' corporate headquarters—a close proximity that offers many advantages.
"We get instant feedback from consumers on a daily basis," says Larry Paparo, CEO of Floafers. "Like our Test & React program, where we fly in select latest styles and colors already on order to see how they perform. If they do well, we're able to add more orders before the initial shipment arrives."
The store, designed in collaboration with Wisconsin-based  5 Axis Innovations, also serves as a model for future franchised stores and shop-in-shops. Its modular design can adapt to various shapes and sizes. "Many of our distributors have been asking for shop-in-shops, and this will enable us to present a consistent face to consumers," Paparo says. "It's a fun and easy way for people to step into the world of Floafers."
That world, in Holmdel, showcases Floafers' entire collection (currently 150 SKUs). Also on display are giant replicas of a Floafers shoe and a Crayola crayon (promoting the brand's licensed scented kids' collection) to draw in shoppers. Additional sensory touches include a pulsating light show and a beach scent. Paparo credits Sandy Morelli, operations manager, with the store's vision and execution. "The moment shoppers enter, they're hit with the fun Floafers vibe while learning all about our unique comfort features," he says.
Paparo expects this store to be busy. Bell Works is a hive of activity. "There are many businesses, and events are happening all the time," he reports, adding that the store's location is an ideal kids' draw. "Nearby is a Jersey Freeze ice-cream shop, a public library and a Montessori school. There's also a turf area kids play on in front of our store that's busy all day long."