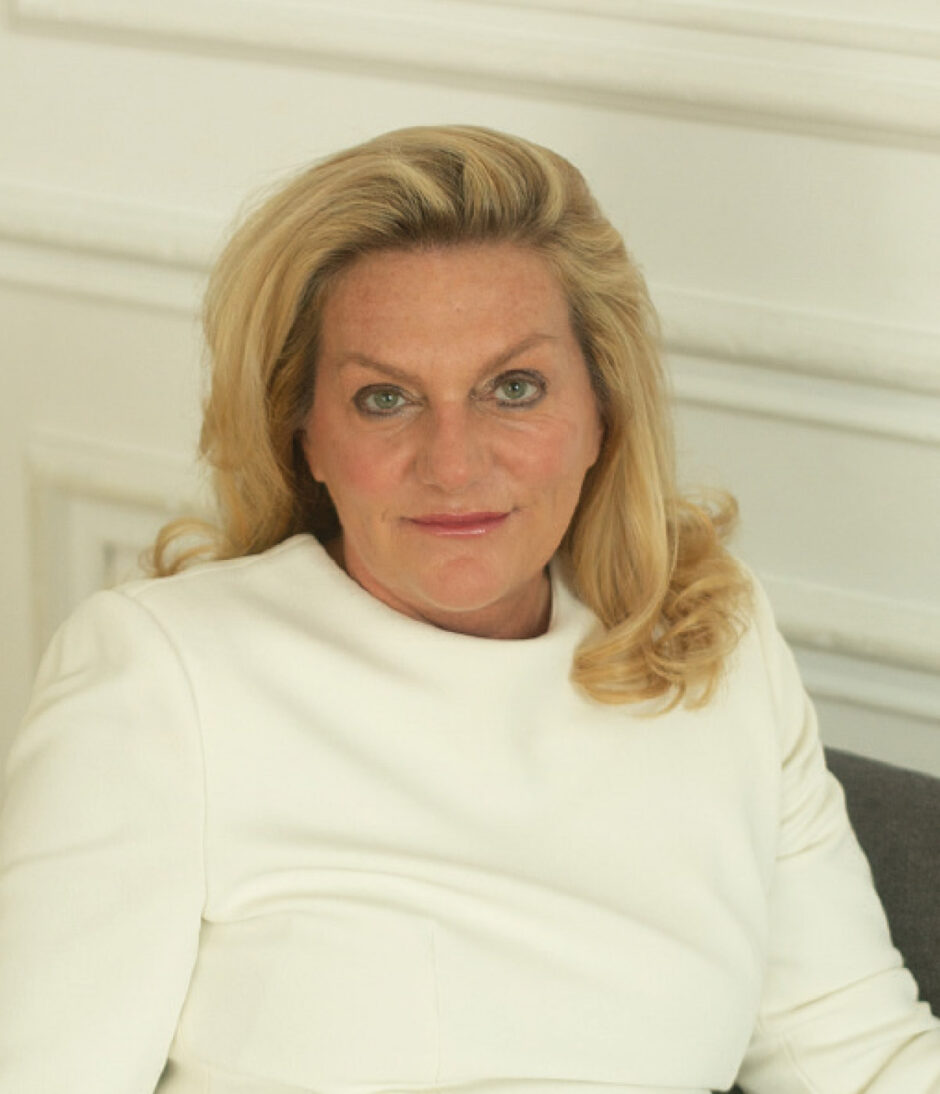 Jen Sidary had to do something to help Ukrainians reeling from the Russian invasion. Time was of the essence. Millions of livelihoods and lives were at stake.
So, Sidary zeroed in on what she knows best: fashion footwear. Specifically, she launched Angelforfashion.com (AFF), an ecommerce site featuring Ukrainian designers. As the former head of Zappos Couture for seven years, followed by a stint as president of sales for Vivienne Westwood, Sidary has the expertise. She also already had plenty of connections as the creator of the Ukrainian Fashion NYC Project and working in Ukraine for a year, in 2021, for USAID Competitive Economy Program.
"When Alina Kachorovska called me five days into the war asking how she could sell all the inventory in her two stores in Kyiv, as well as all the raw materials in her factories, I knew I must take on this challenge," Sidary says. "The Ukrainian fashion brands needed to immediately come together on one platform to showcase all their incredible designs and begin to generate revenue immediately as their businesses had been halted by Russia's war."
Building a fully functioning ecommerce site from scratch—one featuring collections from 30-plus brands and completed in mere days— was no easy feat. Indeed, Sidary didn't sleep much during the build phase leading to AFF going live in early April, but that was a small price to pay. Fortunately, she had a great team assisting her, including Barcelona-based site developers, Maktagg, that she says crank out custom web pages in no time. Also on board was refugee fashion designer, Valery Kovalska, who was crashing on Sidary's couch in Los Angeles. She helped enlist fellow Ukrainian designers to join the site. "We worked extreme hours, as Los Angeles is 10 hours behind Ukraine," Sidary says, noting that one intense stretch saw them upload 800 products in five days. "Luckily, I had help from Alina's site merchandiser and even my ex-boyfriend in Paris helped. We just pushed hard to make it all come together!"
So far, so good. Sidary reports the site had more than 15,000 unique visitors, from over 80 countries, in just the first month. "We've sold every product category from our opening price point to our highest, including orders from pre-sell and live inventory," she says. "I'm absolutely thrilled with the results so far, but I won't celebrate until every brand has received sales. I have a bottle of Billecart-Salmon for this day!"
That may take a while, as Sidary reports there is now a waiting list of more than 60 brands wanting to join AFF. In addition, three already featured on the site—Riot Division, SNDCT and POHUY—haven't been able to provide inventory yet. The owners and employees of these brands are fighting on the front lines and haven't had the time. "The boys still respond to me all the time, even while fighting for their country's freedom," she proudly reports.
Sidary says, above all, AFF is a shopping site. The initial mission remains the same. "We are here to do business," she says. "We want to see more customers become 'Angels for Fashion' as the money from sales goes directly to the brands." Sidary adds, "This war could last a long time. The fight for the world's freedom isn't ending any time soon." 
In the meantime, AFF also gives these Ukrainian designers hope. "The most inspiring part of the project for me is how it has helped give the designers a positive outlook during this horrific time," Sidary says, noting that many have received heartfelt messages of support. "Many have also reopened their own sites, which I feel is partially attributed to us showing them they can still do business during this war," she adds.  
Next up for AFF: brand extensions, like pop-up stores possibly this summer to meet consumers in person in the U.S. and Europe. Sidary is also being honored for her efforts at a women's luncheon for the Delivering Good charitable foundation this month, where many influential industry professionals will learn all about the platform.
AFF is a labor of love for Sidary, which is an extension of her love affair with all things Ukraine—one that fully blossomed after living there while working for USAID, where she assisted small- and medium-sized fashion enterprises. "I felt an instant connection the minute I landed on Ukraine soil," she says. "The people, their attention to detail, their outstanding cuisine, cocktails and their fashion industry had me enamored immediately. Once you visit Ukraine, you completely fall in love." Sidary adds, "After Ukraine wins this war, everyone must visit! Slava Ukraini!"