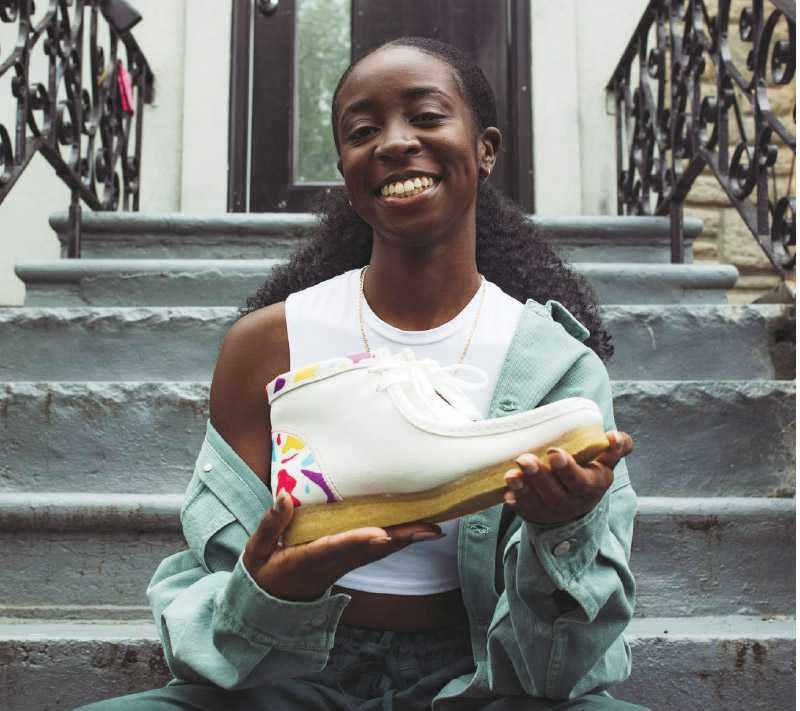 Tola Oseni! The New York native is the first winner of the Clarks Originals Wallabee design challenge in partnership with One School, a free portfolio school for Black creatives. Oseni's design was chosen from a field of 60 One School graduates who were challenged to share their perspective on the brand's iconic style combined with a celebration of New York City.
Oseni tapped into her "love-hate relationship" with Gotham. "I designed this Wallabee to celebrate the duality of New York and the eclectic soundtrack of the city," she says. "This way, every step a person takes with the shoes is just as loud, proud and vibrant as the city-dwellers themselves."
Tara McRae, CMO of Clarks, says the One School design competition exceeded all expectations. "Our goal was to support the incredible work of the One School and the unique opportunity it provides as a free portfolio program," she says. "Additionally, we were thrilled to get to work with such a talented group of students and to see their perspectives on the classic Clarks Wallabee." Clarks has already announced a second iteration of the challenge for this fall.
In addition to introducing fresh takes on Clarks classics, McRae says the partnership is in step with the brand's broader objective to connect its rich history with its passionate fan base. "We dedicated this past season to telling the story of Clarks New York and how the Wallabee became hip hop's shoe of choice with a documentary short directed by Set Free Richardson," she says, noting the design challenge coincided with the film's release. "In selecting the winning design, we looked for something that encapsulated the many elements of New York and represented the culture of the city and its inhabitants. Oseni's bold design and vibrant color selection accomplished just that. It is a visual celebration of the city's five boroughs through colorful motifs and screen-printed slogans."
Orseni's design (SRP: $170) is being sold worldwide on ClarksUSA.com and at select retail partners. A contribution from the proceeds goes to further her education and career. In addition, Clarks sponsored two scholarships for students to attend One's School's recent spring semester.