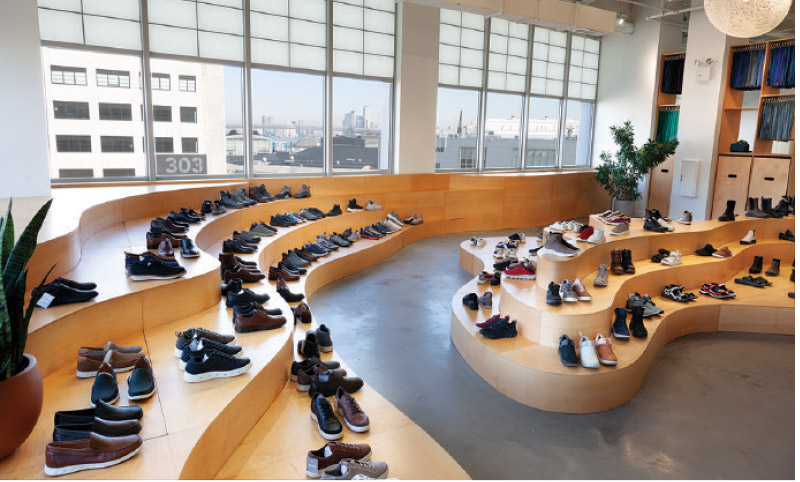 Ecco, the Danish comfort lifestyle brand, wants a deeper connection with the United States, one of its largest markets. Specifically, it wants to develop meaningful relationships with an array of key wholesalers, vendors, designers and other creatives. So, what better way than its first-ever, U.S-based design studio, a 7,000-square-foot, state-of-the-art facility in the Brooklyn Navy Yard, smack dab in one of the nation's cultural epicenters.
Brooklyn, in general, and the Navy Yard, specifically, were chosen for three main reasons, according to Tom Berry, president and CEO of Ecco USA. "First, it gives us access to New York—a global brand needs to be a part of this city," he says. "Second, both Brooklyn and the Navy Yard are world class creative communities and provide both the network and venue required to drive creativity forward. And third, both Brooklyn and the Navy Yard are places that share many of Ecco's core values around sustainability, responsibility, authenticity, inclusion and craft." Berry adds, "Some brands are Manhattan brands. Ecco is a Brooklyn brand."
 The space will focus on footwear and bag design, prototyping, product line development and leather sales. It also will serve as a creative hub, hosting events and programs that emphasize sustainability, economic and social best-practices. To that end, Ecco will maintain an open-door philosophy as it believes connecting with neighbors and industry allies is key to organically telling the brand's story. A recent event, Berry notes, was Decom, which saw Ecco's leather business unit engage with a diverse group of people. "We had creatives from all over the country and industry, and the response was great," he reports. Other events have included sales launches, key account meetings, media events and industry collaborations. "We like to think of our culture as open source, and we're confident that this will benefit us in the long run as the act of creativity doesn't always fit neatly into a transactional framework," Berry says.
The collaborative efforts are expected to also inspire greater creativity within Ecco. "We're confident that the result will be products that work not just for the U.S., but globally as well," Berry says, citing the studio's benefits of greater agility and relevance. "We'll be able to move faster and make products that resonate more deeply with our consumers."
The Brooklyn studio has already exceeded expectations, reports Berry. "We've started to build a great network and, most importantly, the first products designed in the studio will be on the floor this fall," he says. "The response during sell-in was great."
The response has been so positive that Ecco will soon open a second design studio—in Portland, OR. "We want to make sure that we're an accessible and great partner to the vibrant footwear industry headquartered there," Berry says. "Having studio locations in key cities globally and our home base in Denmark makes us stronger."