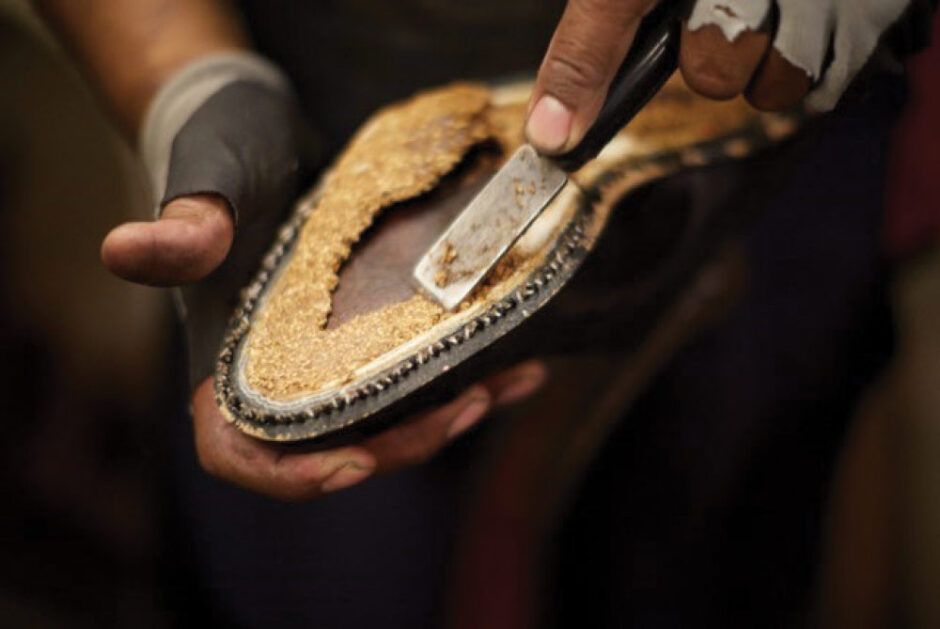 What's better than a trusty old pair of wingtips? How about that same pair refurbished to look and feel as good as new? That's the thinking of Allen Edmonds, a division of Caleres, and its eco-conscious Recrafting Process program. Customers can extend the life of their favorite shoes by entrusting them to an authentic Allen Edmonds craftsman to restore, using genuine brand components and materials.
There are few products one can buy and then beat the heck out of, only to be able to send back to the manufacturer and basically get a new product returned, according to Keith Duplain, president of Caleres' St. Louis Branded Portfolio. Rather than those shoes ending up in a landfill (the fashion industry ranks second for worst polluting industry in the world), it's a way for customers to extend the life of their shoes and do their part for the environment—not to mention be a cost savings.
"There are so many reasons we see Allen Edmonds customers participating in our Recrafting program," Duplain says. "Some ask for their shoes to be recrafted for sentimental reasons—perhaps a shoe belonged to a beloved family member or friend? Some love a particular style that isn't available anymore and some customers prefer to change out a sole, going from a leather outsole to rubber dainite."
And it's easy. Customers can drop off their shoes at a local Allen Edmonds store (and receive a $75 discount if they purchase a new pair) or complete the form and ship them, free of charge, to the company's refurbishing facilities. Heel refurbishments generally take up to three weeks, while a complete refurbishing (includes new leather uppers, cork inlays, welting and laces along with a flannel shoe bag) takes up to six weeks. There are six refurbishment packages to choose from, spanning dress shoes to sneakers, and range in price from $50 to $155. 
"Over 90 percent of styles can be recrafted," says Duplain, noting that Allen Edmonds recrafts between 55,000 and 75,000 pair a year. "We celebrated our 1 millionth recraft in 2016," he adds.