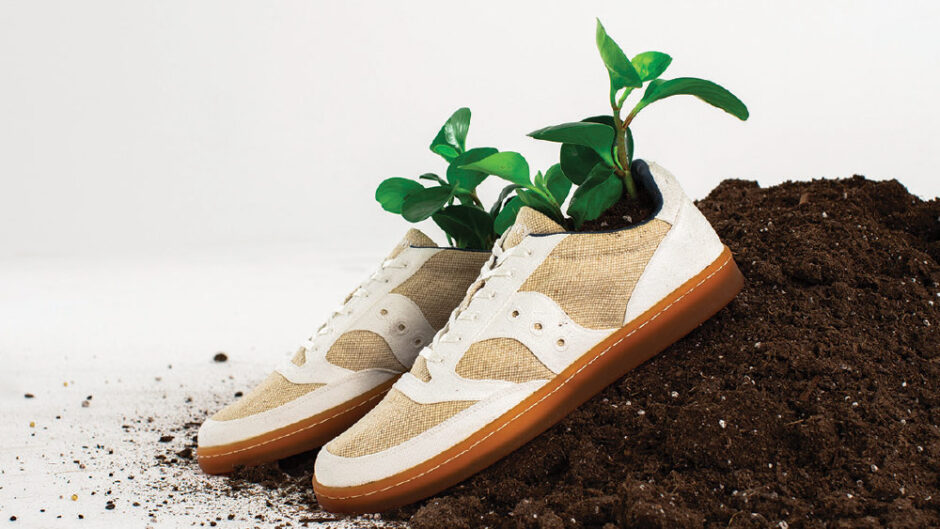 The first model in Saucony's successful Jazz series hit the pavement back in 1981 as a breakthrough running shoe. And while there were many performance upgrades and design iterations over the ensuing 40 years, perhaps none to the revolutionary extent of its latest, the Jazz Court RFG (SRP: $130). Crafted using only seven natural materials and zero plastic, it's Saucony's most eco-friendly shoe to date, delivering on the brand's commitment to sustainability and long-term goal of excluding virgin plastic from all its products.
"As a brand, we sensed the urgency to make changes to improve shoemaking processes and deliver products that consider and respect the Earth and our future on her," says Anne Cavassa, president of Saucony, a division of Wolverine Worldwide. "For the Jazz Court RFG, we leveraged over 120 years of industry leadership, blending classic shoemaking with modern manufacturing to not only omit plastics, but also minimize energy and chemical use during the manufacturing process."
The Jazz Court RFG is made of cotton, jute, wool, rubber, wood, gardenia and beet. The renewable materials are reflected in the canvas upper, lining made with plant-dyed cotton and 100 percent latex rubber outsole. It's a combination of materials that pays eco-friendly dividends post use, as well. With no petroleum-based materials, the shoe will break down much quicker and safely in landfills. What's more, the shoes are packaged in an ink-free, 100 percent recycled cardboard box.
Cavassa believes sneaker fans everywhere will appreciate the level of detail in this shoe as much as the team at Saucony appreciate the things it took out. "This project ended up being about more than just producing a plastic-free, all-natural shoe," she says. "It became an emotional journey through craftsmanship and bygone artistry to create a beautiful shoe that will further empower consumers to live a more sustainable life." Cavassa adds that the shoe should also appeal to consumers who've reconnected with nature and their own health through the pandemic. "Research shows that they are also more concerned about the environment and the health of the Earth," she says. "Consumers, particularly Millennials, increasingly say they want brands that embrace purpose and sustainability. Younger consumers are especially interested in changing their personal behaviors to be more sustainable in their everyday lives."
To that broad base appeal, the Jazz RFG will be available on Saucony.com and select retailers worldwide. "We were primarily focused on our tier zero lifestyle accounts where the consumer appreciates our brand heritage and cares about sustainability," Cavassa says. "Initial response in these accounts is quite strong, and you will see this same distribution approach with the second wave in late July."
Going forward, Saucony aims to use up to 100 percent recycled content for performance upper textiles, collar linings and shoelaces, and starting this fall every performance style will include recycled content. "The Jazz Court RFG is the first step in a multi-year, sustainability roadmap," Cavassa says. "In order for real progress, we must push ourselves beyond our comfort zone and current capabilities."