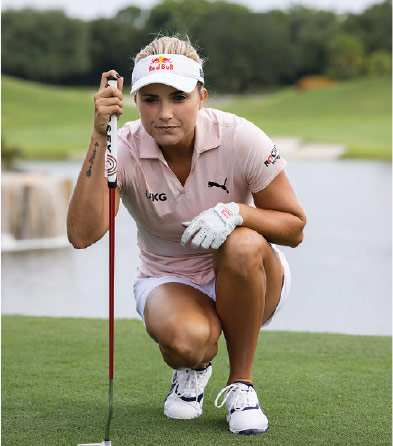 Aetrex, a leader in foot scanning technology, orthotics and comfort and wellness footwear, has inked an endorsement deal with Lexi Thompson, LPGA Champion, Tokyo 2020 Olympic athlete and one of the most-credentialed players at a young age. (Thompson became the youngest golfer to ever qualify to play in the U.S. Women's Open at age 12, turned professional at age 15 and won her first major championship at age 19.) Already a longtime customer, Thompson has been leveraging Aetrex orthotics to enhance her performance during training and tournaments.
"Before using Aetrex orthotics, I was suffering through a lot of foot pain, especially after a long day of training or while playing four rounds at a tournament," Thompson states. "Three years ago, I decided to test a few orthotics and found that Aetrex's Compete orthotics worked best because they helped compensate for the low arch of my feet. They instantly made my golf shoes more comfortable and supportive, which has helped optimize my power transfer on the field and my overall stability." Thompson adds, "I can now regularly walk over 35 miles a week, as is common during training or when playing in a multi-round tournament, with no pain at all. I even wear them in my regular day-to-day shoes!"
Aetrex's Compete orthotics are designed with proprietary, strategically placed arch support and feature high-tech, lightweight, premium shock-absorbing materials, enhancing the user's overall foot health. Designed to address various causes of foot pain, including plantar fasciitis, flat feet, ball of foot discomfort and heel pain, the orthotics provide biomechanical alignment, keeping the foot closer to the neutral position throughout the gait cycle. Proper alignment helps minimize overpronation and reduces stress on the plantar fascia, knees, hips and back.
Larry Schwartz, CEO of Aetrex, says Thompson is above par (in a good way) for several key reasons to be a spokesperson for the company. "First, she's one of the most-credentialed golf players at a young age," he says. "Second, she has an authentic relationship with our product and our brand, so it was a natural next step." Schwartz adds, "We're thrilled to be partnering with Lexi to bring more awareness of our orthotics into the golfing arena and beyond."
Over the coming months, Aetrex will be sharing a variety of content on aertex.com and its social media channels, where Thompson will share her orthotics experience, bringing awareness of their benefits for athletic performance. "Lexi is a great brand ambassador in the golf world and a natural choice for Aetrex," Schwartz says. "She found Aetrex orthotics to be the best fit for her, providing the comfort, support and alignment she needs to perform at her best."