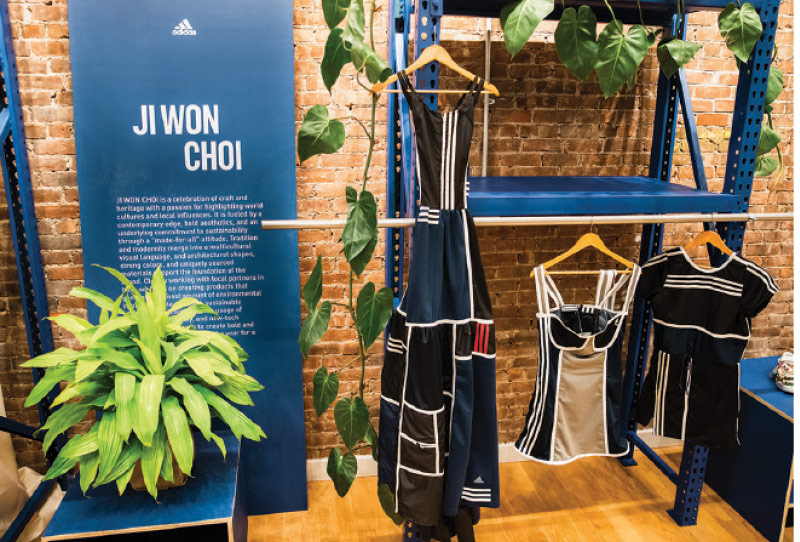 Green is good. Last month, Adidas opened, for one day only, a pop-up in New York that exclusively sold custom, upcycled clothing in exchange for used goods. Tied to the brand's Choose to Give Back initiative and its mission to help end plastic waste, all pieces were available for purchase not in dollars, but for weight in worn goods. The concept aimed to motivate consumers to properly dispose of clothing and other goods they no longer needed.
Aaron Lynch, director of Sustainability & Partnerships for Adidas, reports the Nolita neighborhood store was a huge hit. Consumers arrived with suitcases of clothing to donate. "The event went better than anyone could have imagined," she says. "On top of collecting nearly 2,500 pounds of textile waste for donation to thredUP, the organization we've partnered with to create new opportunities for old clothing and shoes, all 74 unique upcycled Adidas garments sold out in under two hours!"
The pop-up featured a range of one-of-a-kind, vintage and upcycled collections from some of the leading voices in sustainable fashion. They included: Theophilio,
Ji Won Choi, Basketcase Gallery, Eva Joan Repair, Frankie Collective, Beepy Bella and Tyranny & Mutation. Shoppers were able to engage with some of the designers, as Basketcase Gallery did on-site screen-printing and Eva Joan Repair performed repairs and customizations.
Pricing was determined by item type and availability, and then given a point value between two and 15. Examples included vintage tees, hoodies and crewnecks ranging from 2-10 points; vintage sweatpants and skirts (3-7 points); accessories and shoes (5-10 points); and track suits and dress (15 points). For each half pound of textile waste turned in, shoppers were credited with one point. A dollar value for any items not redeemed at the shop was credited to consumers via Adidas' Creator's Club app and redeemable at its Manhattan flagship.
Might this innovative pop-up pop up elsewhere? While Lynch says there is nothing planned at the moment, the success of the event is extremely inspiring. "The Choose to Give Back initiative is an ever-growing program that we are excited to continue to expand, especially after this," she says, adding that the best takeaway of the event was seeing how passionate consumers are to engage with more sustainable methods of fashion. "We were able to uplift the voices of young, emerging designers who practice conscious upcycling, as well as provide an opportunity for our consumers to be mindful in their shopping experience. Through our quick sell-out and high attendance rate, it's clear there's a larger need for an experience like this one."