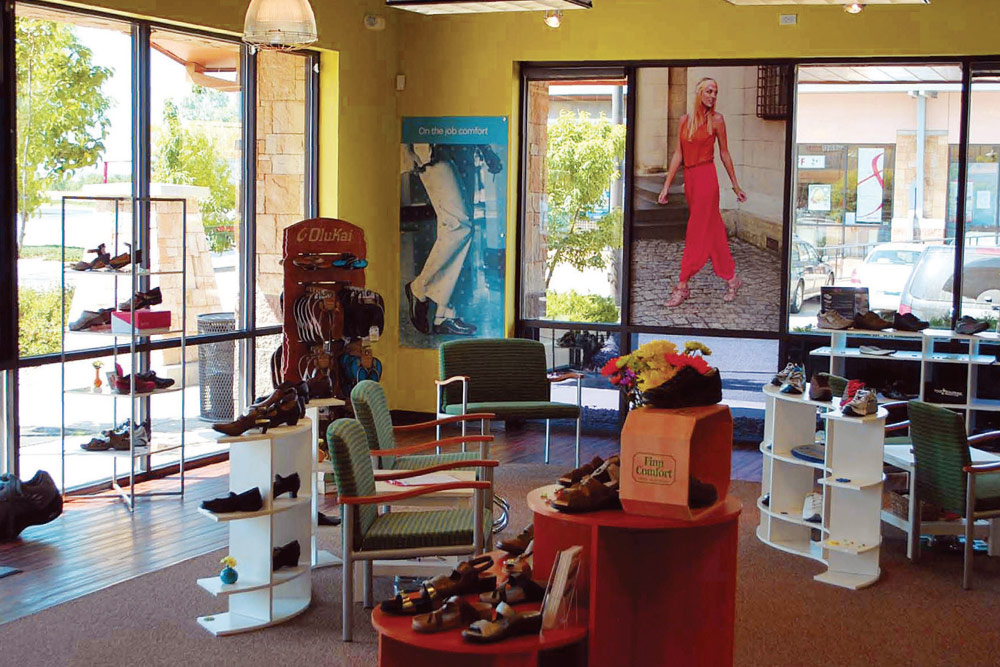 It is not uncommon for people to sacrifice comfort for style from time to time, but for those with serious foot issues like Charcot or plantar fasciitis, every day can feel like a sacrifice. Finding shoes that alleviate pain and look good, well, that may seem about as elusive as a Sasquatch sighting. Enter Ray Margiano, CEO and founder of Atlanta-based Foot Solutions, a 121 franchise-owned chain spanning 14 countries, who understands how the perfect pair of shoes—fitted properly—can profoundly change people's lives.
"We can put people in a product that will change the way they feel, and the majority of our customers notice the difference right in the store," Margiano says. "It's not uncommon for customers to hug the person who has fit them, or even start crying because we have helped resolve pain that they couldn't eliminate."
Carving out a unique niche at the intersection of pedorthics and fashionable comfort footwear, Margiano has learned how to address the specific needs of his clientele, who often come to his stores in desperate foot pain. And those are just the people who have discovered a Foot Solutions; there are millions more people around the world living in discomfort that Margiano believes could benefit from its services. With an updated store design and new licensing concept underway, he plans to reach as many of those people as possible. He is looking at growth of up to 36 new locations this year, a noteworthy feat in an era when tales of store closures are far more common than expansion stories.
In fact, Margiano believes there would already be many more Foot Solutions outlets if it hadn't been for the Financial Crisis about a decade ago. The pace of expansion had been picking up steam since Margiano started aggressively working franchise shows in 2000. The following year, he opened 10 stores, then 20 and then 30 the year after that. "If it weren't for the meltdown of the U.S. economy, we'd probably be at 600-plus stores," he says. "We suffered like everyone else did, but maybe not as badly because with a focus on health, wellness and the medical side of retail, we were still able to grow. Stores that focused on other markets weren't as successful." Another factor helping the expansion of Foot Solutions get off the ground, Margiano says, was the ability for its franchises to turn a quick profit. "With a total investment in the $200,000 range, most of my franchisees had positive cash flow within three to six months," he says. What's more, Margiano says the concept was unique and the wellness movement was just beginning. Even to this day, Margiano believes Foot Solutions has "peripheral competitors" in comfort specialty stores, podiatry groups and orthopedic medical shoe stores, but still no major direct competitors. "It puts us in a good position for negotiating," he adds. "Right now, we are the largest in the world in this niche, and we plan on continuing to be the leader."
Rewind to 1985 and its evident that Margiano has always been a business visionary. That was the year the exec, who had previously toiled in the corporate world at Sikorsky Aircraft, Sybron and Textron, launched his first franchise venture, Heel Quik, an on-the-spot shoe repair chain that he grew to more than 700 locations. But with an influx of throwaway shoes in the mid-'90s, Margiano saw a need to evolve, and began testing his Foot Solutions concept with two stores in the Atlanta area and partnerships with local comfort stores and physicians. He also spent a significant amount of time studying the traditional orthopedic footwear market, which he says was pretty dismal. "Most people didn't want to go to an orthopedic store, and even if they bought shoes there they didn't want to wear them," he says. "At the same time, comfort shoe stores carried styles that looked good but didn't solve serious foot problems."
That's where Foot Solutions has come into play. "I'm planting our flag right in between those areas, so we can be a crossover store that helps people feel attractive while finding shoes that can solve real foot problems," Margiano says. Foot Solutions does this by offering a combination of comfort brand staples like Brooks, Naot, Dansko and Birkenstock; boutique brands that can't be found online; proprietary pre-made inserts that give stores a gross margin of 70 to 80 percent and customizable orthotics made in their own Atlanta-based lab, Shu-Re-Nu. The latter offers a turnaround time of three days, when the norm for custom orthotics orders of its competitors is a week, according to Margiano. "Making orthotics is not just a science, there's an art to it," he says. "You have to hand shape and they aren't easily replicable, so it requires talented people. We do it in the lab, so that we can control the operation."
All in a Name
Just as Foot Solutions strikes a balance between traditional orthotic shops and fashionable comfort stores, the company also balances old school customer service (employees spend at least 30 to 45 minutes with each client) and cutting-edge fit technology (like pressure pad systems and scanning machines in each store).
Scott Garmon, a certified pedorthist based in Hickory, NC, and the 10th franchisee to open a Foot Solutions locale in early 2001, believes the world doesn't need another shoe store, and that's why Foot Solutions is different. "We have a unique selling proposition, and it's hard to replicate what we do," he says. "We offer a combination of retail expertise and an ability to make modifications in our lab that you just can't find online. Any store can pull an insert off the shelf for you, but you are not symmetrical; you were made unique." Garmon, who focuses on seniors, diabetes patients and veterans through partnerships with Medicare and the Veteran's Administration, believes addressing the unique needs of every customer, who he views as a "work in progress" as their feet change with age, is the basis of his store's success. Garmon reports his best gross sales was in 2017, having grown 3.5 percent.
Franchisee Sue Orischak, who is based in Scottsdale, AZ, and operates Foot Solutions' top-selling store, attributes her success to the fact that it goes beyond the typical retail transaction. "If you're providing a solution and not just selling a product, customers will recognize that," she says. Orischak's shop is more fashion-forward, featuring a broad selection of style savvy brands including Tomasi, Liverpool Moccasins and even heels by Joan Oloff. She takes pride in offering a selection that can't be found elsewhere. (She claims to have been the first brick-and-mortar store to sell MBT, way before the rocker bottom shoe craze took off.) In addition to a selection that stretches beyond the comfort store standard, Orischak takes innovative approaches to retail, like inviting customers out to lunch. "We need to offer an experience that makes customers feel valued and where they will learn something, otherwise they can sit in their PJs at 2 a.m. shopping," she says, adding, "We make shopping fun, sassy and outrageous."
While Foot Solutions' largest customer base is women ages 40 to 65, Margiano encourages franchisees to establish stores that align with their passions. A podiatrist may focus on medical orthotics, while someone like Orischak has the freedom to explore her fashionable flair. Still other franchisees cater to athletes who want to improve performance and reduce the risk of injury. "You have to work with franchisees to highlight their strengths and look at the marketplace to find the niche that works best for them," he says.
What ties these franchisees together is a commitment to growing and sharing their knowledge. Each store has at least one employee who is a certified pedorthist and multiple people trained at various levels of pedorthics. Foot Solutions offers all of its employees web-based training courses, regional training events and an online portal to learn from each other. In addition, the company runs its own school, the Foot Solutions Academy of Pedorthic Science affiliated with Kennesaw State University in Marietta, GA. Margiano is committed to investing in training because that is the underlying mission of Foot Solutions. "At the end of the day, we're helping our customers solve problems rather than selling shoes," he says. "That's where our name comes from. We offer Foot Solutions." 
Also part of the franchise model is to do at least three turns of inventory in stores, where many traditional shoe stores do 1.5. "Our business model carries less inventory, it works your money better, and at the end of the day franchisees have more money in their pocket than in the back room," Margiano says, adding that each customer should have an average sale of $200. These points are part of Foot Solutions' Key Performance Indicators designed to drive sales. Franchisees receive training modules, marketing support and business planning to meet the standards. "We measure performance at the employee and management levels, looking at sales, gross margins and profits," he says. "Stores are held accountable and kept on path."
The Only Constant is Change
Margiano's willingness to evolve while still holding true to Foot Solutions' core values is what has enabled the chain to succeed despite a volatile retail climate, according to his daughter, Raina Williams. "My dad is my hero and always has been. He's always evolved with the times and comes out ahead," she says. "As things change, he changes with them."
Williams, who is a certified pedorthist, runs the company's two-year-old flagship store in Marietta, which is another example of how the company is changing with the times. While the store maintains Foot Solutions' priority of analyzing each foot and unique gait, at 2,000 square feet, it's 800 square feet larger than the standard location. And rather than sporting a clean, bright medical look, it espouses a higher-end comfort vibe, with gentle lighting, a cozy sofa and no medical shoes on display. "It's like going into a restaurant where it smells delicious so that you are hungry before you even sit down to eat," Margiano says. "That's what we're trying to do with this new concept."
So far, so good. While the previous standard was $400,000 in sales in the first year, this updated concept did $600,000 the first year and grew 15 percent in year two. "We're very confident with this change, and it will be our new standard," Margiano says. "It's a style that gives our brand a better, higher-end image."
Additional new concepts rolling out this year include a focus on licensee conversions, where Foot Solutions takes 8 to 12 feet of wall space in an existing retailer to display custom orthotics and premade inserts as well as trains their staff on how to best service those customers. First launched at the end of 2017, Foot Solutions already has six licensee stations in place, and Margiano believes he can open at least 24 more in 2018. As for additional stores, the plan is to first expand in areas that they already have existing locations, such as Colorado, California and Arizona. "I'd like to expand where we have an existing network, so we have a clustered group that can market and buy together as well as reduce costs," Margiano says. In terms of specific locations, he prefers strip centers, currently home to 98 percent of it stores. The rest are stand alone, usually tied to a medical center or another business. Margiano avoids malls because they are "too expensive," except internationally in places like Dubai where a mall was the best choice for a Foot Solutions. International expansion, Margiano adds, has its idiosyncrasies and challenges. "There's so much to consider—something as simple as a name when it gets converted in their language could translate to something bad," he says. "Certain countries have colors you need to avoid, as well. You also really need to look at the population, income and fashion preferences." Malaysia, for example, is a poor country so Foot Solutions adjusted the concept to carry less costly inserts and orthotics, but still addresses those needs. "In India, we recognized that the country has three times more cases of diabetes than in the U.S., so we adjusted our model to serve that need," he adds.
Last but not least, Foot Solutions has introduced a mobile unit that brings the company's goods and services to the medical community, to health and wellness events, and to homes. While this is still a small part of its business, Margiano believes that as the medical and insurance businesses change, mobile units may represent a viable model for new growth. It's also just how Margiano rolls—constant change and creative adaptation is what he loves most about his work. "The retail industry is going through earth-shattering changes right now," he says. "It keeps you on the edge of the cliff, and you have to think through it and be ahead of it. The challenge is constantly there, and that's what drives me."