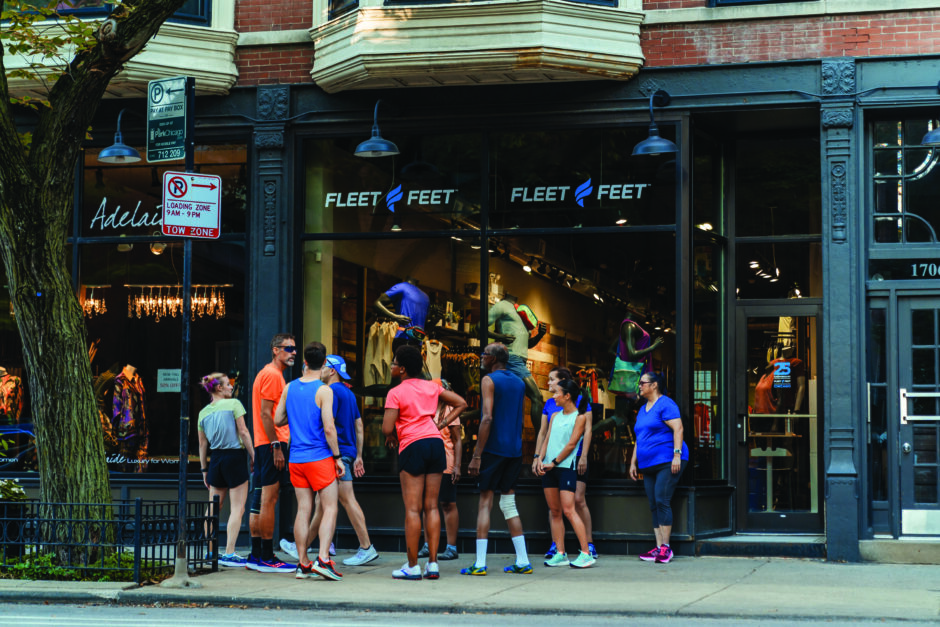 Running a successful retail operation is a lot like running. The second you slow down, you lose ground to competitors. And if you cramp up and stop, you can be left behind for good.
Joey Pointer refuses to let that happen to Fleet Feet. The chain currently boasts approximately 300 stores and $600 million in annual sales, and Pointer's five-year goal is to expand to 400 stores and hit the $1 billion mark. The CEO is confident those milestones are within reach, having already set a blistering pace since being promoted from CFO in 2017. Fleet Feet has acquired businesses (Jack Rabbit and Marathon Sports chains, most notably), opened numerous company- and franchise-owned locations, expanded its digital footprint, introduced Fit ID foot-scanning devices in stores, and unveiled a new flame-inspired logo. Next up is a revolutionized loyalty program set to debut by year's end.
What looks like a sprint, though, is actually an ultra-marathon. That's because Pointer isn't just working on a five-year growth plan for the now 47-year-old business; he's on a journey to build a 100-year brand. In fact, what he loves most about his job is the challenge of finding ways to grow and evolve to ensure that Fleet Feet is just as relevant today as it was a year ago, five years ago, etc.
"You have to earn it every single day to stay on that journey," says Pointer, an avid runner. "You have to win with every single customer, and past success doesn't equal future success. When we open our doors each day, we have to be on our game and give customers that unparalleled experience. Because if we ever stop doing that, we won't hit our goals. So, every day is Day One of building a 100-year brand."
This effort spans every facet of Fleet Feet's business. It's why Pointer regularly visits stores to get an in-the-trenches perspective of how well they are serving customers and what can be improved. He often comes back with reams of notes to run by the management team at the company's Carrboro, NC, headquarters. He even jumps behind the cash register for brief tours of duty, looking for ways to improve the overall shopping experience and to fully appreciate what his employees (called "outfitters") go through on a daily basis.
"To perform on that retail floor, where customers have all this knowledge at their fingertips yet still look to our outfitters to be experts is hard," Pointer says, confessing that he's "horrible" at it. Still, he still believes it's the best way to help Fleet Feet get better. "To be a great leader, you have to be a great listener, and I need to be as close to the business as possible. I'm in stores regularly, speaking with customers and employees, always looking for ways to improve."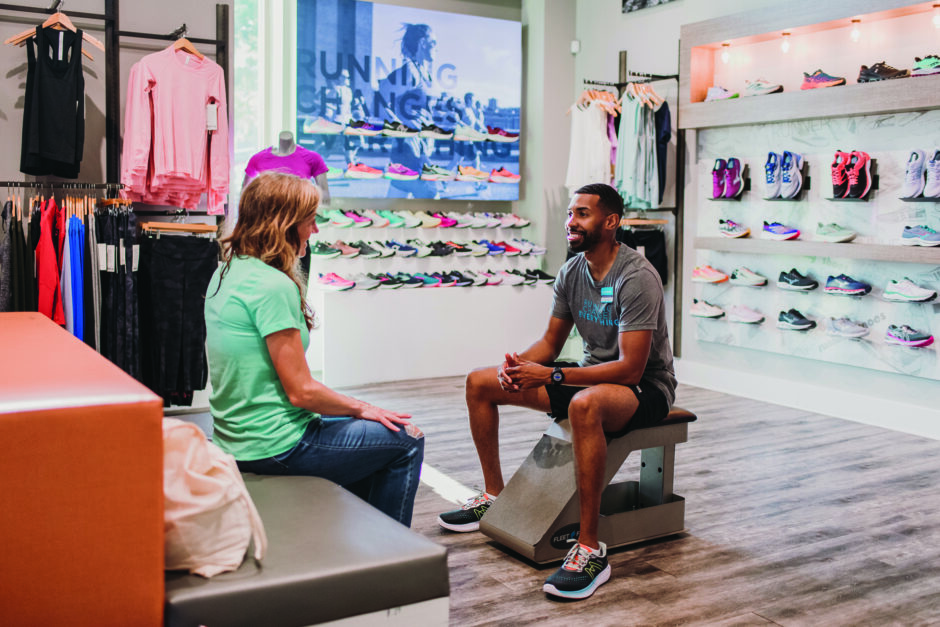 Pointer loves what he sees during his Fleet Feet pop-ins. Take a recent exchange he witnessed at a Tampa, FL, location. The outfitter was working with an elderly female customer who'd been through knee replacement, a broken hip, and three back surgeries. "In addition to assisting her in taking her shoes off and on and lacing them up, he installed new sliders on her walker that she'd bought at a store next door," Pointer says. "Our people are the secret sauce of our brand. We call them our Day Makers."
Such customer experiences make Fleet Feet unique, according to Pointer. "We're helping people reach their goals, at every level, surface, and distance. But it's about more than providing solutions. It's about our staff's inspiration, knowledge, and commitment to go above and beyond in order to create amazing customer experiences," he says. "It's about taking the extra time to really connect on a one-on-one basis. It's that passion and commitment that separates Fleet Feet from everyone else. Ultimately, it's a level of service and experience that you just don't get at every retail environment."
Pointer says Fleet Feet's community-oriented approach is another point of differentiation. The stores serve as meeting places for runners and walkers of all ages and levels to shop for the latest shoes and accessories as well as places to connect. That requires building a corporate culture that empowers local decision-making, which includes franchise owners and company-owned store managers deciding which community partners and events to sponsor. It also involves hiring people who believe it's a privilege to serve these communities. "We're community retailers, and I believe the Fleet Feet brand is brought to life by our people, who make us the best national resource for local running," he says.
Christopher Cohen, vice president of sales for Hoka US, says Fleet Feet's commitment to the communities it serves runs deep and is a "clear strength." He links the chain's success to goals that center on what is best for each store, the team, and respective communities. "They take the long view on their business and look to create a sense of community at scale," Cohen says. "They also have a remarkable service model, placing consumers' needs at the center of their thinking. This approach goes beyond transactional thinking, leading to consumer trust and loyalty." In fact, Cohen says one of Fleet Feet's most unique characteristics, especially for a retailer of its scale, is its ability to run like a local specialty retailer. "Their blended model of both company-owned and franchise doors makes for a balanced and profitable business in that they remain connected to the local markets while possessing the scale and wherewithal to consider other markets."
Matt Powell, an advisor with Spurwink River, says running specialty is a high-touch, high-service business—and that's where Fleet Feet excels. "While ecommerce has a place in this segment, the web cannot deliver that experience, and Fleet Feet's greatest attributes are that they operate well-trained local retail backed by world class back of house," he says.
Room to Run
The pandemic proved to be a boon for outdoor activities. Running and walking were no exceptions. According to one industry study, about 50 million Americans (15 percent of the population) ran or jogged in 2022. Layer on Americans who walked and went on light hikes (sans boots), and the number soars to around 200 million. Add on the millions who want comfortable running shoes to help get them through their hectic days, and the total figure includes just about the entire U.S. population. It's easy to see why Pointer sees a "golden era" of opportunity in the years ahead. 
"Last year we served two-plus million customers in our stores and online, and our fastest-growing segment is people between the ages of 25 and 45," Pointer says, citing a recent presentation by a CEO of one of Fleet Feet's major footwear brands predicting that by 2026 more people in that age group will be running than ever before. Millions more consumers don't have PRs in mind but might suffer from foot issues that can be addressed with a proper fitting aided by Fleet Feet's Fit ID scanners. That's why Fleet Feet does a lot of medical outreach with doctors' offices and medical groups that can recommend their stores to patients. The overriding message? Fleet Feet welcomes all paces, ages, and body types. "Some people are chasing their grandkids around the playground, which is a type of running, and they need great footwear," Pointer says. "While we spend a lot of time talking about running, there's a big halo that includes customers seeking pain relief and comfort."
Fleet Feet's welcome-all approach is reflected in its new ad campaign: The Reasons We Run. It features real customers and leans into the individual reasons they took their first steps to reinforce the power of running. "Our goal is to continue to inspire people to lead a more healthy and active lifestyle," Pointer says. "We believe there are a lot more people ahead for us to continue to inspire and bring into our stores." Indeed, Pointer is "bullish" about the chain's growth potential. For starters, fitness never really goes out of style and running has proven to be recession resistant. "It's a relatively simple and affordable activity where a great pair of shoes is all you need," he says. "We see a lot of white space where we can continue to add more Fleet Feet locations across the country."
Powell concurs. "Many running shop owners are at the end of their careers, so more acquisitions are in the cards," he says. "At the same time, there are only 700 or so running shops in the U.S. There are many cities and towns that do not have a shop or are underrepresented."
A contributing factor helping Fleet Feet expand is its franchise program, according to Jim Van Dine, director of specialty sales for Birkenstock. "They really help foster the American Dream for many," he says, adding that Pointer's willingness to dream big is another factor. "The purchase of Jack Rabbit could turn out to be a real coup; they certainly picked up some good locations."
Speaking of that, Pointer cites two recent franchise openings in Canton, GA, and The Villages, FL. "Both are new franchisees and off to really strong first-year sales," he reports. "We're also opening company-owned stores and existing franchises are expanding." Pointer considers the multi-pronged expansion approach a strong asset of Fleet Feet. "Our growth will come from a lot of different directions, which has served us well over the years," he says, noting that the plan is to open 20 stores this year. "I think there are a lot of specialty running store owners who've made it through the pandemic and are now looking for exit strategies."
Fleet Feet's deep faith in brick-and-mortar runs contrary to prevailing retail wisdom. But Pointer believes the in-store experience, particularly from a running specialty perspective, still outpaces the online one. "Customers can experience the latest and the greatest by actually trying on product," he says. "They can get advice from our outfitters on why a particular shoe might work for them or get the latest nutrition info if they're training for a marathon. They can also attend our events, whether it's training programs or fun runs, and meet with like-minded individuals."
That's not to say Fleet Feet isn't working hard to improve its digital shopping experience. Pointer says the company has greatly improved its digital footprint, mainly because organizations like Amazon have set a very high bar. "You can shop on your phone in the comfort of your house, and your shoes may arrive literally that afternoon," he says. "Competition makes everyone better." The goal, he notes, is to incorporate Fleet Feet's in-store experience into online shopping as much as possible. An example is matching the millions of foot scans it has gathered with shoe purchases. "We can make better product recommendations," Pointer says. "You might be an 11.5 in the Hoka Bondi, but in the Saucony Ride you're a size 12." He adds, "Everyone is talking about AI, and we have a form of that already through our scans and purchase history. We're figuring out how to best service that in a digital fashion. You'll see more of that as we complete 2023, bringing the brick-and-mortar experience to digital and vice-versa."
Digital currently accounts for 15 percent of Fleet Feet's overall sales. And while it's growing at a faster pace than brick-and-mortar, Pointer points out that it's easier to grow at a higher percentage when you're dealing with smaller numbers. Regardless, he believes the two channels shouldn't be seen as robbing each other; rather, they work in concert. "When we open in new markets, our ecommerce expands because we increase brand awareness," he explains. "Each feeds the other, and when the two are done thoughtfully together, that's a powerful fly wheel that just spins faster and faster."
Lighting the Way
Fleet Feet's journey has many chapters yet to be written. And while the story remains essentially the same—to inspire people of all ages to stay active and healthy—it's a constantly evolving pursuit that requires tireless persistence, much like long-distance running.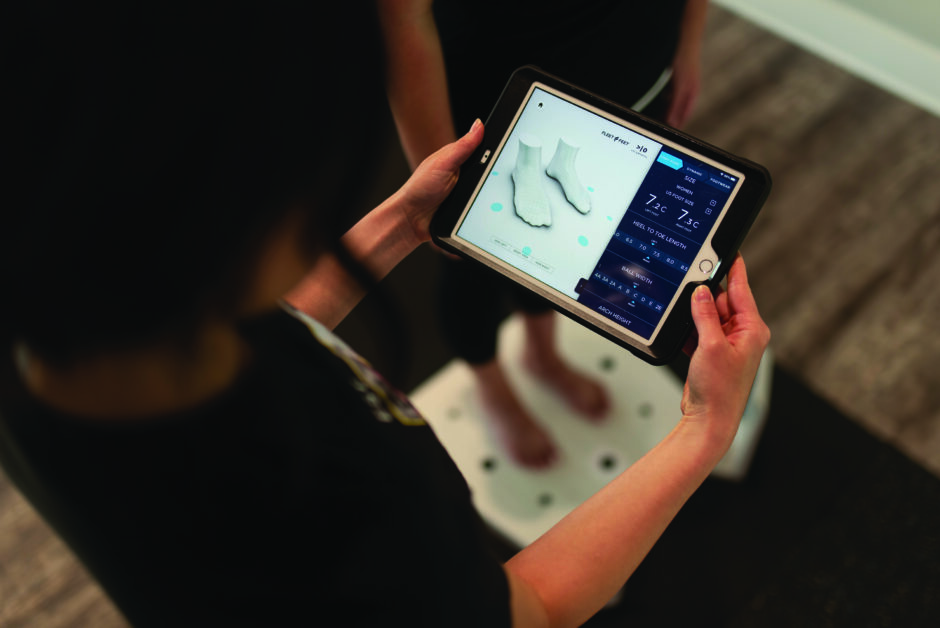 "I've always said that retail is not for the faint of heart," Pointer says. "Like anything in life, you have to continue to adapt and advance, which we've been doing since 1976. We're continually evolving our retail theater as a reason to come into our stores. The technology is the assist that makes our outfitters even better."
What is Pointer most proud of in terms of Fleet Feet? Overall, it's the journey. But if he had to pick a particular moment, it's when the company introduced its new torch logo in 2018. "The logo is more digitally native and rooted in our vision and mission," he explains. "The bottom of the torch is the spark to get people moving, while the top represents our mission: to empower anyone who runs and walks. It's fanning the flames of commitment."
The new logo reminds Pointer of Fleet Feet's rich history and what's to come—like the new loyalty program. The goal is to reinvent the concept and give customers a reason to engage with Fleet Feet at a deeper level. People at every level of the company as well as a handful of outside agencies are involved in the effort. "It's our evolve, launch, refine, and repeat process, and I believe we'll create a meaningful rewards program that's more than just a spend and get," Pointer says.
Fleet Feet's long and winding journey continues. It's already beyond Pointer's wildest dreams. "When I started, there were maybe six employees in our corporate office, and we only had two rules then: You answered the phone by the second ring and you took your trash out because we didn't have a cleaning service." Pointer believes those rules are embedded in Fleet Feet's DNA of local ownership and empowerment. "At some levels, we're a completely different company, and at others we're exactly the same," he says. "Our people are still the secret sauce; we're just a lot bigger."
Helping Hands
Fleet Feet CEO Joey Pointer give the lowdown on the challenges of staffing up.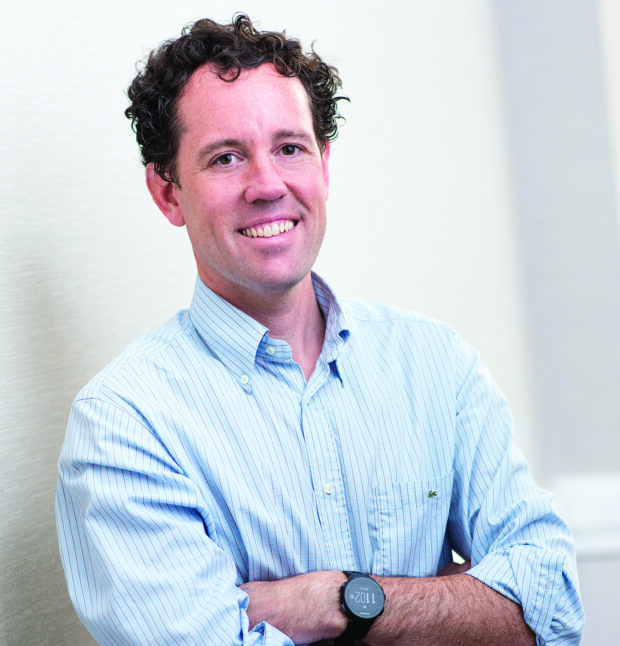 Is it hard to find good help these days?
Like everyone, we're struggling to be fully staffed at every level. Every day you have to recruit, from the corporate level down, to ensure that we have the right support team members to support our growth plans in stores and digitally. So, you go to a coffee shop and have a great experience…you're just always recruiting at every level. The day you stop is the day you're going to be in big trouble.
Does the fact that Fleet Feet is seeking a level of expertise spanning product, sports, nutrition, and local communities make staffing more difficult?
Absolutely. But we start with the basics and then provide a lot of training and education around leadership. One of our board members, who was COO of Golden Corral, once told me: "We don't hire dishwashers; we hire future business owners." That quote has always resonated with me, and I think we have the same philosophy. We don't hire outfitters; we hire future business owners. They may not own a Fleet Feet store one day, but they're going to go on to do something amazing in their lives. For example, about a month ago, we had 250 outfitters attend a virtual leadership training session, where in addition to teaching the technical side of the business, it was about how to make them better leaders. What will be your legacy as an employee and an individual.
Is it easy to find these future business leaders?
I'd say it's a lot easier than it was two years ago. Before the pandemic, we had a wide range of employees including people who were retired and wanted to work 20 hours a week and stay-at-home parents who wanted something to do while their kids were in school. Those employee bases disappeared. Now that the pandemic has subsided, people aren't as fearful. I don't think manpower will be the obstacle to our growth.
Are Fleet Feet's pay and benefits competitive?
That's a question for our employees, but I hope the answer is yes. We offer the complete package: competitive pay and benefits, a great work culture, the opportunity to serve the local community, and room for advancement within Fleet Feet as well as the industry. Coming out of school, there's no better place to start than with Fleet Feet if you want to work in the running industry. We've had numerous employees who've gone on to serve at all levels. Another job perk: Our employees love the product and get to be first adopters.