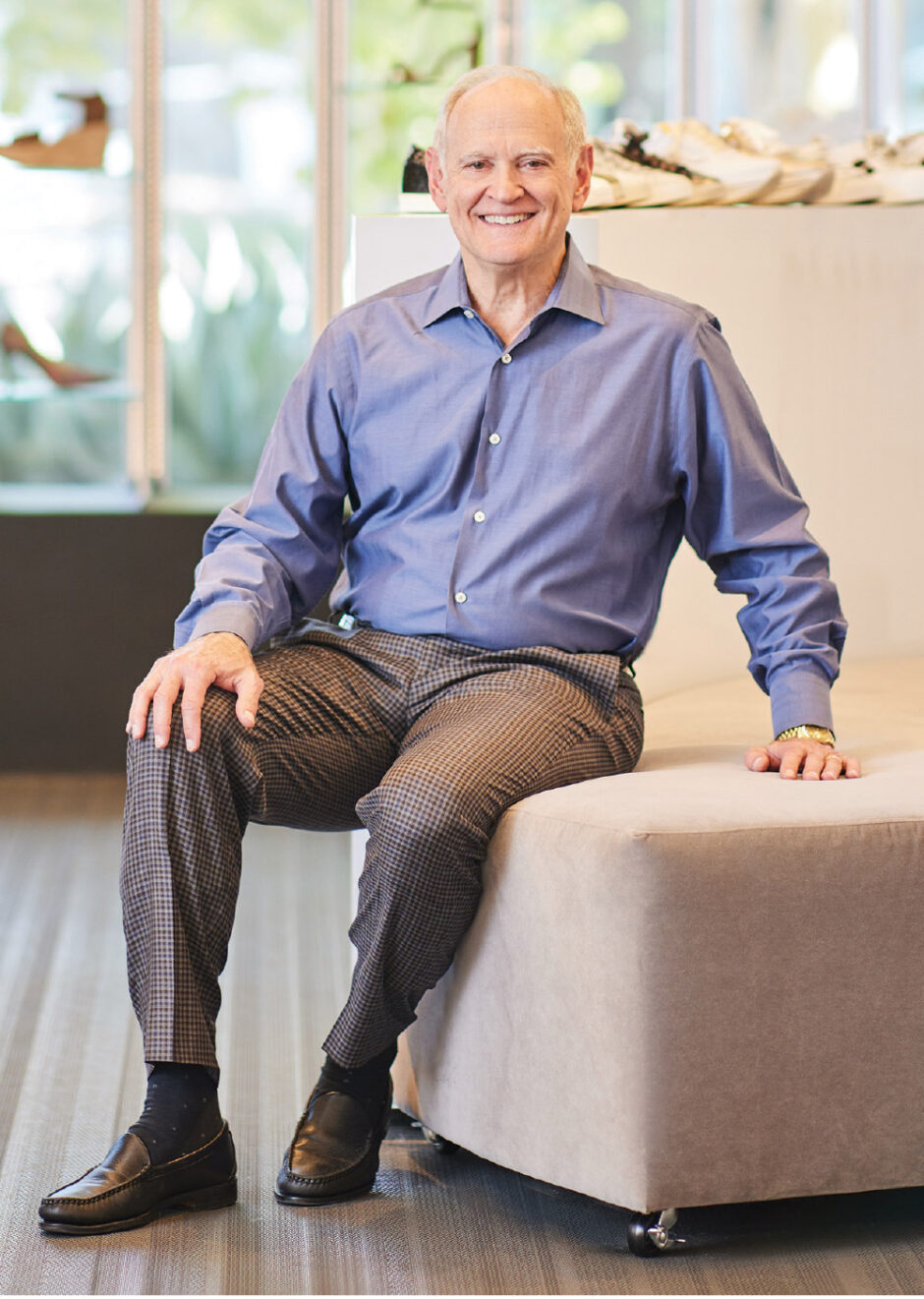 What does it take to stick in the rough-and-tumble shoe retail business for 50-plus years? In addition to all the obvious capabilities and talents, perhaps above all it's a genuine love of the game that leads to longevity.
For Stanley Eisenman, running a women's boutique chain isn't just a job. This is what he loves to do. It's a way of life for him that began in the early '70s when he joined his father's leased shoe departments out of college. They were housed inside local Monnig's department stores. Then, in the late '80s, the duo graduated to eponymous locations, eventually expanding to four in the Fort Worth area, along with a Dallas outpost for a 10-year stretch in the '90s. Now at a more manageable two locations, Stanley Eisenman Shoes continues to thrive, thanks in large part to Eisenman's absolute passion for product, his adherence to the lost art of attentive customer service, and his never-ending drive to create meaningful relationships with customers. His enthusiasm for all aspects of shoe retailing is contagious. It's also the reason Eisenman, 72, can still be found in his stores six days a week. He spends most of that time on the selling floor, doing what he loves most: catering to his loyal clientele, many of whom are on a first-name basis with him.
"We're like Cheers," Eisenman says. "It's just easy to park in front, stroll in, be greeted by your name, shop an amazing selection, and be fitted properly."
Eisenman and Richard Marsh, an employee of more than 40 years and manager of the main store, know 90 percent of their customers personally. "It's more than just a retail transaction," he says. "Our customers are shopping with friends who they trust and know will have great merchandise and service." He adds, "Our curated assortment is tailored specifically to their tastes and end-use needs. There's noplace like our stores—what we call the 'Stanley Eisenman Shoes difference.'"
With more than 100 seasons of buying under his belt, Eisenman has a gut instinct about what shoes will hit for a high average in his stores. It's more of an old-school process than modern-day analytics. "I first look to see if a design has eye appeal," he explains. "Then I'll look at the construction to see if the cushioning, lining, and materials are of good quality." He adds, "It's second nature by now; I'm a fan of well-constructed shoes." But it goes deeper than that. For Eisenman, choosing the merchandise mix is a passion play. "These are like my babies; I give birth to these shoes," he says. "When I put a pair on a customer, they can feel my enthusiasm, which generates interest and excitement."
Take the recent addition of Paul Green sneakers to the mix. "They're the perfect brand for us right now," Eisenman offers. "They're easy on the eyes, they have a nice built-in arch support, and the linings are made of terrycloth, so they feel great as soon as you try them on."
Every shoe that makes the cut has gone under the Eisenman microscope. The result is what he considers an all-star lineup of about 25 brands, which includes Brunate, Mephisto, Cecelia, Flex, Munro, P448, Robert Zur, NeroGiardini, Pedro Garcia, and, the stores' top-seller of the past five years, On. The latter might not be expected to set the pace in a women's boutique that leans dressy. But On hit the ground running and has picked up steam since. "We've sold about 10,000 pairs over the past five years," Eisenman says, noting that the two stores combined sell 10 to 12 pairs daily on average. "It became, by far, our No. 1 vendor within the first year."
On Goes Off
On's tremendous success, however, is now bittersweet. That's because Eisenman recently received a Dear John letter from the brand abruptly ending the partnership. There was no mention of late payments (there weren't any) or of selling too few pairs. "It was a shock," he says. "I don't think I ever lost a line of shoes in 50 years for no apparent reason."
Why did On turn off Stanley Eisenman Shoes? Word on the street is it wants to focus on being a performance athletic brand. There are also well-traveled rumors that small retail operations—and their relatively small orders—just aren't worth the hassle. When Eisenman reached out for an explanation, the response was vague. "They said they're taking the company in a different direction," he says. "They even offered me the opportunity to return the inventory—and pay the freight, if you can believe that." Instead, Eisenman is selling his remaining stock of 300 to 400 pairs, which should be completed by September.
For what it's worth, Eisenman believes On is making a mistake, and he cites the brand's success in his stores as proof. "Contrary to the owners who think On is a performance brand, it's a lifestyle brand," he says. "Ninety percent of the people who choose to wear the brand do so because the shoes are currently the best-looking athletic shoes on the market, they're lightweight, and they're comfortable." He adds, "They're just great lifestyle shoes. People often wear them when traveling—the airports are full of people wearing On. It's people of all ages, too. And I can assure you, we don't have ultra-marathoners coming into our stores to buy these shoes."
Whatever On is or wants to be, losing the brand in the near-term creates a sales vacuum for Stanley Eisenman Shoes. On has been a steady traffic draw for regular customers as well as new ones. "People come in regularly looking for the brand specifically, while many others want to replace their old pairs," Eisenman says. "It's also given us the opportunity to sell all these customers additional styles to meet their wardrobe needs."
Like any retailer worth their salt, it's on (pun intended) Eisenman to find the next big brand. He's been doing that for decades. For example, in the '90s, his business was built around three mainstays: Donald J Pliner, Stuart Weitzman, and Cole Haan. In fact, Stanley Eisenman Shoes was one of the first retailers to feature a Stuart Weitzman shop-in-shop, and it once held a red carpet event for Pliner, who signed shoes for customers as part of the festivities. But Eisenman has long since moved on from those brands, replacing them with new ones. Indeed, Stanley Eisenman Shoes has served as a launch pad for many industry success stories. That includes being early adopters of Taryn Rose as well as home to one of the first shop-in-shops for Mephisto. The fact is, Eisenman has long been training customers to embrace the latest and greatest newcomers. "We'll just steer our customers to the next great brand we carry," he says. "I'll just keeping looking and asking around, like I always do. It's in my DNA to find great shoes."
A Life's Work
Eisenman started cutting his retailing teeth at the tender age of 13, working in his father's warehouse. Little did he know then that it would become a lifelong career, but he's thankful it has.
"I loved the guy who ran our warehouse; he was a real character," Eisenman recalls. "He was a country boy who used to say there were two words not in his vocabulary: can't—pronounced cain't in his thick Texas twang—and impossible. That was a pretty good early life lesson."
By age 15, Eisenman graduated to the sales floor of his father's leased departments and was hooked for life. "It was good, steady work that wasn't outside during the blazing hot summers," he says. "I thought, I could do this for a living. I've always been a decent salesman."
Eisenman graduated college in 1972, married his wife, Barbi, soon after, and then joined his father's business full-time. The young buck dove into all aspects of the business, becoming adept at buying, merchandising, you name it. Along the way, he honed his sales skills. "Being on the floor six days a week, you get a lot of insights into what works merchandise-wise—what you need and what you don't," he says. "You get to know customers, too—what they like and how to engage them properly."
The rest, you could say, is Stanley Eisenman shoe history. After Monnig's was sold to investors, the company asked the younger Eisenman to stay on as buyer, but it was an easy pass. Instead, the Eisenmans made the decision to open freestanding  stores. "I never worked for anybody except myself and my dad, and in 1987 I was 37 and decided to stick with that approach," he says. It was the smart move, given that Monnig's closed within six months of changing hands. Meanwhile, the Eisenmans opened three locations in just three months and have never looked back. "We just had to establish our identity, which we've been basically doing ever since," he says.
Becoming destination stores requires a combination of unsurpassed selection and impeccable service. Or, as Eisenman likes to describe it, the Stanley Eisenman difference. "I had a customer tell me once that you can get everything you need at Stanley Eisenman Shoes, which was very flattering," he says. "And while it's not exactly true, it was good for my ego. They're also going to receive great service, which is now non-existent in department stores, and shopping online is a crapshoot and likely to involve the hassle of returns."
In contrast, Eisenman says his team educates customers about a world of shoe-related opportunities. That includes people who often come into the stores in ill-fitting shoes. "It's nothing for us to put in a tongue pad that makes them feel better instantly," he says. "We're good at making quick adjustments—like suggesting Aetrex orthotics, so at the very least we'll send them out in more comfortable shoes than they came in wearing."
When it comes to getting customers to buy new shoes, Eisenman relishes every opportunity. He estimates 80 percent come in with the intention to buy, so it's the remaining 20 percent that present the biggest challenge. "It's the art of seduction, where we seat them and place product on them," he explains. "We'll also walk them around the store, show them what's new, and ask if they ever tried on these…it's old-fashioned salesmanship and customer service to break the ice, and it still works."
Eisenman has no immediate plans to retire. He loves the industry, the job, his employees, and his customers too much to hang 'em up. All of that keeps him coming to work six days a week. "It's just real gratifying to serve my customers," he says, noting that his daughter's godmother has been a regular for almost 50 years. "I've waited on generations of families, and it's a way for me to stay engaged with my local community."
Of course, it helps that Eisenman has the business running like well-oiled machine. Stress levels are well in check. He still works in regular tennis, pilates, and pickleball times. "I've been fortunate that my job hasn't required a lot of travel and I could be home with my wife and two kids at night," he says. "My son and daughter always had lots of school activities, and I think I might have missed one. It's been a healthy work-life balance."
Still, the day will come when Eisenman will choose to either sell or close the business. He pegs it at about five years from now. Until then, it's business as usual at Stanley Eisenman Shoes. "I still have some fight in me, and I still have some good ideas," he says, adding that Fort Worth is the fastest-growing city in the U.S. and cause for great optimism. "We're seeing a steady stream of new customers, and so long as we treat them right, they'll come back."
High Praise
Industry colleagues offer perspectives on what makes Stanley run.
Marta McKay, North American sales agent, Thierry Rabotin
First Met: I first started working with Stanley as the sales director for Taryn Rose in 1998, then with AGL and, the past three years, with Thierry Rabotin.
Survivor Traits: While many owners leave the day-to-day to their staffs, Stanley remains hands-on. On any given day, he's on the floor. He loves working with customers. He's an excellent listener and keeps in mind what he learns from his clientele at market. In addition, Stanley's mission has remained unchanged for 50-plus years. He's always looking for what's new, whether it's product or a business model that he can incorporate and enhance his business. Lastly, he's dedicated and passionate about maintaining a smart work-life balance. Family and friends come first. He's a regular at the yoga studio and can be found on the tennis court during his off hours.
Power of the Partnership: Stanley and Thierry share the same philosophy that fashion must be luxurious and comfortable. Similarly, Stanley is a delightful combination of old-school sensibility and astute business savvy. He's got great vision. He's able to take something as simple as a black ankle boot and reimagine it for his customers, be it adding leopard print and vibrant colors, like purple for his local Texas Christian University boosters. That exposes our brand to an untapped customer base. His connection with his customers is unparalleled. He's got his finger on the pulse of what his clientele desires. Stanley is an industry icon.
The Stanley Eisenman Shoes Difference: Customer service is number one. Stanley wouldn't have it any other way. Customers are guests. When you walk through the doors, be prepared to immerse yourself in shoe heaven. Whether it's a summer holiday or a charity gala, the staff will assist you in finding not only the perfect shoe, but also the perfect fit.
Parting Shot: While email and texting play major roles in how business is conducted today, Stanley still believes in the power of the phone call. After a long day, it's not unusual for us to have a drive time call to catch up. I remember one instance where Stanley was attending a tennis tournament. He wanted to make sure he had his sizes straight on a reorder. In mid conversation, we paused so he could cheer on his favorite player, who'd just made a great shot. After the cheers, the conversation resumed to how many size 38s he needed. He then listed off customers by name to make sure he didn't miss anyone.
Rusty Hall, president and CEO, Mephisto USA
First Met: I was introduced to Stanley in 1999 by Frisco Arriziga, who sold Selby to him. Even then, Stanley was focused on better fashion footwear. 
Survival Traits: Patience and perseverance. Stanley has seen it all, and uses that experience to his success.
Power of the Partnership: Stanley has always been a great partner to Mephisto. He has a great eye for fashion and quality. I always want to hear his feedback on our line—good or bad—so I can understand how the collection will fit in similar stores. I also respect his being on the fitting stool and communicating that knowledge back to me as a vendor.
The Stanley Eisenman Shoes Difference: I believe Stanley has been successful all these years largely due to his being on the fitting stool. His customers gravitate to him because they know he's going to be honest and fit them personally with shoes that answer their needs regarding comfort and style.
Parting Shot: Stanley's best trait is his calm demeanor and his way of making you feel as though you've known him all your life. He does this with his customers on a daily basis.
Gail Marback, US sales representative, Brunate
First Met: Stanley and I have been working together for a little over a year and have developed a wonderful relationship. My predecessor, Ursula Besch, worked with Stanley for over 10 years.
Survival Traits: His high standards, know-how of the industry, and desire to please each client. Above all, it's his love of the business.
Power of the Partnership: Stanley Eisenman Shoes has been an invaluable business partner to Brunate. His stores create a perfect setting for luxury brands alongside beautiful décor. Stanley is also a most ardent supporter of Brunate. He shares his wins and has introduced us to many fellow key retailers, which is so appreciated. Lastly, his opinion is credible and treasured.
The Stanley Eisenman Shoes Difference: Stanley, his wife Barbi, and their qualified staff provide excellent service to their clients. They're true merchants who understand quality and hand-craftsmanship, anticipate new trends, and provide an expert fit. Stanley knows his customers' feet! He also understands every nuance of the industry.
Parting Shot: Stanley personally delivered shoes to clients' homes during the pandemic. It's an example of his dedication and sincerity. Another example: I called him recently on a Friday night almost in tears, as there was a chance Brunate wouldn't get its desired booth in Atlanta. His response: "Don't worry, we'll find you wherever you are." He couldn't have been more empathetic. He knew just what to say to make me feel better. That's Stanley Eisenman! He's an extraordinary businessman whose relationships are genuine and paramount to him. He's charming, pleasant, and has a very caring demeanor. Lastly, Stanley answers his phone!