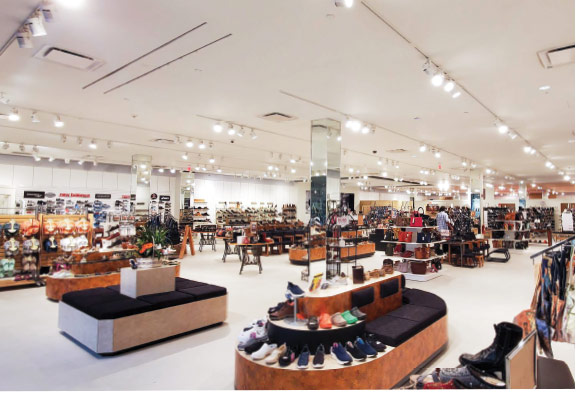 The news that Reyers has moved out of Pennsylvania after well over a century doing business along the western edge of the Keystone state (first in Pittsburgh and, since 1956, in Sharon) is big enough. The fact that it chose to set up shop in the Eastwood Mall in nearby Niles, OH, (Cleveland Browns country, no less!) is bigger. The fact that brothers Mark and Steven Jubelirer, president and vice president of the third-generation-owned operation, chose a mall is huge news.
For starters, malls haven't exactly been the end-all, be-all location for several years—and that has been exacerbated by the pandemic. They've been written off by plenty of pundits in the Amazon Age as white elephants, mausoleums, ghost towns…you get the picture. Beyond that, the Jubelirers, like their father and grandfather before them, have been longtime, mall oppositionists. Reyers survived two World Wars, 9/11, the Financial Crisis and a host of outside pressures—all without being in a mall. They stood firm against big box, discounters, online dealers and all comers (including malls) without leaving their freestanding and strip locations.
In fact, it was their anti-mall stance that brought Reyers to prominence. Back in the '80s and '90s, the then 36,000-square-foot shoe mecca drew 900 busloads of shoppers annually—customers of all ages from as far away as Toronto, Cincinnati and the Carolinas made a pilgrimage to shop Reyers' awe-inspiring inventory of 100,000 pairs. The Jubelirers took the "bigger is better" concept to unprecedented heights. Reyers was its own anchor, topped off by topnotch service and a massive selection in sizes and widths from women's 4 to 14 and men's 6 to 22 and from super slim to 6E. The hard-to-fit masses, in particular, saw Reyers as their only shoe salvation, providing the store a substantial and reliable return customer base season after season—no mall needed.
So why did Reyers reduce its footprint by more than 25,000 square feet, beginning with its soft opening last month, and move to a mall of all places? What changed?
In a word: traffic. Specifically, a lack thereof in its previous location, says Mark Jubelirer. While Sharon, PA, is a relatively short, half-hour drive from Reyers' new digs, Jubelirer says it's a world away in terms of traffic. Sharon is a depressed steel mill town. Or, as a quick Google search revealed: "Sharon was once a good place to be from; now it's not a good town to go back to." There simply aren't enough people who live there or pass through regularly to support a large store format like Reyers', according to Jubelirer.
"During the last couple of decades our small-town business district had seen diminishing traffic," Jubelirer explains. The bus trips dried up after other nearby draws closed. "Besides, the bus clientele now go to casinos and shop online. Car traffic from Buffalo, Cleveland and Pittsburgh also fell off. And foot traffic is way down—the vagrants ambling down the streets were not our customers. All in all, we were no longer able to survive in that downtown."
Niles, on the other hand, has lots of traffic. "Taken altogether, there is more foot and car traffic in the immediate area and surroundings of our new location than any other area in the region," Jubelirer says. That's a must for what is still a large footprint store. "We're built to do a lot of business, and that was increasingly difficult to do in our downtown strip plaza."
Retail Rebirth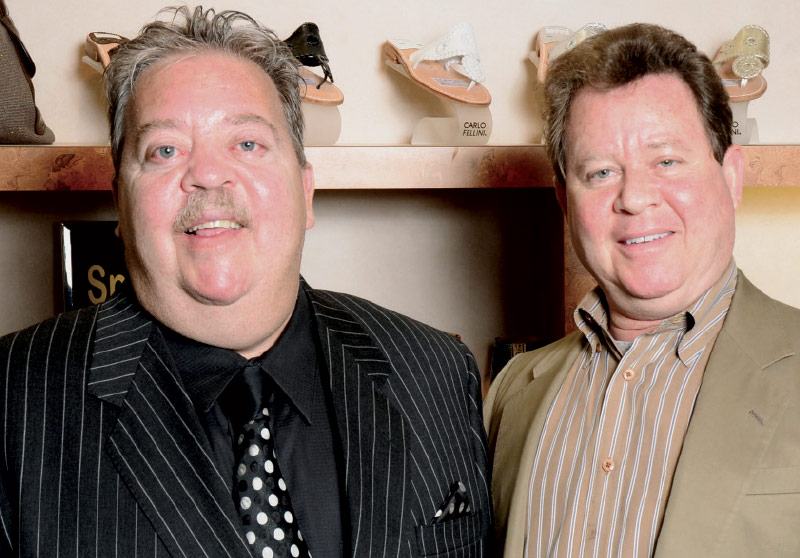 Reyers' move to a mall was no kneejerk decision. The Jubelirers had seen the handwriting on the wall for its Sharon location for some time, and they'd been searching for the ideal new location for several years. They considered a mall and a plaza a couple of miles east of downtown Sharon, but neither had viable space for Reyers, so the search expanded to other areas around downtown Sharon, as well as business districts in the county. Finding the right fit was proving a real challenge.
As fate would have it, though, an old suitor reappeared with a solution. The Cafaro Company, a premier mall developer, reached out to Reyers about becoming a tenant in its Eastwood Mall Complex in Niles. Cafaro had been courting Reyers for years but had been spurned repeatedly by the anti-mall Jubelirers. "No Jubelirer in history ever believed that Reyers would become a mall-based store," Jubelirer says. "The knock-on malls, from an old-school shoe man's point of view, is that they are all pretty much the same—the same stores, the same mindset, the same look, etc."
Jubelirer believes this assessment still holds true, but there are exceptions—and he firmly believes the Eastwood mall is one. "Eastwood is a mall of a different color," he says. "It is reputed to be the 'best mall in Ohio.' It's the business and social hub of the region."
The Eastwood mall features more than 50 stores housed in 1.6 million square feet. Anchor tenants include Dillard's, Home Depot, JCPenney, Kohl's, Macy's, Target and (opening next month) Boscov's. Other national chains include Dick's Sporting Goods, Shoe Carnival, Foot Locker, Finish Line, Journeys, H&M, TJ Maxx, Michael's and Men's Wearhouse, among others. Adjacent to the mall is Eastwood Field, home of the Mahoning Valley Scrappers minor league baseball team. Additional nearby draws are an event center, a Hampton Inn and a Residence Inn as well as numerous restaurants, including Buffalo Wild Wings, Red Lobster, Outback Steakhouse and Bob Evans. "The mall is the Cafaro Company headquarters and we avail ourselves of their marketing team," Jubelirer says, noting that Boscov's will be located just around the corner from Reyers. "We'll ride their marketing coattails too."
Jubelirer believes the proximity of several national shoe chains will provide additional traffic. "We used to say that if a big, important chain had a store across the street from us, we could live off their walkouts," he says. "Well, now we have a big handful of them right around the corner. We intend to draft in their wakes." Jubelirer is confident that Reyers' service and product knowledge will be big draws and a difference-makers for shoppers. "We know that only independents offer outstanding service; after all, we are merchants," he says. "Big box stores and national chains are money-changers, constrained by accountants. Quality service costs money; this is a line item they won't indulge. We should look good in comparison."
Reyers' new home, a former Forever 21, is big (enough) at 14,000 square feet and already brilliantly lit, with bright white floors and walls, and a ceiling that fits perfectly with Reyers' new black-and-white color scheme, according to Jubelirer. As for the selection, he says the proximity of competitors will force Reyers to expand the vendor matrix in order to be more competitive and to fill the needs of a greater and more diverse marketplace. That assortment will evolve over time. "Our inventory will be on a growth trajectory as we engage more customers in every demographic," Jubelirer says. "Adding new vendors is always fun to do, but we have more demanding terms than before."
In the near term, Reyers' selection of leading comfort brands (think Birkenstock, Clarks, Dansko, Ecco and Ugg) and traffic draws like Skechers, Dr. Martens, Steve Madden and New Balance are front and center in the new location. One category didn't make the move. "We made a business decision to no longer carry kids'; we couldn't even fit them in," Jubelirer says. Above all, he says the brands that remain part of the Reyers mix will be those that view business as a two-way street. "We welcome real partnerships, and are thankful that our usual roster of vendors continues in that tradition," he says. "As we carry forward each and every member of our staff with us, we treat our vendors the same way. No one is left behind."
Speaking of staff, Jubelirer credits them for Reyers' success. It's why the store retained all employees willing to make the move to Niles. It's also why he is sure Reyers' level of service will remain best in class. "Selling shoes is a difficult job, but our employees come to work every day with nary a complaint," he says. "They win national service awards all the time. They are Reyers."
So Far, So Good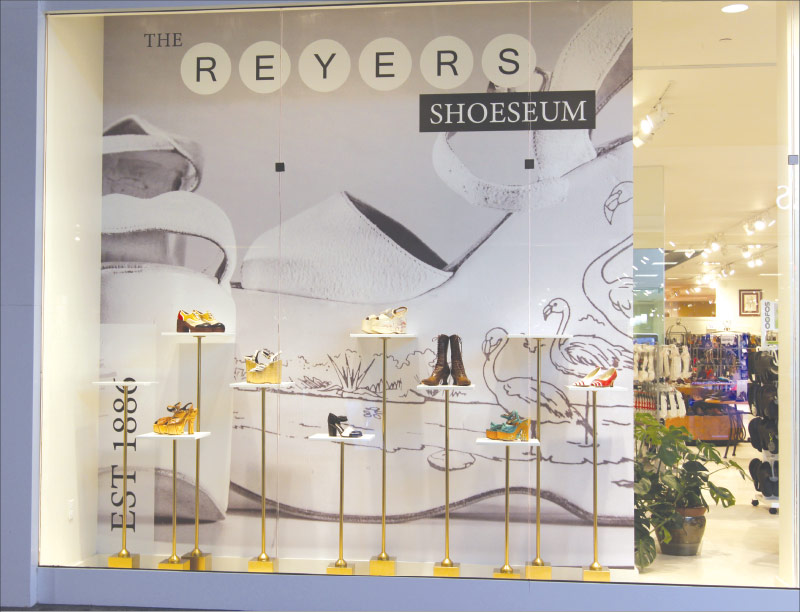 As far as soft openings go—during a raging fourth wave of Covid-19, no less—Jubelirer can't complain. While the store did no business during its week-long move-in process, his employees made the move-in as seamless as possible and Reyers saw an "appreciable uptick in business" in the first several days of reopening. "As these are the dog days of summer, it's reassuring that we're beating last year's numbers," he says.
Jubelirer anticipates continued sales growth this fall—beginning with the grand opening celebration on Sept. 9. Expect plenty of shoe pomp and circumstance, headlined by a giveaway promotion offering $10,000 worth of free shoes. As for the holidays and 2021, Jubelirer says the outlook is refreshingly positive and hopeful—a welcome change from recent years. "Unless the ghosts of Covid return to haunt us, Q4 will afford us increased traffic the likes of which we haven't witnessed in a long time," he says, adding that store hours have expanded to 10 a.m. to 8 p.m. (Sundays 11 a.m. to 6 p.m.) to meet the expected demand. "Malls are famous for Q4, and we'll be smack dab in the middle of the best mall in Ohio!"
Looking further out, Jubelirer has even greater expectations. In five years, he projects Reyers will be the established, go-to venue for footwear in its market. "The competition won't be big box stores that have their inventories on their selling floors, yet no professional salespersons," he says. "It won't be department stores with their gorgeous layouts and hard-to-find staff. It won't be the many fashionable salons in the mall which, oh by the way, also happen to sell some shoes. It won't be the small shoe stores, which sell a lot of red-hot brands for the teenage and college set. The competition will be us."
No Looking Back
The world continues to adapt at breakneck speed to the pandemic-induced new normal. The ways people live, work, shop and dress are shifting dramatically—and continually. So perhaps it's not surprise that Reyers, too, finds itself in a place it never envisioned in its 135-year history.
Standing pat amid such epic upheaval was simply not a viable option. For starters, trying to be a huge brick-and-mortar store up against endless aisles of online competitors is a fool's errand. It why the Jubelirer brothers decided to move to this mall—before the pandemic, as they were already in lease negotiations in March 2020. Reyers relocation was no pandemic pivot. The pandemic only delayed the move until a whiff of optimism this summer (pre-Delta variant) allowed them to follow through.
Father Time was another factor prompting the move. "My brother and I are becoming of retirement age, and so it had become decision time for us," Jubelirer explains. "It was clear to us that we should continue our father's legacy, but that we had to make a monumental move in order to do it." He credits Reyers' longtime accountant for helping cement that decision. "She had informed us that we couldn't sustain our business in downtown Sharon; we must soon close or move," he recalls. "She's whip smart and crunches numbers for a living, so we listened intently. Besides, she's my brother's wife."
Of course the bigger the change, the harder it can be. Not long ago, the Jubelirers thought Reyers felt cramped at 36,000 square feet. This is back when the store carried AAAAA widths, because AAAA widths weren't always narrow enough. But people's feet have changed, and brands have pretty much stopped making those sizes once the bigger orders of department stores ceased. "Virtually everything has changed since the days when our father ran the business," Jubelirer says. "The obvious differences are that peoples' needs have changed, and that now they can get shoes delivered without driving to a store."
So Reyers now finds itself changing with the times, in an A-list mall, in a more manageable and affordable space, with new neighbors that should help draw traffic. "Our new venue affords us everything we could ask for, and our new landlords have been great," Jubelirer says. The aspect that hasn't changed is Reyers' commitment to offering best-in-class style, service and selection. "We continue to search high and low to support our loyal customers who have been coming to us forever," he says. "That is Reyers.
"We hope to look back on this move as something we should have done sooner, and we'd love to think that our father would look upon this monumental undertaking with his blessing."