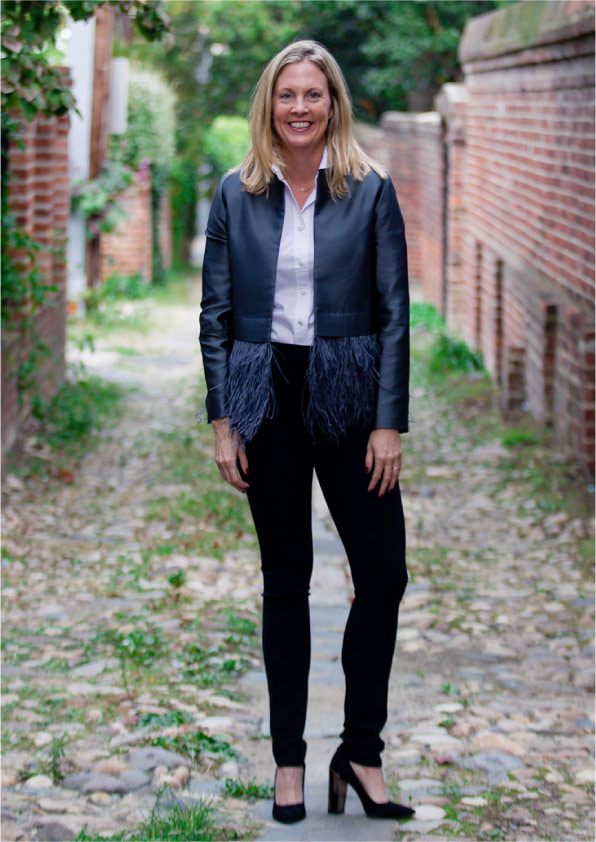 After spending the first part of her career as a copywriter helping elected officials "brag about their support for entrepreneurs," Elizabeth Todd decided it was time to live her dream and hang her own shingle. "I wanted to get off the printed page and do it myself," she says. Fusing her entrepreneurial spirit and passion for fashion, Todd decided a trendy shoe boutique was the way to go. In the fall of 2003, she opened The Shoe Hive, in the Old Town neighborhood of Alexandria, VA. The business has been buzz-worthy ever since.
Originally located in a quaint 500-square-foot space, the boutique found a home and following in the historic district only minutes away from Washington D.C. on the Potomac River. The charming town, founded in 1749, brims with character from cobblestone streets and red brick sidewalks to cheery storefronts and bustling pedestrians—the perfect opportunity for a new business to grow on foot traffic alone. The Shoe Hive has done that and more, moving down the block in 2009 to a new location triple the size of the original to meet growing demand. In addition, a second boutique, The Hive, opened last fall to accommodate the original store's popular clothing business, sited in the same shopping area. "It's been doing great," Todd says. "I've been really pleased with sales at both locations."   
Stocked with a balance of both well-known and niche brands spanning Kate Spade and Diane von Furstenberg to Dolce Vita and Sam Edelman, along with bags and jewelry (Tory Burch, Twine & Twig and Mignonne Gavigan) and clothing (Rag & Bone, Tibi and Citizens of Humanity), The Shoe Hive is a destination for the latest trends. But unlike a lot of boutiques, the store exudes a welcoming, casual vibe. The Shoe Hive is not snooty, stuffy or exclusive. "I want the store to have a homey feel," Todd says, noting the plush carpet and comfy chairs. She even has a few toys on hand for little ones to play with while Mom shops. "I want it to almost feel like a family room," she adds.
When asked what makes The Shoe Hive stand out from other boutiques, Todd is quick to cite its customer service. "We are kind of like a bar," she says. "People come in, they know us and they want to chitchat—it's a really friendly environment." The same goes for the interactions among employees, who often do charity runs together and have dinner after work. "I just went to the wedding of my first hourly employee a few weeks ago," Todd says. "The relationships and friendships of everyone who works here just makes me so happy."
A Sweet Selection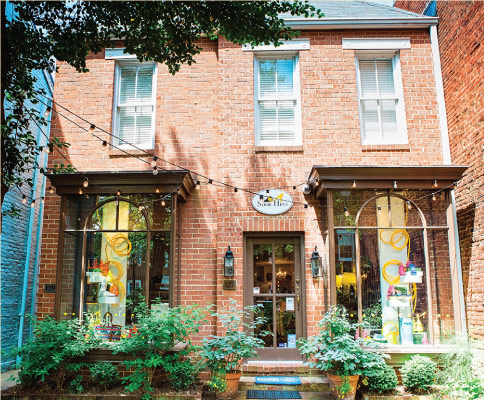 Friendly service is one aspect, but Todd knows The Shoe Hive's killer selection is what keeps the store buzzing with customers each season. For Todd, buying is simplified into two categories: "OMG, I can't live without this!" and "I'll wear that every day!" It's one of the reasons why the store's price range is broad, spanning $50 Tory Burch flip-flops to $495 wedges by Aquatalia. Todd aims to please her diverse clientele for whatever their footwear needs and desires may be. Holding to a specific price tier only narrows that opportunity down. "We are one of the few places left that attract professional women in suits looking for chic footwear just as often as stay-at-home moms who want cute and comfy slip-on sneakers," she says.
When it comes to picking vendors, Todd looks for brands (people, really) that she can build an easy relationship with. "If they start throwing out crazy high minimums or seem to be making the buy difficult, I know it's not going to work out in the long run," she says. Each season, the owner makes her buys between the FFANY and Coterie shows. "I often get help from my daughter, who comes to market with me every December," Todd says. "She's my assistant buyer."
For this fall, Todd is focusing on the all-consuming sneaker trend. The athleisure movement shows no signs of running out of steam. "It's still sneakers, sneakers, sneakers," she says, adding, "The best part is people have finally embraced wearing them with a skirt or dress." Todd invests deeply in that category knowing that everyone is looking for comfort, and she considers the slip-on sneaker the perfect balance of cute and comfortable. Her current offering includes an avocado embroidered version by Soludos ($89) up to an AGL platform version featuring a cascade of laser-cut and hand-stitched leather sequins on the vamp ($375). Todd predicts under-the-knee boots will also be trending this fall. "It has been over-the-knee or booties for a while now, but I think we are starting to see things shift back to the riding boot," she says.
When it comes to the art of the buy, above all Todd recommends going with your heart—but always going back to edit with your head. "The number-one thing I try to avoid is overbuying," she says. Of course, it happens… "Sometimes I'm like, 'Oh shoot, did I really need five pointy-toe, chunky heel pumps in nude?'"
Virtual Buzz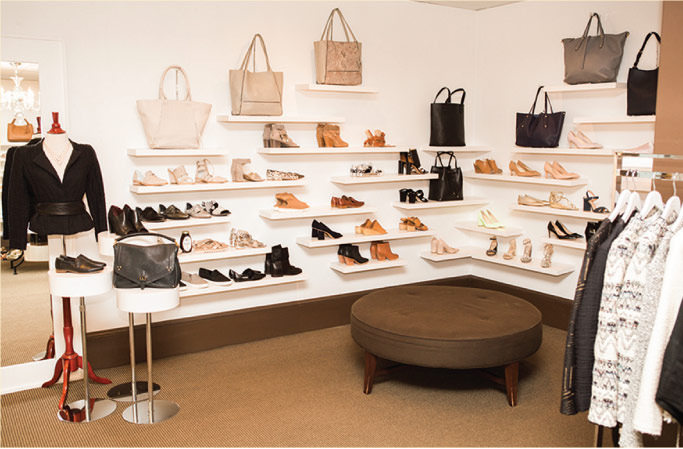 Quite savvy when it comes to using the Internet to promote her business, Todd cites Instagram and Facebook as effective ways to generate hype and draw customers into The Shoe Hive. For those not social media inclined, Todd shoots them an email or even gives a call when items come in that she believes that customer will like. "We do a lot of one-on-one marketing, as we're always trying to keep track of our customers and make sure we get what they're looking for," she says. Todd has also launched a blog, "A Walk in My Shoes," as another affordable way to continue the conversation with her customers. "We always had people coming in asking, 'How do I wear this?' so we decided to create a blog that focuses on incorporating trends into your wardrobe," she explains, pointing out how the blog gives tons of helpful fashion hints while also featuring new products. Over the last two years, Todd has made the blog more of a priority, being extra diligent about updating it on a regular basis. "It's really an inspiring and connective tool for our customers," she says.    
Ever since Todd opened the doors to The Shoe Hive she has emanated an "all for one, one for all" approach to pleasing her customers and meeting their needs. Part of that effort even involves helping them discover other boutiques in the neighborhood. Todd, in this regard, was shocked to discover that some of her best fashionista customers had no clue about the brilliant makeup boutique located up the street. "I found out that people knew their spots but didn't really go beyond that," she says. "I wanted a way to put [the boutiques] all under one roof." A firm believer in the strength in numbers concept, she cofounded the Old Town Boutique District several years back to collectively promote the area. "We received some money from the city through the Alexandria Marketing Fund," she says, noting, "Our goal was to bring more tax revenue to the city." Originally, association members paid monthly dues that the city then matched. And while the city's support has come to an end, the Old Town Boutique District still exists, funded solely by sponsors. The efforts, Todd proudly reports, have paid off. The shopping district has blossomed and is now home to more than 200 independent restaurants and boutiques alongside historic museums and various excursions along the waterfront. "Water makes all ships rise," Todd says, sharing her firm belief that it's better to work together rather than strictly be competitors. "We need more people to have reason to come to Old Town—the more small businesses the better!" She adds, "I believe I have a great store, but I'm not good enough for people to fight traffic to just come to my store. I need them to know that they can get everything they need—gifts, home supplies, makeup, etc.—all in one place."
The sense of community is palpable through the annual events that the boutiques collaborate on. This year, a children's boutique owner came up with the idea to have an Easter egg hunt to draw families to the area. "We had a lot of families come out to participate," Todd reports, adding, "We want to do fun things that make people explore Old Town in different ways than maybe they would have before." In addition to the new egg hunt, the district holds a scavenger hunt each fall where prizes are awarded for people who fill out a passport-like card by visiting various stores.
Todd also engages customers in frequent in-store events of her own. This past Mother's Day, for example, she set up crafts in The Shoe Hive's courtyard, offering complimentary doughnuts, coffee and even mimosas for the moms or dads who brought kids. "It was a little rainy, but that didn't stop us from having a great time," she reports. Other events have included philanthropic engagements and a men's shopping night held around Christmastime, complete with kegs, bratwurst and bourbon. "The men are drinking bourbon and buying shoes—they're happy and their women are happy!" Todd says with a laugh. "We always try to keep things fun throughout the year."
Surviving the Sting
The difficulty many brick-and-mortar retailers are facing of late has not gone unnoticed by Todd, but she adamantly states that The Shoe Hive has yet to be rattled. "It's more of the big box stores that are really feeling it than small, independent boutiques," she says. And while she's well-aware of the increasing popularity of online shopping, Todd takes solace in the fact that the majority of shopping is still being done in brick-and-mortar retailers. (Some industry estimates peg it at more than 85-percent market share.) Todd also believes that her customers don't always want to deal with the hassle of ordering shoes online, only to ship them back when they don't fit properly. There are worthy reasons, Todd believes, why customers make the effort to shop The Shoe Hive in the flesh. It's entertaining, and it's also helpful. "People come to us because they know us, trust our advice and want to try things on," she says. "I know it sounds crazy, because D.C. is just across the river, but we are still an independent city with a population of 200,000. It's an isolated market."
So don't expect an e-commerce extension anytime soon at The Shoe Hive. For starters, it's an expensive endeavor in order to do it well. "It's a very different business that you really have to invest yourself in," Todd says. And that's time and a lot of money.  It's one reason why she doesn't envision running an e-commerce site that is truly self-sustaining. Instead, Todd is working on a new-and-improved joint website for her two boutiques. It will feature better pictures of the merchandise and user-friendly aspects designed to encouraged shoppers to visit the stores. "It's more of a resource for our customers," she says. "A lot of our loyal customers get home from work, put the kids to bed and then realize, 'Oh, I need a dress for this weekend…'" Todd says the site will enable customers to easily send a message asking for an item to be put on hold. "There's no need for anything more than that," she says, adding "Brick-and-mortar is what I am and what I will stay."
To that end, running The Shoe Hive has been this entrepreneur's dream come true. It takes talent, passion and commitment. "To have a successful business, you must be good to your customers as well as to your employees," Todd offers. And while behind the scenes there's a lot of long hours and hard work that goes into making The Shoe Hive a success, Todd knows firsthand that there are worse careers. "It's still a lot of fun," she says. "I'm not digging ditches—I'm selling shoes for a living. I really can't complain." •