There are a few traits in common among the recently hired day-to-day managers of the Merrell, Timberland and Stride Rite brands. Of course, Sue Rechner, president of Merrell; Tracy Smith, vice president and general manager of Timberland's North America division; and Brian McManus, executive vice president and general manager of Vida Kids' new Stride Rite license, all have extensive experience managing brands. They've got the brand building basics down cold, having made their industry bones climbing various company ranks. They're also equally passionate about the footwear industry and the concept of not just moving merchandise, but being driven to build lifestyle brands that connect with their core consumers way beyond a simple transaction at a register. What's more, these execs all respect the opportunity they've been awarded as stewards of three classic American brands in charge of taking them to greater heights.
Rechner, Smith and McManus each referred to their new positions as "dream jobs," and while that may sound good for P.R. purposes, their enthusiasm is genuine. Let's face it, the opportunity and the responsibility related to managing iconic brands such as Merrell, Timberland and Stride Rite aren't offered to just anyone.
Merrell: Moving Forward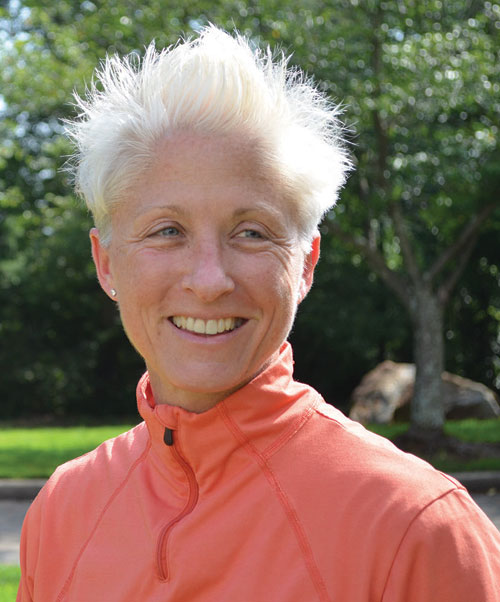 From a heritage perspective and with Wolverine Worldwide as its corporate parent, Rechner says Merrell already has a lot going for it, and that made the opportunity to become its president all the more enticing. "It's an amazing and iconic brand, and there's no doubt it has got tremendous brand equity," she says. "It's a brand that I grew up with and one that's loved and revered by many."
But that's not the only reason Rechner took the job. What sealed her decision was the entire team's commitment—from corporate down to Merrell's foot soldiers—to embrace change. "There's an overwhelming desire to innovate, to invigorate the brand and to focus on consumers wholeheartedly," she says, noting that over the past 24 months the industry has witnessed enormous disruption. It's forcing many brands to look in the mirror and make changes. It's just that Rechner believes some brands are willing while others dig their in heels and resist. "The openness and humility that the team has about where they are, where they need to be and the kind of people and talent they want in order to transform into the kind of brand they hope to become…It's just so refreshing," Rechner says.
Merrell's commitment to change is part of a larger corporate-wide directive titled, The Wolverine Way Forward. The mission statement involves a corporate restructuring of its brand portfolio into three groups (Outdoor and Lifestyle, Boston and Heritage). The aim, according to CEO Blake Krueger, is to protect the brands through responsible stewardship and deliver growth by leveraging the focus on consumers, product innovation and speed, all while driving operational excellence and expanding operating margin. In short, efficiency is critical and dialing in on the wants and needs of consumers—who call the shots now more than ever before—is even more so. Rechner, for one, is fully on board for leading Merrell down this new path. "Amazon is changing the way we all look at businesses, and the way consumers make purchase decisions and how they access information," she says. "The fact that Blake & Co. have open minds about where they've got to pivot to is incredibly powerful. It gives us the opportunity to have a much more powerful future with our partners."
Rechner, a veteran of the outdoor market but not specifically footwear, believes she's the right woman for the job. "I understand how to nurture, evolve and innovate," she says. "I like to curate and deepen relationships with core consumers, identify and reach new markets, and create and drive innovation on the product side, because that's the center of gravity for any company: making amazing products." Do all that well, and Rechner believes it's a win for all parties: Merrell, retailers and consumers. "We have to figure out the right flex point where we all get what we need," she adds. "Our retailers have to be profitable, just like we do."
It starts with getting to know the core consumer. That rule applies whether you make kayaks (Rechner spent the previous 10 years as CEO of Confluence Outdoor) or hiking boots. "You have to know your core consumer and be able to speak with them as opposed to speak to them," she says, noting that consumers today are looking for companies that have a value system that matches their own. "Identifying consumers is the Holy Grail, but you have to know how to find them and how they want to be communicated with," she adds.
Rechner and the Merrell team have set forth big goals. "We want to become the undisputed owner of the hearts and minds of consumers and retailers as a brand, which is a heavy lift and a big ask," she says. "But we aim to do that through innovation, connecting on values and inspiring passion, and supporting memorable experiences." Rechner adds that it requires the ability to reinvent and re-invigorate the brand so it stays current and connected to its customers. "If you cannot connect to the hearts and minds of consumers and retailers, you are not going to survive," she says.
It's a connection, in Merrell's case, that must be made through its performance outdoor DNA. The brand won't just do "fashion" items. "We just have to be mindful of maintaining our performance DNA in everything we do," Rechner says. "It may be a sandal, but it'll feature a performance outsole—design aspects that extend what somebody on the trail would like to see, because we don't want to lose those consumers." That aside, Rechner believes there's enormous opportunity for Merrell to grow its casual business, which, along with performance and athleisure segments, amounts to an estimated $26 billion in annual sales worldwide. She believes the brand has the elasticity, as its extensive market research shows. "We've got an open to listen from our consumers," Rechner says. "We have the ability to play dual gender as well as to tap into a younger audience, and we can extend our brand into casual." The driving force behind Merrell's brand elasticity, she adds, stems from its reputation for making great products. "No matter what age, gender or income level, we make amazing product that performs," she says, adding, "If we do what I believe we are capable of, leverage our equity and connect with our consumers, then we have the ability to grow exponentially."
Last but not least, Rechner considers being president of Merrell a dream job. "It's hard not to be excited about such an awesome brand with such amazing runway in a company that is looking to put investment behind it," she says.
Timberland: Passion Play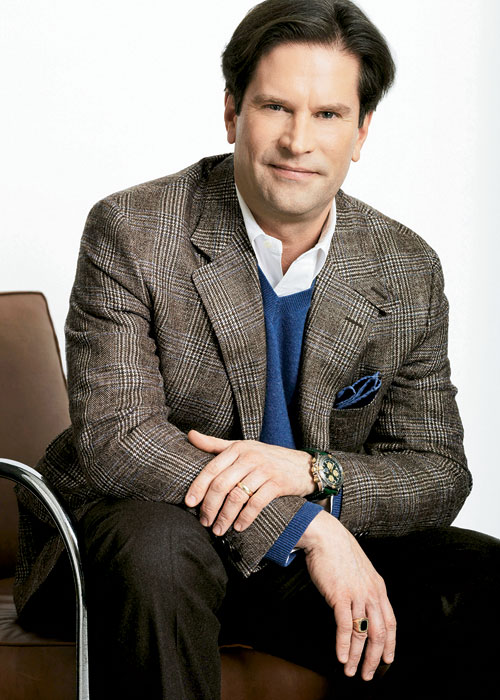 Tracy Smith, newly anointed vice president and general manager of Timberland North America, has been around the proverbial footwear industry block a time or two. The former retail-turned-wholesale exec rose through the ranks at Cole Haan over an 18-year span, which culminated in becoming president. He later became president of U.S. operations for Geox, grooming him further for this position at Timberland. What's more, Smith is a born-and-raised New Englander just like Timberland, the Stratham, NH-based division of VF Corp.
"Having spent a lot of time living in New England is definitely a bonus, but I've also been very fortunate throughout my career to have gained experience in lots of different areas of the business," Smith says. "This is an opportunity to use all those different areas of experience and impact the growth plans and strategies of Timberland."
Smith arrived in May and has been getting up to speed on all things Timberland. For starters, he feels blessed to work with such a talented team already in place—many of whom have a long history with the brand. "It's been amazing to be able to get that grounding and evolution of the brand over its life cycle," he says. "They have phenomenal relationships and reputations in the industry, which is a very important aspect to being successful." Smith has also been busy meeting with key accounts to get their assessment of where Timberland stands in this marketplace. "I've met with many accounts that I've known for a long time, which is great to get their feedback about the brand and our potential opportunities going forward. And I've been meeting retail partners in channels (outdoor specialty) that I haven't really worked with before, which has been very helpful and interesting."
What exactly has Smith been hearing about Timberland in these meetings? First and foremost, he reports, is the resounding passion for the brand and the fact that retailers want and need it to be successful. "The support across a wide range of retailers who are looking to Timberland to be a strong partner with them as we all try to navigate the challenging environment is very encouraging," he says.
Timberland possesses many of the brand qualities required to succeed in this difficult climate. A rich heritage, authentic products across a range of categories and iconic styles—what's not to like? It sold Smith on the opportunity, especially its long history of introducing innovative products into the market. "Timberland was founded on innovation for the outdoors, which is an incredible story dating back to 1973," Smith says. "Fast forward to today and the company is doing the same: We have incredible platforms based on innovation that are bringing the brand into a modern interpretation." Making this even more promising, Smith notes that Timberland is currently a $1.8 billion global brand with a strong parent company that's able to invest in and help it reach new heights. Beyond that, he cites the company's exceptional corporate culture, which is led by its commitment to sustainability and community service. "Any one of those aspects alone would be a wonderful attribute for a company, but when you line them all up together, you see how Timberland is really unique in our industry," Smith says.
The near-term plan, Smith says, is to build off Timberland's innovative platforms and diversify the business. "It's an unbelievable gift to have an iconic product like the six-inch yellow boot, but we need to concentrate on growing the platforms on top of that," he says, adding that there's plenty of avenues already in place. In men's casual and sport leisure, that includes the SensorFlex comfort system (consisting primarily of a three-layer outsole that delivers support, cushioning and dynamic flex) and the Aerocore Energy System (led by an aerodynamic outsole that is lightweight and sneaker-esque). In addition, he says women's presents a huge opportunity, noting that market research shows the brand has strong dual gender appeal. "The unaided brand awareness that we enjoy is fantastic," he notes. "Consumers have an incredible affinity for the brand, which presents enormous opportunity."
Timberland hits squarely on many coveted macro trends. American: check. Rich heritage: check. Wearable technology: check. Outdoor lifestyle: check. Urban crossover: check. Corporate responsibility: check. Smith singles out Timberland's commitment to sustainability and its performance heritage as having appeal with today's consumers, especially Millennials. "Those are brand traits that consumers really value today," he says. "I don't think we're in the Sex and the City days anymore where you're using rent money to buy a bag or wearing four-inch heels and suffering to look stylish." The values consumers are embracing, Smith believes, point right back to Timberland. "It makes me feel like it's Timberland's time," Smith says, adding that the brand is one retailers can depend on in the current disruptive climate. "Retailers are looking for brands that can be a strong partner and work closely with to navigate what we're all going through," he says. "VF Corp. has really stepped up and is looking to effectively drive those partnerships so that we all get through this together and in a mutually successful way."
In the meantime, Smith plans to be a bit more vocal about Timberland's goodwill attributes, which to date have been held under wraps somewhat due to what he describes as corporate humbleness. Social responsibility and sustainability attributes, however, are exactly the type consumers want to know about when making their brand choices, Smith believes. "There's an authenticity and purpose that underlies the great product Timberland makes and give us an opportunity to have a deeper connection with retailers and consumers alike," he says. For example, Timberland is marking two important anniversaries this year: the 10th of its Earthkeepers eco-friendly collection and 25 years of corporate community service. "The fact that we've been involved in these causes for so many years shows the character of the brand and the people who work here," Smith says.
Asked if this is a dream job, Smith responds: "Throw in all the terrific attributes of the company along with the opportunity, throw living in New England into the mix, and it's like I haven't slept in three months because I'm so excited about this job."
Stride Rite: Emotional Rescue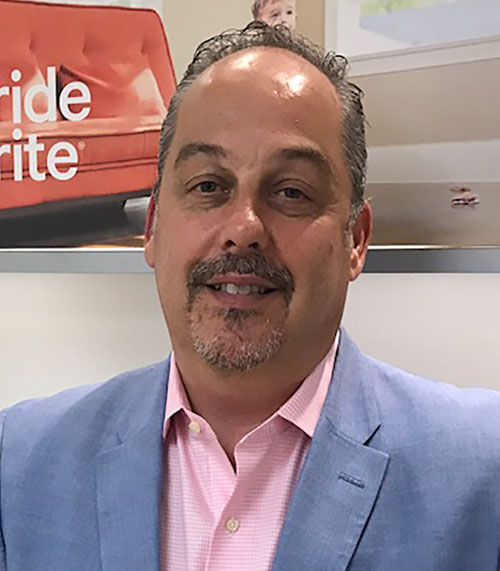 Brian McManus, executive vice president and general manager of Vida Brands and overseer of its recently acquired Stride Rite license from Wolverine Worldwide, has come home—literally. This is the brand where the longtime children's footwear expert got his industry start.
"When I was a 19, Stride Rite recruited me to work in their retail division," McManus says. Part of the deal was the company helped pay for his college tuition. "I had to work 44 hours per week while taking five classes and, based on grades, Cs covered 70 percent of my tuition, Bs 80 percent and As 90 percent plus books. I had to get straight As, because I couldn't afford college any other way."
McManus did just that and his strong work ethic and smarts carried over into his job with Stride Rite. Over the ensuing nine years, he rose steadily from assistant store manager to manager through its merchandising program and eventually moved to the main office to become a regional merchandiser. He graduated to buyer and later opened Stride Rite Keds and Great Feet stores. McManus also opened 21 outlet stores for the company and managed its traditional stores. After a brief stint with Kinney Shoes, McManus came back to Stride Rite to manage sales before he made the move to Vida Brands to launch Carter's. Now, 17 years later, he's right back where he started—third time's the charm—and he couldn't be happier.
"Stride Rite is my history, and its home to me," McManus says. "It was the job that made me passionate about this industry and want to get out of bed every day."
Stride Rite is not just any brand. Few are as iconic or rich in history as this one. "Stride Rite is a company that you always felt had a higher purpose," McManus says. Soon to be celebrating its 100th anniversary (2019), the brand is the Kleenex of children's footwear. It's overall awareness, rich heritage and reputation for innovation is unsurpassed. It's also a brand that has served as a training ground for many current industry leaders, including ex-Stride Rite presidents Diane Sullivan (CEO of Caleres), Jon Caplan (CEO Genesco Branded Group), Meg Whitman (former eBay CEO) and Charlie Liberge (president of Jones &Vining). Esteemed company executives, indeed.
McManus is honored to follow in such footsteps and guide Stride Rite into a new era. It's a unique opportunity to manage a brand with such a storied history in terms of product innovation and consumer following. "Stride Rite is built on an emotional connection with consumers," he says. McManus paints the frequent in-store scene of a young child being fitted for their first pair with the grandmother on-hand explaining to the mother why this is so important. "It's the coolest experience," he says, noting that it's also an important one. "It's a big responsibility to measure a child's foot and make sure the shoes will fit properly. Having done that well for so long is what has built trust between Stride Rite and consumers."
Building on that level of largely in-store achieved trust as online shopping continues to gain market share is one of the challenges facing McManus. Specifically, how to change with the times but not lose that emotional connection. That applies particularly to Millennial parents, many of whom need to be re-connected to Stride Rite. "The challenge for us is how do we make Millennials and beyond have that first experience," McManus says. "We have to reconnect them to the brand so we make sure they buy it for their grandchildren."
It starts with embracing what the brand represents, which is a Vida Brands mantra for every brand in its stable of children's brands. In addition to Carter's, that includes OshKosh B'gosh, Hanna Andersson, JambuKD, Step & Stride and Kensie, among others. The company knows the kid's business inside and out. It's no accident that Wolverine Worldwide chose Vida Brands from a list of suitors who coveted the Stride Rite license. The company's track record of building big kid's brands is proof. "Carter's is all about the emotional connection to the consumer, and we've grown that business tremendously," McManus says, noting a similar growth trajectory with OshKosh. "We embraced what the brands represent and have established a relationship with the respective end consumers that are based on emotion."
Fortunately for Stride Right, there's a strong emotional connection in place and, what's more, Wolverine spent the past 18 months cleaning up distribution and introducing new products. McManus notes that the brand had issues with promotional activity in stores and online. "Wolverine has really cleaned that up, so I think we are catching this brand off a bounce," he says, noting the product upgrades can be found in the Spring '18 collection. "It's now different products across distribution points like Target, Khol's and Dillard's," he says, adding that Vida will expand upon this strategy for Fall '18, which will mark its first Stride Rite collection. In the meantime, he says, the company remains in intense listening mode. "We need to listen to our retailers and to Wolverine to see what they're happy and not happy about before we go marching in with new products," he says, adding, "We are a solution-based company, and you can't answer a question if you don't know what it is. It's solving mom's and our retailers' problems and learning how to work with them better."
Solve those problems, and Stride Rite has a huge runway for growth, McManus believes. "I think the sky's the limit," he says. "With the tremendous emotional connection Stride Rite already has, we believe we can grow two to three times as it is today. We just need to introduce more people to it." He believes that Stride Rite has elasticity—similar to Nike—to play across many tiers of distribution at their respective premium price levels. "We're at the premium price point in Target, where Millennial moms like to shop, as well as in Kohl's, Rack Room and Famous Footwear—like Nike is," McManus says. "We have that same ability, because consumers trust the brand and know we're going to live up to the promise inside each respective channel of distribution to offer the best technologies, materials and designs."
For McManus, the opportunity to manage Stride Rite is a dream job on many levels. It's a homecoming, career-wise. It's the brand he always outfitted his three children in (much to the dismay of his previous designers.) It's a brand with a storied history that he is humbled by. "The job means everything to me," McManus says. "Not a lot of brands make it to 100 years old, so I'm super-humbled to be a part of this great brand and working on ways to make it live for 100 more years."