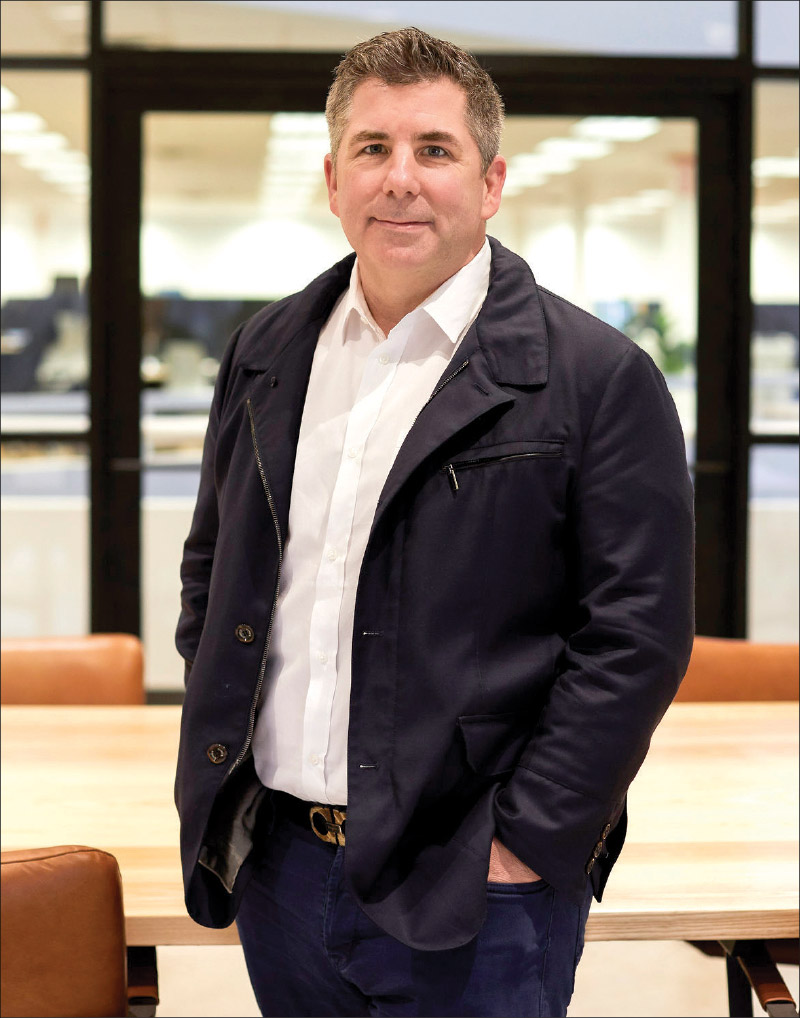 It's no secret that slipper brands have been one of the few industry bright spots amid this devastatingly dark pandemic, and Dearfoams, the 74-year-old market leader, is no exception. Business in 2020 was good. Real good. Sales increases were well into the double digits, reports Robert Mullaney, CEO of RG Barry Brands, makers also of Baggallini bags. And while the exec is the first to admit that the growth was aided by the pandemic that saw the planet shift to working and attending school from home basically overnight, the brand had been experiencing solid growth in the two years leading up to the world-altering event. Mullaney attributes Dearfoams' recent growth to keying in on several macro consumer trends that have been fueling a demand for slippers—ones that he only sees increasing in popularity in the years ahead.
Those trends revolve around the home as a place of work, study, recreation, gathering and solace. The growing popularity, for example, of patio fire pits and tricked out sheds that serve as the new home office and/or family living rooms, plus an ongoing shift to hardwood and tile floors, have contributed to the category's strong overall growth. In addition, there's the increasing popularity of sandals, soccer slides, Crocs and flip-flops—all of which are frequently worn as slippers—blurring the lines of the category's full potential. There's also the new national pastime of binge-watching on streaming services. Pool all these trends together and it's easy to see the ballooning desire for an array of slipper options that span indoor/outdoor constructions durable enough for a quick trip to Starbuck's to sock-like styles ideal for snuggling on the couch while binging The Queen's Gambit. "The slipper is now an essential part of the consumers' wardrobe," Mullaney confirms.
But don't just take his word for it—do the math as a data analytics disciple like Mullaney always does. In 2010, he notes an estimated 3.5 million Americans were reportedly working from home. That number rose to 5 million in 2018, and pre-pandemic forecasts were for it to hit 10 million by 2025. Now it just so happens the pandemic caused that figure to zoom to 50 million in 2020. Even post-vaccine, Mullaney is confident that the world has entered a new normal—one where slippers will remain an essential piece of the wardrobe. The numbers back his sentiments up. "How many of those 50 million are going back to 40-hour work weeks in an office, and how many will be working at least a one, two or three days a week from home?" Mullaney asks. He believes the answer is north of 20 million who will never go back to such a life-work imbalance. Those days, he says, are long gone, which is due to technology (think Zoom) more than any lingering virus fears. Even if half do go back to working in offices, that would still be about 15 million more people than what was previously projected by 2025. It's why RG Barry is betting big on slippers. Real big.
"I'm a huge proponent of the category's potential going forward," Mullaney says. "I think slippers could become 10 percent of the overall footwear market (current industry estimates peg it at 3.5 percent) in the next three years."
That's millions of pairs more on top of a reliable base. Slippers aren't a fad like, say, barefoot constructions. If the enduring popularity of Ugg has proven anything, the category is well beyond any "moment" status. Plus, the projected growth in sales, unlike a lot of shoe categories, won't be mostly a market share battle. New slipper segments are taking hold, fueled by consumers who span all ages and both genders. It presents an attractive opportunity for brands and retailers across all channels. "This is no blip," Mullaney affirms. "Slippers are no longer just a sleepy, old lady's shoe. They've become a much more accepted and understandable type of footwear—like Crocs."
A main task for Mullaney is making sure Dearfoams seizes upon the tremendous opportunity while continuing its evolution into a home-based lifestyle brand. Since taking the helm of RG Barry in late 2017, those efforts have included the launch of the Fireside Shearling collection (2019), the Dearfoams At Home licensed collection of pillows, wearable blankets and bedding (2020) and, debuting this spring, a collection of women's athleisure and flats comfort footwear. "It's an online launch, and we're really excited about it," Mullaney says of the latter. "We think the possibilities are great as we believe that comfort footwear can continue to be redefined."
The way Mullaney sees it, these extensions (and ones in incubation) are no brainers for a brand that, for starters, knocks it out of the park on consumer surveys. For example, one that asked what the Dearfoams logo represented revealed, in order of popularity: comfort, inclusive, high quality, a gift they would be proud to give or receive, distinctive style and good value. "There's so much good runway for Dearfoams," he says. "The extensions are spot-on for the brand, and the reasons we're doing them is because the customer told us to."
Going forward, Mullaney's other main task is adding to the RG Barry portfolio, either by new launches or acquisitions. He believes the management team, its established channels of distribution and solid backroom operations are more than capable of handling additions without losing sight of current responsibilities. "Our first obligation is taking care of our current business by maintaining strong growth and servicing our customers beyond their expectations," he says. "But our company is strong enough to add brands in a complimentary space that leverage our resources and expertise." Mullaney says any additions would be helped by RG Barry's strong private equity ownership in Mill Road Capital and Blackstone. Not only do the firms possess financial muscle, he says there's a willingness to flex it, which historically hasn't been the case in footwear. "These guys are about tapping potential growth, be it organic or acquisitions, and utilizing our expertise," Mullaney says. "It's a great partnership as there's confidence that our team is heading down the right path."
Heading into a new year, Mullaney is bullish on slippers as well as RG Barry's overall potential despite the massive industry reset brought on by the pandemic. It's not easy, but when has it ever been? He cites strong ownership, talent, fortuitous brand alignments and grit as key ingredients to the company's recipe for continued success. "I'm really proud of the team, because the customer likes what we've been doing," he says. "We were operating really well before this pandemic, and we've continued to shine as our products and our range get better and better. Our outlook is very strong."
New product launches, brand extensions, potential acquisitions…it' all so very un-pandemic. What gives?
For starters, Dearfoams has great runway because the customer loves us for comfort, home, quality and accessibility. Those are all terrific brand attributes to build off of. There are also a lot of other wearing occasions for slippers and shoes, and with our areas of our expertise, there's more room for a brand or brands to service his or her other needs, and I emphasize his. Overall, I think there's a big runway for slippers for other consumers and categories, whether its sandals or lounge footwear. But it may depend on how you define slippers. For example, we have collections of slipper/sandals and sneaker/slippers coming out this year. If you started pulling together all the styles being worn as slippers, it's a much larger segment than was ever considered before. That's one of the main reasons I believe the segment is poised for major growth.
And that has most definitely been the case, especially since the pandemic.
No question. Industry reports in Q2 revealed that slipper sales were up over 100 percent, and this last quarter they were up over 85 percent. But reports also showed that slipper sales were up in the 12 months prior to Covid-19. It was one of the few categories that was up, in fact.
Why is that?
Consumer trend. People have been spending more time at home as well as working from home. Those were trends before the pandemic and they've only exploded since.
We're talking potentially millions of pairs more sold annually going forward, correct?
People are going to need slippers for their stone patios, fire pits and sheds as they are spending more money on their homes than ever before and subsequently more time in and around them. The new outdoor living room presents a huge opportunity for a new kind of slipper, and we now offer more constructed styles than ever before. The 'burbs are also back and people living there want something versatile to walk to their stone patio, or make a quick Starbuck's run. We also think there will be multiple wearing occasions for slippers inside the house, and that's nationwide and a year-round purchase. People are amazed how much product we sell in all regions of the country and not just in colder areas. So, there have been a number of trends leading to an overall growth in slippers sales prior to Covid-19 that have since been massively accelerated.
The expansion of what qualifies as a slipper mirrors the athletic category.
Yes. There's also a wellness aspect. Consumers, before the pandemic, were taking their shoes off upon entering the house to switch into a house slipper to avoid tracking God knows what inside. Plus, slippers are more washable than other types of footwear. We also see a lot more loungewear slippers coming into play where people are pairing it with their Public Rec or Lululemon pants. That's a huge opportunity that butts up against the athleisure trend. And think about sandals, there are a lot of Adidas soccer slides, Crocs and flip-flops sold as slippers. The definition of slippers is being redefined right before our eyes.
Are slippers the new sneakers?
Well, we are launching Sport Lounge this spring, a sneaker/slipper collection that takes you wherever you need to go all day with the best underfoot comfort in great slipper materials. But I'd say slippers are the new comfort. It's why we launched our Fireside Shearling collection in 2019. RG Barry wouldn't go into that space before, but our consumer research drove that decision. We just saw too much shearling product being sold by the likes of L.L. Bean to ignore it. It's a fast-growing business, and it's been a big success so far. The truth is, we were late to the party on shearling. So now we're trying to be ahead of the party on trends. For example, we have a new indoor/outdoor collection, Alpine by Dearfoams, where "outdoor comfort meets cushioned arch support." It features our new Colorado outsole made from harvested algae that addresses another important trend in sustainability. Overall, it's about positioning different segments of slippers and making sure we are hitting on all the right needs.
Shifting gears, you branched out with a Dearfoams comfort footwear collection for this spring. Why is now the right time to make that brand extension?
With the lines between slippers, sandals and athletic blurring it provides good runway for Dearfoams to make the jump. We're also sourcing it out of a footwear factory as opposed to a slipper one, which I think is very important. The collection features more substantial athletic EVA bottoms suitable for longer wearing occasions than any of our slippers. They also feature great knitted uppers that are reminiscent of slippers but are straight up comfort shoes. We went up a notch in price at $45 to $60 retail that reflects that. Our initial launch partners are QVC and Amazon in addition to Dearfoams.com. We see it expanding out from there in the seasons ahead. It's a big deal for us.
And the Dearfoams at Home collection that debuted this past fall has also been received well?
Out collection of throw pillows, wearable blankets and bedding is doing exceedingly well, and that tells you the overall strength of the brand and how it's so connected to the home. Along those lines, we'll be introducing a Dearfoams at Home pajamas collection this fall.
What about potential collabs for Dearfoams?
Without question, so long as they are unique and fit with our brand. We have an advantage because we have access to a broad range of channels. It allows a collab partner to access an audience they might not otherwise be able to reach. Hopefully, we'll introduce one for Fall '21, because collabs are also just a fun part of this business where you might strike a chord by looking at things differently. You can be inspired by other brands. There's a lot of good work being done, like what Concepts has done in the sneaker boutique space. Whoever thought their Maine lobster pot theme sneaker (Nike Dunk Low SB) would become one of the best collabs in history? Who would have imagined KFC x Crocs clog being such a successful collab? It doesn't even have to be commercial; it can just get people talking about both brands. You might still buy the black Crocs, but that collab is a brilliant move. It's fun.
Are you optimistic about 2021 from a broader industry perspective, specifically that business will improve if the vaccine is successful?
I think consumers are dying to travel. The minute the clearance comes, I expect leisure travel will erupt and that could benefit shoe sales in general. But I think business travel will come back more slowly because companies will be more discerning about whether it's a necessary expense. It's part of the new normal, the same way I think the suburbs will continue to be important. People aren't going to give up on that extra space too easily.
What about trade shows post-pandemic?
While there's a strong desire to get to our sourcing bases, meeting with retailers in their offices or at trade shows seems unlikely for at least the first half of the year. I was on a recent FDRA call and the retailers said they might think about attending a show in August, and if they did it would be selective. That's part of the new normal as we've all gotten pretty good at virtual meetings. And that can be a real positive in terms of people's lifestyles, not to mention companies' bottom lines. While I believe there's still a need for the industry to get together, maybe it it'll be a minimum of two to four times a year. I know we're not going back to five days a week in the office—ever.
Do you envision consumers heading back into stores like before once they feel safe?
I do, but I think the retailers who are going to win are the ones who realize that the consumer is doing a lot of shopping before they get to the store. And the better that they understand that ecommerce doesn't always have to be the transaction point but also a way to bring customers in—like though in-store pick-up and returns—will come out ahead. That's where the real power lies going forward. Because, for starters, consumers who come for a pick-up often pop in a to buy a few other items. I think that will lead to better traffic for those retailers. In addition, the levels of convenience and value will continue to increase in importance, along with carrying great brands and offering unique experiences.
I expect it'll be a bit of a novelty to shop in stores at first, which presents an opportunity for retailers to welcome them back with great service and selection. But if the inconveniences about shopping in stores before the pandemic aren't addressed, then they'll likely lose them—again.
I agree. You better be prepared for it. That said, I think many of us are all dreaming of getting outside again. Who wouldn't love to take a trip to Bal Harbour, Florida, right now and do a little shopping?
Even though the past year as a whole has been pretty horrible, there's plenty to be optimistic about RG Barry from where you're sitting.
I'm very optimistic, and it's because of the work that we've been doing these last few years. We've been working hard on our brands and product as well as all of our distribution channels. Everything that we've done regarding communication, marketing, design, etc. is all done with one thing in mind: the consumer. We want to stand for something, to be trusted and make people's lives better. Fortunately, we've weathered this storm ok. We did all the work that we possibly could do to mitigate any risk in Q2 of last year. Now that's not to say that there aren't plenty of new challenges ahead, because there are—starting with supply chain issues. Finding enough containers, vessels, drivers, etc. is a really big issue right now. We're navigating that now. It's always something, right? That's why getting overly confidant is a big mistake. We need to always run our business with humility and understand that there's a lot of work to be done.
What do you love most about your job?
I love the challenge, but I also love it when someone genuinely loves our product—that we made a difference and made them happy. For example, there's been nothing more satisfying amid this depressing and stressful pandemic when I'm on a Zoom call and someone lifts up their slippers from under their desk and says, "I can't live without these." That defines success for us. I also love the fact that many people have a strong connection with their slippers. Meaning, when they put them on it gives them warmth and comfort, and it's a moment that they look forward to in their day. Those are good memories being made, and we are right there with them. •