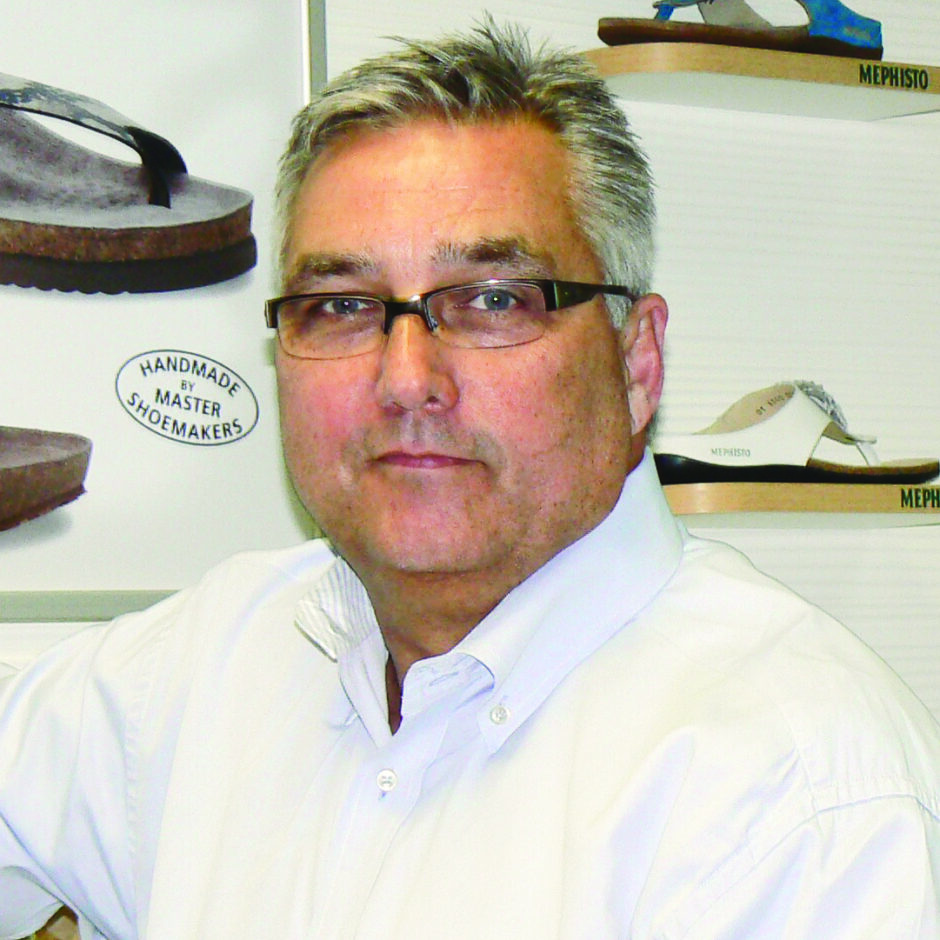 Rusty Hall has been around the shoe industry block more than once. A lot more, in fact. His career is fast closing in on a half century. It spans 25 years working in retail and the last 23 years in wholesale, which includes two stints—separated by a five-year gap from 2015 to 2020—as president and CEO of Mephisto USA. With such extensive expertise and experience, Hall has pretty much seen it all—the downturns, upturns, and upheavals. Perhaps that's why he exudes a seen that/survived that calmness. He's not the type to make pie-in-the-sky projections, nor does he go overboard chasing the latest fads. Indeed, Hall is an even keel exec who's charting a steady course for growth for the premium French comfort brand.
Take the recent trade show in Atlanta. On one hand, Hall (like many others) reports that the show was very well attended and the prevailing mood among buyers was strongly optimistic. "Saturday and most of Sunday we were jammed; we couldn't have taken another appointment in our booth," he says. "It was all very positive. People were very complimentary of our brand and our Spring/Summer '24 collections, and many were looking to buy more." On the other hand, Hall recognizes that the overall state of retail hasn't been stellar lately, so there's good reason to view this sense of optimism with calculated restraint. "I don't think there's anybody who is pounding their chest, saying retail is the greatest thing since sliced bread right now," he says. "So while many retailers said their business has been very good—and some even quoted six to eight months in a row of gains—there's still plenty of reason to be cautious."
Hall offers a number of reasons to hedge your bets. For example, no one knows how the upcoming presidential election will impact business. Nor can anyone predict whether much of the Northeast will experience another snowless winter. "Election years are historically not good," he says. "And buyers don't know what to expect with the weather. 'Are we going to get any snow this year, and will I need boots? Will spring arrive late across much of the country and stall my sandals business again?' There's always something in the back of retailers' minds that gives them good reason to be wary."
Of course, compared to the pandemic he just guided Mephisto through, these uncertainties seem like bumps in the road. Hall is a firm believer that if you survived that, you can survive pretty much anything. As fate would have it, he returned to the company in January 2020, following a run as president of Abeo. "My timing was impeccable," he sighs. "We had some things cued up for what could have led to an unbelievable year, and January through March was an unbelievable three months. But then the world fell apart."
Hall and his team got down to business right away, doing everything they could to adapt and survive. "We learned very quickly how to get lean and mean, and how to focus," he says, noting that being privately held and owning factories have been vital advantages. "We didn't have to rely on other factories to do our work, and we learned how to focus on key items and to flow product better," Hall says. "We also realized early on how important it is to have troops on the ground, developing and keeping relationships going. The information they provide is important, and you need to receive it quickly to be able to respond quickly and accurately."
Hall's retail roots allow him to genuinely understand retailers' concerns and needs, because he's lived them. He started out working the floors of Thom McAn stores in his hometown of Dallas, managed Naturalizer and Red Cross (later Easy Spirit) stores for Milgram Kagan in Chicago, and eventually owned seven stores in the Houston and San Antonio areas. "I understand their need for margin, seasonality, on-time deliveries, dating, and good terms to balance out the flow of goods," he says. "It's not about dumping it on the front end of a season and showing up at the end to find out what the results were." Hall believes wholesalers should be involved throughout a season to help maximize turns. "I've never been associated with a company that just sells case packs and checks in at the end of a season, regardless of whether it was a good or bad year," he says.
All Mephisto programs and policies must meet Hall's win-win threshold. That spans discounts, extended terms, custom packages, etc. "We'll work on inventory balancing and managing their order intake and flow," Hall explains. "That's what helped get us through Covid; we were able to take shoes back and cancel some orders that most brands couldn't or wouldn't do." For example, Mephisto is currently offering 120 to 150 days dating on spring deliveries scheduled to arrive in November and December at resort locations. "I know nobody else can touch that," he says, emphasizing that being privately owned makes such flexibility possible.
Hall's win-win business philosophy is also why Mephisto's retail partners will never receive a Dear John letter informing them of a breakup. At least, not while he is in charge. "I guarantee they will never get that letter from me," he confirms. "Those letters set a very bad precedent, and it's also a very bad strategy." Hall is a firm believer in the importance of the independent retail tier for the long-term health of the industry. "Independents have launched just about every major brand in the country," he says. "Most brands got their start with an independent somewhere before they ever got to Nordstrom or Zappos."
Hall is a shoe industry lifer, and he takes great pride in that. After all these years, the biz is in his blood. Now it's time to pass on that knowledge. One of his top priorities is mentoring the next generation of industry professionals within Mephisto and beyond. He believes the industry is in desperate need of new blood. He also wants to show that it can be a rewarding career, like it has been for him. His love for his work keeps him coming in each day. Well, that and the solid growth prospects he envisions for Mephisto, which he considers "one of the best names in the industry" with one of the "most loyal consumer followings" he's seen in all his shoe years. "And yet a lot of people still don't know about us, because we're a premium brand and not a 'fashion brand' or a 'marketing brand,'" Hall says. "Mephisto is a product brand—one that you can be proud to sell, the same way consumers are proud to own."
What made you come back to Mephisto for a second go 'round?
For starters, I still had a great relationship with (Mephisto Managing Director) Marc Michaeli. We were talking one day, and he asked if there was a way I'd come back? I said there was nothing that would keep me from coming back—if you asked. He did. I just love the brand and the product. Then there's the enormous growth potential I see. I believe we're positioned to have strong sustainable growth over the next three to five years.
It helps that you are managing a brand that you truly respect from a product standpoint.
For sure. I'm very bullish on our brand. While the Ons and Hokas of the worlds have been extremely hot, it's not as hot as it has been. There's plenty of growth opportunities for Mephisto. We're very proud of our heritage and that we hold our DNA of making premium footwear for men and women to the highest level. We just celebrated our 58th year and are looking forward to our 60th celebration. We also just recently launched our sustainability brand, Nature Is Future (NIF), to speak to our lifelong commitment to sustainability through the use of natural materials, like rubber, cork, and latex. NIF now uses food waste and recycled bottles to create a product that is over 92 percent sustainable.
You noted how it's been a sneaker-driven world since the pandemic. How is that impacting Mephisto?
On the men's side, it looks to remain a comfort hybrid driven market. I mean, if I see another dress upper with a sneaker bottom…But that's probably the new normal for men. Personally, I haven't worn a suit—with the exception of a wedding or a funeral—in three years.
Even for those occasions, you probably wouldn't wear a leather-soled shoe.
Exactly. That fashion shift isn't going away any time soon. But I think women's is different. My wife, for example, loves to dress up. As soon as special occasion events came back after Covid, she went right back to getting dressed up. That definitely hasn't happened in men's. So we've got to continue to develop men's styles with a hybrid comfort flair. That can include wingtips built on a Goodyear welt construction, but it's on a comfort bottom. In women's, it means we've got to continue making product look feminine to match the lifestyle she's leading. That means dressier uppers on wedges, for example. We're not a Jimmy Choo or Stuart Weitzman, but at the same time, we must offer a level of style and design that appeals to that customer.
For example?
We're a premium price point, so we have to do it through quality of materials and constructions, and not high-fashion looks. Mephisto is not a high-fashion brand. Rather, we're an on-fashion brand. We understand what's trending from color palette and style perspectives, but we have to appropriate those aspects into a quality fit and comfort that will last a very long time. On that note, we've always been a popular travel brand. Mephisto is the brand for a woman who might be attending Paris Fashion Week. We get her from airport to airport in comfort and on-trend style, but how she dresses at the shows is an entirely different matter. The return of travel, in general, since Covid has been big for us, and a big focus of ours. But we surely would benefit a lot if more people returned to working in offices. Otherwise, slippers and sneakers will continue to rule the world.
Is that shift, in fact, the new normal?
We need some things to happen, or frankly not happen, in the global economy to get us all back to that kind of normal. Our biggest challenge has been the workforce, or lack thereof. Our cities have been devastated by work from home, as well as the number of people who've totally dropped off the grid. That's impacted the men's category the most, whereas I think women will always want to dress up. The Barbie effect may push them to want to do so even more now.
It's been a banner year for Barbie. How would you assess 2023 for Mephisto?
It's been an ok year so far. It was challenging initially, because we're know for our sandals and this spring was very wet and cool in most of the country. California, for example, is a big piece of our overall business and they were hit with epic snowfall, floods, and mudslides. It seems like this year I've watched the weather more than I've watched other news. Fortunately, the last three months kicked in nicely for us. We've leveled out for the year and we're back into the numbers that we expect to be doing.
So what can go wrong with fall?
Summer could last through October. That would screw up the whole retail calendar again. Because the calendar, for many majors, still says we should have fall collections on display by mid-August. Sorry to say, but your customer is going to go away for six weeks. The buying calendar has shifted. We now sell more boots after the holidays than before, especially in men's hiking. Because that's when they need it. That's when the snow finally arrives.
Lots of execs have said inflation, supply chain disruption, Ukraine war—just to cite a few problems—has made the year more challenging than the previous two years. Would you agree?
We've had little, if any, supply chain disruptions this year as we took measures in late 2021 to pre-buy certain core groups. Our factories in France and Portugal also planned ahead to offset any challenges on the supply chain side. Inflation and the interest rate adjustments, however, have been more of a factor on the overall economy and curtailing positive reactions from consumers.
Then why do you think, as many in the industry reported, that there was so much optimism about the business in general at the Atlanta show last month?
I think that most retailers have had about two years to really master their ecommerce business or developed one. Also, a lot of consumers are coming back to shop in stores as the months go by. So their traffic overall is better. They're making up the numbers that way. That's what's been happening in our flagship stores. Business at our (22) brick-and-mortar stores is up nicely. It's a good 15 to 20 percent up.
Going into the year with all the headwinds, are you surprised to be up that much?
Somewhat. I was surprised by the pervasive positive mood among retailers in Atlanta. There weren't conversations asking for help to dig them out of a hole, or they needed to cancel a bunch of orders. But that's also the nature of independent retailers. They don't get wrapped up in all the negative noise that many public companies do. They're not worried about the quarterly returns. They're not driven by the fact that last quarter was bad, even though this quarter might be looking better. Most of these guys operate week-to-week. It's a case of, 'Hey, I had I had a good month last month, and I'm ahead of that month this month, so I'm expecting a good month next month.' That might be an overly simplistic explanation, and I'm not saying they aren't sophisticated in their approach, but they aren't as knee-jerk reactionary. They have a longer-term view. Also, I think many are finding that most manufacturers are currently heavy in inventory and more than happy to sell shoes at a good price and they've got shoes that they want, when they want them. They're in the driver's seat right now. That's helping generate the optimism, too.
Was the good vibes your biggest takeaway from the show?
The optimism was, for sure. For the most part, everybody was talking about growth and how they are planning to move forward. It helps that many of these retailers have very loyal customers that they've developed over the years. Those relationships are an asset that they hold over a lot of majors. These retailers live in their communities and have developed strong ties. They may not be doing $1 billion annually, but I guarantee most are happy with what they are doing of late.
Still, there are fewer independents overall.
Unfortunately, yes. But I think that's a multi-prong issue. I don't think it's strictly related to sales volume. I've been expressing my concerns for the last 10 years about the next generation of independents. There's not enough youth coming into our industry. I've seen far more people leave this business than come into it. We have to draw more younger people to the industry. Who's going to take the mantle of these businesses as retailers age out? NSRA's NextGen committee saw the concern and a few even addressed it, like Comfort One, Hanig's Footwear, The Shoe Mill, and Beck's Shoes. They all developed succession plans. We've also brought some new and younger people into our company recently. We hired a Director of E-Commerce 18 months ago and a VP of Omni Channel Sales, who joined us about six months ago. Both have a younger eye as well as possess unique backgrounds. We need to breath some fresh air into our business as well as the industry. I believe we're nurturing a team that will lead past my days with the company. I'm excited about that aspect, for sure.
Is this industry an easy sales pitch to young professionals?
Well, they have to see a vision of what the company is and can be. Education is part of that—getting people interested in the business and seeing that it's fun and can be worthwhile. This industry has put my kids through college. They have to buy into that first. They also have to see that their involvement can impact that future vision of the company. That's really important, and it's something that we don't communicate very well as a society. We've been overly protective of our leadership positions and our claims to fame, yet it'll all mean nothing if we can't leave the business to someone else. I could list dozens of stores that have gone away over the past decade alone, and the only reason they did was because there was nobody behind them to take the mantle. Brucettes Shoes in Houston, for example. They had a multi-million-dollar business that went poof. And those are sales that many brands can never fully recoup. Brands are losing $10,000 here and $100,000 there with these types of closures. Multiply that by 20 or so a year and that really adds up. You have to try and make up that business somewhere else. It's tough.
How is Mephisto countering to this shift?
I see growth opportunities for us in the specialty market, like men's boutiques as well as chains like REI and Foot Solutions. We need to focus more on achieving growth in those types of stores. Oak Hall in Nashville is a great example. We just have to be very strategic about it. We also had recent conversations with Urban Outfitters, who reached out to us, that offers potential. Another avenue of growth is collaborations with select retailers. Over the last three years, we've had more requests than ever before. These kind of specialty niches are all something to look forward to. That's why I'm excited for the future. I think we've got a lot of potential. And while a lot of people may point to our premium pricing, a lot of brands have come up to Mephisto. We're no longer up there by ourselves.
So, all in all, plenty of reasons to be optimistic.
Absolutely. I'm excited about the potential of our brand, and I'm excited that we brought some youth into our company. It's my time to teach and nurture these people in this business. I get up each day and I just think this business. And while not every day is great, when we balance it all out, we're doing ok. That's what's gotten me up every day of my life: What am I working for? There's nothing out there that entices me more than coming into work. It's just who I am.
What do you love most about your job?
The people aspect, for sure. Coming off a shoe show someone told me that I know everybody. I said that I have relationships with all these people. I've been around some of them for 40-plus years. I know their kids. I know their parents. I know what their favorite ice cream flavor is. Without the people part of it, none of us would be here. I used to joke that this business was a sickness that I couldn't get away from. I mean, growing up I thought I wanted to be a cop or a CPA. Yet here I am, still in the shoe business, for almost 50 years. Now I know it's a genuine love of this industry and the people in it that have kept me here. •