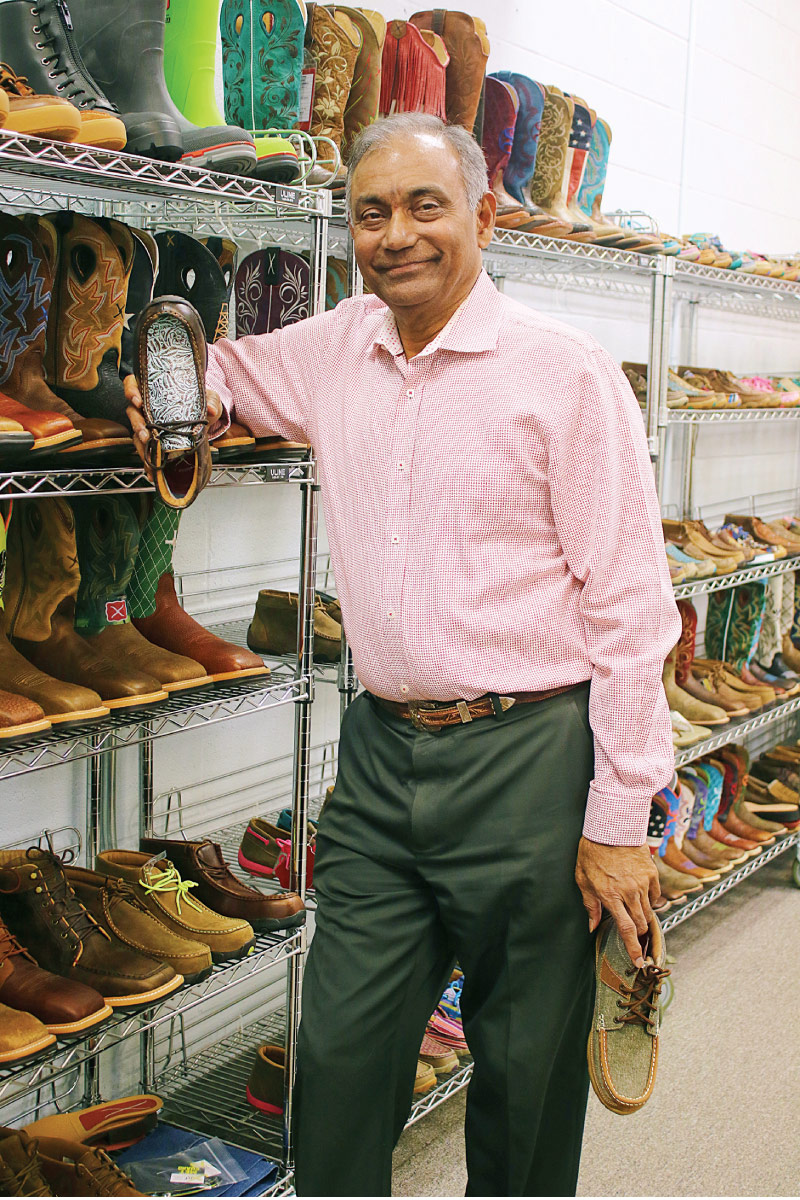 Just how Prasad Reddy came to be president of Twisted X eight years ago—and has since led the company out of bankruptcy to seven straight years of 30 percent–plus annual growth—can only be described as a twist of footwear fate. No one saw this coming, especially not Reddy. The rise of Twisted X from fringe Western boot player to rapidly evolving casual lifestyle brand is a serendipitous turnaround tale full of twists and turns as well as several market firsts. It's a success story that proves basic brand management tenets apply regardless of market segment and, at the same time, how a fresh approach can be exactly what's needed to spark growth.
Here's how the story goes: Reddy, who possessed nearly four decades of senior level executive experience working at Wolverine Worldwide, Freeman Shoes and K•Swiss, received a call in the fall of 2008 from a colleague in Taiwan in desperate need of his assistance. The friend had invested heavily in an upstart Texas-based Western company, Twisted X Boots (as it was then known), that was heading into bankruptcy. He held fast to the belief that the company still had potential.
"There's something there," he told Reddy. He asked Reddy to look into it and consider helping. While Reddy had zero experience in the Western market, he had become a footwear fixer in the casual and athletic markets, adept at looking under the hood of companies, determining what was wrong and getting them running smoothly again. Following three days of diagnostics on Twisted X, Reddy agreed with his friend: "I liked the product, the niche and the owner [Bob Frazier]. There was something special there." Reddy spent the next five weeks going over the company's inner workings with a fine-tooth comb. "I looked at the numbers closely and concluded that we could turn this around," he says. Reddy, who most recently had been consulting for a smattering of casual footwear brands and overseeing the completion of a temple in his adopted hometown of Grand Rapids, MI, officially came on board as president in March of 2009.
What he discovered was that many of the main ingredients for success were already in place at Twisted X, but the company was failing at the footwear business basics—badly. "I looked at costs and expenses and thought, 'Oh my God, this is not run properly,'" Reddy says. Gross margins, for example, started at about 30 percent. "You can't run a business that way. It has to be at least mid to high 40s," he adds. "They either paid too much for the product or their wholesale prices were too low." All in all, Twisted X was a twisted mess, structurally. "Its expenses were set up for a $100-million company in some areas and a $50-million one in others," he says. "It just wasn't the right structure."
That was all fixable, and Reddy saw tons of potential to build upon Frazier's fresh, colorful and comfort-driven premise for Western boot making. "Bob had a strong boots background; he had been at Justin and Ariat beforehand," Reddy says. "He's a pure, good-hearted cowboy with special design skills and a passion for boots." But it was Frazier's commitment to comfort that won Reddy over. "He believed in something that I've always believed in: Make the most comfortable product. Period," Reddy says. "He set himself apart by making comfortable Western boots, which really had never been done before."
On day one, Reddy set about upgrading operations to match the level of product. "We got back to the fundamentals," he says. "There were too many styles, not enough turn, too many employees and expenses were high." Reddy slashed the number of styles from 275 to 125 and the company renegotiated its contract on a third-party warehouse, saving approximately $500,000 right off the bat. There was no sales increase that year—it actually went down a little bit— but the company, founded in 2005, made a profit for the first time in its history.
Then came another twist of fate that same year—one that would set Twisted X on its explosive growth curve. A Southwestern drought had slowed the company's sales to a trickle. Concerned, Reddy asked his team what was wrong, and they told him, "No one buys boots in this kind of weather." Reddy knew that being dependent on one silhouette—especially one at the mercy of Mother Nature—was no long-term survival plan. "I told our controller, 'Next year we're not going to be making just boots. We're going to introduce some footwear that will sell during the summer,'" he says.
Twisted X introduced what Reddy calls the first "true casual shoes" in the Western market in January 2010. The momentous occasion, which came at the WESA show in Denver, had serious doubters at first—even within the company. "The day before the show, I showed the six casual styles and three sandals to a couple of our reps who said, 'Are you out of your mind? This is a Western industry show. Nobody buys shoes here.'" A few forward-thinking retailers, however, did. Reddy remembers the owner of David's Western Store as one who saw the potential. "He said customers come in to buy boots, but then they go to a mall and buy athletic, casual and dress shoes. You've given me the opportunity to get that second sale."
Indeed, many of Twisted X's core dealers have nabbed second and third sales thanks to the company expanding its casual offerings and introducing what Reddy claims was another Western market first: a steel toe work wallabee in 2013. Twisted X now offers men's, women's and children's styles spanning casual, work and traditional Western categories. The current breakdown is 55 percent casual, 30 percent work and 15 percent traditional Western. Along the way, Twisted X has expanded its distribution well beyond core Western dealers and experienced a combined 750-percent sales increase over the past seven years. "We're profitable, and we've had zero debt since 2015," Reddy says, noting that the company dropped "Boots" from its name three years ago.
While few could have envisioned Reddy as the ideal candidate to take the reins of a Western company, in hindsight he was exactly the right person. An industry entrenched in product concepts and thought processes for decades was in dire need of a fresh perspective—it just didn't realize what was missing. In all fairness, neither did Reddy until a drought forced him to think outside the box. "It's not like I had this vision of what to do going in," he says, crediting his product background for the breakthrough. In that sense, Reddy did what he's always done: He focused on the product. "Our goal is to introduce a new technology, concept or category every six months to try and stay ahead of the competition," he says. It's an intense pace, but Reddy believes it's necessary in today's uber-competitive market. "I tell our team I don't mind failing 50 percent of the time on product," he says. "If we don't fail close to that much it means we're not pushing hard enough."
Something new every six months is an ambitious pace, regardless of the market segment.
It is, and it's going to get harder as we go. (laughs) But we've done it so far, and we have something new set to be introduced through Spring 2019. We're blessed to be working with a great freelance designer, Tuan Le. I've known him for a long time. He's been rated as one of the top 10 footwear designers in the world over the course of his career. He's done work for Mizuno, Ecco, Keen and Merrell, among others. We want to stay ahead by introducing new technologies, and when you have the talent of someone like Tuan, why not go this route.
Is it a case of innovate or die?
How else are we going to maintain our growth? Also, the entire Western industry has woken up—all the big names have come out with casual shoe collections. We want to stay ahead of the competition with new technologies.
What are some of the new technologies on tap?
We have two new constructions for Spring '18. A Western tooling wraparound construction that's lightweight and offers optimal comfort. It's like a vulcanized construction only without the weight. The other incorporates our leather soled driving moc construction into a sandal package. It'll be something unique in the marketplace. Next fall, we'll be introducing a new cushioning technology called Cloud. We're also expanding upon our Eco Twx collection, which we introduced this fall. The collection features recycled plastic bottles as the upper material. We're taking that concept to the next step: no glue or chemicals will be used in the entire Fall '18 collection of Eco Twx.
Twisted X is making a name for itself in a market that historically hasn't introduced much newness, correct?
Yes. It's pretty much been the same old outsole, heel and shaft construction for years. The Western boot business, in general, has been declining between three and five percent every year over the last few years. It needs a catalyst. For example, when Urban Cowboy came out it caused a huge spike in sales. The market hasn't had any such catalyst for quite a few years. I'm hoping a new technology can be that. It may not be huge like Urban Cowboy, but it'll be something unique that can reverse the downward sales trend.
Consumers are so accustomed to out-of-the-box comfort (think sneakers) that for traditional Western boots to make any meaningful rebound they have to be just as easy to wear.
I agree, the comfort aspects must be there because the fashion element can only take us so far. Along those lines, a lot of our customers tell us that the minute they dismount their horse they put on our casual shoes. That's where the idea came to put this type of comfort into our traditional Western boots. It's taken some time, but Spring '19 will be when we introduce the concept.
You've worked for some pretty big companies over the course of your career. How big do you think Twisted X can become?
I don't know if there has to be a set limit to the brand. Our focus is to make comfortable footwear. Period. Comfort is going to be our leading feature, and not necessarily the look. That said, we are in a different niche; we're not going to be making athletic shoes. Twisted X is a lifestyle brand with a Western heritage. Even our casual styles have some elements of Western. Our mission is to maintain that heritage while making the most comfortable footwear possible. 
In five years, how much bigger might Twisted X be? Twice the current size?
I don't see why we can't be three to four times the size that we are today.
We've grown 30 percent-plus every year for the last seven years, and we are at a 41-percent increase for this fiscal year, which ends in June.
There's plenty of runway in the Western-themed casual market?
Yes. When I first came here, 80 percent of our sales were in core Western distribution. Now that segment accounts for one third of our sales. We're getting more shelf space in that tier and, at the same time, we're getting lots more shelf space outside the core distribution. That's a huge channel, as you know—100 times more than core Western.
Who is the Twisted X consumer today?
We're reaching more and more casual lifestyle customers. In particular, younger people have been coming to the brand quite a bit of late, especially women. Typically, Western boot sales split 75 to 25 in favor of men. Right now, we're almost even. But our women's casual sales are growing unbelievably, which is helped by the fact that they tend to buy multiple pairs at a time. They like our comfort aspects, our colors and unique materials.
Every once in a while, a brand comes along that just stands out from the crowd. Twisted X is one of those brands.
I agree. Coming from an athletic brand, when I suggested a few years ago that we put a solid color in the rubber outsole of a few women's styles, at first people said, "We can't do that." I wanted to put teal in the soles, seeing that Nike and Adidas had been using color in its outsoles for a while and to great success. I said, "Why can't we do it, too?" It's been a huge success for us. Our mantra is we want to make boots and shoes that are unique, colorful and comfortable.
In hindsight, an outsider like yourself has been the perfect fit for a market long been set in its ways.
Yes. I suspect if a person with Western market experience had taken over Twisted X back in 2008, they probably could have made the company profitable by running the operations better. But product-wise, it probably wouldn't have been all that different. And part of that reason is that many Western retailers are pretty set in their ways, too. They are very nice people to work with and don't ask for a lot—like markdowns, chargebacks and such—but they have to be convinced to change even a little bit.
It really was a fortunate twist of fate that your friend called asking for your help to turn Twisted X around.
I guess so. For sure, they didn't need more of the same. But we've also went through our share of tough times. There were several times where it was dicey as to whether we would make it or not. In order to maintain growth in our industry, for every dollar increase in sales we need about 33 cents of capital to fund the inventories and receivables. At times it was a case of where are we going to get that 33 cents from? You can only borrow so much,and we had to pay off our debt. I remember speaking with one bank official in 2012, and he asked me what are we going to fund: our growth or paying off the debt? I told him I don't have a choice; I have to pay both.
How did you do it?
Our accounts payable person would warn me about the looming deadlines. I always said we'd get through it. It helps that the people in our factories are good friends—many of whom I've worked with since the early '90s and even before that in some cases. If I asked that they ship the goods but I'd pay three months later, they allowed it. They trusted that I was good for it. And sometimes I asked if they could just hold onto the product a little longer, and they did. We did what we had to do to survive.
Speaking of just trying to survive, it's been a struggle of late for many on both sides of the equation. Will 2018 be more of the same?
It won't be easy, but I think it's an opportunity. To me, the biggest problem for brick-and-mortar stores is lack of traffic. If you don't bring them in, you can't sell them anything. You must find ways to bring them in. We strongly believe in cause-related marketing campaigns as a way to help increase in-store traffic. Four years ago, we teamed with the "Tough Enough to Wear Pink" campaign in support of breast cancer awareness and, three years ago, we became a corporate sponsor for VFW and Snowball Express. (The latter supports the children of military member parents who have died in war.) They are all phenomenal organizations. So why not host a Pink Weekend and invite breast cancer survivors to talk to the local population and raise awareness and funds. Or, during the stretch between Memorial Day and Independence Day, retailers could offer a portion of proceeds to benefit the local VFW chapter and/or Snowball Express. We'll provide a free U.S. Constitution booklet with purchase. Eco Twx offers another example. We are going to plant a tree for every pair we sell. Why not invite the community and local press for a tree planting ceremony? They are all potential ways to bring customers into stores. My bigger point is: if you don't do something different, you're probably not going to survive. About three years ago, I predicted that 25 percent of the mom and pop Western retailers would likely go out of business. Unfortunately, that has come true. I think it'll keep happening, unless they embrace new trends and become more involved in experiential retailing. I remember when Journeys first came out, it was total unique concept at the time. Loud music and a totally fresh vibe that became a draw for teenagers. I believe if you create something unique and experiential, consumers will come.
It helps if retailers are not all selling the same brands and styles that can just as easily be purchased online—and likely for less. Does Twisted X sell exclusive by tier?
We protect our retailers with some exclusive products for at least six months so they can generate better margins. We've been doing that for about two years, whether it's new categories, technologies or styles. It's been well-received, and we want to do more of that going forward. We are developing a lot more prototypes with different materials that we think we can distinguish better between our retailers. Of course, we run up against some retailers who only ask for our five top sellers. That creates a challenge. And it's not only them. A lot of salespeople begin a meeting by showing their five top-selling styles as a safe presentation. I hate that kind of presentation.
Actually, it's the opposite of safe.
Yes. I tell our salespeople all the time to avoid that approach.
When Nike announced recently it will cut back drastically on retail distribution, what did that say to you?
It's an opportunity. Why might a retailer choose Twisted X over another brand? Well, here's three reasons. One, we don't sell directly on Amazon as we try to be price protective. Two, we don't sell direct to consumer, because we don't want to be in competition with our retailers. Three, we are working on cause-related marketing initiatives events to help bring traffic into their stores. We want to grow hand in hand with our retail partners.
Meanwhile, many brands are consolidating their retail accounts and ramping up DTC platforms. Why go against the grain here?
First off, with respect to DTC efforts, 90 percent of the time they start out with good intentions—like it's going to help market the brand to a wider audience, showcase the full range of styles product, etc. But from what I've seen, almost every time it becomes a discount site that competes with retailers.
And every one of those sales—full price or at a discount—comes at the expense of one of their retail partners.
Exactly. I understand the temptation, but how much are we going to lose on the retail side in the short and long term? I believe more sales will come if we continue on the path we are on. We don't have to rush. Let's stick with our current game plan. At least, that's what we've been preaching. I tell our team that the bottom line is if the product is selling, retailers will keep buying it. If it doesn't sell, then that's it. Beyond that, I believe loyalty has value. We are being loyal to our retailers, even though their loyalty is to the bottom line. But, in the case of a tie, we would hope they would prefer to partner with a company that has been loyal to them. That's why we are trying to address their problems and needs with viable solutions, whether it's through innovative products or cause-related marketing campaigns. For example, this past fall we introduced infant styles. Our core distribution never sold the category before. While some were skeptical at first how it might do, we sold out in days and can't keep up with the demand.
Any New Year's resolutions?
Nothing special other than continuing to do what we've been doing while upping our humanitarian efforts. One of our mantras is we are a company that cares about our local community, employees, retailers and customers. We want to do more of that. Plastic pollution, for example, is already one of the world's biggest environmental problems. Whatever we can do to help the environment and be a better company in the community is one of our key goals for this year and going forward.
You're 40-plus years into this business, where does this particular job rank?
I would say this is the most enjoyable job that I've had. Not only am I learning about a new industry, but we've been blessed with growth that has allowed us to take part in our various charitable initiatives—like donating 1,000 blankets made from our recycled plastic bottles fabric this holiday season. Plus, we can take care of our employees. We've created a 401K plan that's the best the company has ever had. We want to take care of them because they are the ones who are making things happen for us. It makes my job more enjoyable than ever.
What do you love most about your job?
I love helping our people and our retailers succeed—it just makes me feel good. I also love the product. I'm obsessed with making it as unique and comfortable as possible. I still visit the factories often; I just came back from visiting two in China with our designer. Discussing the various new concepts is so much fun. I just love product and being around it.