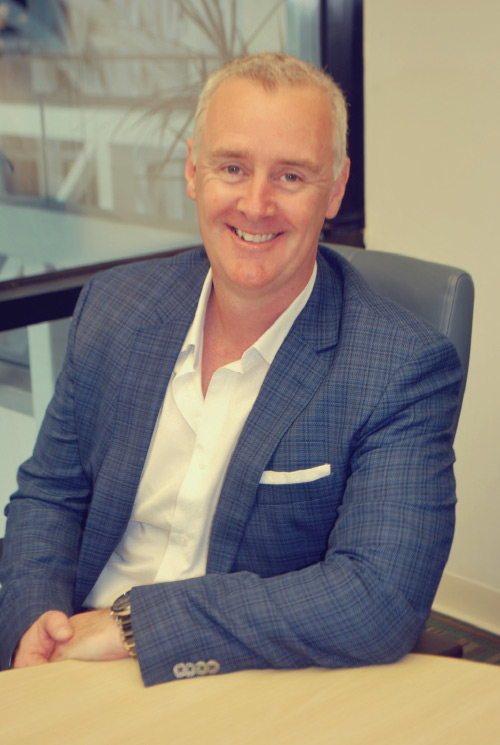 As far as launching a comfort brand in the United States goes, Revere has been ticking all the boxes—and then some. Unique styling: check. Proprietary comfort technology: check. Open stock program: check. Clean distribution: check. Strong margins: check. Revere just might be one of the most methodical and thorough brand introductions to date. The fact that the launch is being piloted by two former comfort specialty retailers, husband-and-wife duo Craig and Annie Truscott, has a lot to do with making sure every detail—from consumer-facing product details to retailer-focused backroom mechanics—is attended to since its debut in Australia in 2012 and landing in the U.S. in 2016.
Revere's checklist began during its in utero stage, when the Truscotts had a ringside seat in their Australian-based stores, listening daily to customers talk about what they liked, needed, craved and disliked in their shoe purchases. The Truscotts also monitored their array of comfort brands, seeing what sold, what didn't and, perhaps equally important, how each brand treated its retail partner. "When we looked at what other brands were doing, we thought, 'Wow, we could do something pretty special here,'" Truscott says.
It being Australia, where the weather is warm year-round, the initial feedback screamed for a better-looking and more comfortable sandal. Specifically, one with great materials, a terrific fit and a supportive footbed that could be removed for custom orthotics and fit inserts. On top of that, the Truscotts created Revere's unique fit adjustability technology—every style with a Velcro closure includes strap extenders in the box that enables wearers to discreetly adjust the strap (up to just over a half inch) to accommodate a wider foot or, say, a bunion. "We can take a medium fit and turn it into a wide with our strap extenders," Truscott says, noting it's a win-win for retailers and consumers. "Consumers love it because it doesn't take away from the styling yet it provides them with more fit capability, and retailers love it because they don't have to inventory as many width sizes." What's more, Truscott says the adjustability feature adds brand value. "It takes away the reason for a consumer not to buy and it provides theater in the store, customizing the fit right in front of them," he says.
The Truscotts tested Revere through medical facilities before going to retail. As a partner in Global Footcare—distributors of Revere, Vionic and Vasyli, among other foot wellness brands in Australia, New Zealand and Singapore—Truscott had access to an extensive network of pedorthists, podiatrists and orthopedists who recommended Revere to patients with foot issues. "It helped establish brand credibility and it got us on the feet of people who took advantage of our features and benefits," he says. "It ticked all the boxes, and once we got momentum, we targeted sit-and-fit stores."
Revere also zeroed in on its core assortment strategy. "Seasonal ranges can be challenging because, coming into a season, you don't have the consistency of what worked well the previous year when it comes to pricing and markdowns," Truscott explains. "A high percentage of core carryover stock is great in reducing markdowns. It also allows us to invest in inventory and carry those lines open stock year-round, which is great for retailers because they can drive sell-through without the inventory risk."
The Truscotts speak the language of comfort shoe retailing fluently. They know from firsthand experience what those retailers want, need and like best from a wholesale partner. It comes across instantly, which Truscott says has helped get many partnerships started. Still, breaking into the U.S. market—one jam-packed with established players all vying for dwindling shelf space amid epic disruption—has been no easy task, he says. Revere has had to earn every account. In fact, Truscott says the biggest challenge to getting started was simply being given a chance. "Retailers would often say, 'We really like what you're doing, but we want to see the evolution of the brand and make sure you're going to be around in a couple of seasons, so let's keep in touch,'" he recalls. "We heard a lot of that, regardless of the fact that we'd been established since 2012 in Australia."
Truscott, however, understands retailers' caution. Brands come and go, especially new ones that lack backroom logistics and financing to deliver season to season. Why dabble only to get burned? "It's a big investment for well-established retailers to take on a new brand," he says. "They've got to invest in staff training and presentation. They have to justify giving that shelf space to that brand as opposed to others they already carry."
Truscott says the early reluctance only made him more determined to break through. For starters, he and his wife gave up "a lot" when they uprooted their lives, leaving their two adult daughters and friends behind when they moved to Santa Monica, CA, to launch Revere in 2015. (They have since set up shop in West Palm Beach, FL, and recently opened a new distribution center in Hickory, NC.) There was no chance they'd pack it in after a few tough sell-in seasons. Driven by the brand's unique adjustable fit story combined with a "developed by retailers for retailers" business model and a strong reception Down Under, the Truscotts believed the potential in the U.S. was promising. But for Revere to launch properly, they had to convey the story in person. "It's really important that our entrenched brand values be communicated directly by us," Truscott says. "The story wouldn't have come across if we'd hired an agent or a distributor to do it on our behalf." It starts with the belief that Revere is not "just another comfort brand." If it were, it would have never gotten off the launch pad. "There's no way we'd be here if we were launching nothing special," he says. "We have a great fitting and comfort story; there's a lot behind the brand that resonates with retailers and consumers."
The Truscotts could have taken the easy route. They could have stayed in Australia, where Global Footcare continues to hum along and their stores had been holding their own. Life was good. They didn't have to uproot their lives and launch Revere in the most established and competitive market in the world. But despite occasional "I could have been relaxing on a beach back home instead" moments in the early days, Truscott says the tribulations have been worth it. "I feel most proud when I walk into these generational sit-and-fit stores and see Revere on the shelf," Truscott says. "It tells me we're heading in the right direction and that we're here for the long term."
As you've stated, the world doesn't need "just another comfort brand." What exactly makes Revere special?
First, we pride ourselves on styling, which is core but our materials set us apart. We're not doing just black or brown Napa leather. We source interesting leathers that feature lots of metallics and animal prints. The market has embraced our approach, and we're going to build on that. Our fitting story is also unique and can be easily communicated and demonstrated. The strap extenders are discreet, which was often why customers didn't buy shoes in our stores—because it looked ugly with the Velcro visible. With retailers wanting to provide in-store experiences, we believe our fitting features do that. But we're not just an adjustable brand. Because of our experience working with doctors, we focus on many types of support across a range of styles. Not only do we fit and look great, but our support is phenomenal as well.
As a former retailer, what were some of the non-product related aspects that you've incorporated into Revere?
We liked when vendors invested into our business through training. When they'd come into our stores and work with our team. The fact that we could also have top-to-top discussions about matters like distribution and inventory were also important. If we were selling through something fast, how quick could we get back to it? And if things weren't working, was there any help that they could provide? Co-op dollars was another like. Really, it was just all the little things—the mechanics that, in my opinion, you need in place for any retailer to have success with any brand. That's what we've included with Revere.
For example?
Like our open stock program and not requiring case pack orders. When I was a retailer, I didn't want to be told that I had to buy size 11s and 12s if I was out of size 7s and 8s. Our business model is designed to help a retailer grow the brand within their business. A big part of that also involves a responsible distribution strategy. That's top of mind for every U.S. retailer I talk to. In fact, asking about our distribution strategy is often the first question—before pricing. The second question: Do you sell direct to Amazon? We've taken a very cautious approach when it comes to ecommerce and have chosen not to sell direct to Amazon. And while we have an ecommerce site, it's primarily a platform to promote our entire range of product and a resource for consumers to learn about Revere and link to our store locator. Our site is not promotional. We're always at MAP pricing. We aren't a competitor to our retail partners. We're a trusted brand partner.
How is Revere different from, say, Vionic?
Vionic's story is built on their podiatrist-designed footbed technology, whereas Revere's focus is our fit story. Also, Vionic built their business starting with a flip-flop made of synthetic uppers at a $100 price point. Revere is a mid- to premium-price range at $130 to $190. That aside, I'm still a partner in Global Footcare and very fortunate to distribute Vionic in Australia, New Zealand and Singapore. Some of my greatest footwear mentors and friends have come through that organization. I love doing business with those guys, and I love the brand. I believe Revere fits beautifully side by side with it.
Who is Revere's target customer?
It's a bit of a Benjamin Button story for us as she's gotten younger. When we launched in 2012, we targeted the 55-plus market and were more conservative in styling and materials. But with my wife heading up our product development team, we've since expanded our selection well beyond sandals and have updated out materials and styling. She has an extensive footwear fashion background, and she's helped us become a year-round brand. Our customer now is 40-plus. She's outgoing and understands at that stage in her life that comfort is important, but she's not going to compromise on style. She doesn't want to be wearing an orthopedic-looking shoe.
Has Revere officially moved on from startup status in the U.S.?
I'd like to think we're well over the hump of being a startup. We've done a lot of the heavy lifting and we've expanded the product line to year-round. We also moved into our own distribution facility last year and our customers are seeing the benefits of quicker delivery times and more cost-effective shipping fees. It was a big move, but it's been a real game changer for us. Overall, the boxes are certainly being ticked that we can be a good and profitable partner for our retailers.
Having experience working for other startups, would you say Revere has come a long way in under three years?
Absolutely! We started with two employees, my wife and I—and our dog at our feet—in a second bedroom office in our apartment in Santa Monica. Living in California was a stepping stone and part of the transition deal with Annie. If she needed to see our girls, it was only one flight. We then did our due diligence and realized Florida made sense for Revere's headquarters. We make lots of sandals, the climate is similar to Australia and it's a business-friendly state. Now we have a total of 16 employees between our offices in West Palm Beach and Hickory. One of our best hires of late was Brian Alves as national sales manager, who joined last May. He had a great career with Clarks for about 18 years. He's added direction to our team, and the quality of doors that we're now in and are about to be shows that the wheels are turning for us.
Moving halfway around the world to introduce a new brand into an entrenched market is tough enough. Then the retail apocalypse and…
When we moved here in 2015, Amazon wasn't even doing business in Australia. So we didn't fully comprehend its impact on retail. It was a baptism of fire for us. However, Amazon wasn't a huge focus because our fit story doesn't translate as well online. We want to grow our business initially in sit-and-fit stores. That's where we believe Revere can offer great value to retailers and consumers. Amid all the disruption, our approach has been to stay focused, take small steps and keep our ears open. I had a saying when I worked retail: All the answers are in the stores. Consumers tell you what they like or dislike about whatever you're doing. The same applies to retailers. We're always listening so we can react, if needed.
What have you heard from your retail partners of late?
First off, I'm glad we got involved with the NSRA and USRA early on. It's allowed us to network with some of the best independent retailers in the country. That said, I find there's a lot of noise out there, but it's the retailer that listens to the market and creates a unique shopping experience that's succeeding. While there are people who want to shop online, especially in the younger fashion arena, there are plenty that still want to shop in stores. They want to be serviced properly—to have their feet measured and identify what are the most appropriate shoes for them. Do they need a medium or wide with? Do they have any foot issues that need to be addressed? The sit-and-fit environment has enormous potential, and I believe if you offer great product, pride yourself on terrific service and provide a nice shopping environment, those customers will come—and they'll tell their friends to as well. I don't see it as being all doom-and-gloom. I'm an optimist by nature, but I also know you can't keep doing the same thing over and over. You have to evolve in what is a very fast-changing environment.
Can this channel grow in this climate?
I believe successful comfort specialty stores that have a balanced approach of branded and private label product as well as cross between comfort, athletic and work categories can. Diversification is part of the DNA of being a successful retailer these days. I'm a big believer in that you don't swing the pendulum too far one way or the other. You can't go from being a branded business to a complete private label business or vice versa. You've got to find that middle ground. I'm very optimistic about the independent comfort market in general. At recent trade shows, I've felt more energy and enthusiasm about what the potential is for those stores. Three or four years ago, it was too easy to blame their troubles on Amazon. I think people are now making changes in their businesses, and that's a good sign.
How's Revere's business of late?
When you're working off little to no base, percentages don't make much sense. So we're measuring ourselves on a double-double strategy, which has been going well. I've challenged us to continue to double our business year-to-year in existing accounts, and that's mostly by doubling SKUs. We've been able to do that effectively, mainly because we've gone from being a sandal brand to a year-round collection. Another goal is to double the number of accounts. Speaking of, I'm very happy with the quality of independent retailers we're trading with. We're really having fun now, and I'm looking forward to what the next 12 to 18 months bring for Revere. We've got some new developments in the wings that we're excited about. We're not standing still. We're going to continue to provide good product solutions for retailers.
Care to share any specifics on what's coming?
We're excited to get into the casual-active market with some beautifully crafted silhouettes for women seeking the feel of an active shoe without looking like one. That's one of our initiatives for 2020. It's for that sophisticated woman who's not looking for mesh, rather a great metallic or animal print leather. Look at Allbirds. I'm just amazed about how effectively they've broken into that market. They've done it in a such a unique way—a great eco-friendly materials story and promoting it as the most comfortable shoes ever. I'm quite inspired by how fast they've been able to take their brand to where they are now. For a little guy like Revere, it makes us feel optimistic.
Allbirds has done so primarily through direct-to-consumer. Has that made you question Revere's brick-and-mortar approach?
No, because I believe one of the key ingredients to building a brand is through relationships with retailers. Our success to date has been growing our categories and SKU count. For example, we want her to wear our sandals, Mary Janes, booties and, soon, walking shoes. Our retail partners are integral in making that happen for us.
What was the best retail lesson learned while working at Foot Locker?
Foot Locker has one of the best training programs, and I learned how to manage successful stores as well as people. It was just a great environment. When I first joined, there were 40 stores in Australia and when I left we had 120 stores across Australia and New Zealand. It was a great ride and I enjoyed the athletic industry enormously, but the time was right for me to try and do something for myself.
Are you still a retailer at heart?
Well, I cut my teeth working in my family's electronics stores and, later on, at Foot Locker and then in our comfort stores. I enjoy the wholesale side now, but I certainly take a lot of pride in how we run our business based on my experiences in retail.
Where do you envision Revere in five years in the U.S.?
I want Revere to be viewed as one of the established comfort brands in the U.S. In order to achieve that, distribution is key. Specifically, how we effectively service the best independent retailers in the country without over-distributing. When we operated stores, a big part of a great relationship meant not opening a store across the road from us. Responsible distribution and how we grow through that network is our focus and will be key to our success.
If, say, Nordstrom inquires, how will you respond?
We've got enough opportunity right now in sit-and-fit stores to grow Revere sustainably. I haven't reached out to Nordstrom, specifically. I would say their product mix is going a little younger and fashionable. Dillard's, however, has a sit-and-fit focus that could be a good partner. But for now, we're staying focused on retailers that offer a genuine sit-and-fit experience where people can take advantage of our unique fit features. We're investing a lot of time and money in building our brand through that tier. The majority of our marketing budget is POP materials and trade shows to get in front of those retailers. We want them to see Revere as a potential long-term partner. When retailers talk about brands they enjoy doing business with, we want Revere to be at the top of that list. We love hearing comments that essentially say, "We love dealing with you guys; you make it so easy." Let's face it, there are a lot of brand options in this market. It's why Annie and I moved here to instill our values and prove that we're not "just another comfort brand."
What do you love—or hate—about America?
We first arrived during the U.S. presidential election and we didn't enjoy that one bit and I know we're not going to like it again. But coming from a sporting background, I love this crazy 24-hour sports culture. My experience living here has been great. But, at the same time, there's no place like home.
What do you love most about your job?
That we have no limitations on what we can do. It's completely up to us. We're building a corporate culture where thinking outside the box is encouraged and that no idea is a bad one. I love setting our own destiny. I also love working with great people, especially our retailers. I love the passion behind their businesses. Companies that have been established for more than 100 years…I'm often dealing with the grandchildren of the founders, and I love that. I think that's so amazing. It brings a smile to face knowing Revere is playing a part in their ongoing success. •