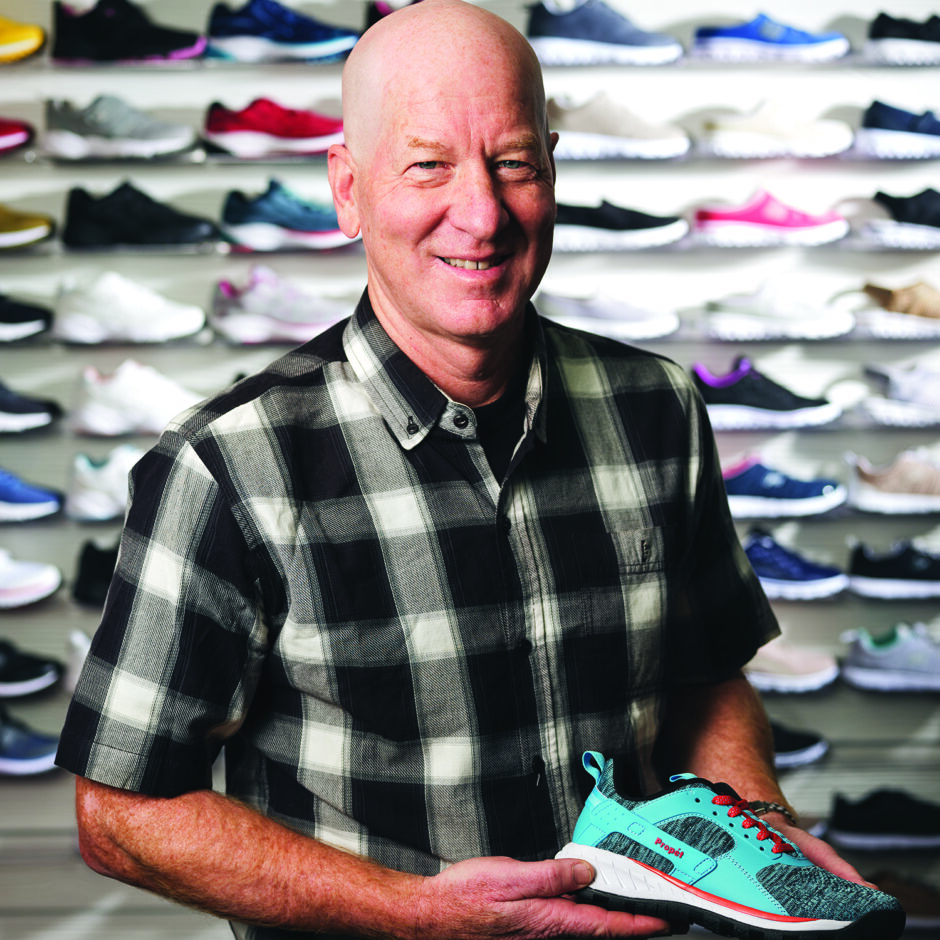 Over the course of 30-plus years working in executive positions for an array of leading companies in the footwear and apparel spaces (Nike, Adidas and American Apparel, to cite a few), Brad Gebhard possesses a skillset that spans management, marketing, sales, product development, supply chain and (self-proclaimed) wear tester. The latter may not rank high on the corporate flow chart, but Gebhard believes if you aren't dialed in on product, no amount of marketing and sales moxie will cover that shortcoming.
"Every single day, I'm wearing at least one or two styles," says Gebhard, who officially joined the company in August and also happens to be sample size. "I'm wearing our shoes all day long, making sure the fit and comfort are right, and if there's any room for improvement."
So far, so good: Gebhard is impressed overall with his try-ons—like Propét's Trail Walkers. Before officially starting his new position, Gebhard hit the Pacific Trail for some backpacking sporting that style. The former CEO of Hi-Tec USA, who previously held leadership positions at Columbia Sportswear and Salomon, reports the shoes "held up really well." Still, that didn't stop Gebhard from bringing a bandsaw into the company's Auburn, WA, headquarters for deep product dives. "I've tested a couple where I thought they weren't just right, so we cut them up and looked into it," he says, noting that he wants consistency across the entire product line. "I want to create world-class footwear that's on par with the top brands from a comfort, fit, construction, durability and quality perspective."
Over the past 37 years, Propét has excelled at making product, having built a solid reputation for delivering premium comfort shoes across a broad range of categories that are available in sizes and widths. In fact, it is one of a few remaining brands offering such an extensive sizes inventory. Propét's operations are equally solid. Gebhard, who served as senior vice president at The Walking Company from late 2019 to the spring of 2021, witnessed this excellence firsthand. "When other brands weren't delivering, Propét helped keep our business going forward," he says. "I saw firsthand the tremendous operational horsepower of this company. Propét has a very strong base from which to grow."
That's where Gebhard, a former member of the U.S. National Cycling Team, comes into the equation. Former CEO Rick Wang, who now serves as president, is letting Gebhard set the pace. The way Gebhard sees it, the road is wide open and the potential for growth is enormous. "I think we're at the tip of the iceberg," he says. "There's big potential within our existing customer base as well as in attracting new consumers. We just have to offer the full package, which means more new and exciting products and marketing to back it all up. Combined, it's going to create a lot of opportunities for us."
Gebhard has shifted into high gear right away, focusing on Propét's broad assortment. He's zeroing in on the winners, styles that can be updated and those that can be replaced. "While we have a strong midsole cushioning story in DuraCloud and incorporate other comfort technologies by OrthoLite and Vibram, there are additional technologies that we can bring in—for example, some of our classic silhouettes that we've been selling for years," he says. "There's an opportunity to enhance those shoes and build meaningful platforms around them."
Another key area of Gebhard's early focus is Propét's already state-of-the-art operations. Ever the bike racer, Gebhard is always seeking ways to improve and gain an advantage. "We're in the process of implementing Oracle NetSuite to make sure that we're that much more effective in servicing our customers," he says, adding that he and Wang are working in tandem on this effort in the U.S. and China, respectively. "We're working hand-in-hand to assess how we can continue to improve our supply chain and product creation process. It's about how we can enhance that process to make sure we're making world-class footwear." And while Gebhard has a lot of experience sourcing from multiple countries, the near-term focus is to remain in China, where Propét has strong factory relationships. Besides, with the world in such turmoil, he says now is not the ideal time to introduce such a major operations change. "It's quite difficult right now to change much on the sourcing front, and those moves can be fraught with their own challenges," he says.
Helping Gebhard in these initial efforts is Propét's strong tailwind, especially of late. The company has recorded some of the biggest sales years in its history since the onset of the pandemic. While being a comfort lifestyle brand surely helped, Propét's supply chain capabilities and, more important, the willingness to take some inventory risks proved highly beneficial. Propét didn't panic and cancel orders. As a result, the brand filled a vacuum left by many other brands that did. The decision has also kept the company at the front of the line of its factory partners. "I take zero credit for the way Propét operated during that period, but Rick did a great job," Gebhard says. "It put our company in a great position—our 2021 sales beat 2019. Not a lot of companies can claim that."
Gebhard, however, is not one to rest on any laurels. He's a firm believer that the road to success is, much like a bike race, often long and winding with plenty of steep hills, not to mention crowded with ferocious competitors. Even if you finish strong one season, Gebhard believes you're only as good as your last results. "This business is wicked tough, so it's all about continuing to assess and trying to improve," he says. "It's all fundamental, but that's easier said than done. We just have to make sure we're doing all the right things, and that's what we're striving to do here every day."
Would you agree that your experience and skillset make you the right man, at the right time to lead Propét?
I believe so. I have extensive experience instituting some best practices in driving the footwear business. I'm an expert in product, I have a lot of marketing experience in the traditional and digital fronts, and I've worked retail firsthand. I appreciate how challenging it can be for retailers to be profitable, as well as how hard it is to acquire and service customers. I also have the operational background to help drive this organization. I'm very passionate about the footwear business, which is my first love. I have a lot of energy, and I enjoy this industry immensely, and I believe that can carry you a long way.
And returning to near where you grew up is an added bonus.
Exactly. I grew up a couple hours down the road. I love the culture of the Pacific Northwest—and at Propét. The Propét opportunity was everything I'd been looking for: a well-established brand, a strong financial and operational base to grow from, and a great team of people in place. We have a nice mix of people who've been here for a while and some newer employees. We'll continue to build on our culture that's very family oriented, which I really appreciate. Our employees work hard and we're getting great results but, at the same time, it's a nice work-life balance here. Ownership looks out for our employees' well-being.
How's the reception been to the "new guy"?
Great. The team (65 employees) has been very receptive. During our conversations about areas of the business, they sponge it up and come back excited about potentially how we can improve things. My management style is very collaborative. I want my team to work together, and I'm a big believer in diversity of thought. I want people sitting around a table with different perspectives on a subject matter where no idea is a bad one. Toss it out there and let's see if it's something that we can work with. That philosophy was already in place here, but I think they're embracing it even more. I'm bringing my skillset and energy but giving them the opportunity to own it too. Everyone needs to take ownership of their area and not be afraid to take a little bit of a risk and keep pushing forward.
How might joining Propét at a time of strong growth play into your plans?
First off, it's a good situation to enter into. We've had a very strong period during the pandemic, as we were well-positioned with our inventory and had a solid service model already in place—like strong EDI capabilities for dropshipping. We picked up a lot of business as others lacked inventory. We've been building off that since. Some of our new retail customers first tested Propét through our dropship program to see how it resonated with their customers. Many experienced strong sell-throughs and we have converted several of them to wholesale customers in this past year. That said, one of my main focuses is to further refine our processes so we are even more reliable and quicker to market, when necessary. We're not a fast fashion brand, but our objective is that if we need to bring product in earlier for some reason that we have a very robust process in place to make sure we can do that reliably. I'm very customer-centric and want to make sure our retail partners always get their products on time.
Are concerns about supply chain capabilities equal to product and pricing now?
We've held several meetings with our retailers of late and it's pretty consistent that they're looking for partners to help them respond quickly to opportunities. Right now, there's just too much uncertainty and, with that, unreliability. So, having a robust and reliable supply chain is key. For example, if we promise our customer that we're going to deliver our spring collection in January or December, then we must have the capabilities in place to do that. "Dates and gates" is an old term that I used to use often, and it still applies today. It's about establishing a supply chain process with multiple speeds of delivery, so if we're working on something that requires more development time or a collection needs to arrive faster, we have calendars in place to meet those deadlines. It involves working on all our product processes and working with our suppliers to position ourselves to be more agile and quicker to the market, if necessary.
Anything else retailers say they want and need from Propét?
They love and need our sizes-and-widths inventory, because that's increasingly harder to find. They also love and need our dropship model, and why wouldn't you? You just place an order, and the product arrives. Some of our retailers also love and need our wellness collection because the competition is not very attractive. We're creating products that offer a solution but is still something that you actually want to wear. Our retailers are also asking us for more digital and in-store marketing assets to support the brand and help create demand. We're working hard on that now. In the meantime, we need to make sure that our retailers have all the most current assets because it's important that Propét be represented consistently in the marketplace.
How is the decision by some brands to cut back on retail distribution affecting Propét?
I think it's opening a floodgate of potential opportunity, especially coming from our sizes-and-widths proposition. I've heard multiple times of late that if other brands continue to move further away from sizes-and-widths that's just opening up more opportunities for us. Similarly, the void Nike is creating with pulling back on Foot Locker is opening opportunities for brands like Puma. The same way New Balance has pulled away from some comfort specialty stores has opened up opportunities for On, Hoka and us. We love sit-and-fit retail. We love having brand ambassadors in those stores talking about the Propét proposition. That channel is a massive target for us and presents a tremendous opportunity. It will be really interesting, in a couple of years, to see how all this plays out for the brands that decided to take other approaches.
There's been plenty of doom-and-gloom headlines of late regarding the economy and its impact on retail. What are you seeing and hearing in your recent meetings with retailers?
It's been such a mixed bag in the malls that I've walked through of late and in the discussions that I've had with our retailers. As soon as inflation really kicked in and interest rates rose, it caused a speed bump for everybody. It appears some large ecommerce companies are feeling the affect more than brick-and-mortar. But then I recently went through some reports with our VP of sales and some of our ecommerce customers have been crushing it. So, like I said, it's a mixed back. Forecasting the business is not easy right now. With so much uncertainty on the horizon, it's hard to project how the business may go. Still, our business is up for the year. It may not be up as much as we hoped in the beginning of the year, but it's still up over 2021, which was not an easy number to top as we performed particularly well during the pandemic.
Where do you envision Propét in three years?
I clearly see a larger business, and I also envision a higher level of brand recognition. That comes down to us to continue making the investments in product and marketing, and our overall execution. Hurdles might be unknowns, like the economy, that we can't control. But that won't stop us from building upon our current customer base as well as create new products that entice new customers. Sometimes that can be a risky process, but sometimes you have to take some risks in order to grow. I believe we will achieve that.
What types of new categories might Propét address?
We're still figuring that out, aside from the fact that it's going to be comfort-related and available in sizes and widths. In the meantime, we're going to focus on existing franchises at least for the next 12 months. We already have successful frachises built around walking and travel, and there are huge opportunities to build further on them, especially in our Travel Series. People are traveling more again. Outdoor represents another strong growth opportunity. We already have good product representation in that segment, but I come from a deep outdoor background and think we can expand further in outdoor. Every space is hypercompetitive, so it's about identifying the categories and families of product that we should build upon. It helps in that we have a very loyal customer who makes a lot of repeat purchases. So, I see growth by creating additional offers for consumers who are already fans of the brand and then introducing other product categories to them and potentially new customers down the road.
Having worked previously at several corporate conglomerates, what advantages does managing a company of Propét's size present?
We can be more agile and quicker, for starters. We are small enough where I can also have a direct impact on every aspect of the business, if I choose. That's not really possible in bigger companies, where there are multiple layers above you. At the same time, Propét already has a strong product line and operations, has great employees, is profitable and has good relationships with its retail partners. Those are all areas where we can continue to build off, whereas if you have poor relationships with your partners, you're unreliable, your supply chain isn't working and your product stinks…I've been in those situations and it's not easy to succeed. But it taught me to be scrappy and resourceful with personnel and money. Conversely, I've worked for big companies with all sorts of resources at my disposal. I think the combination of my work experience has taught me well. What I learned, above all, is it always comes down to human beings and the decision-making process in place. It goes back to fundamentals, like dates and gates, and then making decisions to move a business forward. You have to have the systems and people in place to execute properly. That's why I'm here. It's an opportunity for me to contribute what I know. But I'm also still learning. In many ways, I'm in my comfort zone, but coming into an established organization that is already having success takes me a bit out of that zone, which I believe is a good thing. It forces me to continue to learn and grow.
You're not charged with reinventing the wheel, nor to keep it business as usual, correct?
I didn't come here to do either. I'm here to help Propét get to the next level. I'm a quick study and I understand the challenges brands and retailers face. I've sat at both sides of the table. That's why I try to be as accommodating and customer-centric as possible as I understand the needs of both sides. I also know, sometimes, when to call B.S. It's a fine line, but that's how partnerships can work.
What do you love most about your job?
I love a lot of parts of my job, like the ability to teach. I love how receptive our team is to try new approaches. I also love product. While my first priorities are growth and profitability—I'm not Chief Product Tester—some of the great leaders that I've worked for in the past have been huge product guys. People used to joke that Mark Parker (former CEO of Nike) was really the PLM guy. I believe product is our currency. If we don't have great product, then we don't have a business. I don't care how good your distribution or marketing is, if you have crappy product, it's going to catch up to you. Fortunately, that is not the case with Propét. We have such a good foundation to build off and our product, unlike fleeting fashion items, addresses the needs of people with foot ailments and/or specific fit requirements. That's a meaningful brand proposition and especially relevant today. At the same time, my athlete mindset tells me we're only as good as our last race. We will not get complacent. We'll always look for ways to improve our products and processes, and to focus on the needs of all our customers. •